Six buildings in central London are royal palaces – but only three of these (Buckingham Palace, Kensington Palace, and Saint James's Palace ) are still used as homes by members of the royal family. In addition, Clarence House is a royal home but not a royal palace. Three older palaces (Placentia Palace, Richmond Palace, and Nonsuch Palace) on the outskirts of London have now vanished except for memorial plaques while Windsor Castle, Hampton Court, and Kew Palace are intact and open to visitors. Windsor is the royal family's oldest home, and where Saint George's Chapel is the final resting place of many monarchs, including the late Queen Elizabeth II.
1. Buckingham Palace
Buckingham Palace is undoubtedly the best-known of the royal palaces in London. It was originally called Buckingham House and was purchased from the Duke of Buckingham by King George III soon after he ascended to the throne in 1760. The first part of the name remains, but once it became a royal home, it acquired the name 'palace.' Over the next 150 years, the building was enlarged by architects such as John Nash, Edward Blore, and Aston Webb. Little has been done to the building in the last century, although the palace's chapel was bombed by the Luftwaffe in 1940 and was rebuilt as an art gallery. This led the late Queen Mother to famously say that she was glad it had been bombed as she could now "look the east enders in the face" as they had both suffered from bombing during the blitz.
The royal family seems to have little affection for Buckingham Palace as a home and looks at it more as an office. 800 people work there, and the building has 775 rooms. Around 50,000 people are invited every year to attend garden parties at the palace, and it is also used for royal investitures when both ordinary and well-known people are honoured. Celebrities such as Elton John and Tom Jones are often photographed outside the palace holding their medals. The late Sir Sean Connery, however, was a patriotic Scot and chose to be knighted at Holyrood Palace in Edinburgh, the capital of his native Scotland.
Although you can now visit Buckingham Palace when the royal family moves to their highland home Balmoral in the late summer, most visitors to London only see it from the outside when they come to view the Changing of the Guard ceremony, often on a guided tour with a Blue Badge Tourist Guide.  Photographs of the royal family often show them on the balcony of the building, waving to enthusiastic crowds assembled in the Mall. If a royal wedding has taken place, a huge cheer traditionally goes up when the bride and groom kiss each other.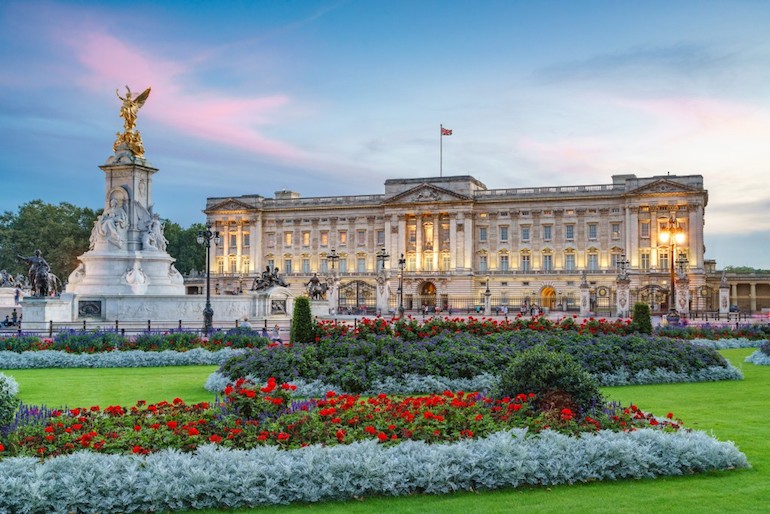 Buckingham Palace in London. Photo Credit: © visitlondon.com/Visit Britain.
2. Kensington Palace
Kensington Palace's most famous moment came after the funeral of Diana, Princess of Wales, when thousands of well-wishers came to lay flowers at the gates of the building where she resided when in London. It was also in this building that the eighteen-year-old Princess Victoria was told that she had become queen after her uncle King William IV had died. This was 1837, and Victoria was to go on to reign for sixty-three and a half years, the longest reign of any British monarch until the late Queen Elizabeth II exceeded it in 2015.
Situated at the western end of Hyde Park, Kensington Palace was first occupied by the joint king and queen William and Mary in the late 1600s as it suited William's asthma to be in what was then a rural setting outside central London. They commissioned Sir Christopher Wren to design a royal home which has since become the main London residence of people such as Diana and Prince Harry, who lived there with his American wife, Meghan Markle. The palace is open throughout the year, but visitors cannot see into or enter the royal homes. A statue of the late Diana, Princess of Wales, stands on the grounds of Kensington Palace.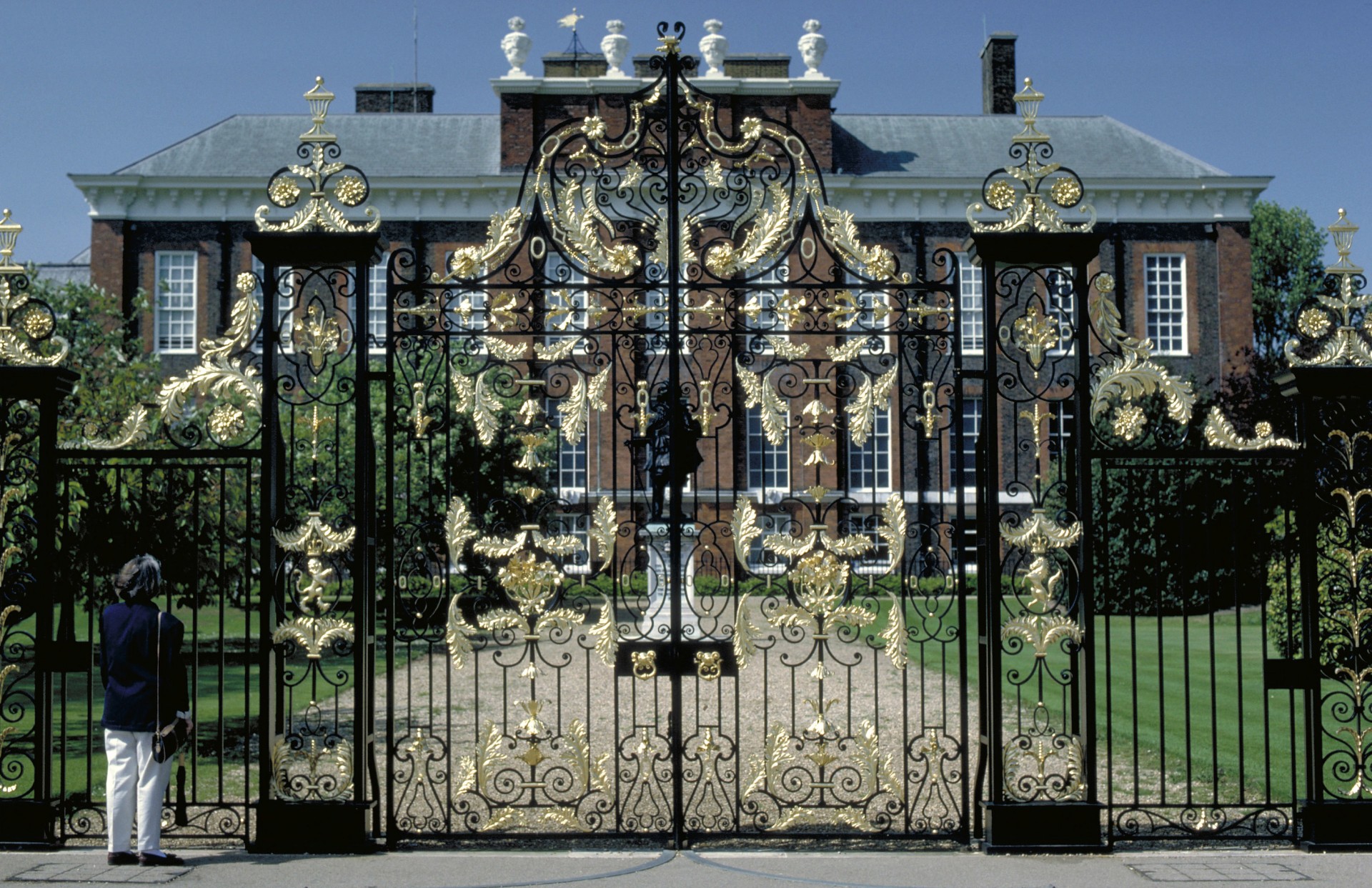 Exterior Gate at Kensington Palace in London. Photo credit: © Historic Royal Palaces.
3. Saint James's Palace
At nearly five hundred years old, Saint James's is the senior working royal palace in London and, situated on the Mall, which runs between Trafalgar Square and Buckingham Palace, it is where ambassadors to the UK present their credentials to the royal court. It is also from the balcony of Saint James's Palace that a proclamation is made when a new monarch comes to the throne. Built on the site of an old leper hospital by King Henry VIII, the palace now contains offices and a home for Princess Anne and other royals in London.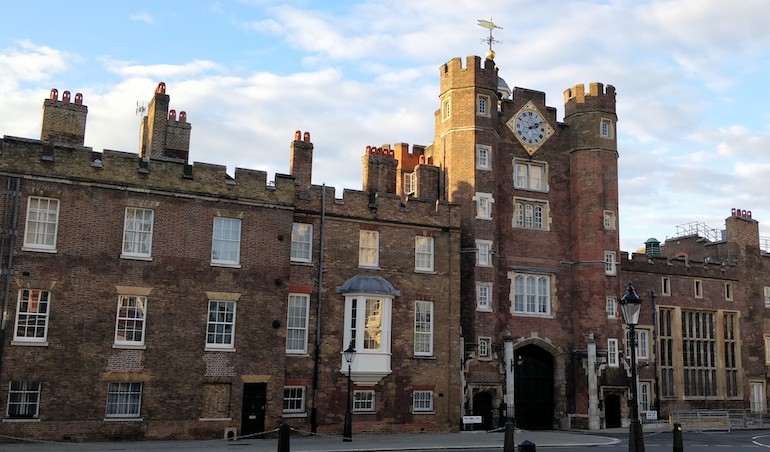 St James's Palace in London. Photo Credit: © Mark King.
4. Whitehall Palace
Like Saint James's Palace, the Palace of Whitehall gives its name to the area around it. (Working 'in Whitehall' is shorthand for working for the government in Britain.) Situated between Downing Street and Trafalgar Square, Whitehall was the main London residence of the monarch from 1530 to 1698, when a fire destroyed much of the old palace. It once had 1500 rooms and was the largest palace in Europe. Now all that remains of Whitehall Palace is the Banqueting House, which boasts a fine ceiling by the Flemish artist Peter Paul Rubens and can be hired for special functions such as weddings by couples and companies. It was opposite Whitehall Palace that King Charles I was executed on 30th January 1649, leading to a republic under Oliver Cromwell that lasted over eleven years. In 1660, two years after Cromwell's death, the monarchy was restored under King Charles II.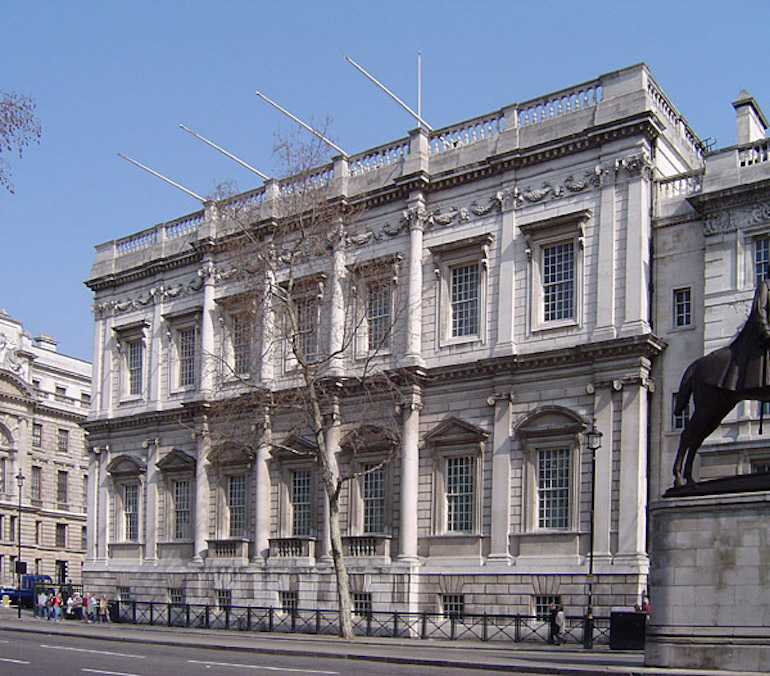 Banqueting House London, the only remaining component of the Palace of Whitehall. Photo Credit: © ChrisO via Wikimedia Commons.
5. The Tower of London
The Tower of London, as it is usually called, is the oldest of the royal palaces in London. It was built by William the Conqueror after his conquest of England in 1066 and protected the eastern approach to London along the River Thames. Nearby is Tower Bridge, which was built in the late nineteenth century and made to look like the Tower, although the two structures are not otherwise connected.
At the chapel of Saint Peter in the White Tower, the monarch traditionally spent the night before his or her coronation in a vigil of prayer and meditation. Queen Elizabeth I, who was crowned in 1558, did this but never returned to the Tower, and it fell out of use as a royal home afterward. Elizabeth did not care for the Tower as she was imprisoned there by her half-sister Mary and her own mother Anne Boleyn had been executed there in 1536 on the orders of her father, King Henry VIII. Although the Tower is no longer a royal home, it is still a Royal Palace and open to visitors. You can hear stories of prisoners and executions, as well as see the Yeoman Warders (commonly known as Beefeaters) and the Crown Jewels on a guided tour through the Tower of London.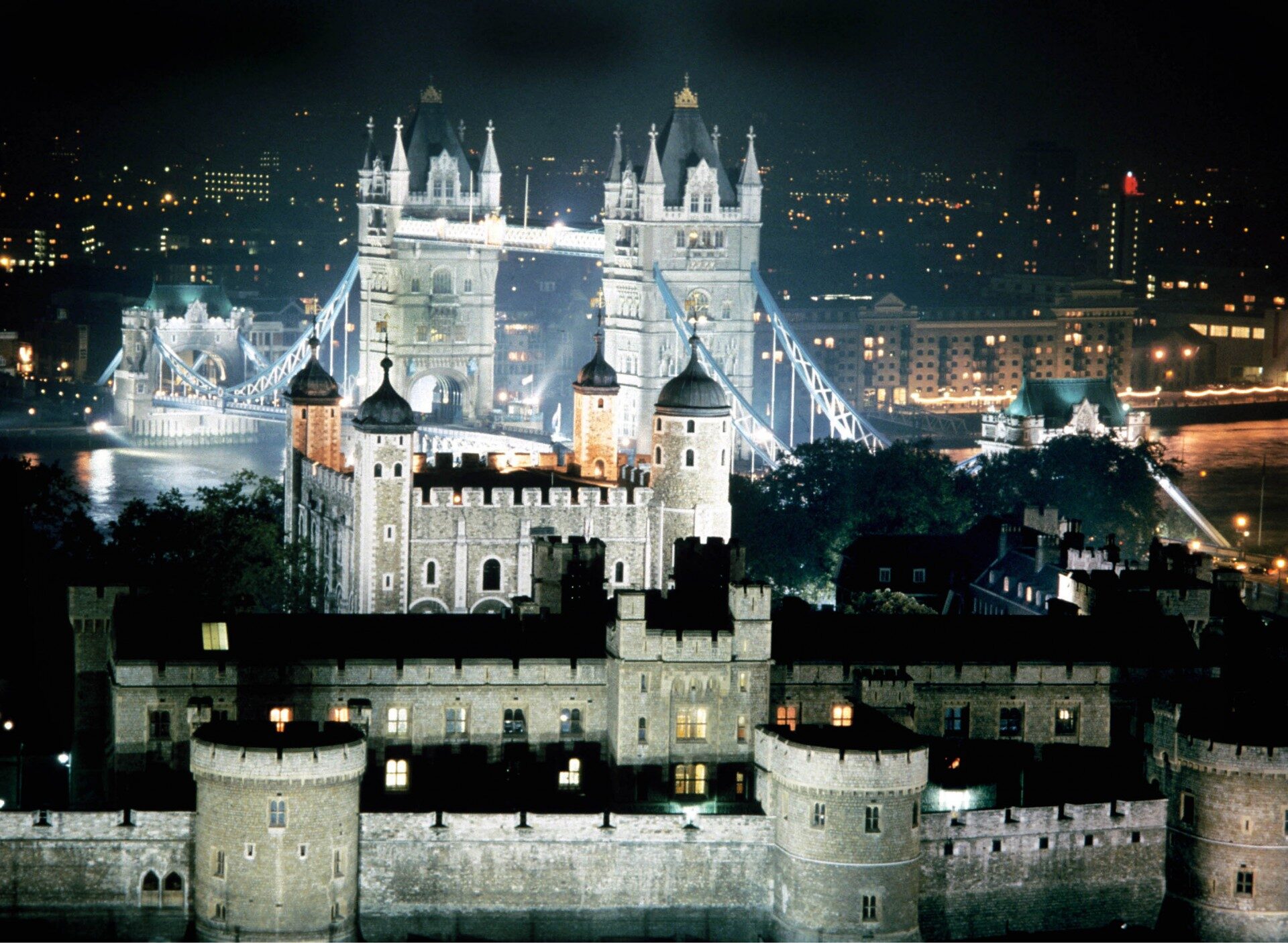 The Tower of London is one of Britain's oldest and most iconic landmarks. throughout history its roles have been varied, Treasury, Fortress, Armoury, Menagerie, and home of the Royal Mint, Crown Jewels, public record office, and of course the Tower ravens. Photo credit: © Historic Royal Palaces.
6. The Palace of Westminster
With its famous bell Big Ben, the Palace of Westminster stands opposite Westminster Abbey, farther down the River Thames from the Tower. When royalty enjoyed real power, nobles would ask them to pass laws, which they generally did in exchange for funds to run the royal court and fight foreign wars. The Palace of Westminster, which is usually referred to as the Houses of Parliament, is now home to Britain's politicians who make decisions on how the country is run.
Although it is still called a palace, the monarch only enters this building to read a speech that sets out the legislative programme of the government in the coming parliamentary session. This is read in the House of Lords as he or she has been barred from entering the elected House of Commons since the English Civil War. The Palace of Westminster was rebuilt in the mid-nineteenth century to the designs of Sir Charles Barry and Augustus Pugin after a fire destroyed the old palace in 1834. Only Westminster Hall – where the late Queen Elizabeth II lay in state – survives from the original palace. The Palace of Westminster is currently being restored at the cost of £20 billion, and this restricts accessibility for visitors.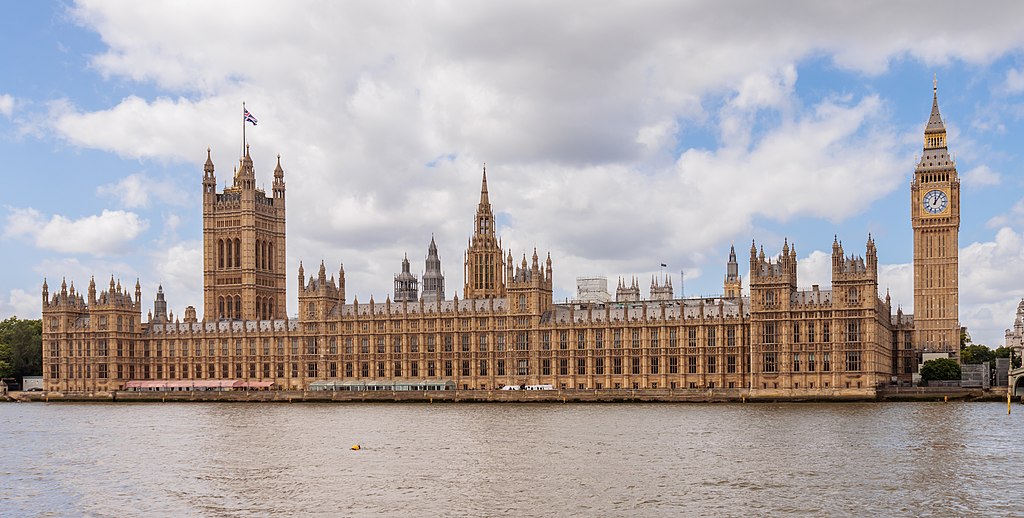 Palace of Westminster, Big Ben, and Westminster Bridge as seen from the south bank of the River Thames. Photo Credit: © Terry Ott via Wikimedia Common.
7. Clarence House
Although not officially known as a royal palace, Clarence house is an important royal home in London, and this distinctive cream-coloured building can be seen on the Mall near to Buckingham Palace. It was designed by John Nash in the 1820s and named after the Duke of Clarence (later King William IV). Clarence House was rebuilt after being bombed during the Second World War and became the London home of Princess Elizabeth and her husband, Prince Philip.
After Elizabeth's accession to the throne, the couple moved to Buckingham Palace, and Clarence House became the home of Elizabeth's mother, who was known as the Queen Mother (informally as the 'Queen Mum'). After her death in 2002, Clarence House became the London home of Charles, who was then Prince of Wales. Although he ascended to the throne on the death of his mother, Queen Elizabeth II, King Charles III, and his second wife, Camilla remained in the house as Buckingham Palace was being refurbished and restored.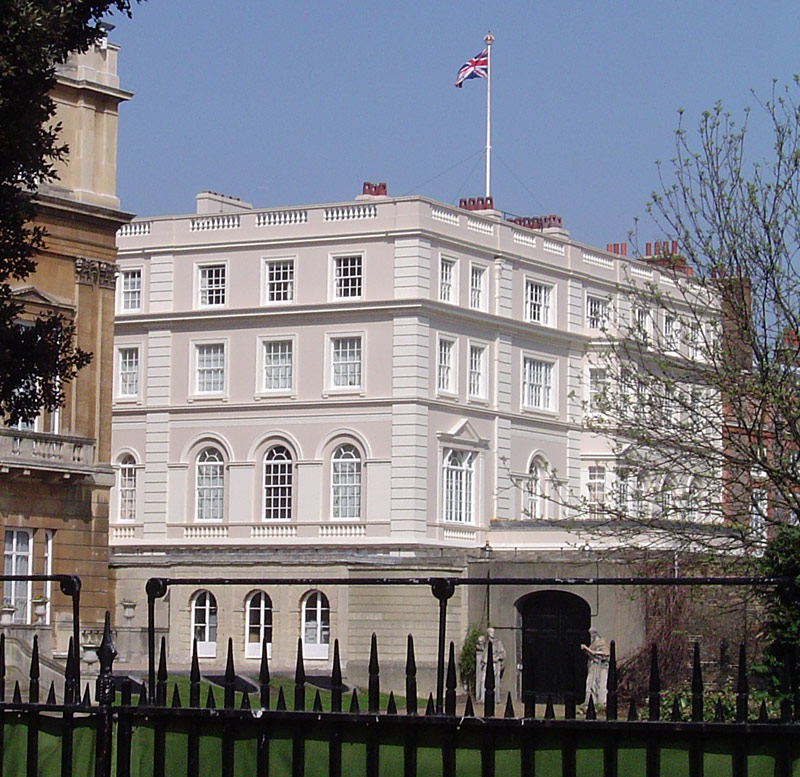 Clarence House in London. Photo Credit: © ChrisO via Wikimedia Commons.
8. Hampton Court Palace
Hampton Court Palace is a wonderful visit for those coming to London, although it has not been a royal home since King George the Third refused to go there after an incident when he was struck there by his grandfather King George II. During the reign of King George III, Hampton Court became a Grace and Favour residence for those who had served the royal family during their working lives. This ceased after a fire in 1986 that claimed the life of one of these residents, and there have been no grace and favour residents at Hampton Court since 2015. Queen Victoria had little interest in this royal home and gave it to the nation as a museum and art gallery soon after she came to the throne in 1837.
Hampton Court was originally built by Thomas Wolsey in the early 1500s, but as he fell from power in Henry VIII's reign, he gave it to the king as a 'gift,' although this was of little use in restoring him to Henry's favour. The king then rebuilt Hampton Court and brought his second wife, Anne Boleyn, there as his new bride. He had men working night and day to build the Great Hall of the palace, and you can visit this as well as the royal kitchens beneath it.
The palace was a favoured home of William and Mary, who commissioned the architect Christopher Wren to rebuild it. Fortunately, in many people's view, Wren did not have time to pull down the whole of the Tudor palace, and so parts of this survive, co-existing with Wren's work in the late 1600s. Many artworks from the royal collection are on display there, as well as some magnificent gardens, a famous maze, and the Great Vine, planted in 1763.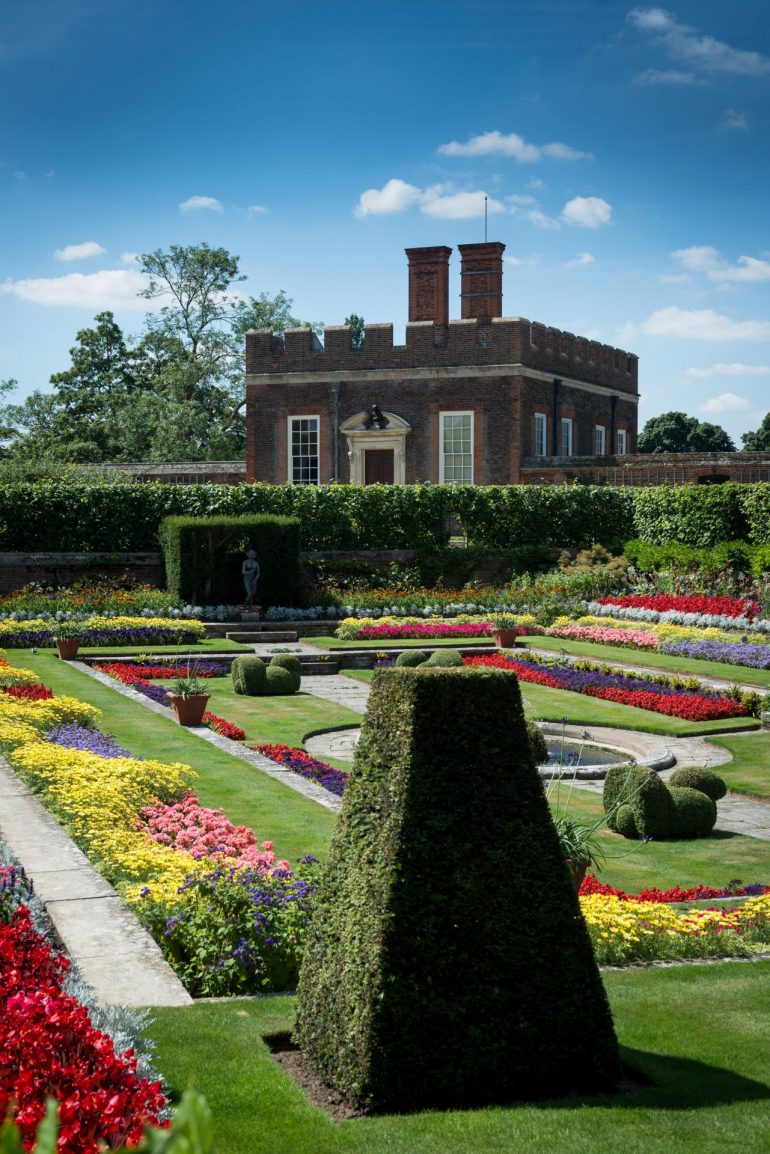 Hampton Court Palace – In the 16th century, the sunken compartments of Henry VIII's ponds were stocked with fish for the palace kitchens but by 1690 the ponds had been drained. Queen Mary II found the sheltered south-facing gardens an ideal place to house the collection of exotic plants she brought with her from the Netherlands. Today the gardeners make a splash with spring and summer bedding. Photo Credit: ©Historic Royal Palaces.
9. Kew Palace
King George III was happier at his home in Kew with his wife, Queen Charlotte, whose nearby cottage is also open to the public. The couple first met on their wedding day in 1761 when the seventeen-year-old Charlotte came from her home in Mecklenburg, Germany, to marry the British king. It proved to be a lasting union, and the couple was married for over fifty-seven years, making Charlotte the longest-serving queen consort in British history. They had fifteen children, of whom thirteen survived to adulthood, and they used Kew as a family home, where Charlotte's interest in botany led to the expansion of Kew Gardens, which now has over eight million plants and attracts many more visitors than the former royal home.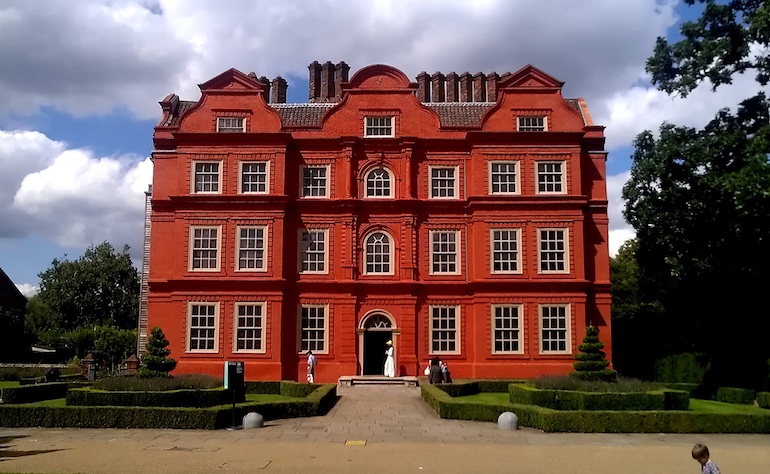 The Dutch House at Kew Palace in southwest London. Photo Credit: © Ethan Doyle White via Wikimedia Commons.
10. Windsor Castle
George and Charlotte divided most of their time between Kew and Windsor, where they were buried in Saint George's Chapel. George's grandfather, King George II, was the last monarch to be buried in the royal church of Westminster Abbey, where they have all been interred at Windsor, including the late Queen Elizabeth and her husband Philip. It is also at Saint George's that secondary royal weddings take place, while major ones are held at the Abbey. It was here that the late queen's grandson Prince Harry married his American wife Meghan Markle. The two have had a difficult relationship with the royal household and the journalists who follow members of the family and now reside mainly in California.
Windsor Castle itself was started by William the Conqueror after his conquest of England in 1066. It was one of around a dozen castles built in and around London, the only surviving ones being the Tower of London and Windsor. This is one of five homes that can be used by the monarch, the others being Buckingham Palace in London, Sandringham House in Norfolk, England, as well as Balmoral Castle and Holyrood Palace, both in Scotland.
The castle suffered from a major fire in 1992 when a powerful lamp being used by the restoration team in the Brunswick Tower accidentally started a blaze inside the private royal chapel. No one was killed in the fire, but some paintings were lost, including a large portrait of King George III and his eldest son, the Prince of Wales (later George IV). The late queen's son Prince Andrew was involved in rescuing other works of art but was told not to attempt to move this picture because of its size. Over 100 rooms were damaged by the fire, which lasted for twelve hours, reached temperatures of 820 degrees centigrade, required 220 firefighters from seven counties and one and a half million gallons of water to extinguish. The castle was restored in five years at the cost of over thirty-five million pounds.
Many people coming to London like to visit Windsor Castle because of its royal connections and because the late Queen Elizabeth is buried there next to her husband, sister, and parents. Also buried in the chapel are King Henry VIII, George III, and other members of the royal family who have used Windsor as a home for nearly a thousand years.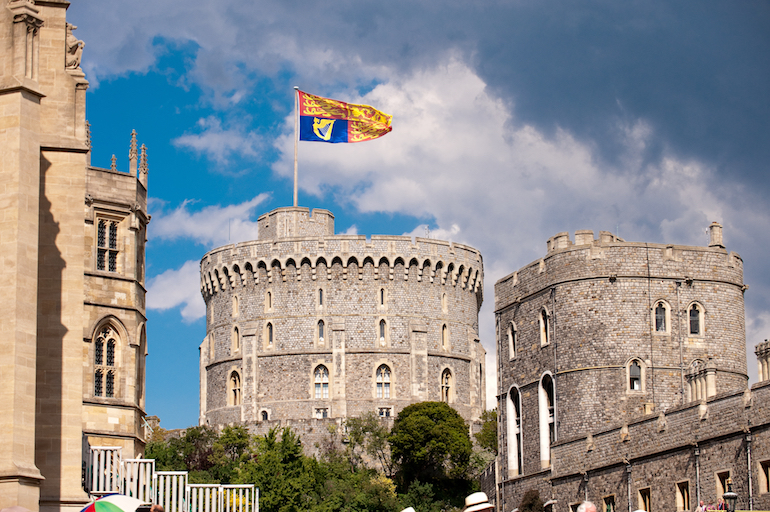 Windsor Castle: The Royal Standard flies at Windsor Castle. Photo Credit: © Visit England/Doug Harding.
Once great but now ruined Royal Palaces in London
Beyond the above ten royal palaces and homes in London, there were an additional three no longer in existence today.  This includes Placentia Palace, Richmond Palace, and Nonsuch Palace.
Placentia Palace in Greenwich was built in the mid-1400s by Duke Humphrey, who was regent to the young King Henry VI. It was here that Henry VIII and his two daughters were all born. His first and eldest daughter Mary was born in 1516, and his second and younger daughter Elizabeth in 1533. The two half-sisters had different religious loyalties – Elizabeth was Protestant, Mary a fierce Catholic – and were never close, although they are buried together in the royal church Westminster Abbey. All that remains now of Greenwich Palace is a plaque on the grounds of the University of Greenwich, once Greenwich Hospital, a home for retired sailors designed by Christopher Wren and later a Royal Naval College.
Richmond Palace is where the last Tudor monarch Queen Elizabeth I, died in 1603; her death led to the Stuart era of King James I, who had a Stuart Scottish mother and a Tudor grandmother, and to the union of the crowns of England and Scotland. Richmond Palace was built in the early 1500s by King Henry VII, who had been Earl of Richmond, the area of Sheen being renamed after his title. It was a favourite palace of his granddaughter Elizabeth, and it was here that her godson installed the then-modern invention of a flushing lavatory. Little of the palace now remains as it was sold by the British parliament for £13,000 after the execution of Charles I in 1649. The walls of the old palace were taken down, and the material was reused in the construction of other buildings. Virtually all that remains of this once great palace are the old gatehouse in Richmond Park, which is a Grade I listed building.
Nonsuch Palace was built on the borders of Greater London and the county of Surrey by King Henry VIII in the 1530s. It was constructed from scratch and was meant to outshine all the other royal palaces of Europe (hence its name). Unfortunately, Henry's ambitions for Nonsuch outstripped his abilities. It was uncompleted when he died in 1547 and was sold by his daughter Mary after she became queen. It later reverted to the royal family, and the recently restored King Charles II gave it to his mistress Barbara, Duchess of Castlemaine, who dismantled and sold off the building materials to pay her gambling debts! Nothing remains today of what was intended to be the great royal palace of Nonsuch.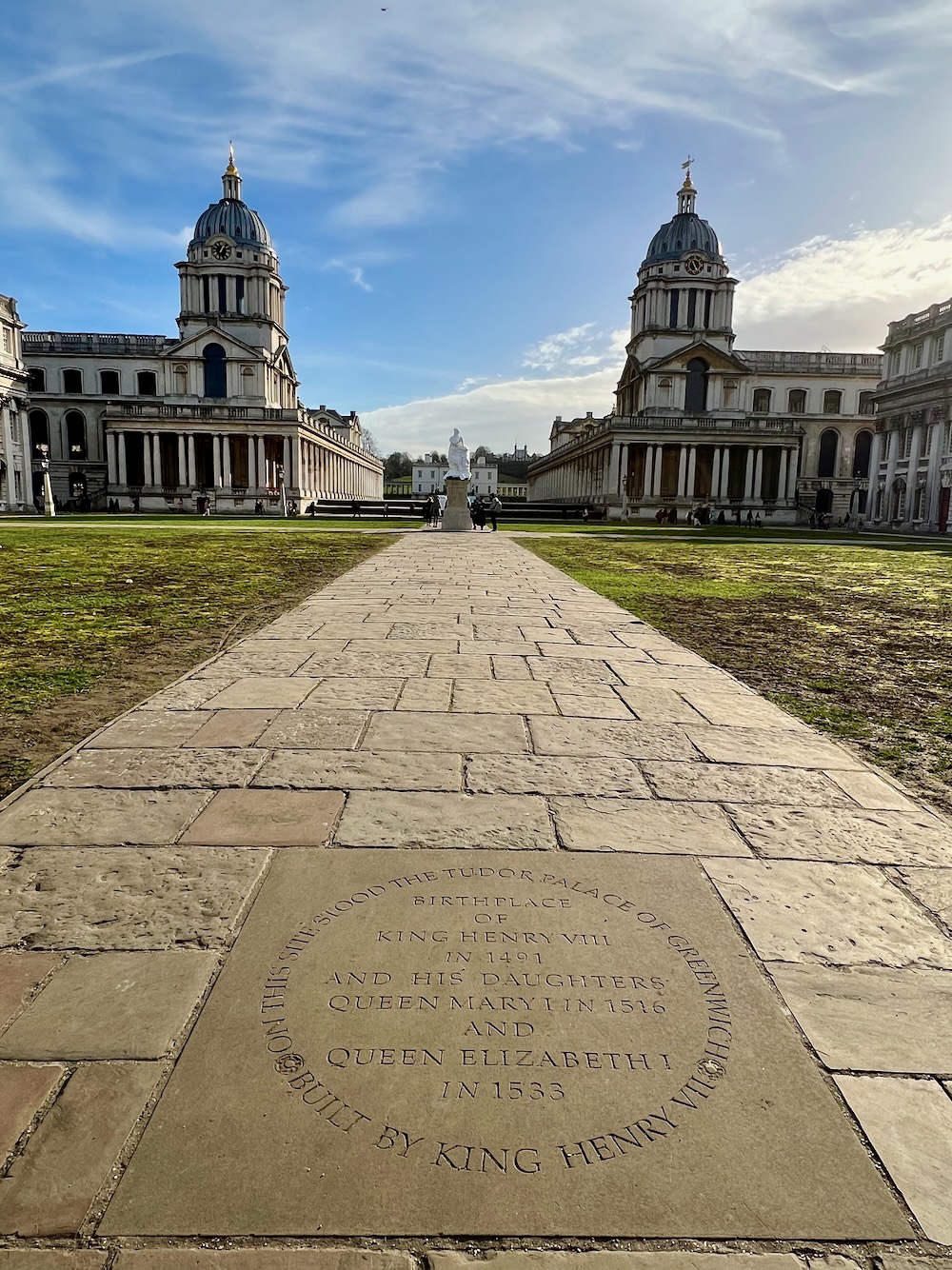 Plaque in Greenwich showing birthplace of King Henry VIII, Queen Mary I and Queen Elizabeth I. Photo Credit: © Ursula Petula Barzey.