Queen Elizabeth II has publicly announced that it is her "dearest wish" that Prince Charles's wife Camilla Parker Bowles, Duchess of Cornwall be known as Queen Consort when he ascends to the throne of the United Kingdom.
Here are ten facts about Camilla Parker Bowles, the woman who will in the future be known as Queen Consort:
1. Camilla is slightly older than Prince Charles. She was born on 17th July 1947 and he on 14th November 1948.  They are distantly related, being ninth cousins once removed. Camilla's great grandmother Alice Keppel was a long-term mistress of Charles's great-great-grandfather, Queen Victoria's son, and heir King Edward the Seventh.
2. Camilla and Prince Charles first met in 1971 when they were introduced by a mutual friend. They both enjoyed the sport of polo and soon became a couple. However, Charles was sent overseas in 1973 as part of his service in the Royal Navy. This may have been a method of ending his relationship with Camilla, who was not considered a suitable match for him by some in royal circles. In July 1973, when Charles was away, she married Andrew Parker Bowles at a high society wedding with 800 guests.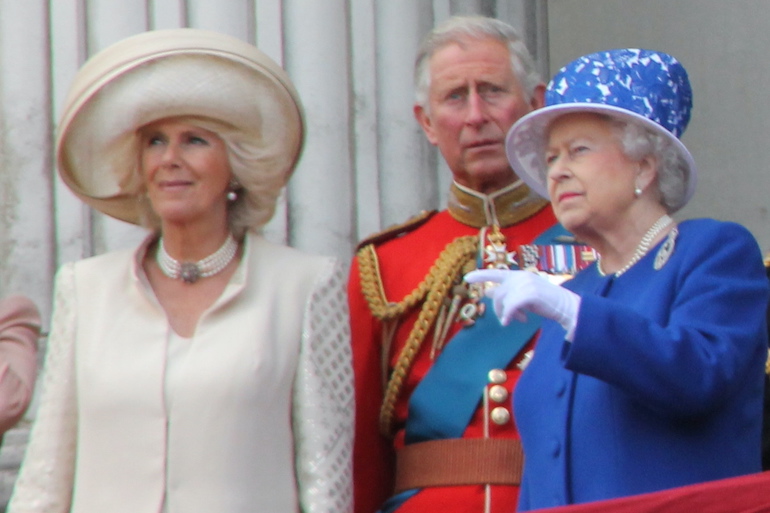 Camilla Parker Bowles, Prince Charles, and Queen Elizabeth II. Photo Credit: © Carfax2 via Wikimedia Commons.
3. Andrew Parker Bowles was a cavalry officer in the Blues and Royals, one of the regiments that stands guard at Horse Guard's Parade in Whitehall near Buckingham Palace. A skilled horseman and polo player, he was for a time involved with Prince Charles's sister Princess Anne. Andrew Parker Bowles is a Roman Catholic while his former wife Camilla remains a member of the Church of England. The couple has two children, Tom and Louise, and five grandchildren. They divorced in 1995.
4. It was originally planned that the wedding in 2005 of Charles and Camilla would take place inside Windsor Castle but this would have necessitated obtaining a licence to perform weddings thus allowing members of the public to marry there as well, something that staff at Windsor Castle did not wish to happen. The venue, therefore, was changed to Windsor Guildhall and the marriage was blessed at Saint George's Chapel inside Windsor Castle. Prince Charles's son Prince William was a witness at the wedding ceremony. Queen Elizabeth II and Prince Philip did not attend but came to the blessing.
5. Charles and Camilla's home in London is Clarence House on the Mall, which stands between Trafalgar Square and Buckingham Palace. It was previously the home of the Queen and Prince Philip and, after her succession to the throne, of her mother Queen Elizabeth the Queen Mother who died in 2002 at the age of 101. Prince Charles also owns a country home in Wiltshire called Highgrove, which is used for family gatherings, as well as homes in Scotland and Wales. Camilla still owns Ray Mill House, the home where she lived after her divorce from Andrew Parker-Bowles.
6. Camilla is a patroness of several charities, including the National Osteoporosis Society. Her own mother and grandmother died painfully from this bone disease and she has long had an interest in promoting research to combat it. She became President of the Society in 2001 and has written a book giving women advice on looking after their bodies: Skeleton Guide to a Healthy You. She has received honorary doctorates from universities as a result of her promotion of the work of the Society which was renamed The Royal Osteoporosis Society in her honour.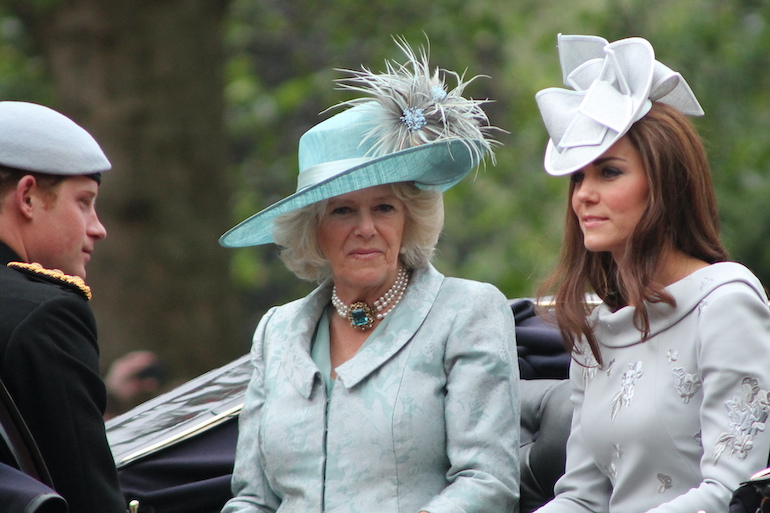 Duchess of Cornwall and Duchess of Cambridge. Photo Credit: © Carfax2 via Wikimedia Commons.
7. Camilla is a keen reader and is a patron of the National Literacy Trust. Every year she launches the Commonwealth Essay Prize which gives an award to a young writer for writing an essay on a particular theme. She is also a supporter of initiatives such as the writer Giles Brandreth's Poetry Together project and Silver Stories, a scheme that encourages young people to read books to older listeners over the telephone.
8. Camilla is a skilled horse rider and is a patron of animal welfare charities such as the Battersea Cats and Dogs Home and the Brooke Hospital for Animals. She has adopted a Jack Russell Dog from the Battersea Home and often visits other animal shelters. Other charities she has supported include those that work to combat poverty, homelessness, sexual abuse, and FGM (female genital mutilation). She also helps to promote organisations that support the arts, heritage, and healthy eating.
9. The relationship between Charles and Camilla has received some negative publicity as a result of the popularity of his first wife Diana, Princess of Wales. He has, however, described his commitment to it as "non-negotiable" and the couple often appears in public together. Out of respect to Diana, who died in a car crash in Paris in 1997, Camilla chose not to assume the title of Princess of Wales. She indicated instead that she would like to be referred to as the Duchess of Cornwall, a title she can use because Prince Charles is the Duke of Cornwall. In Scotland, she is known as the Duchess of Rothesay and she also holds the title of Countess of Chester.
10. In an announcement on New Year's Eve 2021, Queen Elizabeth II made Camilla a Lady of the Order of the Garter. At the same time former Prime Minister Tony Blair and Valerie Amos, the first woman of colour to be granted membership, were introduced into the Order. It was founded by King Edward the Third in 1348 and at any one time, it has a maximum of twenty-four members, plus the monarch and the Prince of Wales. A celebration known as Garter Day is normally held in June when new knights are installed at Saint George's Chapel, Windsor, the same place where the marriage of Charles and Camilla was blessed after their civil wedding in 2005.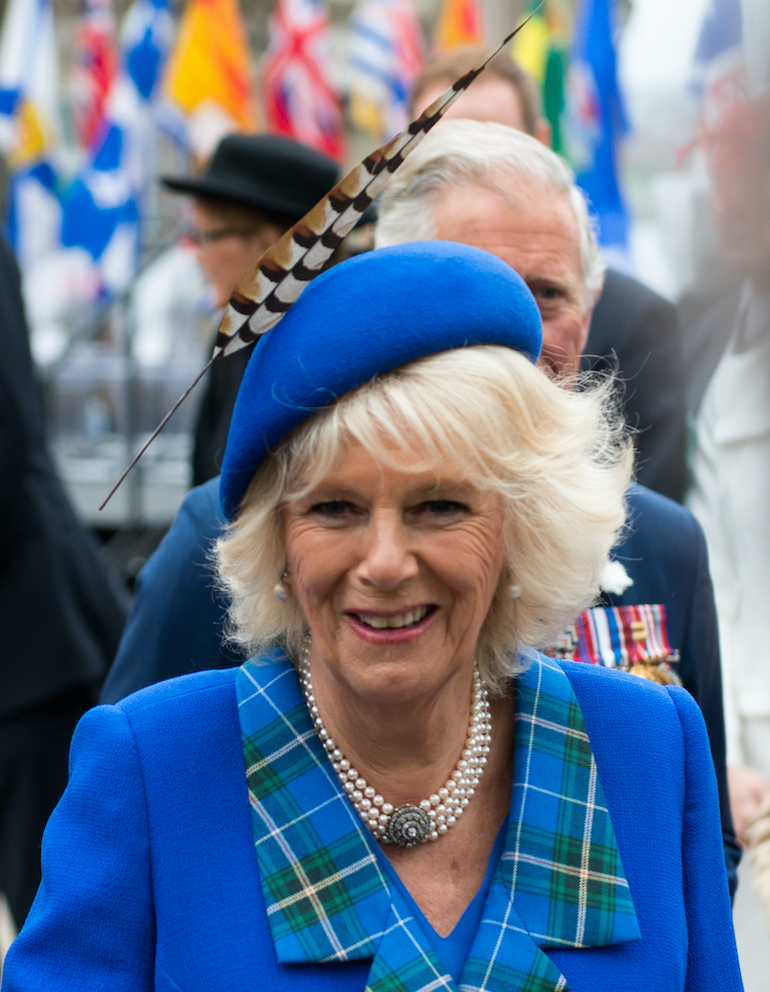 Camilla Parker Bowles, Duchess of Cornwall. Photo Credit: © KoronaLacassePhoto via Wikimedia Commons.