Her Majesty Queen Elizabeth the Second's long reign as monarch of the United Kingdom and Head of the Commonwealth came to an end on the afternoon of 8th September, 2022.
Elizabeth was born in Mayfair in London on 21st April 1926 in a house since demolished. She ascended to the throne on 6th February 1952 whilst in Kenya on a tour of African countries. Her reign of 70 years and 214 days was the longest of any British monarch, as she had passed the previous record of 63 years and seven months held by Queen Victoria in 2015.
Elizabeth had not only the longest reign of any British monarch but was the second longest reigning monarch in world history. Its length was surpassed only by Louis XIV of France, who came to the throne in 1643 at the age of four and died at the age of seventy-six in 1715.
She was born as the eldest daughter of the Duke and Duchess of York but became the heir apparent only after the abdication of her uncle King Edward the Eighth, who wished to marry Wallis Simpson, an American woman who had been married and divorced twice and was not considered suitable as a consort to the monarch. King Edward had a reign of just ten months in 1936 before he made an abdication speech from Windsor Castle telling the people of the world that he could not become king "without the help and support of the woman I love."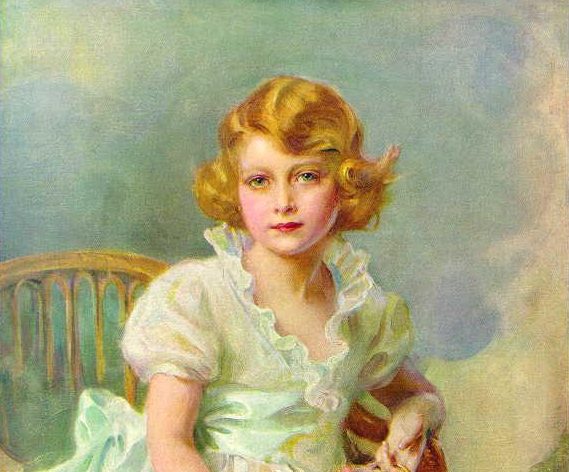 British Monarchy: Princess Elizabeth, aged seven, painted by Philip de László, 1933. Photo Credit: © Public Domain via Wikimedia Commons.
After the abdication, Edward's brother George came to the throne, and his daughter Lilibet (as she was known in the family) became his heir. He guided her through the business of monarchy in her early years but died at the early age of fifty-six when Elizabeth succeeded him. She had one sister Margaret who was married to Lord Snowdon, with whom she had two children. Margaret died in 2002. Both sisters were educated at home and, in a famous incident, mingled with the crowds celebrating the end of the Second World War.
During the war years, Princess Elizabeth remained in Britain, despite pressure to remove her to a safer location in a country such as Canada. Her mother (also called Elizabeth) said that Elizabeth and her sister would not go without her, she would not go without the king and that "the king will never leave". While the former King Edward VIII met with Adolf Hitler, Princess Elizabeth served with the Royal Auxiliary Corps and learned to be a driver and a mechanic.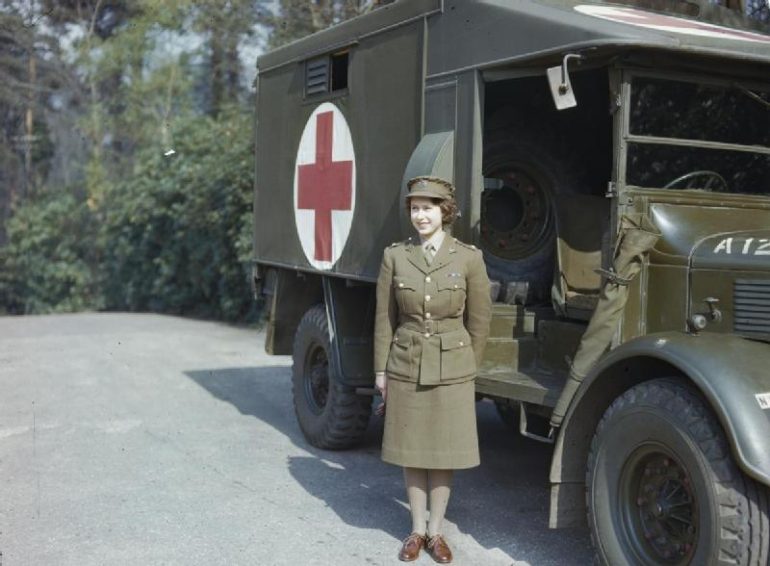 Princess Elizabeth in Auxiliary Territorial Service uniform, April 1945. Photo Credit: © Public Domain via Wikimedia Commons.
After the war, Elizabeth married Prince Philip, who was her distant cousin. It was a genuine love match as Philip was not considered suitable as the husband of a future queen in the eyes of some people. He was foreign-born and financially impecunious, and his own sisters had married officers in the German army, with whom Britain had been at war. However, Elizabeth was determined to marry Philip and their union, which began with their wedding at Westminster Abbey in 1947, remained strong until his death in 2021. They had four children – Charles (who has succeeded her as monarch), Princess Anne, Prince Andrew and Prince Edward – eight grandchildren and, so far, twelve great-grandchildren. When she came to the throne at the age of twenty-five in 1952, Elizabeth was already the mother of two children, Charles and Anne, and had two more sons as monarch, Andrew and Edward.
The Queen is one of the few people in Britain who never votes. She has to approve all legislation passed by Parliament by giving the Royal Assent, after which bills passed by both houses of parliament, the Commons and the Lords, can be called Acts of Parliament. This theoretically gives the monarch the power of veto, but it is one that has not been exercised for over 300 years and is unlikely to ever be used again. A constitutional monarch is expected to remain neutral in political matters, and the Queen was always careful to keep her own views secret.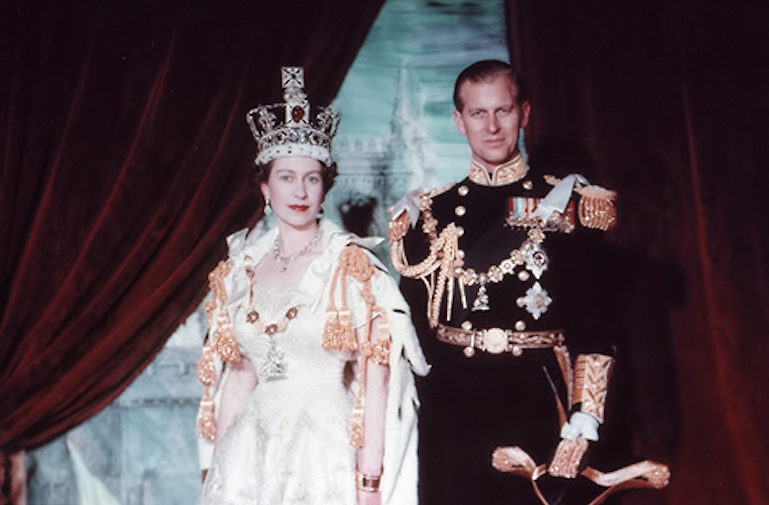 Prince Philip & Queen Elizabeth II wearing the Imperial State Crown after Coronation. Photo Credit: © Public Domain via Wikimedia Commons.
This does not mean that she was ill-informed or uninterested in political matters. She had weekly meetings with all fifteen of her Prime Ministers when parliament was in session and kept abreast of all matters of state. Queen Elizabeth was particularly interested in the Commonwealth. Her son Charles the Third will also be head of the Commonwealth and will be expected to restrain his tendency to express his views on political matters.
The Queen had five different homes, which she used at different times of the year. In the early summer, she lived in Windsor Castle, which is the oldest and largest of the royal homes. The royal family would often move from there to Buckingham Palace in central London for special events such as investitures and celebrations, the most recent of which was the platinum jubilee celebration in June 2022. In the late summer, the royal family would relocate to Scotland and go to Balmoral Castle, staying for a time at Holyrood Palace in Edinburgh. In the winter, the Queen would often go to her private home Sandringham House in Norfolk, where she would remember her late father, who died there in 1952.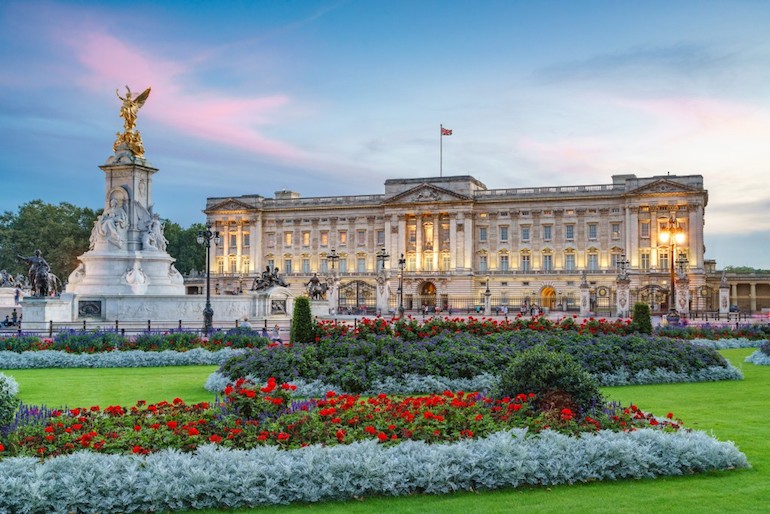 Buckingham Palace in London. Photo Credit: © visitlondon.com/Visit Britain.
The Queen had a good sense of humour and was prepared to pretend to parachute into the Olympic Stadium together with James Bond during the opening ceremony of the London Olympics in 2012. She also had tea with Paddington Bear during the celebration of her Platinum Jubilee in 2022 and revealed that she, too, kept a supply of marmalade sandwiches.
Most people in Britain and throughout the Commonwealth and the rest of the world have only known one monarch, and that was Elizabeth. As a young princess, after it had become clear that she would one day become monarch, Elizabeth made one of the first of her many broadcasts on her twenty-first birthday in which she said: "I declare before you all that my whole life, whether it be long or short, shall be devoted to your service and the service of our great imperial family to which we all belong." It was certainly a long life, and no one can doubt that it was one of service to the country and the commonwealth she reigned over.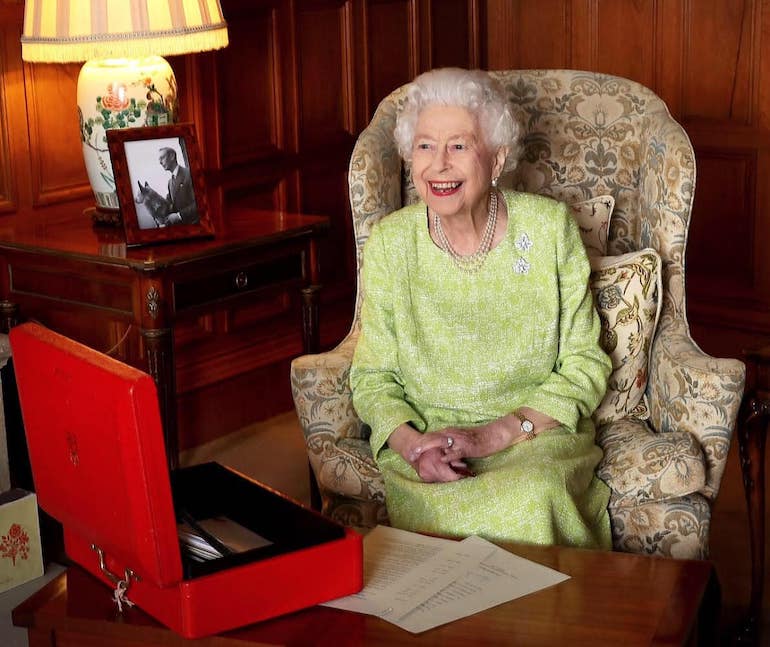 Her Majesty, Queen Elizabeth II. Photo Credit: © British The Royal Household © Crown Copyright.