The world will be watching this summer when Prince Henry of Wales KCVO, familiarly known as Prince Harry, marries the American actress Meghan Markle. With interest on both sides of the Atlantic, the royal wedding will be held on Saturday, 19th May 2018 not at Westminster Abbey in Central London where Prince Harry's brother Prince William, Duke of Cambridge was married, but at St. George's Chapel, Windsor Castle.
Founded in 1348 by Edward III, St. George's Chapel holds much significance to the British Royal Family.
To start, the small intimate royal chapel which actually holds around 800 people is where Prince Harry was christened. It was also chosen by Prince Charles for the blessing of his second wedding, to Camilla Parker Bowles in 2005. St. George's Chapel was also the venue for the wedding of the Queen Elizabeth II's eldest grandson Peter Phillips (son of Princess Anne) to Canadian Autumn Kelly in 2008 and where her youngest son Prince Edward married Sophie Rees Jones in 1999.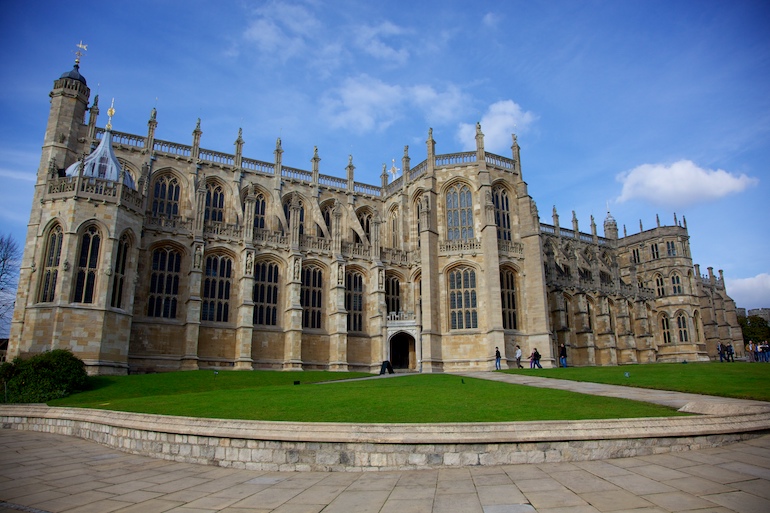 Windsor Castle: St George's Castle. Photo Credit: © Aurelien Guichard via Wikimedia Commons.
St. George's Chapel is located inside Windsor Castle, the world's oldest and largest lived in castle. The chapel took 50 years to build, between 1485 and 1528 and is a beautiful example of perpendicular (late-medieval) gothic architecture. Today it has three purposes:
1. St George's Chapel is a working chapel of the Church of England
Three services per day are held in the chapel and especially beautiful is Evensong at 5.15pm each day when the Choir of St. George's sing (no sung service on Wednesdays). Members of the public can attend services.
2. St. George's Chapel is the burial place of monarchs.
Since 1820 all monarchs have been buried at Windsor rather than Westminster Abbey in London. These are George III, George IV, William IV, Edward VII and the Queen's parents George VI and Queen Elizabeth the Queen Mother. Medieval monarchs Henry VI and Edward IV are also buried in the chapel as well as two very famous Kings, Henry VIII and Charles I. Henry VIII is buried under the quire with his third and favourite wife, Jane Seymour the only wife to give him a son. Charles I who was executed after the Civil War in the 1640s is buried in the same vault. It is a sad inevitably that our present Queen will die at some point and Windsor will be her final resting place.
3. St George's Chapel is the spiritual home of the Order of the Garter.
Founded by Edward III in 1348 at Windsor, the Order of the Garter is the oldest and highest order of chivalry in the country. A personal gift of the sovereign, there are only 24 knights at any one time. Current well known ones include former Prime Minister Sir John Major and Mervyn King, ex-Governor of the Bank of England. They meet with the Queen once a year on Garter Day in June for lunch at the castle followed by a service in the chapel. The fantastic carved seats (stalls) where they sit are over 500 years old – think Harry Potter! Prince Harry and Meghan Markle say their wedding will be fun which is good news. When the Prince of Wales, later Edward VII, married Alexandra of Denmark in the chapel in 1863, his mother Queen Victoria was still in mourning for her husband Prince Albert. She cried throughout the ceremony, was dressed in black and watched from a upstairs chapel rather than being with her family below!
Windsor Castle: View of choir area at St George's Castle. Photo Credit: © Josep Renalias via Wikimedia Commons.

To visit St. George's Chapel you need to purchase a ticket to Windsor Castle or better yet book a Blue Badge Tourist Guide to organise the  Windsor Castle Tour for you.  Only accredited Blue Badge Tourist Guides are permitted to guide inside Windsor Castle and St George's Chapel.
Windsor Castle is open between 9.30am and 5.15pm (March to October) and between 9.45am and 4.30pm (November to February).  St. George's Chapel is not open to tourist visiting on Sundays.  For more information visit the websites for Windsor Castle and   St. George's Chapel.