Westminster Abbey is both Britain's royal and its national church. No monarch has been buried there since 1760, but it was the location for state funeral of Her Majesty Queen Elizabeth II on 19th September 2022. Also, it was at Westminster Abbey that the funeral service for Diana, Princess of Wales, took place on 6th September 1997, with her brother Earl Spencer giving a famous eulogy at this event.  Diana's son Prince William married Catherine Middleton at Westminster Abbey on 29 April 2011, and the Queen Elizabeth II and Prince Philip's also married there on 20 November 1947. As a result of these historic events, a visit to Westminster Abbey is often a significant part of a tour of the capital, and London's Blue Badge Tourist Guides are all qualified to conduct tours there.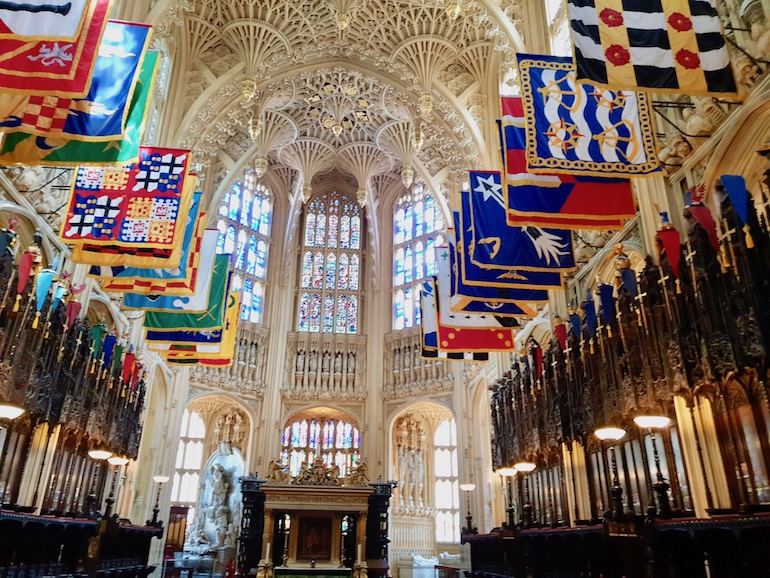 Lady Chapel at Westminster Abbey. Photo Credit: © Ursula Petula Barzey.
Famous British Royals buried at Westminster Abbey
Since its foundation as a royal church in the eleventh century, almost twenty British monarchs have been buried there. Below is a listing of some of the famous British royals buried at Westminster Abbey in London.
Edward the Confessor
If anyone can be called the founder of Westminster Abbey, it is Edward the Confessor, whose grave can be seen in the centre of the church. Edward built the Palace of Westminster and rebuilt the nearby Benedictine Monastery as a royal church shortly before his death in 1065. Next year the Confessor was replaced by the Conqueror as William I came from France to win the kingdom from Harold, the last Saxon king of England, whom he defeated at the Battle of Hastings in 1066.
Henry III of England
Henry III of England venerated the memory of Edward the Confessor and rebuilt Westminster Abbey in gothic style in the mid-thirteenth century. It is to him that we owe the appearance of this grand medieval church. Henry chose to be buried in Westminster Abbey next to Edward the Confessor, and you can see his tomb with an effigy of the king on top. After his long reign, the crown was inherited by his more warlike son Edward in 1272.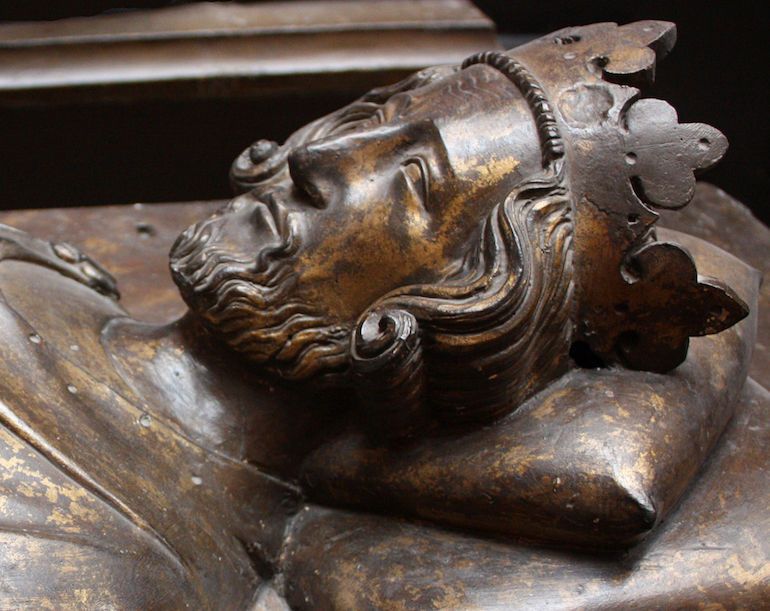 Effigy of Henry III on his tomb in Westminster Abbey. Photo Credit: © Valerie McGlinchey via Wikimedia Commons.
Edward I of England
There are four crowned kings named Edward buried at Westminster Abbey: Edward the Confessor, Edward I of England, Edward III of England, and Edward VI of England and Ireland. Edward I, who was six foot two inches tall and nicknamed 'longshanks,' was the king who attempted to create the modern United Kingdom through the conquest of both Wales and Scotland, and he made his son and successor Edward II, the first Prince of Wales. Edward I of England is buried in a plain military tomb near his devoted first wife Eleanor of Castile, who was buried in Saint Edward's Chapel after her death in 1290.
Edward III of England
Like his grandfather Edward I of England, King Edward III was a warlike monarch who invaded France with his equally ferocious son Edward the Black Prince at the start of what became known as the Hundred Years War. Edward III of England reigned for half a century from 1327 to 1377 and was buried next to his wife Philippa of Hainault on the north side of the royal chapel in the heart of Westminster Abbey. Their tombs are decorated with effigies of the royal couple and small figures known as 'weepers' which show other members of their large family grieving for them.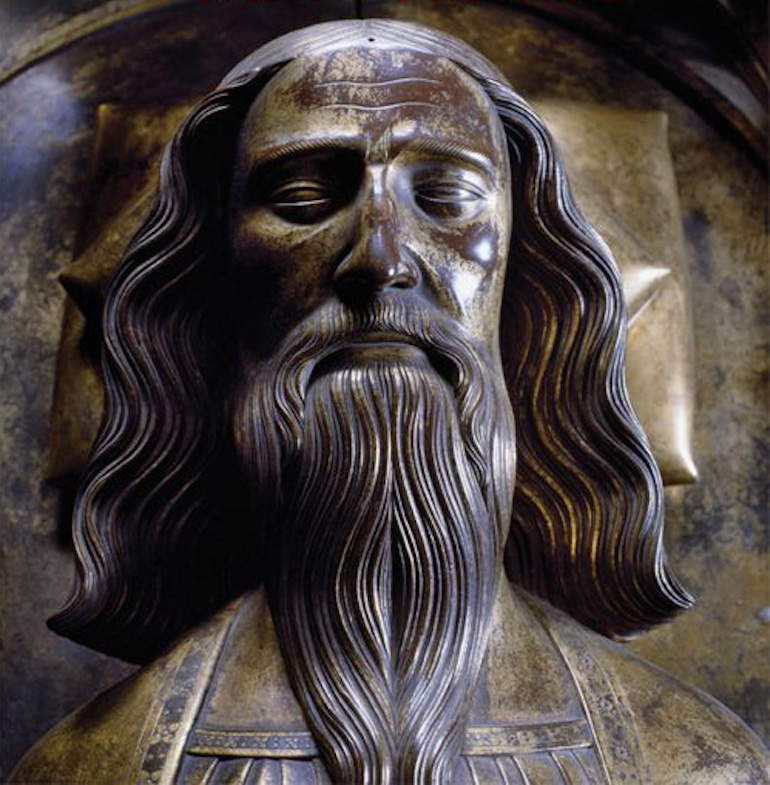 Detail from Edward's bronze effigy in Westminster Abbey. Photo Credit: © Public Domain via Wikimedia Commons.
Richard II of England
King Richard II of England was crowned aged only ten when he succeeded his grandfather King Edward III in 1377. His father, the Black Prince (so-called because of the colour of his armour), had predeceased Edward, so Richard became a boy king who showed great bravery when he confronted the Peasant's Revolt just four years later. Sadly, King Richard II's early promise was not fulfilled, and he was deposed by his cousin Henry, Earl of Bolingbroke, who became King Henry IV, after which Richard was imprisoned in Pontefract Castle Yorkshire and died, probably of starvation, in 1400.
We know what Richard II of England looked like because a coronation portrait of him exists as he sits on what is recognisably the Coronation Chair. This is the first portrait of a living English monarch and hangs near the Chair by the west door of Westminster Abbey.
Henry V of England
King Henry V of England was another successful warrior king immortalised by William Shakespeare in the play Henry the Fifth, which shows his wearied and outnumbered army winning a famous victory in France at the Battle of Agincourt in 1415. Five years later, Henry V married the French Princess Catherine de Valois but died just two years afterward, leaving a young son, also called Henry, as his successor. The turbulence that followed King Henry VI's coronation led to the Wars of the Roses in England as the Houses of York and Lancaster fought each other for the throne of England.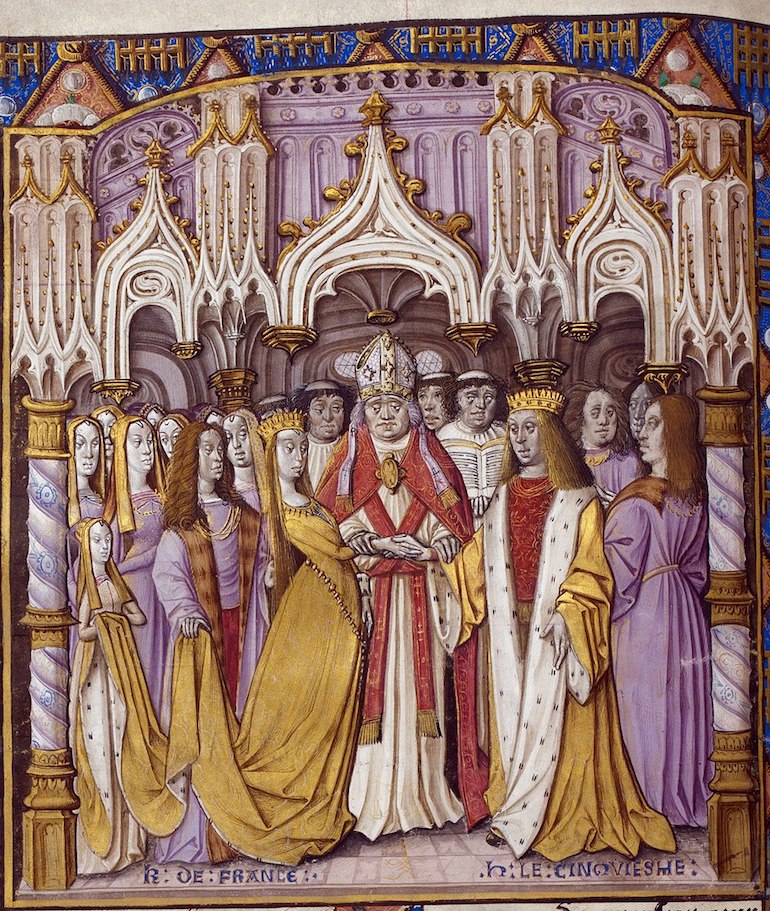 A late 15th-century depiction of Henry's marriage to Catherine of Valois. British Library, London. Photo Credit: © Public Domain via Wikimedia Commons.
Catherine de Valois
Henry's widow Catherine was far from home in a strange country and married a Welsh squire called Owen Tudor, with whom she had three sons, one of whom was Edmund, the father of Henry Tudor. Henry later became King Henry VII of England after he defeated King Richard III at the Battle of Bosworth in 1485, thus bringing the Wars of the Roses to an end. Catherine was buried next to her husband after her death in 1437 and the diarist Samuel Pepys recalls being able to kiss her mummified face on a visit to the Abbey over two hundred years later in 1669.
Henry VII of England and Elizabeth of York
King Henry VII of England, the first Tudor monarch, was buried in Westminster Abbey after his death in 1509 and he was succeeded by his famous son Henry VIII, who is buried at Windsor Castle. Brought up mainly by his mother, the formidable Lady Margaret Beaufort, who had given birth to him at the age of thirteen, Henry was forced to live in exile until he returned to England to win the crown from Richard III at Bosworth Field in 1485 – a battle immortalised by William Shakespeare.
Following his accession to the throne, King Henry VII married Richard's niece Elizabeth, and this union created the House of Tudor, which ruled England and Wales in the 1500s. Henry and Elizabeth are buried side by side in the late gothic chapel he had built in the Abbey. The strikingly realistic effigies above them were fashioned by the Italian artist Pietro Torrigiano, a contemporary and rival of Michelangelo. With the building of the Henry VII Chapel, the renaissance had arrived in England.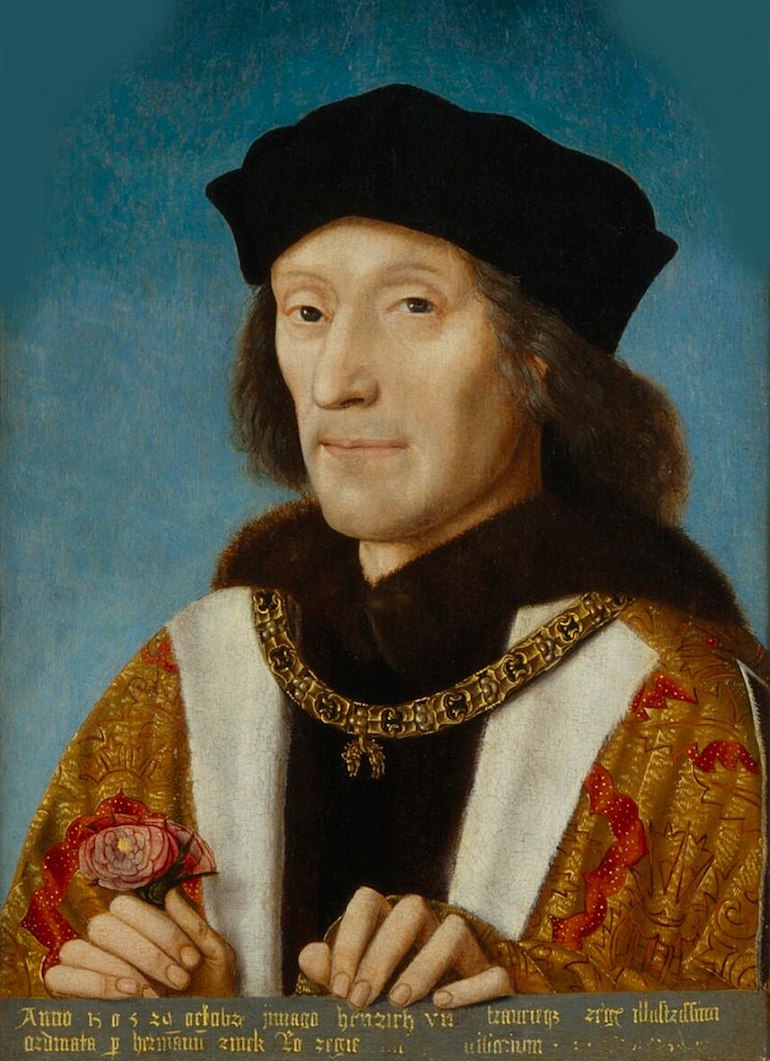 Portrait of Henry VII of England. Photo Credit: © Public Domain via Wikimedia Commons.
Edward VI, King of England and Ireland
The main reason that King Henry VIII got through six wives is that he wanted a son to inherit his crown after his death. This was achieved with the birth of Edward to his third wife, Jane Seymour (who died soon after giving birth to him). Edward inherited the crown from his father at the age of nine in 1547, but he was never able to celebrate his sixteenth birthday as the boy king died of tuberculosis in 1533. King Edward VI was buried next to his grandparents in the Henry VII Chapel.
Elizabeth I and Mary I – two queens in one tomb
Following the death of King Edward VI and a period of turbulence in which Lady Jane Grey was thrust unwillingly onto the throne for nine days, King Henry VIII's daughter Mary was crowned at Westminster Abbey. Initially, the popular choice of the people and the legitimate queen of England, Queen Mary's fierce loyalty to the Roman Catholic church, and her marriage to King Philip of Spain led to her gaining the unfortunate nickname of 'Bloody Mary' as Protestants were burned at the stake for their religious beliefs. Mary died childless, deserted by her husband, and largely unmourned in 1558.
Queen Elizabeth I succeeded Queen Mary at the age of twenty-five. She and Mary were both daughters of Henry by different wives, Mary, the child of Katherine of Aragon, Elizabeth of her successor Anne Boleyn. She had been executed at the Tower of London because of her failure to provide Henry with a son. Elizabeth never married and became known as 'the Virgin Queen,' Virginia in America being named in her honour by Sir Walter Raleigh, one of the many famous heroes of her long reign.
The two half-sisters had little in common apart from their Tudor blood, yet they are buried next to each other in a small side chapel which can be visited on the way to Henry VII's Chapel at the eastern end of Westminster Abbey.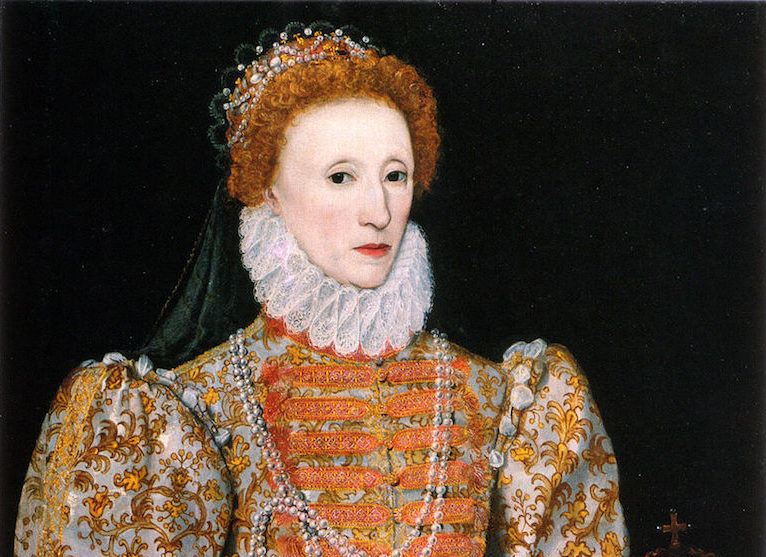 Portrait of Queen Elizabeth I of England, painted circa 1575 by Darnley. Photo Credit: © Public Domain via Wikimedia Commons.
Mary Queen of Scots
On the way out from Henry VII's Chapel, many visitors like to see the tomb of Mary Stuart, who is buried on the opposite side of the church to her cousins Elizabeth and Mary. She never met them during her lifetime and never came to London, spending much of her early life in France and later years under house arrest in various castles in England after leaving her native Scotland following a brief and turbulent reign there. This had ended with her surrendering the throne in favour of her young son James who was brought up to reject his mother Mary and her strong loyalty to the Roman Catholic church. Eventually, Mary Queen of Scots was executed at Fotheringay Castle in 1587 on the orders of Elizabeth, and James later had her body reinterred in Westminster Abbey after he had succeeded Elizabeth in 1603.
Monarchs of the House of Stuart
James I of England – he was already James VI of Scotland – succeeded Elizabeth by virtue of his Tudor grandmother, who had been Henry Henry VIII's sister. James's coronation at Westminster Abbey after Elizabeth's death thus united the crowns of England and Scotland peacefully for the first – and final – time as he became England's first Stuart king. He is buried in Henry VII's Chapel, but James does not have a monument, unlike his famous mother.
The 1600s were a changing time in royal history, with the Stuart family losing the crown on not one but two occasions. In 1649 a republic was established in England under Oliver Cromwell. His death in 1658 led to the monarchy being restored when the 'merry monarch' Charles II returned to England from exile in 1660 and reigned until 1685 when he was succeeded by his brother James. Charles was buried in Henry VII's Chapel with a simple memorial.
In 1688, King James II's loyalty to Roman Catholicism proved too much for parliament, and he was forced to abdicate in favour of his son-in-law William of Orange, who ruled jointly with his wife Mary, the only time this has ever happened. King William III of England and Queen Mary II of England are buried together in Westminster Abbey together with Mary's sister Queen Anne and her husband. Neither Anne nor Mary had children who could succeed them to the throne, which passed to the House of Hanover in 1714.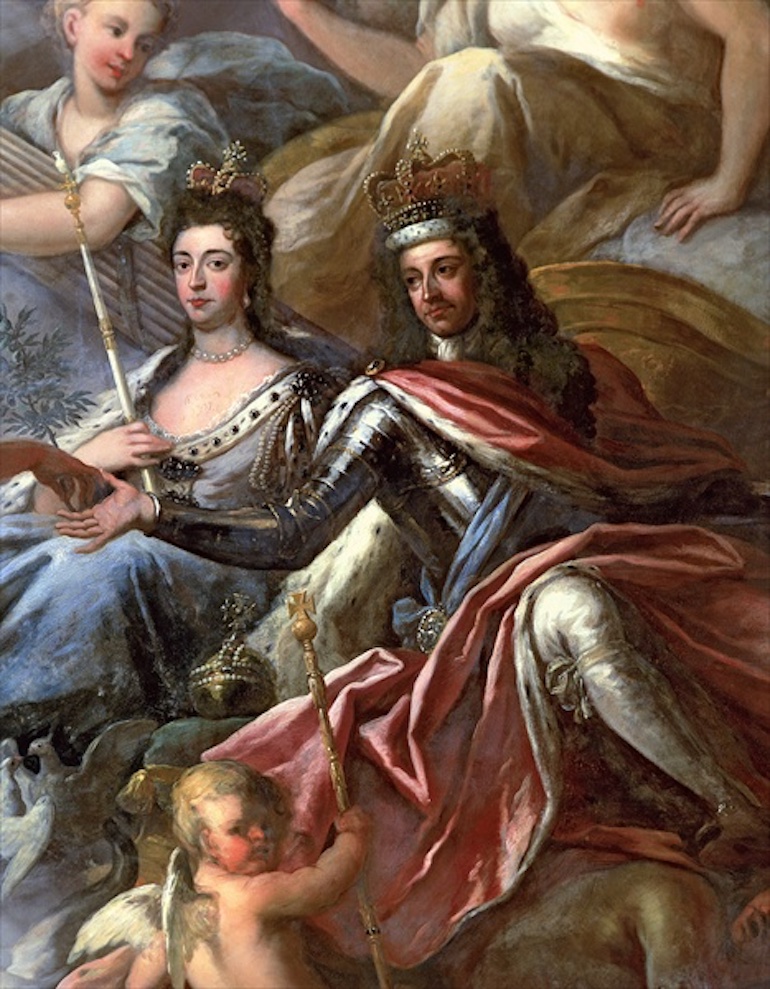 William and Mary are depicted on the ceiling of the Painted Hall, Greenwich, by Sir James Thornhill. Photo Credit: © Public Domain via Wikimedia Commons.
George II of Great Britain & Ireland – The last King buried in Westminster Abbey
The House of Hanover ruled Britain in the eighteenth century at a time of declining royal power and none of the first four Hanoverian monarchs, who were all called George, enjoyed great popularity. The only one buried in Westminster Abbey was George II, who lies next to his devoted wife Queen Caroline near Mary, Queen of Scots. After the death of George II in 1760, British monarchs were buried at Windsor Castle.