Hampton Court Palace Tour

February 24, 2016
location
Explore historic Hampton Court Palace and its stunning landscaped gardens
A Hampton C0urt Palace Tour is unmissable because . . .
Hampton Court is one of our most impressive Royal Palaces with spectacular gardens sweeping down to the banks of the River Thames. The creation of Cardinal Thomas Wolsey, Hampton Court was where he lived and entertained in splendour. Too much splendour perhaps, for his King, Henry VIII, who became jealous. Wolsey solved the problem by gifting Hampton Court to Henry, who made it even grander and more luxurious. Henry's impressive Tudor Palace was very nearly lost, however, when successive monarchs decided to refashion it into a grand French-style Palace. Fortunately, they didn't have the money to see it through, leaving us with a magnificent Palace of two halves!
The must-sees during a Hampton Court Palace Tour includes. . .
The huge Tudor Kitchens and wine cellars, catering to 600 people at one sitting.
The Great Hall, scene of magnificent feasts and pageants.
The Chapel Royal, where Henry VIII experienced both joy and heartbreak.
The corridor said to be haunted by the ghost of Queen Catherine Howard.
The wood-panelled Georgian Apartments revealing the public and private lives of George II and Queen Caroline.
The more intimate King William III Apartments offering a fascinating glimpse into life at court 300 years ago.
The astronomical clock showing everything from the phases of the moon to high water at London Bridge.
The spectacular Gardens, including the breathtaking Privy Garden and the Great Vine.
The world-famous Great Maze, great fun for kids from eight to eighty.
Book a Blue Badge Tourist Guide and learn all about life at Hampton Court Palace during its heyday.
Here's what you'll enjoy with a Blue Badge Tourist Guide
A guided tour of the highlights and the hidden gems
Expert knowledge of the Palace's history
Fascinating accounts of life at the Tudor Court
Insights into Royal marriages, divorces, and conflicts
A chance to stroll through the magnificent gardens
A tour tailored to the interests and needs of your group
Please bear in mind that these are not public tours, but private tours conducted by specialist Blue Badge Tourist Guides who will charge a separate fee, details of which can be found on our Fees page.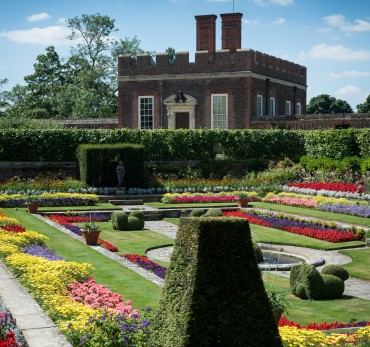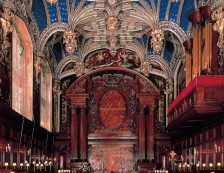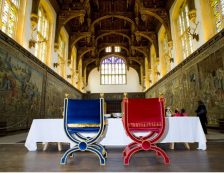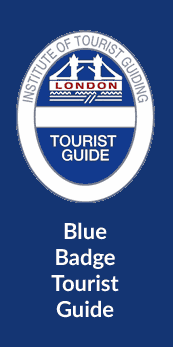 Simply input your tour request details in the form below. When you have finished, hit the Green 'Submit to Match' button. Your request will be instantly emailed to three highly qualified and enthusiastic London Blue Badge Tourist Guides, matching your criteria. They will then email you confirming availability, pricing and suggestions for the tour itself. So let one of our 500+ Blue Badge Tourist Guides make your stay in London a special one.
Other pages for consideration: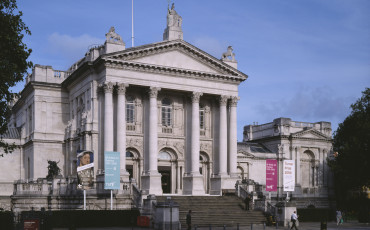 Tate Britain Tour