William the Conqueror was crowned King of England on Christmas Day 1066 after his defeat of the last Anglo-Saxon king Harold at the Battle of Hastings, the last successful invasion of Britain by a foreign power. Since then, every British monarch has been crowned at Westminster Abbey, with two exceptions, who were both named Edward – Edward VIII and Edward V.
Edward V disappeared from view along with his brother, Richard Duke of York, in 1483. They had been imprisoned in the Tower of London while their uncle Richard III ruled after depriving them of the throne, and he is often blamed for their deaths. In 1936 Edward VIII gave up the throne to marry the American socialite Wallis Simpson, who had been married (and divorced) twice before. She was not considered suitable as a queen of England, and rather than give her up; he abdicated after less than a year on the throne.
Apart from these two, every monarch has been crowned at Westminster Abbey in a solemn ceremony presided over by the Archbishop of Canterbury, the head of the Church of England, who places the crown on the head of the monarch, thus sanctifying them as king or queen of England and, latterly, of the United Kingdom. The last coronation took place on 2nd June 1953 when Elizabeth the Second was crowned. She had ascended to the throne in February after the death of her father, King George VI, in February 1952, while she and her husband, Prince Philip, were in Kenya on a tour of Africa. George VI was the brother and heir of Edward VIII. He suffered from a stammer, and his wife Elizabeth had not thought he was suited to the stresses and strains of being monarch, which may have contributed to George's early death at the age of fifty-six in Sandringham House.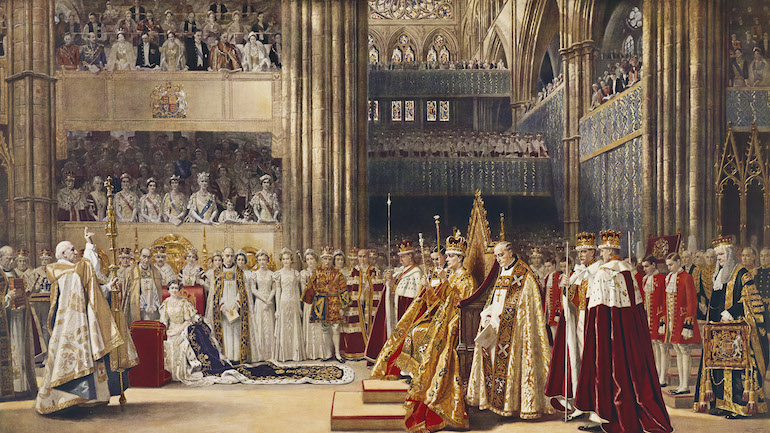 Painting depicting the Coronation of H.M. George VI and Queen Elizabeth. 1937. Photo Credit: © Public Domain via Wikimedia Commons.
It took some time to prepare Westminster Abbey for the coronation. This was before the advent of large-scale tourism and during the time of Winston Churchill's second and final stint as Prime Minister. It is thought by some that Winston Churchill deliberately delayed Queen Elizabeth II's coronation in order to extend his period in office, as he was reluctant to hand over power to his eventual successor Anthony Eden who eventually succeeded him in 1955. Eden resigned two years later after the failure of the invasion of Suez, which he had instigated in late 1956.
Eden was to be the second of Elizabeth's fifteen Prime Ministers. The last one was Mary Elizabeth Truss, who took over the office and was presented to her at Balmoral Castle, where she was in residence at the time. Truss had the briefest period in office of any British Prime Minister, during September and October 2022, before resigning and being succeeded by Rishi Sunak.
King Charles III (born Charles Philip Arthur George Windsor), the eldest son of Queen Elizabeth II and her husband Prince Philip, will have a scaled-down coronation in comparison to that of his mother. Less time will be needed to prepare Westminster Abbey for the event, which is scheduled to take place on 6th May 2023.  Charles's wife Camilla will be crowned as queen consort at the same ceremony.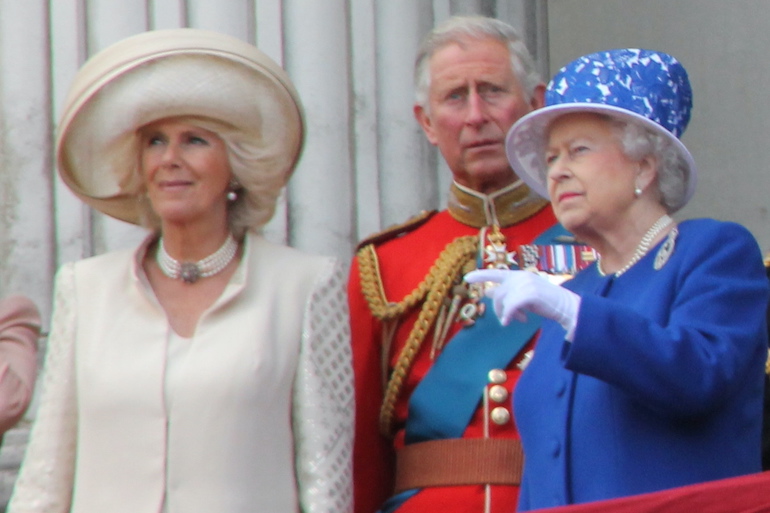 Camilla Parker Bowles, Prince Charles  (now King Charles III), and  Queen Elizabeth II. Photo Credit: © Carfax2 via Wikimedia Commons.
During the coronation ceremony, King Edward's crown, which is normally displayed at the Tower of London as part of the Crown Jewels, is placed on the head of the monarch by the archbishop. Camilla is expected to wear the crown of the late Queen Mother at the coronation. However, this crown contains the Koh-i-Nor diamond, which is claimed by India as its rightful property. It is very unlikely that the Koh-i-Nor (which means 'mountain of light' and weighs over 100 carats) will be returned to India, but it may not be used at the coronation of King Charles III in order not to create a diplomatic row with India.
Much attention at the coronation will focus on the presence – or absence – of Charles's son Prince Harry and his American wife, Meghan Markle. The couple stepped down as working members of the Royal family and are now living in the United States. Harry has written about the estrangement between himself, his father, and his brother William, who is heir to the throne after Charles. Harry's autobiographical book is called Spare, which comes from his role as a possible alternative heir in the event of an older brother being unable (or unwilling) to take on the role of monarch. This happened twice in the twentieth century when the eldest son of Edward the Seventh died, and the throne was passed to his younger brother, who became King George the Fifth after the death of their father in 1910. It also happened when George's eldest son abdicated as King Edward in 1936 in order to marry Mrs. Simpson.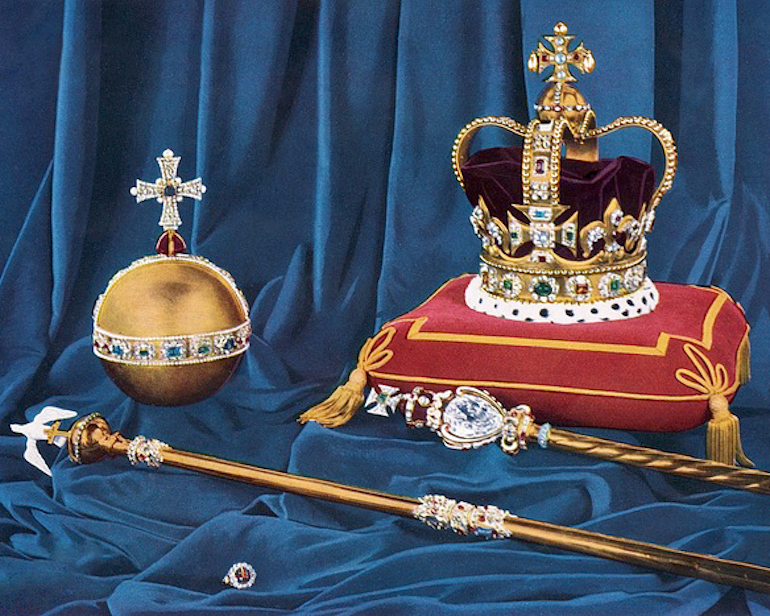 Crown Jewels of the United Kingdom. Photo Credit: © Public Domain via Wikimedia Commons.
The title Spare may also reference the idea of 'going spare,' which is English slang for losing your cool and references some the problems the younger prince has had with his mental health and the bad blood that is said to exist between Harry and his older brother William.
Their grandmother Queen Elizabeth II succeeded to the throne at the age of twenty-six and reigned until her death in 2022 at the age of ninety-six. This meant that her reign lasted for seventy years, and her platinum jubilee was celebrated earlier in the year of her passing. She had the longest reign of any British monarch and one of the longest reigns of any monarch in world history. The previous record was held by Queen Victoria, who reigned for sixty-three and a half years before her death at Osborne House on the Isle of Wight in 1901. She and her late husband, Prince Albert, are buried at Frogmore near Windsor Castle, where the Duke and Duchess of Windsor (Edward VIII and Mrs. Wallace Simpson) are also buried. Since then, monarchs and their consorts have been buried at St George's Chapel inside Windsor Castle. This is where Elizabeth was laid to rest after her funeral ceremony at Westminster Abbey.
It is to Westminster Abbey that all eyes will be turned on Saturday, 6th May 2023, for the coronation of King Charles III. Peers of the realm and heads of state from overseas countries will be invited to the coronation. Many people in Britain watched the coronation of Charles's mother, Elizabeth II, in 1953 on newly purchased black and white television sets in the early days of the medium. Television is now ubiquitous, and the ceremony will be broadcast around the world to an international audience in full colour. Whatever their problems, the British royal family attracts attention from people all over the world.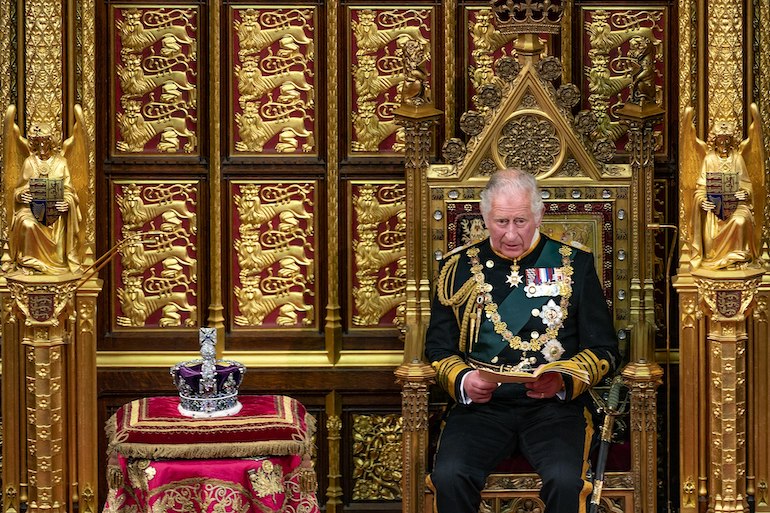 Delivering the Queen's Speech on behalf of his mother, May 2022. Photo Credit: © House of Lords 2022 / Photography by Annabel Moeller via Wikimedia Commons.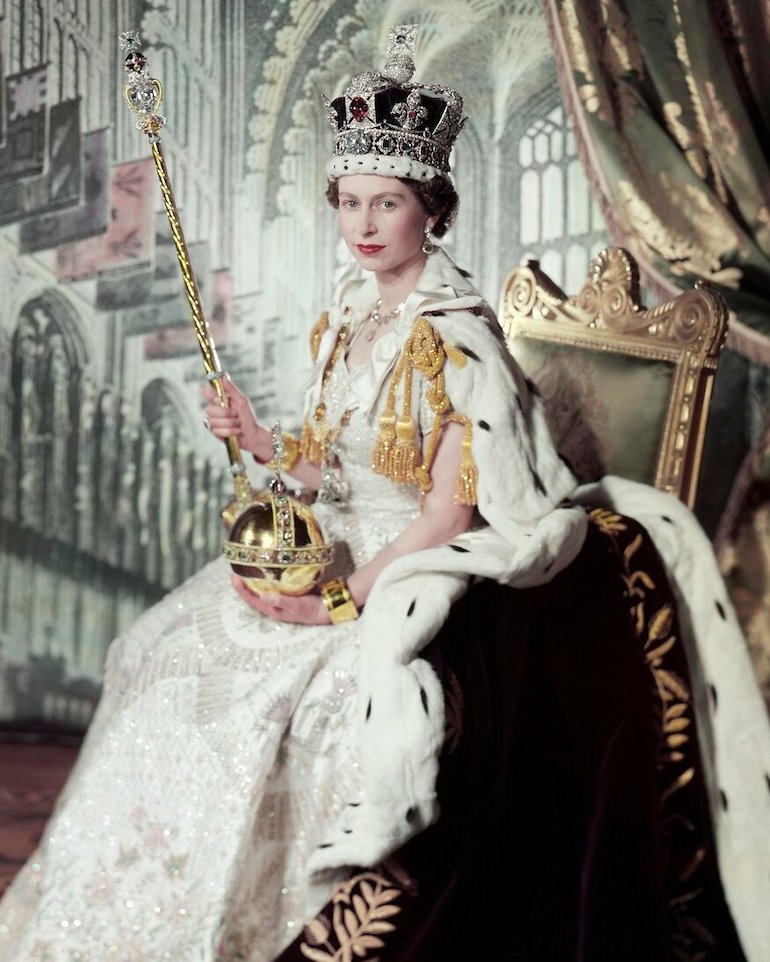 Coronation portrait of Queen Elizabeth II, June 1953, London, England. Photo Credit: © Public Domain via Wikimedia Commons.