How many London landmarks and tourist attractions can you name that start with the letter F? Blue Badge Tourist Guide Janice Liverseidge continues our Guide London A-Z video series and provides insights on the famous and not-so-famous landmarks in London starting with the Letter F.
London landmarks and tourist attractions that begin with the Letter F
This is the Guide London A-Z. I'm Janice Liverseidge, a London Blue Badge Tourist Guide looking at the Letter F.
The Foundling Museum
F is for The Foundling Museum, which tells the story of the Foundling Hospital, the UK's first children's charity founded over 250 years ago, providing a home for abandoned children and was also London's first public art gallery. Established after a long campaign by the sea captain Thomas Coram it was supported by the great composer George Frederic Handel and the artist William Hogarth. Today the museum brings alive the stories of the children who lived here from the 18th century through to the 20th century – remember to bring a tissue as some of the stories are heartbreaking.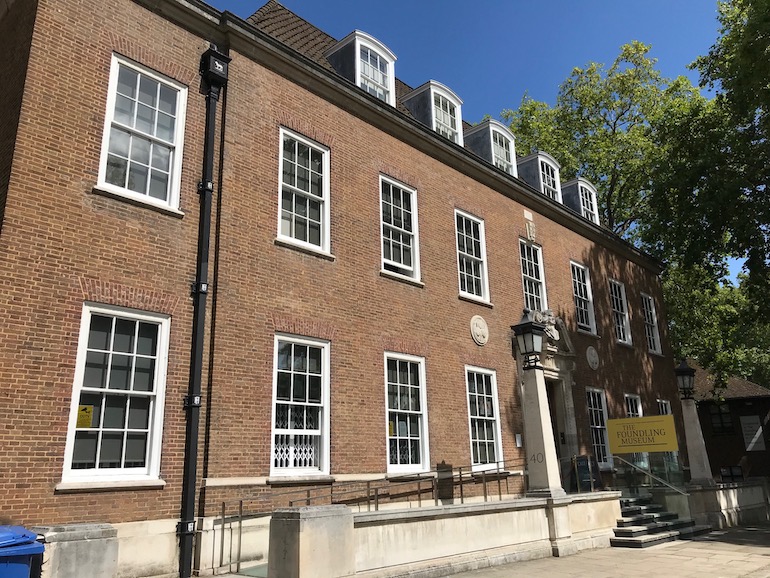 The Foundling Museum in London. Photo Credit: © Janice Liverseidge.
Fortnum & Mason
F is for Fortnum & Mason. Think of London's shops and you'll probably think of Fortnum & Mason and their fantastic food hall, a place for traditional afternoon tea and wonderful hampers of delicious food that have been sent all over the world and was founded in London's Piccadilly in 1707. Amazingly, on the roof of the building are four beehives each over two metres high and Fortnum & Mason sells their honey from here and from other hives in other parts of London in their food hall.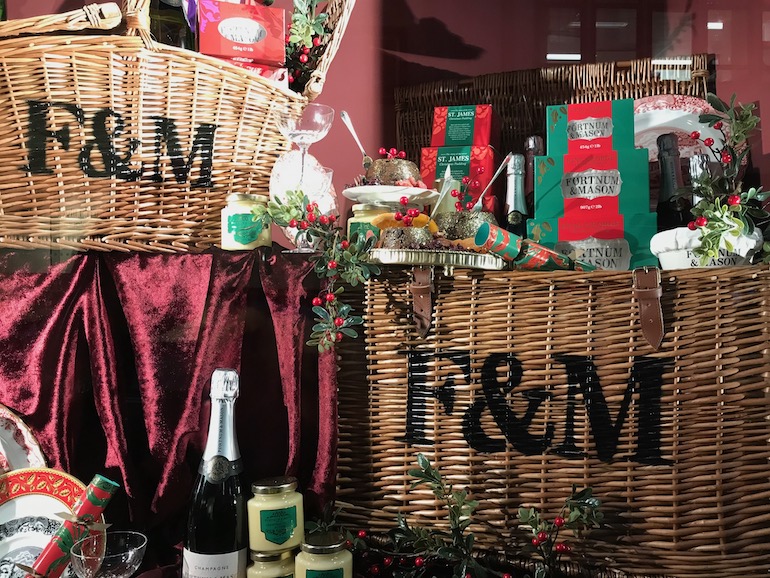 Fortnum & Mason baskets. Photo Credit: © Janice Liverseidge.
Fish & Chips
F is for fish and chips. What trip to London could miss out on this most famous of British dishes. Your choice of fish is freshly fried with crisp batter accompanied by chips (hot fried potatoes) and peas – traditionally these are mushy and seasoned by a liberal dollop of tartar sauce. The dish has a history going back to the middle of the 19th-century. Your Blue Badge Tourist Guide will be able to advise on the best places to enjoy this dish – often they are family-run through several generations and referred to as "chippys."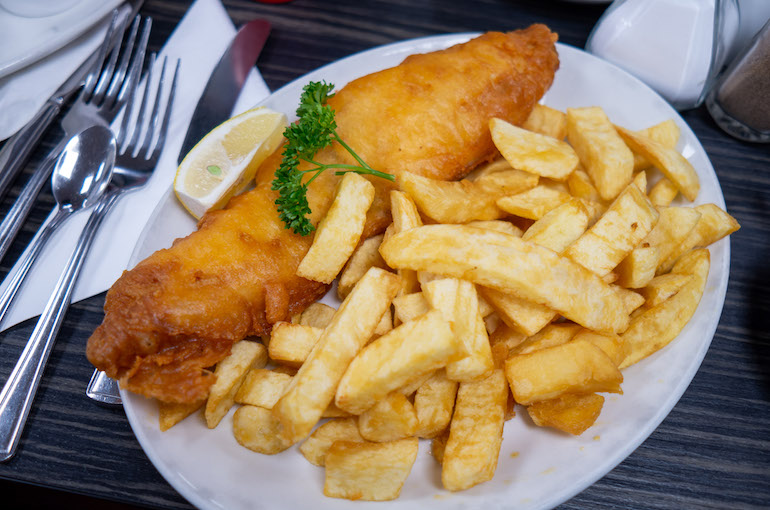 British Fish and chips. Photo Credit: © Matthias Meckel via Wikimedia Commons.
Fan Museum
F is for the Fan Museum. When making a visit to Greenwich, do visit to learn about the history of fans and fan making with a collection of over 5,000 fans and fan leaves dating back nearly 900 years. If you're a FAN of period dramas, Jane Austen novels or Netflix's Bridgerton you'll love having the opportunity to see the beautiful examples of fans and the language of flirtation using them. Guide London even has a broadcast on YouTube dedicated to Bridgeton, so do watch that too.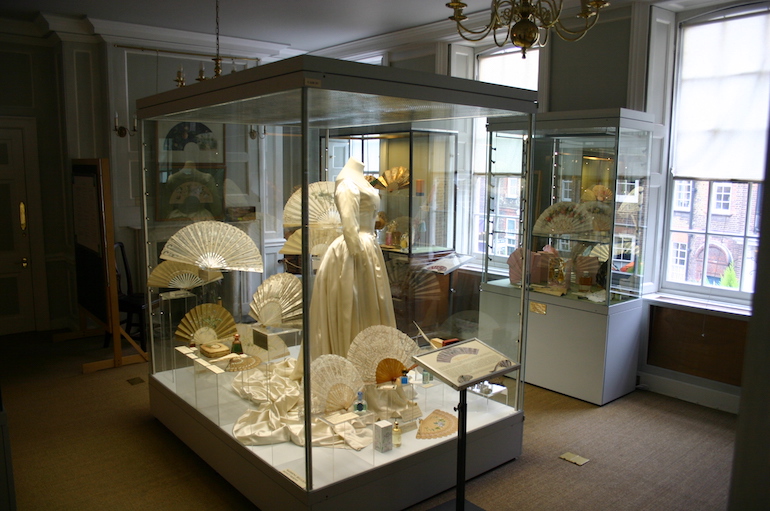 The Fanning the Senses exhibition at the Fan Museum. Photo Credit: © Visit Greenwich via Wikimedia Commons.
Florence Nightingale
F is for Florence Nightingale, probably one of the most famous nurses in the world, don't miss out on seeing this statue of her. Born in 1820, she travelled to Turkey and the Crimean War in 1854, accompanied by 38 nurses. She was responsible not only for improving the sanitation of the hospital at Scutari but, on her return to London, wrote over 200 books and improved the reputation of the nursing profession. You can still walk in her footsteps, visiting the shops she frequented and see where she lived and worked.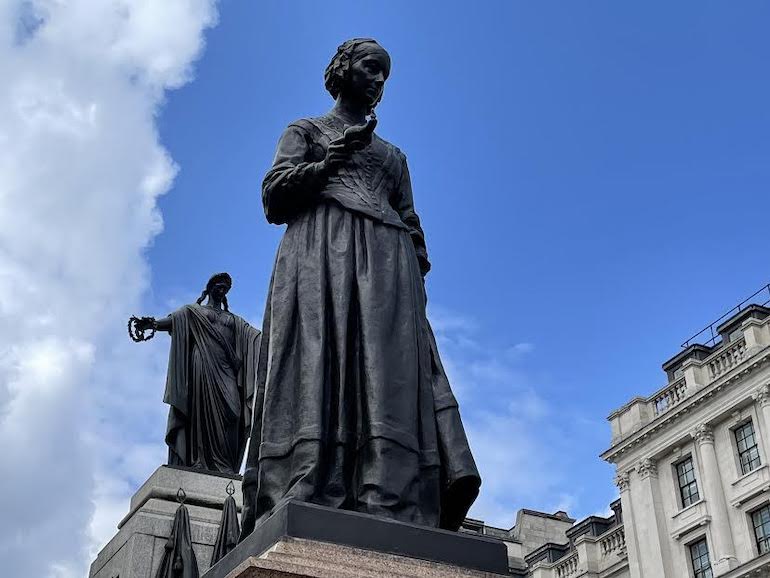 Florence Nightingale Statue in London. Photo Credit: © Janice Liverseidge.
Full English Breakfast
F is for Full English Breakfast. What a treat! You must have this at least once when visiting London. Its essential ingredients include bacon, eggs, sausage, fried bread and toast, and perhaps tomato, mushrooms, and black pudding too. You may visit a "greasy spoon" (our term for a local's place providing this meal) or enjoy this at your hotel but remember it's been said that "to eat well in England you should have breakfast three times a day." However, nowadays you can eat well at all times of the day in London.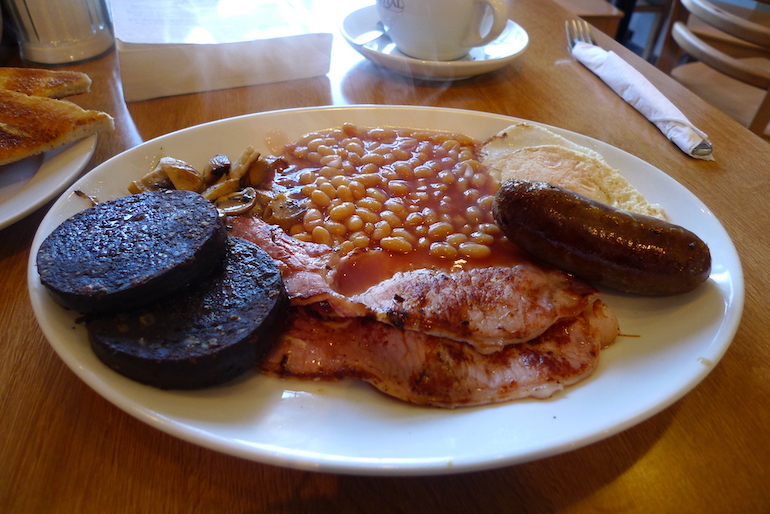 Full English Breakfast. Photo Credit: © Ewan Munro via Wikimedia Commons.
Fashion and Textile Museum
F is for the Fashion and Textile Museum. This brightly coloured landmark building peeking through on Bermondsey High Street since 2003, has housed the museum dedicated to showcasing contemporary fashion and textile design. It includes key garments from designers including Christian Dior, Biba, Balenciaga, Mary Quant, and Vivienne Westwood. A visit is a great part of any day spent in Bermondsey a historical and very popular part of London just south of the River Thames.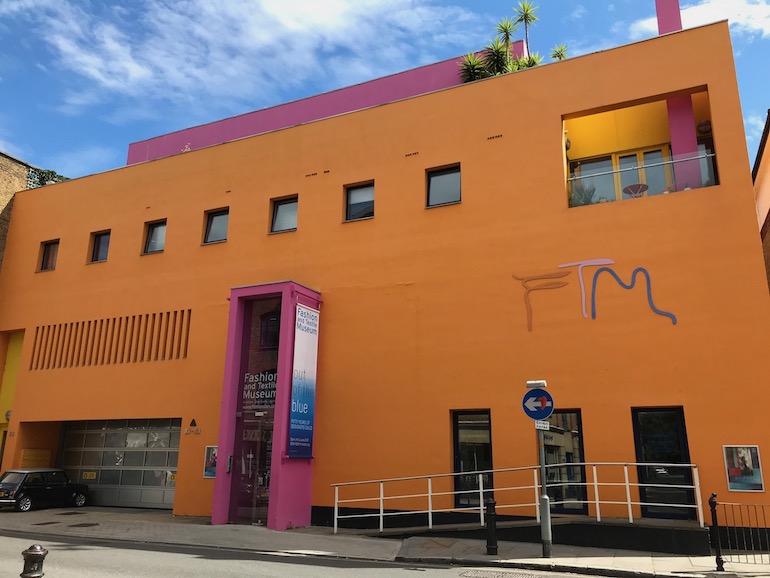 Fashion and Textile Museum in London. Photo Credit: © Janice Liverseidge.
These are just some of the tourist attractions that you can find in London beginning with the letter F. My name is Janice Liverseidge.  Check out my profile at our website guideLondon.org.uk. Please subscribe to our YouTube channel and join us as we explore the A-Z of Guide London.