At no time in recent history have we appreciated the NHS and medical staff more than in our current crisis. Doctors, nurses and public health specialists are working flat out to save our nation. Not alone in their endeavours; we are seeing the army and teams of construction workers build new hospital facilities out of conference centres in London, Manchester and Birmingham. These new hospitals are being called Nightingale Hospitals. So, what's behind the name?
In May 1820 Florence Nightingale was born, her well-to-do parents were travelling through Europe and she was named after the city of her birth. From a young age, she wanted to be a nurse, much against her parents' wishes as nursing was then a very lowly occupation with no formal training required. Florence eventually won her parents around to her way of thinking and became a nurse.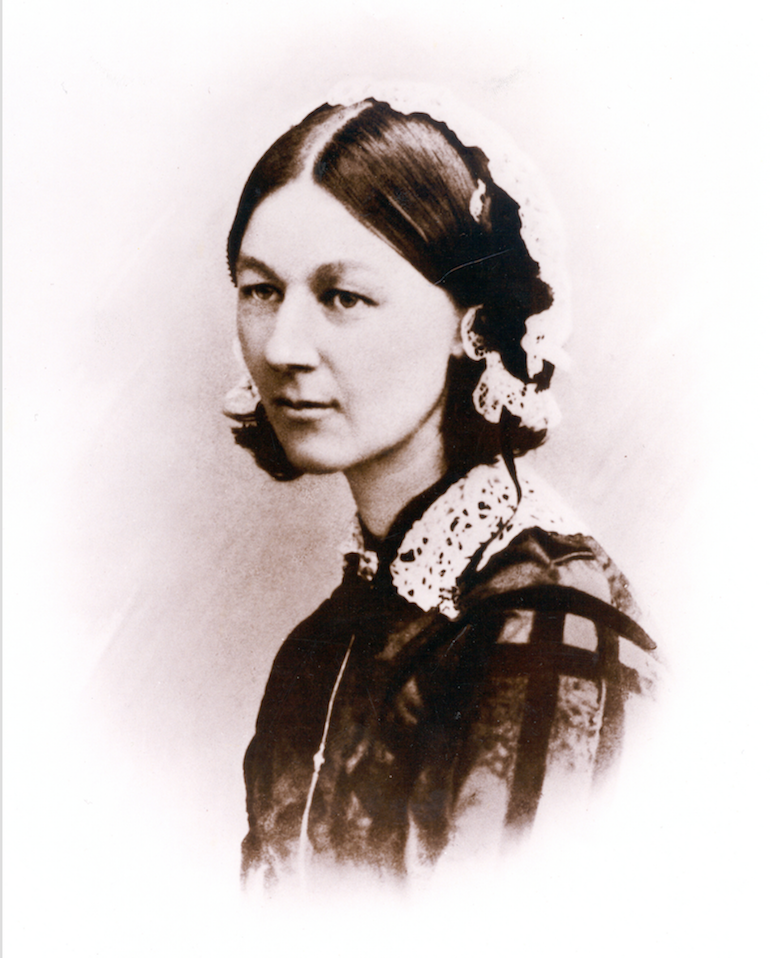 One of the few photographs of a camera-shy Florence Nightingale. Photo Credit: ©  Florence Nightingale Museum London.
Florence Nightingale – Britain's  Beloved Mother of Modern Nursing
Florence Nightingale is perhaps best known as the "lady with the lamp" who tended to wounded soldiers during the Crimean War in the 1850s. She is also called the "Mother of Modern Nursing," for having been instrumental in establishing the profession.
Although she abhorred and avoided the fame that followed her on her return from the Crimean War, she leveraged it behind the scenes to influence those in power.
Nightingale used statistical charts, which she called coxcombs, to vividly communicate the need for medical reform. A method still used today in Public Health to demonstrate complex information, as such Florence is also known as one of the founders of modern Public Health.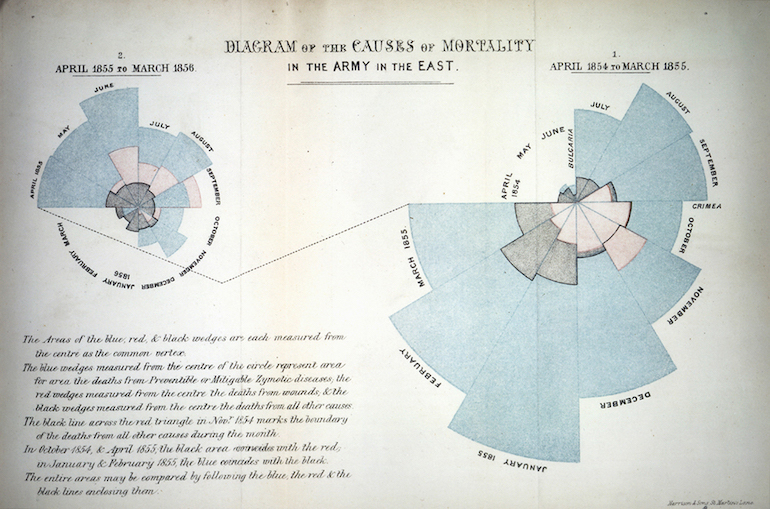 Example of a Coxcomb diagram. Photo Credit: ©  Florence Nightingale Museum London.
She instigated a Royal Commission into the health of the army and then turned her attention to the health of British servicemen in India, although she never visited. Nightingale concluded that the army's health in India went hand in hand with that of the local people, so she campaigned to improve sanitary conditions for everyone.
Florence Nightingale was the first female member of the Royal Statistical Society. She was the author of over 200 books, reports and pamphlets. She had a pet owl and owned about 60 cats throughout her life. Nightingale turned down at least three proposals of marriage. This woman helped inspire the founding of the International Red Cross.
Nightingale's zeal never left her, and although she was bedridden with a serious illness for much of her later life, she wrote over 13,000 letters as part of her campaigns.
She met Queen Victoria on many occasions and established the Nightingale Training School at St. Thomas's hospital in 1860 using public donations. This was the first professional nursing school in the world. Its success led to requests for Nightingale Nurses to start schools all over the world, including in Australia, America and Africa.
In 1883, Nightingale was awarded the Royal Red Cross. In 1907, three years before her death, she was the first woman to receive the Order of Merit, Britain's highest civilian decoration.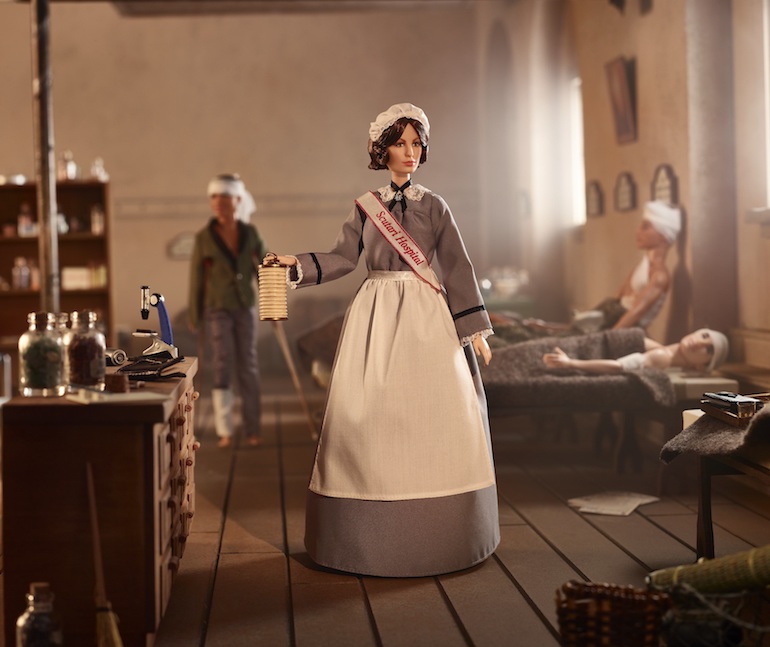 Florence Nightingale Barbie ® Part of Mattel Inspiring women TM dolls. Photo Credit: © Paul Jordan, Stylist Sheryl Fetrick.
Florence Nightingale Museum London
This year marks the bicentenary of her birth. The Florence Nightingale Museum, in the grounds of St Thomas' Hospital near London's Waterloo station, celebrates the life and career of this trailblazing woman. Among the most popular exhibits at the Florence Nightingale Museum is the famous lamp from the Scutari Hospital, which was her base during the Crimean War. It still surprises a few people when they see what the lamp actually looks like!
In 2020, they opened a special exhibition called "Florence Nightingale in 200 Objects, People and Places". Whilst temporarily closed due to the current crisis, you can still access their exhibition via the online link below. The exhibition contains 199 objects, the staff would like you to nominate the 200th, and be part of the celebration of her life and legacy.
Via the website for the Florence Nightingale exhibition, you can access videos, articles and photos from the museum's collections. Learn about the people and objects that influenced and inspired her, and also how her leadership and campaigning zeal still inspires people today. You can even listen to a voice recording made by Nightingale in 1890!
One last thing, she championed hospital design that can still be seen all over the world – in Canada, India and the UK. So, it's no surprise that these new hospitals are being called – Nightingale Hospitals.
The next time you get a chance to visit London, let your Blue Badge Tourist Guide give you a personal tour of this fantastic museum and this amazing woman.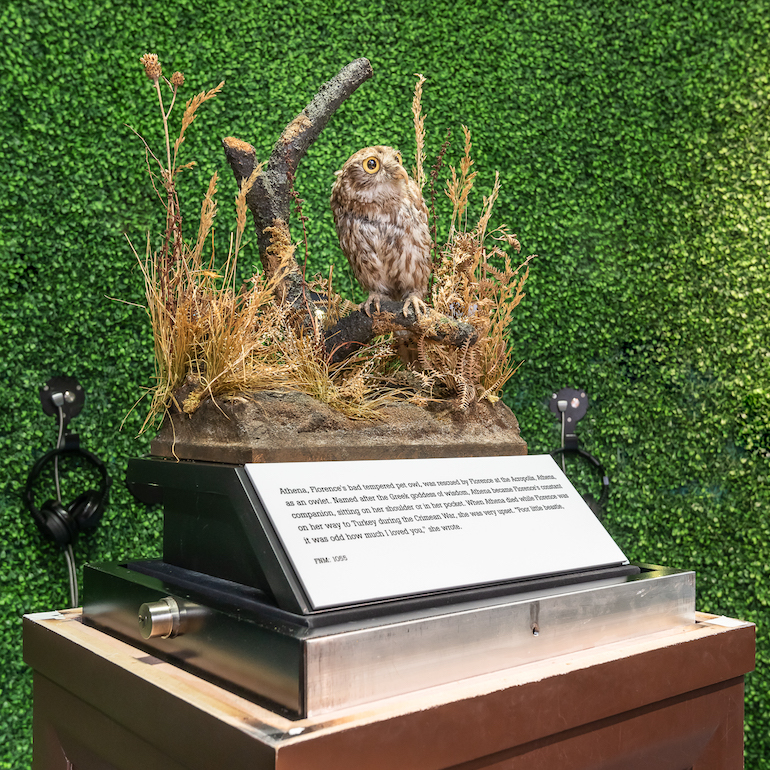 Athena – beloved Owl belonging to Florence Nightingale. Photo Credit: ©  Florence Nightingale Museum London.