Think of classic British food, and you probably think of fish and chips, one of the most popular and famous national dishes. What you may not know is that the origins of the dish stretch beyond our shores. The story of the humble chip goes back to the 17th-century in either Belgium or France – there are differing opinions – and fried fish was introduced into Britain by Jewish refugees from Portugal and Spain.
The question of who first had the bright idea to marry fish with chips remains the subject of fierce debate. What we do know is that fish and chips began appearing in the United Kingdom around the 1860s, and the meal has remained beloved by locals ever since. In fact, ministers bent over backwards during World War II to make sure fish and chips were one of the few foods that were never rationed.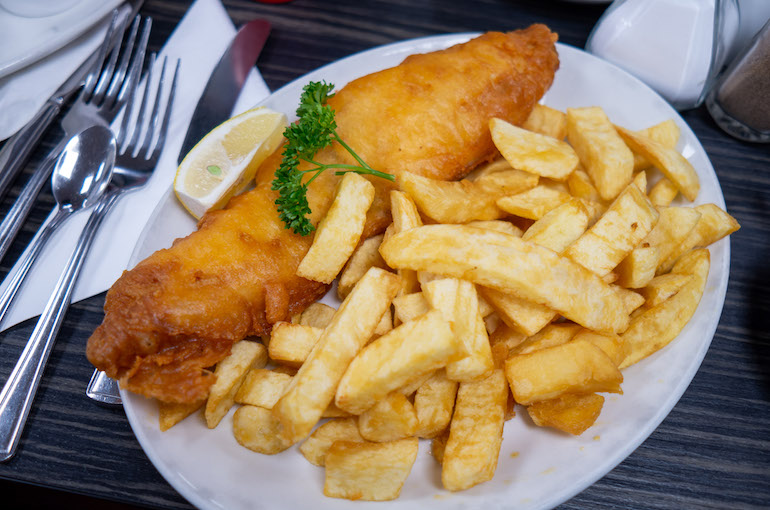 British Fish and chips. Photo Credit: © Matthias Meckel via Wikimedia Commons.
Fun Facts About Fish And Chips
Read on for more fun fish-and-chip facts, followed by a selection of the best places to sample the dish in London – the shops affectionately known as "chippies" amongst the locals.
Until the 1980s, Brits ate their fish and chips straight out of yesterday's newspapers (until health and safety regulations spoiled all the fun!).
382 million portions of fish and chips are consumed in the U.K., with Brits spending £1.2 billion on them every year.
To truly enjoy this world-famous cuisine, served with mushy peas and lashings of salt and vinegar.
The oldest fish and chip shop dates back to 1865, near Leeds
The United Kingdom has 10,500 fish and chip shops, compared with a relatively meager 1,200 McDonalds
During the D-Day landings, British soldiers identified one another by calling the word "fish". The response, signifying an ally, was "chips."
"You can't get more British than fish and chips. Winston Churchill exempted the dish from wartime rationing, Amy Winehouse ate them on her wedding anniversary, and George Orwell believed they could avert revolution." New Statesman
Where to find the Best Fish and Chips in London
Golden Union
Location: 38 Poland Street, Soho, W1F 7LY
If it's good enough for the Evening Standard's longtime restaurant critic, it's got to be worth a try. Fay Maschler said of Golden Union, "Brisk, clean, efficient, licensed and successfully classless. I liked it a lot and will go back."
Rock and Sole Plaice
Location: 47 Endell St, London, WC2H 9AJ
If you want to go to London's oldest fish and chip restaurant (1871) and surely the best named, head to the outskirts of Covent Garden for two floors of seating and outdoor dining. Its original customers would have been workers from the nearby market and factories. Almost 150 years later, it remains just as popular with both tourists and locals. Featured in over 3,000 travel guides in 20 different languages.
Golden Chippy
Location: 62 Greenwich High Road, SE10 8LF
If you want an authentic, non-touristy experience, this shop on the outskirts of Greenwich (bordering Deptford) is a great option. It is currently ranked 20th on TripAdvisor (out of over 18,000 restaurants), with more than 1,500 five-star reviews. While you can sit down and dine, you may prefer to consume your fish and chips the traditional way – by taking it away. Explore the great sights of Greenwich and then, for a truly British experience, hop on a bus and enjoy your meal on the journey.
The Mayfair Chippy
Location: 14 North Audley Street, W1K 6WE (also at 140 Minories, EC3N 1NT)
If you aren't quite ready for the fully authentic experience, here you can have the same great food with much more upmarket surroundings. Posh fish and chips, basically!
Poppie's
Location: 6-8 Hanbury Street, Spitalfields E1 6QR (also in Soho and Camden)
Born and bred East End proprietor Pat "Pop" Newlands started his career in the business in 1952 when, aged 11, he got a job on Roman Road cutting up copies of The Daily Mirror to wrap fish and chips in. The shop is filled with retro memorabilia from Pop's childhood, the uniforms channel a 1950s vibe and lilting music hall songs can sometimes be heard beneath the chatter – but Poppie's is just as progressive as it is nostalgic, using the best and most responsibly sourced ingredients to make top-quality fish and chips. All the seafood used at Poppie's is sustainable. It's caught on day boats and delivered to the shop by a third-generation fishmonger from London's historic Billingsgate market.
Masters Fish Bar
Location: 191 Waterloo Road, SE1 8UX
No frills, yet its fish and impressive range of seafood comes fresh from Billingsgate fish market every day. On offer are tiger prawns, New Zealand mussels, calamari and a whole range of fish beyond the usual cod and haddock. A big favourite with London's black cabbies.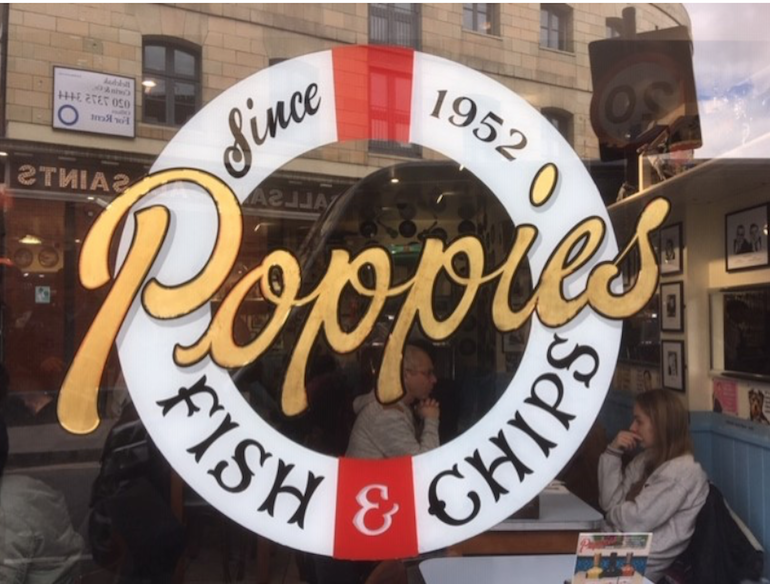 Poppies Fish & Chips Restaurant in London. Photo Credit: © David Drury.
Fish and chips is just one of the many types of cuisine available in London. Booking a tour with a Blue Badge Tourist Guide is a great way to explore the city's eclectic culinary scene. Your guide will know the best places to go when it's time for a pit stop, making a busy day of sightseeing even more special.