A look at some of the historical events and characters that inspired the novel and smash-hit television series Game of Thrones, and where you can go to see the fiction-inspiring history where it happened!
[SPOILERS]
All around the world, fans of the award-winning HBO series Game of Thrones eagerly await the eighth and final season airing later this month. Season seven left everyone on the edge of their seats, with the fate of Westeros hanging in the balance and many questions left unanswered. Will Cersei get her comeuppance? Who will triumph in the ultimate showdown between the living and the Night King, his deathly hoard of wights in tow? And, err, what happens when loved-up Jon Snow and Daenerys the Dragon Queen find out that she's actually his aunt?
If the anticipation is all a bit much, here is a little something to keep your mind occupied in the meantime.
Author George R.R. Martin, described as the "American Tolkien", wrote the original series of epic fantasy novels – called A Song of Ice and Fire – upon which Game of Thrones is based. Martin is known to have been greatly inspired by European medieval history. A number of his characters share traits with historical figures, and many of the story arcs and plotlines are based on actual events – notably the so-called Wars of the Roses.
War Of The Roses
The Wars of the Roses was a feud for power between two rival factions of England's royal family in the 1400s – the Lancastrians (represented by a red rose) and the Yorkists (represented by a white rose). Sound familiar? The two principle Great Houses in Game of Thrones – the Lannisters and the Starks – seem to be a direct parallel to the belligerents of the Wars of the Roses, and the fictitious War of the Five Kings in Games of Thrones is analogous to the mad jostle for power among cousins, earls and would-be kings that raged in 15th-century England.
There are many places to visit to find out more about the Wars of the Roses, one of the bloodiest conflicts in English history. On a Blue Badge Guided tour of the Tower of London, for instance, you will discover and see where the Lancastrian ruler King Henry VI was imprisoned by his Yorkist rival Edward of York (later King Edward IV). Henry is widely believed to have been murdered while at prayer during his incarceration.
The links between Game of Thrones and English history don't end there. Below are a few of the story's characters who share a trait or two with an actual historical figure (fictional on the left and real-life counterpart on the right).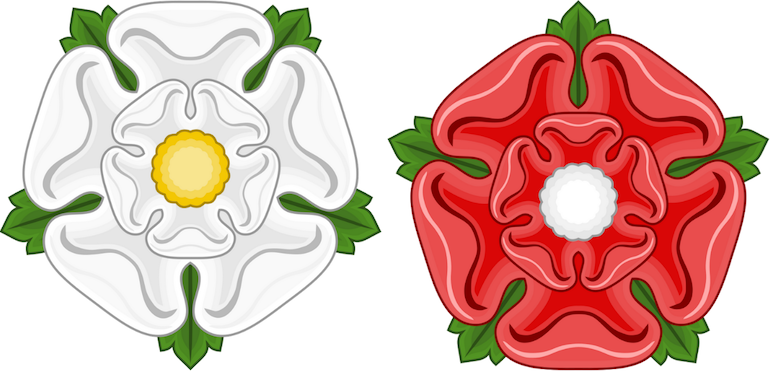 War of the Roses: The White Rose of the House of York and The Red Rose of the House of Lancaster. Photo Credit: © Sodacan via Wikimedia Commons.
Cersei Lannister /vs/ Margaret of Anjou, Queen of England
Cersei (a Lannister) and Margaret of Anjou (a Lancastrian) have so many similarities, it's uncanny.
Like Cersei, Margaret of Anjou, wife of King Henry VI, was said to be beautiful, forthright, passionate, strong-willed and in possession of a wicked streak of ruthlessness – all advantageous qualities for a medieval queen.
What's more, both women's marriages were of the arranged, diplomatic kind. Cersei's betrothal to Robert Baratheon was intended to unite House Lannister and House Baratheon – akin to the peace that was hoped for between England and France when Henry married Margaret, niece of King Charles VII of France.
Margaret was said to be ferociously devoted to her son, Edward of Lancaster. She was plagued by rumours that Edward wasn't actually Henry's, but rather the product of infidelity, making him a bastard. Most historians dispute this. But in Game of Thrones, there's no doubt that Cersei's monstrous boy Joffrey is in fact illegitimate, being the result of her incestuous affair with her twin brother, Jaime.
On a visit to the breathtakingly beautiful Westminster Abbey, you can walk down the nave and see the altar where Margaret of Anjou was crowned with Henry in 1445.
Now then, talk of illegitimate children leads us nicely onto…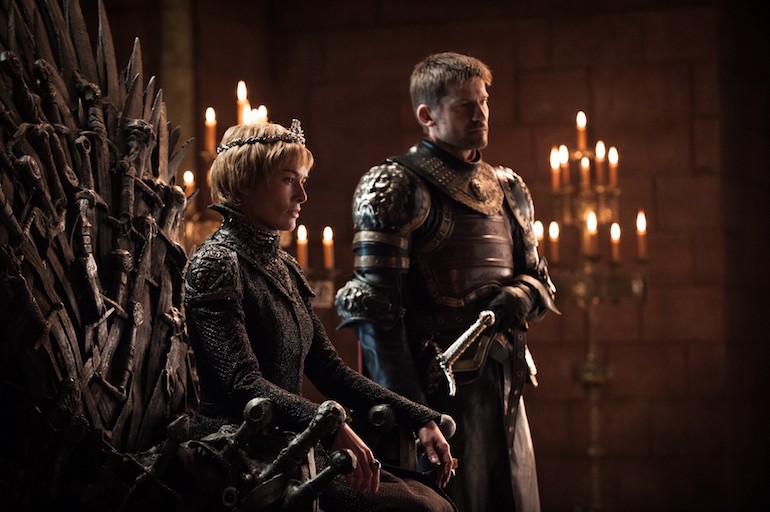 Game of Thrones: Cersei Lannister & Jaime Lannister. Photo Credit: © Helen Sloan/HBO.

Joffrey Baratheon /vs/ Edward of Lancaster
Joffrey, possibly one of the most despised fictional characters in history, had his own historical counterpart in Edward of Lancaster, (aka Edward of Westminster).
Edward, like Joffrey, was reportedly a despicably cruel, bloodthirsty sadist. On a visit to England in 1467, the ambassador of the Duchy of Milan said of the prince: "This boy, though only 13 years of age, already talks of nothing but cutting off heads or making war…". This account seems to be backed up by John Fortescue, chancellor-in-exile during the Wars of the Roses. He observed that Edward "often delighted in attacking and assaulting the young companions attending him, sometimes with a lance, sometimes with a sword, sometimes with other weapons…".
Edward was born in London's original Palace of Westminster, which was destroyed by fire in 1834. Its replacement, today home of the British Parliament, occupies the same site and is still sometimes referred to as the Palace of Westminster, though it's more commonly called the Houses of Parliament. Westminster Hall, the oldest part of the complex, survives from the medieval palace.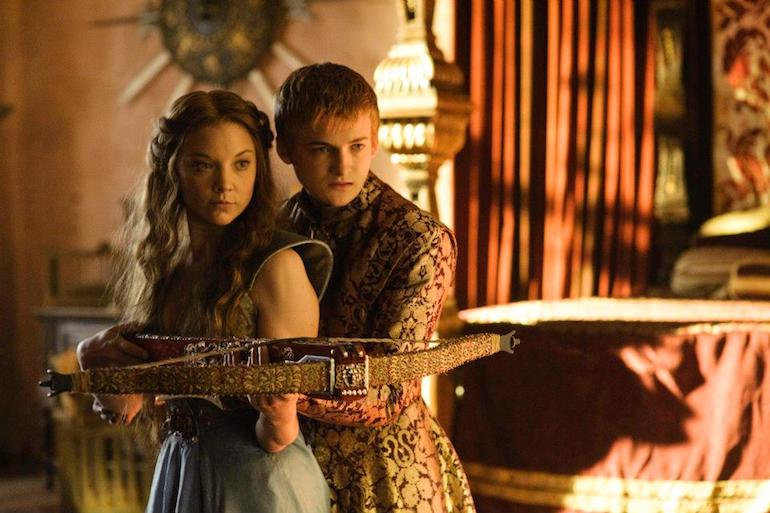 Game of Thrones: King Joffrey Baratheon and intended bride Margaery Tyrell. Photo Credit: © Helen Sloan/HBO.
Tywin Lannister /vs/ Richard Neville, 16th Earl of Warwick
Although Joffrey becomes king early on in the Game of Thrones saga, it's arguably his politically savvy and unscrupulous grandfather Tywin Lannister who really runs the show. Backed by the enormous wealth provided by the Lannister gold mines, Tywin is unquestionably the richest man in Westeros. He wields considerable influence over the fictional continent and has a number of titles to boot, including Warden of the West.
Similarly, England's real-life Warden of the Western Marches – Richard Neville, Earl of Warwick – had a fortune said to be second only to that of King Edward IV himself.
The 16th Earl of Warwick, known as "the Kingmaker", was 15th- century England's equivalent to Tywin Lannister. Marriage to Anne Beauchamp, Countess of Warwick, brought him his lofty title and riches, which he used to help Edward of York come to the throne by defeating Henry VI in a series of battles.
Likewise, the monetary and military support provided by Tywin Lannister proved vital in Robert Baratheon's bid to usurp the throne from Aerys Targaryen, the "Mad King". And just as the Earl of Warwick was extremely influential over King Edward IV in the early years of his reign, so was Tywin Lannister "Hand of the King" to Aerys, whom he treacherously betrayed for King Baratheon.
A final similarity is that both men used the marriages of their children to try to bolster their family's standing. Tywin offers Cersei as a bride to victorious King Baratheon to ensure his grandchildren's accession to the throne. The Earl of Warwick married off his eldest daughter, Lady Isabel Neville, to Edward IV's treacherous younger brother George, Duke of Clarence, in defiance of the king. Relations between the king and earl had broken down after Edward IV secretly married a commoner named Elizabeth Woodville.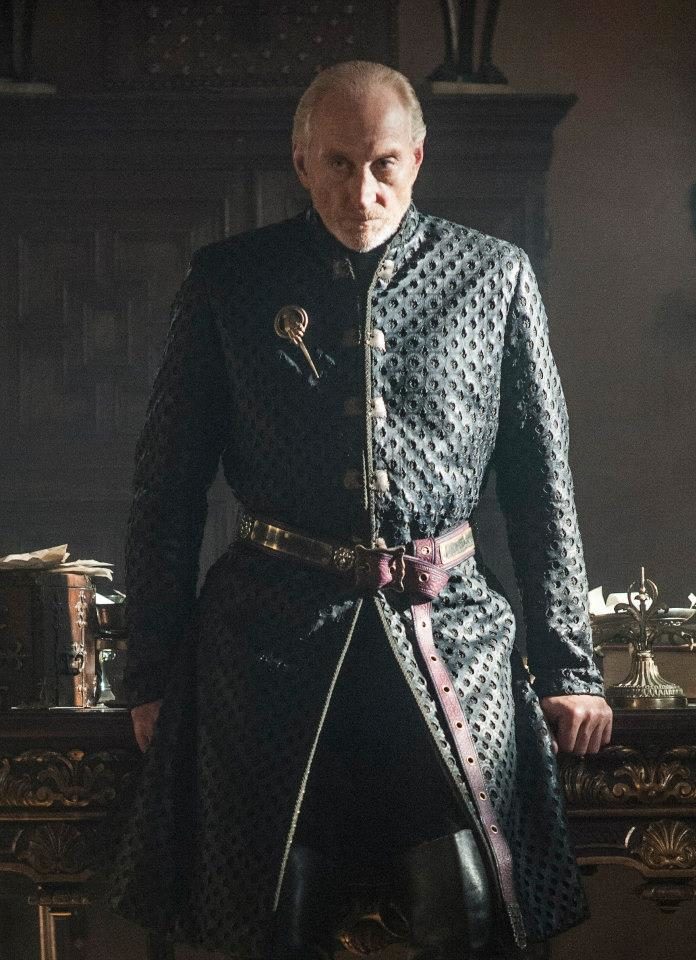 Game of Thrones: Tywin Lannister. Photo Credit: © Helen Sloan/HBO. 
Sansa Stark /vs/ Anne Neville
Warwick eventually defected to the Lancastrian side and, in another power move, married his second daughter, Anne Neville, to King Henry VI's murderous son, Edward of Lancaster. After Edward of Lancaster died at the Battle of Tewkesbury in 1471, Anne married King Edward IV's younger brother Richard, Duke of Gloucester. She's reminiscent of Sansa Stark, who was first betrothed to Joffrey, then married Tyrion Lannister before finally becoming espoused to the vile Ramsay Bolton.
Warwick – who eventually imprisoned Edward IV and restored Henry VI to the throne (albeit briefly) – was killed at the Battle of Barnet in 1471. Visit Warwick Castle to see where Anne Neville was born, where Edward IV was held prisoner by the powerful Earl of Warwick and where, in 1471, that same earl prepared for his final battle.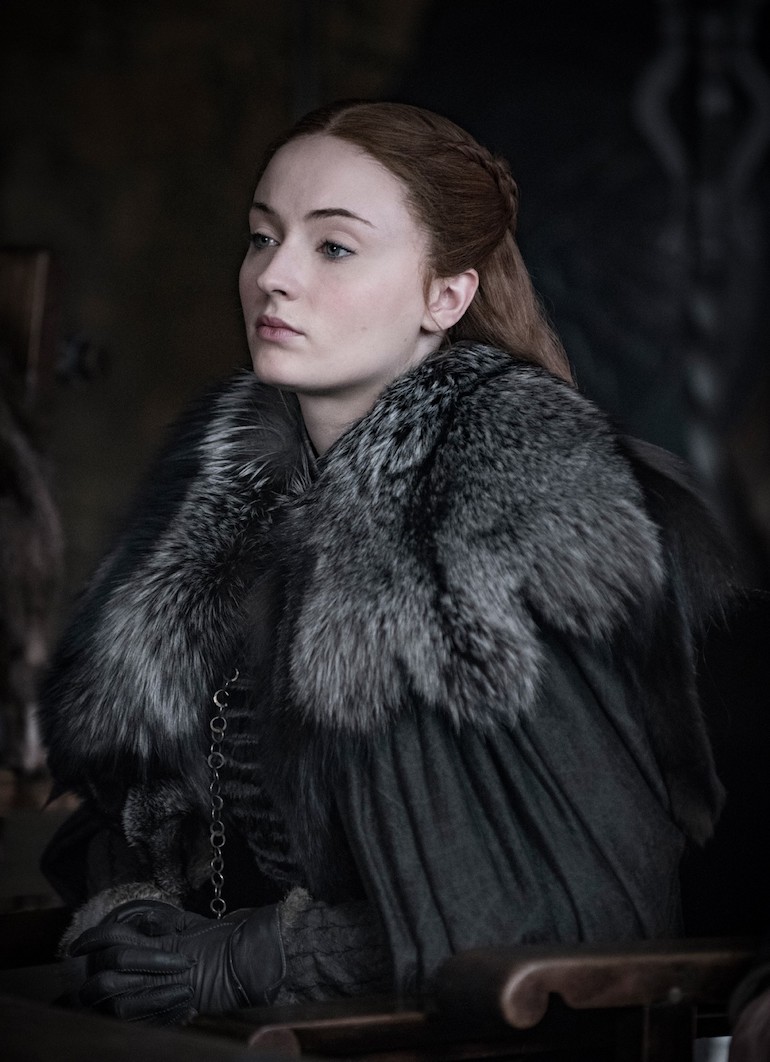 Game of Thrones: Sophie Turner as Sansa Stark. Photo Credit: © Helen Sloan/HBO.
Theon Greyjoy /vs/ George, Duke of Clarence
As for the disloyal George, Duke of Clarence, well he was eventually forgiven, but he grew resentful of the growing influence at court of his brother Richard and sister-in-law, the Queen Consort Elizabeth Woodville. When George's wife died shortly after childbirth, he accused Elizabeth of witchcraft. The final straw came when George was found guilty of slandering the king and preparing for a rebellion. He was imprisoned at the Tower of London and executed – according to popular legend, by being drowned in a barrel of malmsey wine! It's quite possible this infamous royal turncoat helped inspire the pitiable character of Theon Greyjoy who, as ward of Lord Eddard Stark and surrogate brother to Robb Stark, was guilty of the ultimate betrayal when he besieged the undefended Winterfell. Arguably though, Theon paid a far higher price for his disloyalty.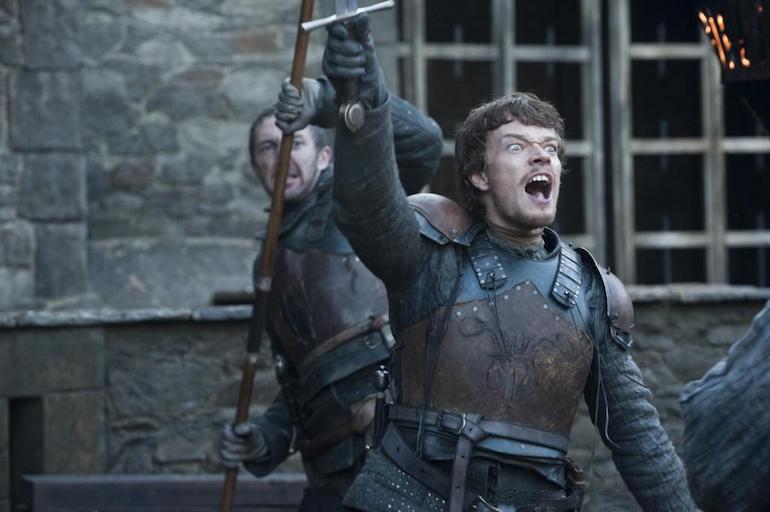 Game of Thrones: Theon Greyjoy. Photo Credit: © Helen Sloan/HBO.
The Night's Watch /vs/ The Knights Templar
It wasn't just the Wars of the Roses that inspired Game of Thrones. A prominent group in the series is Night's Watch, the military order based at "the Wall", whose members take vows of chastity and obedience and dedicate themselves to protecting the Seven Kingdoms of Westeros.
In the real world, a military order known as the Knights Templar was founded in 1119 in Jerusalem, shortly after the city was captured during the First Crusade, a religious and political war for the Holy Land. The Knights Templar also took monastic vows and swore to protect Christian pilgrims travelling to the Holy Land.
Both the Knights Templar, commanded by a Grand Master, and the Night's Watch, led by a Lord Commander, were noted for their courage and determination to fight.
A small enclave in the City of London contains the last vestiges of the Knights Templar's English quarters. The area is known simply as Temple and is named after the church of the same name that was built in 1185 to serve the military order. The Knights Templar were eventually disbanded in 1312. The land at Temple then went to another order, the Knights Hospitaller, which leased it to a group of lawyers in 1346. Today the area is home to Inner and Middle Temple, two of London's professional associations for barristers known as the Inns of Court.
Step inside Temple Church to see the tomb of William Marshall, 1st Earl of Pembroke, who served five kings. He was at Runnymede when King John put his seal to the Magna Carta in June 1215, and he joined the Knights Templar on his deathbed, honouring a pledge he'd made while on crusade.
There are many places within London and beyond that have ties to George R.R. Martin's spellbinding story. As you sit down to enjoy what looks set to be an epic finale, consider booking a London Blue Badge Tour Guide who can show and explain, on location, the history behind the fantasy.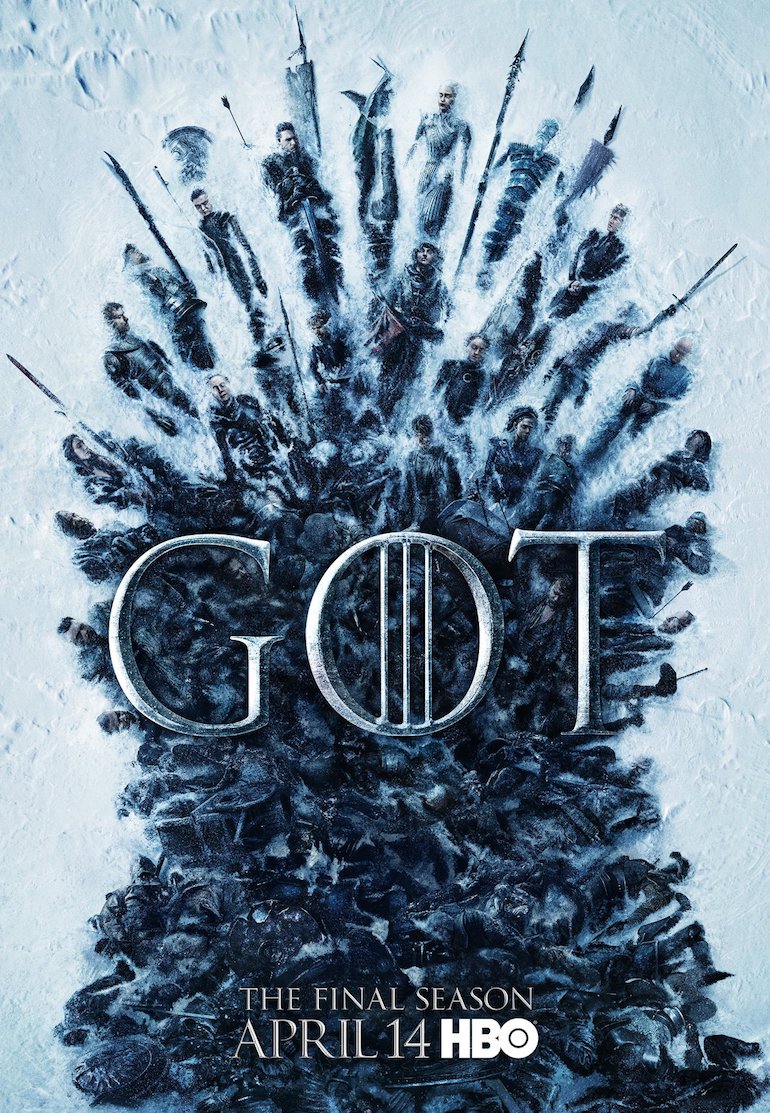 Game of Thrones Season 8 poster. Photo Credit: @HBO.