London has lots of links to Harry Potter whether it be the numerous locations used for the films or the links to the folklore behind the stories. Blue Badge Tourist Guides regularly lead Harry Potter tours around London and as a teaser here are the 10 top things linking London to Harry Potter.
1. London has several Quidditch Teams including the London Unspeakables and their rivals the Werewolves. Described as a cross between rugby, tag and dodgeball the game made famous by Harry Potter is played with great enthusiasm across London.
2. The Knight Bus that Harry Potter used to travel to London in the Prisoner of Azkaban film is actually a triple-decker version of the famous Red London Routemaster double-decker bus. These were introduced in 1956 and still run on Heritage Route 15 between the Tower of London and Charing Cross.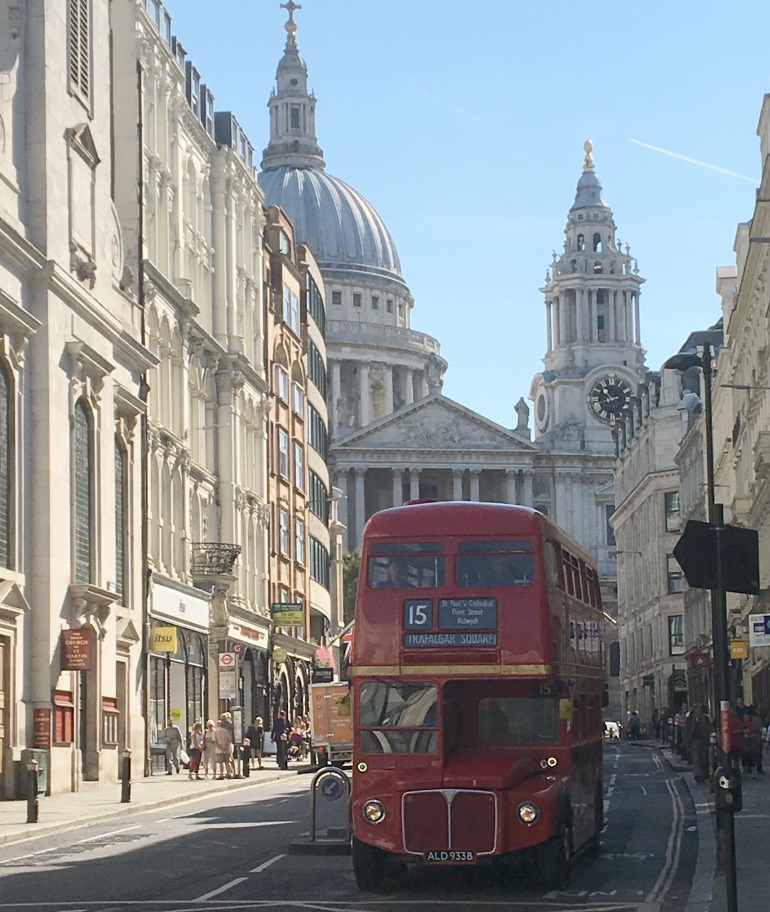 Red London Routemaster double-decker bus – Heritage Route 15. Photo Credit: ©Ursula Petula Barzey.
3. Harry Potter visits the reptile house at London Zoo and accidentally sets free a boa constrictor who winks at Harry before terrifying Dudley. However, snakes can't wink as they have no eyelids.
4. The Ministry of Magic locations used in the films is right next to some of London's Central Government Ministry buildings in Whitehall. Visiting the Harry Potter sites allows your guide to show you the best of London's period Government buildings and other sites like Trafalgar Square and the Horse Guards.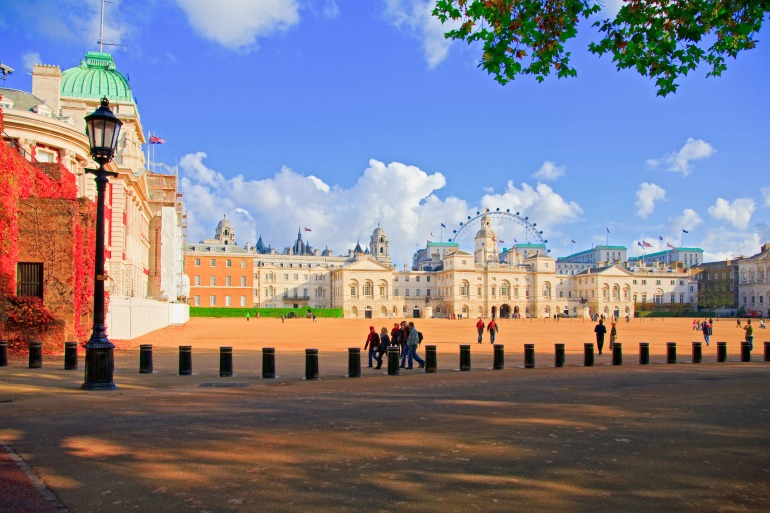 London Horse Guard Parade. Photo Credit: ©London Partners.
5. There are two film locations for the Leaky Cauldron pub that Harry Potter uses to get to Diagon Alley. Both are in the old London markets. Leadenhall Market dates back to the 1300s whilst Borough Market goes back even further to 1014. Borough Market today is a foodies mecca as well as being a thriving wholesale and retail market. Borough Market is also where Bridget Jones has her flat in the film Bridget Jones' Diary.
6. The Harry Potter filmmakers very cleverly weave a bit of reality into their work – in the Order of the Phoenix the Death Eaters attack London and fly so fast past a footbridge that it wobbles dramatically until it collapses. This is the Millennium Bridge that famously wobbled when it was first opened in 2000. The hordes of people crossing it started walking in step causing a significant oscillation. Thankfully the bridge didn't collapse and having been modified is now a popular Thames river crossing and thing of beauty.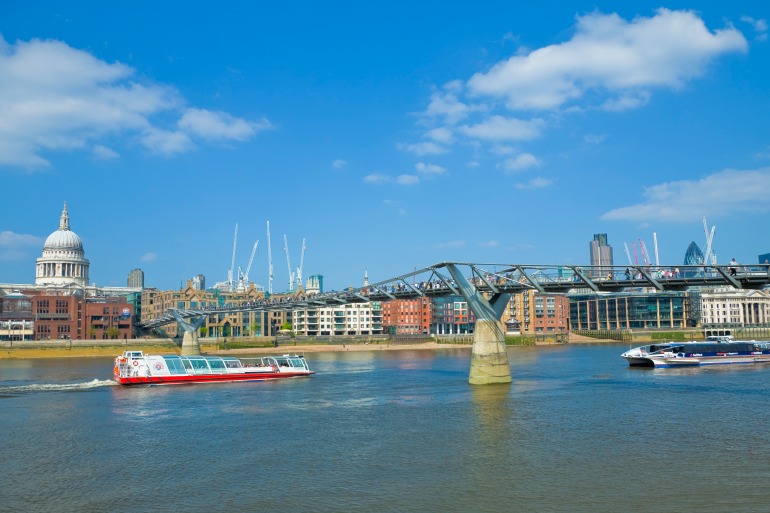 The once wobbly Millennium Bridge over the Thames looking towards St. Paul's Cathedral. Photo Credit: ©London & Partners.
7. Many London streets are said to have inspired JK Rowling including Cecil Court. This tucked-away alley has Dickensian style bay windows, is lit by gas lamps and is very reminiscent of Diagon Alley. Walking thought it is very atmospheric. Some say it also looks like Knockturn Alley where Harry Potter arrives after making a mistake using the Flu Network in the Chamber of Secrets.
8. Dragons play an important part in the world of Harry Potter as well as London and England. The entrances to the City of London have been guarded by dragon statues since the 1800s. St George who is the patron Saint of England famously slew a dragon to protect a princess.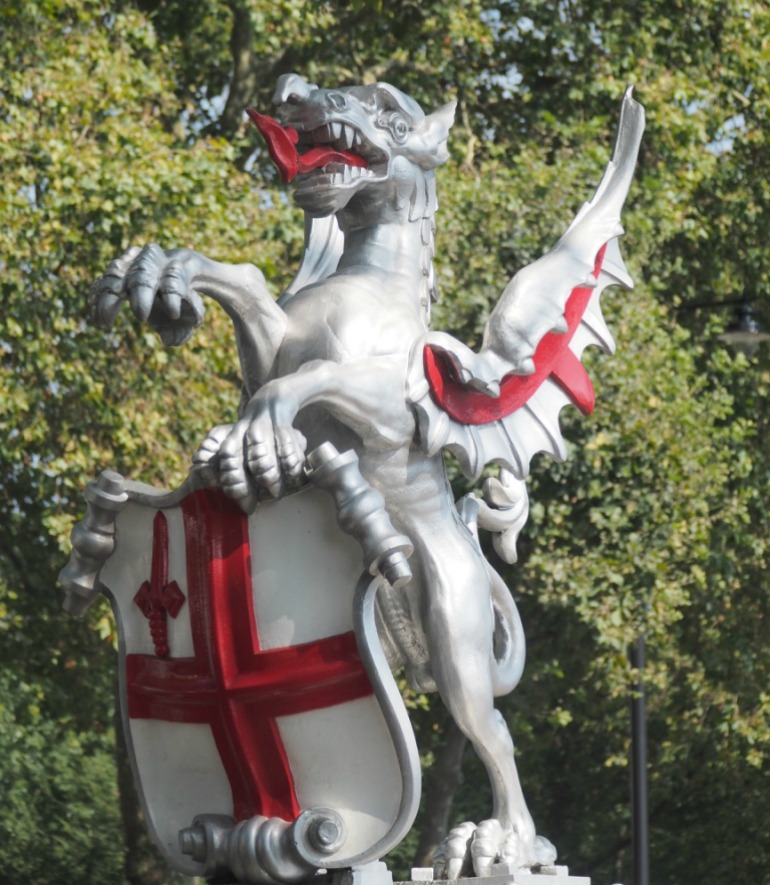 City of London Boundary Dragon. Photo Credit: ©Ursula Petula Barzey.
9. Druids are believed to be early wizards and still gather at Stonehenge to celebrate the Summer Solstice. The Druidess Cliodna features on one of the Famous Witches and Wizards trading cards that Harry Potter starts collecting.
10. J.K. Rowling chose Kings Cross station as a key location for the Harry Potter stories because that's where her parents met. You can get your photo taken there pushing a luggage trolley through the wall of Platform 9 ¾.