2023 sees the seventy-fifth anniversary of the foundation of the National Health Service (NHS) in the United Kingdom. The idea of free health care paid through taxes had been around for some time but did not become a reality until the Labour government under Clement Atlee was voted in as the Second World War was coming to an end in 1945.
Initially, many doctors were openly sceptical about the benefits of universal health care, and some were positively hostile. As the NHS became established, however, doctors became supporters of the principle and do not mind being employed by the government. They can also continue to provide private health care, and many supplement their income with this.
The NHS is now Europe's largest employer with a workforce of 1.4 million, who use up sixty percent of its annual budget of £200 million, 99% of which comes from taxation. Just under half of NHS staff (48%) have a professional qualification. Doctors can expect to earn £100,000 a year, and nurses, starting at a salary of £25,000, can expect to earn around £33,000.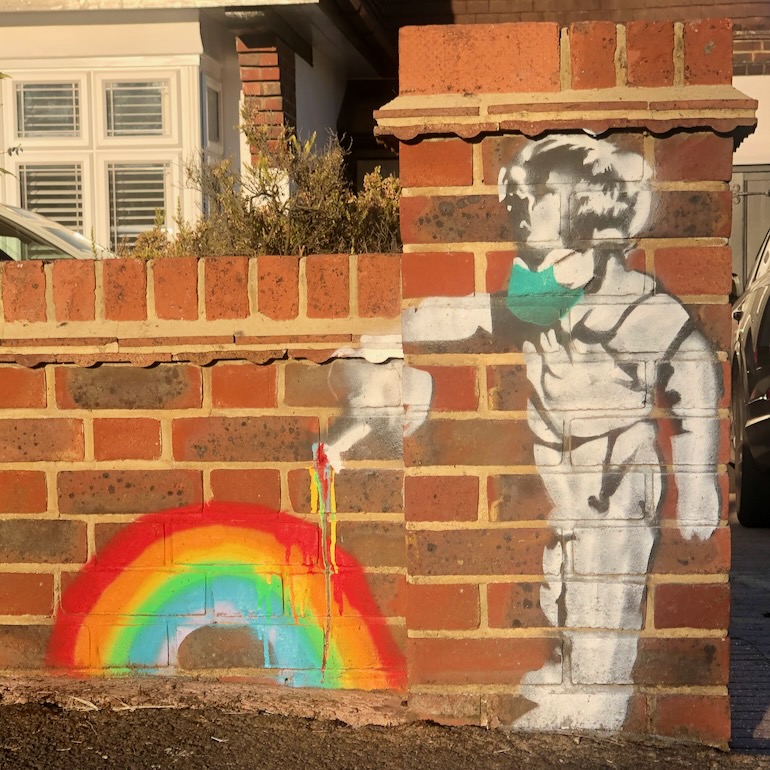 Blue Rainbow Boy by Croydon street artist Chris Shea along with NHS logo Photo Credit: © Ursula Petula Barzey.
London's Blue Badge Tourist Guides will often pass famous hospitals on their tours and can tell clients a little bit about their history – and about the NHS.
The most famous of London's hospitals are:
Saint Thomas's Hospital
This modern building stands opposite the Houses of Parliament, and some rooms will have an excellent view of the clock known as 'Big Ben'. (Strictly speaking, this name only applies to the bell, but it has been attached to the clock as well.) Although the hospital is very up-to-date, it is the second oldest in London, founded nearly 900 years ago and named after Thomas à Becket, who was born in London and martyred at Canterbury Cathedral in 1170.
It was at Tommy's, as it is usually known amongst nurses that Florence Nightingale founded the nursing profession. She had tended to wounded soldiers in the Crimean War in the mid-nineteenth century and returned to Britain determined to professionalise the care of the sick. Inside St Thomas's is a museum dedicated to her life and work, and outside the hospital stands a statue of Mary Seacole, another nurse who tended soldiers in Crimea.
Saint Bartholomew's Hospital
This is actually the oldest hospital in Britain, founded in 1123 by a monk called Rahere, and still occupying the same site where it has always stood. In the early 1500s, as a result of the dissolution of the monasteries, the income of the hospital was threatened and it was re-founded by King Henry the Eighth, whose statue stands above the front entrance. Barts, as it usually known, no longer offers an accident and emergency service but it remains an important teaching hospital and it was here that William Harvey discovered the circulation of blood in the human body in the seventeenth century.
Bart's stands near Smithfield meat market in the City of London. Outside is a memorial to William Wallace, the patriotic Scottish rebel against English rule who was executed on the orders of King Edward the First in 1305. He was later portrayed by Mel Gibson in the Oscar-winning film Braveheart.
Guy's Hospital
This hospital stands on the south side of the River Thames near to London Bridge and underneath the Shard, Europe's tallest building. It was founded in 1721 and named after its wealthy benefactor Thomas Guy, who is buried in the hospital chapel. Amongst the doctors who trained there was the poet John Keats. He never practiced medicine, but he had enough knowledge of the human body to know that he was coughing up arterial blood and was doomed to die of tuberculosis (then called consumption), which he did, aged twenty-six.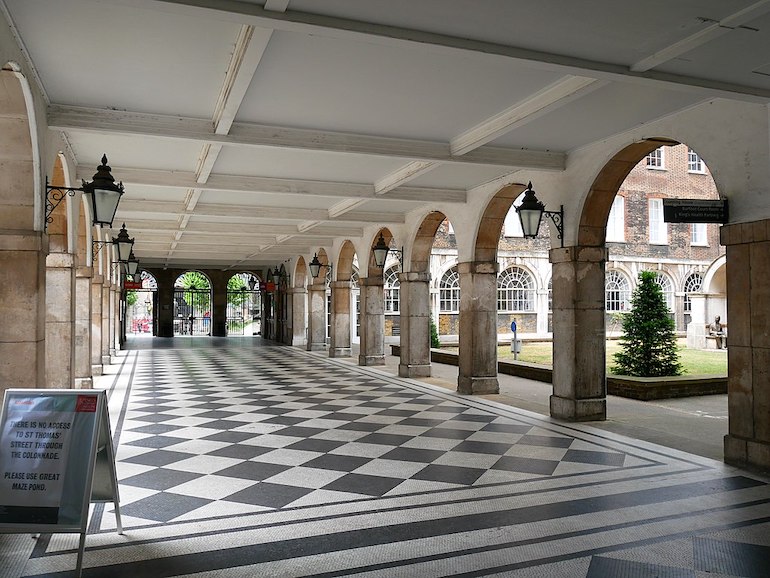 Interior passageway inside Guy's Hospital. photo Credit: © Ethan Doyle White via Wikimedia Commons.
Charing Cross Hospital
The hospital was named after its location in the centre of London near to Trafalgar Square, but in 1973 it moved into a new building in Hammersmith which was opened by the late Queen Elizabeth and cost £15 million to build. It had been founded in the late seventeenth century to cater for the poor and sick but is now famous for its cancer care at Maggie's Centre, which was visited by Michelle Obama, the wife of the then American president Barack Obama, who worked hard to introduce universal health care in the USA. Amongst the hospital's alumni was the Scot David Livingstone, who qualified as a doctor there but later became a famous missionary and explorer.
Great Ormond Street Hospital
Often known simply by its initials GOSH, this hospital was founded in 1852 specifically to treat sick children. It started off with only ten beds but with the help of prominent backers such as Queen Victoria and Charles Dickens, it soon expanded and now has just under 400 beds and a continuing reputation for the treatment of children. It benefited from the most famous donation in medical history when Sir James Barrie, who wrote Peter Pan about 'a little boy who never grew up', donated the copyright of the play to the hospital.
University College Hospital
This was the first hospital outside Oxford and Cambridge universities to train young people to become doctors. It is situated in Bloomsbury in central London and is attached to London University. With 665 beds, it is the largest hospital in London and has a wing named after Elizabeth Garrett Anderson, the first woman to qualify as a doctor in Britain. It was in this hospital that George Orwell died in 1950, soon after his famous book 1984 was published.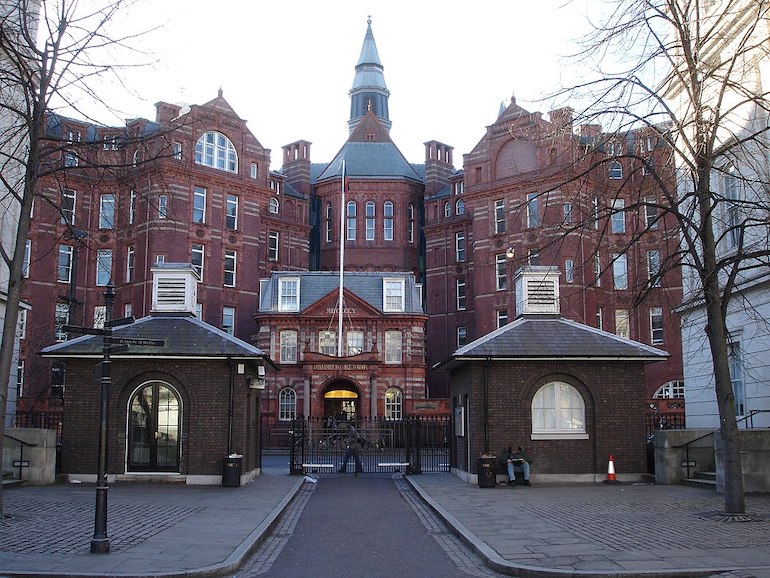 Cruciform Building at University College London. Photo Credit: © LordHarris via Wikimedia Commons.
And finally…
The Lanesborough Hotel – once Saint George's Hospital
While no longer a hospital, this exclusive hotel, situated at Hyde Park Corner near to Piccadilly, once Saint George's Hospital which moved to Tooting, a suburb in South London, during the 1970s, after which the site was turned into a five-star hotel. The major landowner in the area, the Duke of Westminster, took up his option to buy the building, which had originally been a townhouse for Viscount Lanesborough. The price had not allowed for inflation and was a mere £6,000, the value of the property when it was first turned into a hospital. The Lanesborough is now reputedly the most expensive hotel in London.