With a permanent collection of over 4.5 million objects, London's Victoria & Albert Museum is the world's largest museum of decorative arts and design. You would need many years – maybe a lifetime – to look through this unequalled treasure trove so what better solution than hiring a Blue Badge Tourist Guide to select and explain some of the exceptional artefacts on display.  Spanning 5,000 years of art-making throughout Europe, North America, Asia, and North Africa, where else would the golden throne of a Maharaja rub shoulders with an Issey Miyake dress made of recycled material? Those design students roaming around in awe, ambitiously seeking inspiration, understandably look enthralled and if you need further reasons for a visit here is some inspirational food for thought:
1. A Victorian wardrobe designed by Thomas Hopper for Penrhyn Castle was once owned by Mick Jagger and installed at his house Stargroves, near Newbury. It is now on display in the British Galleries.
2. 'Tipu's Tiger' is one of the Victoria & Albert Museum's most famous objects. Created for Tipu Sultan, ruler of Mysore in South India from 1782 to 1799, it is an almost life-sized semi-automaton of a tiger mauling a European soldier. Inside the tiger's body is an organ which when operated makes the man's arm lift up and down and produces noises imitating his moans.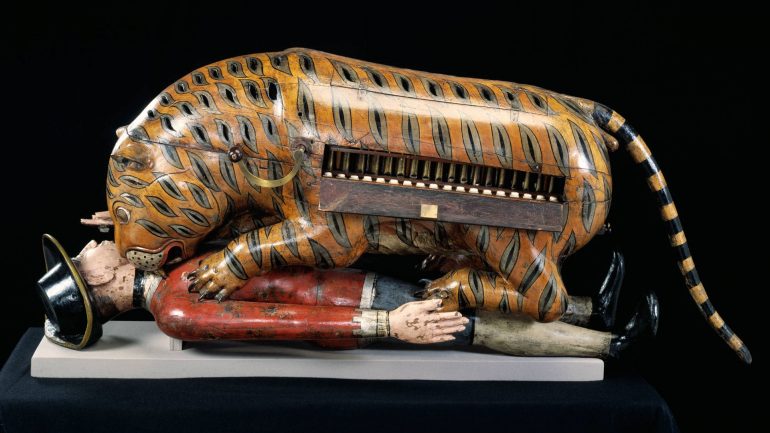 Victoria & Albert Museum: 'Tipu's Tiger', 1780s or 1790s, Mysore, India. Museum no 2545 (IS). Photo Credit: © Victoria & Albert Museum, London.
3. One of the most famous British fashion designers represented at the Victoria & Albert Museum is Vivienne Westwood. Inspired by the furniture of André Charles Boulle, cabinetmaker to Louis XIV, for her 'Portrait' collection A/W 1990 she created dresses in black velvet, over-printed in gold. You can see an impressive Boulle 'armoire' in room 5 in the Europe 1600-1815 Gallery.
4. In 1857, a cast of Michelangelo's famous 'David' from the original statue in Florence, was an early acquisition of the Victoria & Albert Museum. It is said that on Queen Victoria's first visit to the museum, she was so shocked by David's nudity that a proportionally accurate fig leaf with two hooks was later commissioned, to be kept ready for any future royal visits.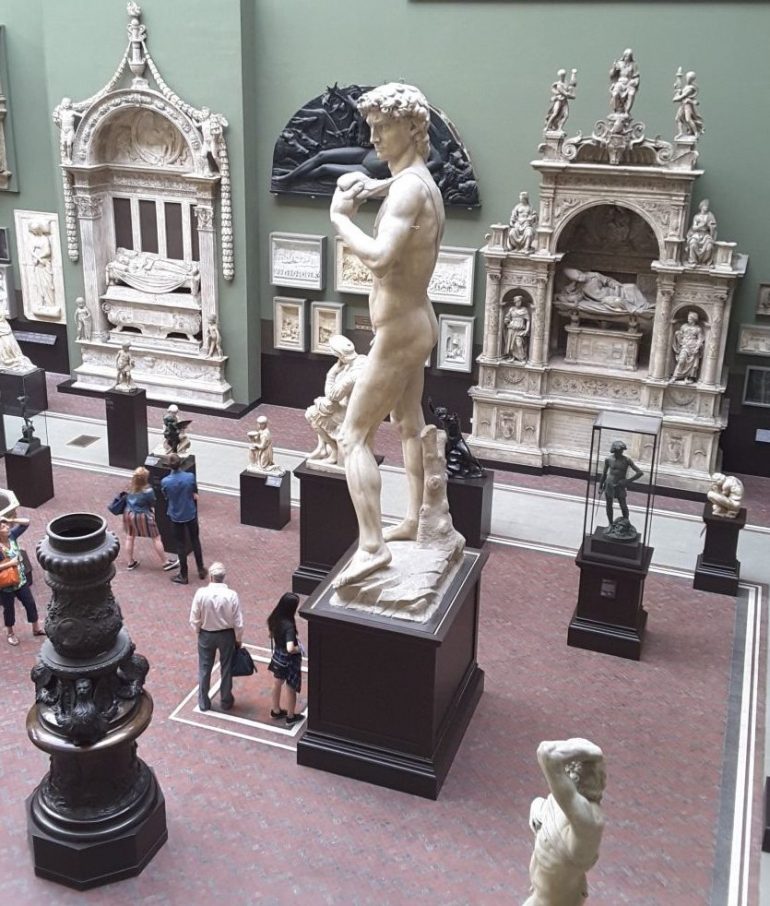 Victoria & Albert Museum: Michelangelo's David, plaster cast c 1856, gallery 46b, the Weston Cast Court. Photo Credit: © Ingrid M Wallenborg.
5. One of the treasures in the Nehru Gallery is a unique and exquisite wine cup of white nephrite jade, made in 1657 for the Indian Emperor Shah Jahan, famous as the builder of the Taj Mahal. It was acquired by Colonel Charles Seton Guthrie, who served in India from 1828 to 1857 and was an important collector of Mughal Empire jade and rock crystal objects.
6. "Vulgar, dramatic and absolutely fabulous" – that is how some describe the glass sculpture by Dale Chihuly that since 2001 hangs from the ceiling in the Victoria & Albert Museum's entrance hall. Chihuly's extravagant blown glass, inspired by the historic techniques of the Murano glassworks in Venice, remains breathtakingly unique and sometimes heavy: this piece weighs 3800 lb including the chain and armature!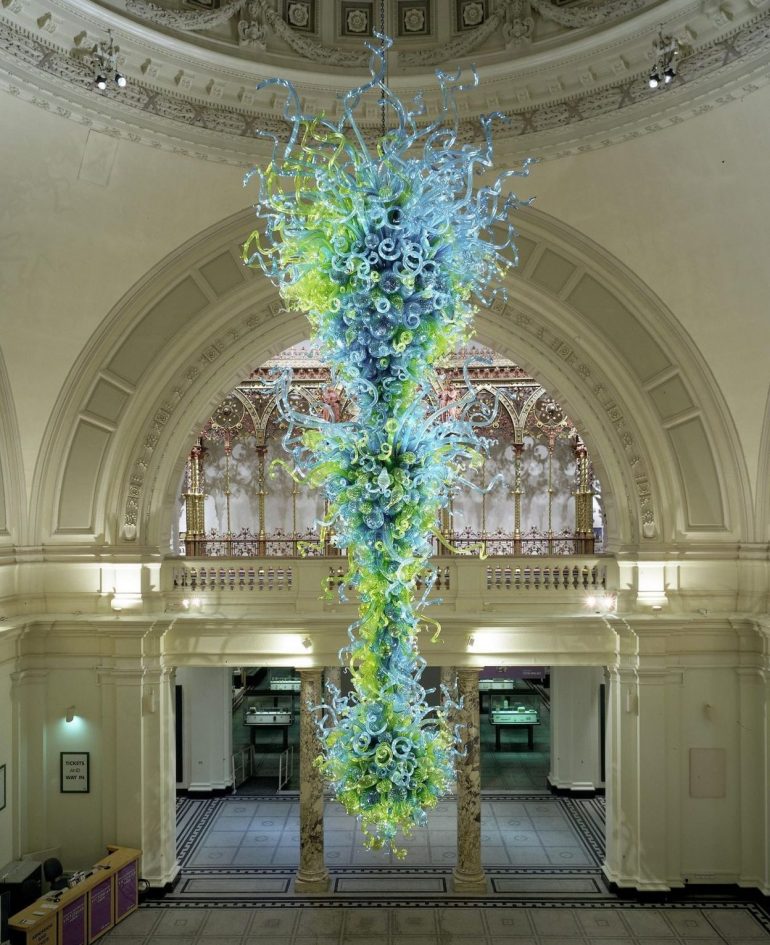 Victoria & Albert Museum: Blown glass Chandelier by Dale Chihuly. Photo Credit: © Victoria & Albert Museum, London.
7. In the fashion gallery you can compare Prime Minister Margaret Thatcher's 'power dressing' style with outfits by the award-winning couturier Alexander McQueen. A blue Aquascutum suit which Margaret Thatcher wore as she cast her vote in the 1987 election is quite a contrast to a coat by a designer often called the 'enfant terrible' of British fashion!
8. The beautiful Ardabil Carpet from Iran is of exceptional quality, design, and size – it is huge – and is the world's oldest dated carpet. Its importance and influenced is proved by the number of famous copies made; there is an 'Ardabil' at 10, Downing Street and Hitler, too, had an 'Ardabil' in his Berlin office.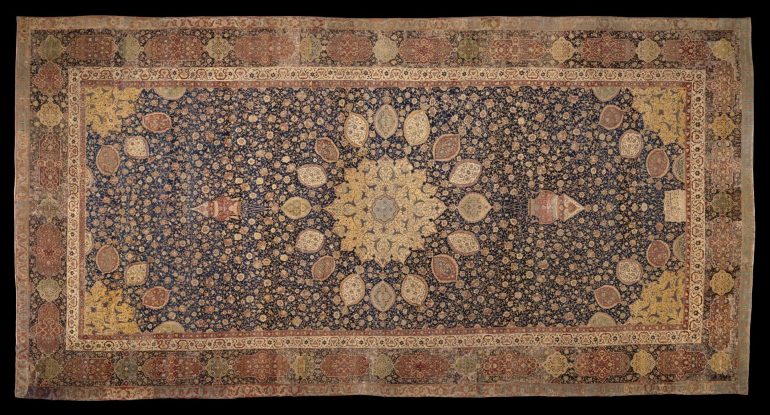 Victoria & Albert Museum: The Ardabil Carpet, medallion carpet, wool knotted pile on silk foundation, Safavid Iran, dated 946H, 1539-40. Photo Credit: Victoria & Albert Museum, London.
9. Fractal Table II is a fascinating example of future design possibilities. Made in 2011, it was designed using an additive digital manufacturing technique known as stereolithography. Its complex structure is based on the form of the dragon tree and it was first designed as a computer model. With the help of liquid epoxy resin and UV lasers, the table gradually took shape. This remarkable piece of furniture highlights the huge potential of 3D printing techniques, still only in their infancy.
10. The stunning iron screen from Hereford Cathedral is a wonderful example of the Gothic Revival. Made of 14,000 pieces, it was totally dismantled when a team of 38 conservation and reconstruction professionals carefully restored it to its former glory.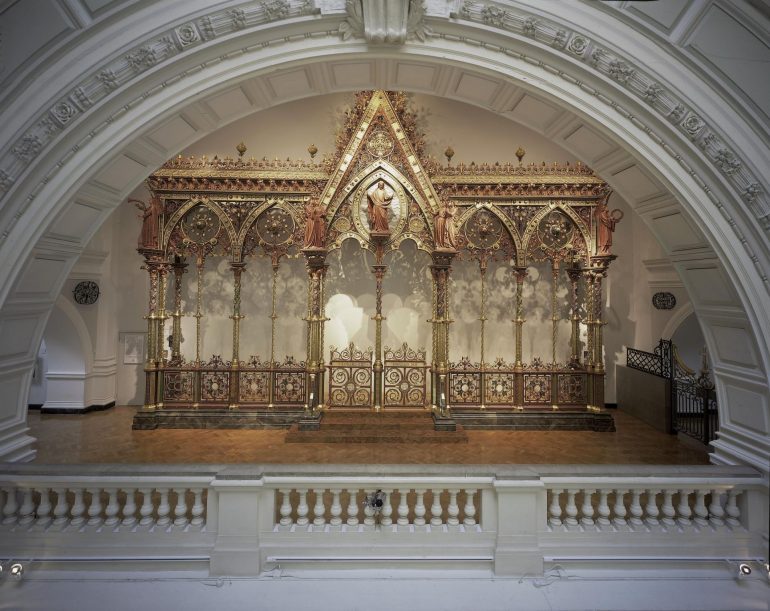 Victoria & Albert Museum: The Hereford Screen – Victorian metalwork choir screen in the Gothic Revival style. Photo Credit: © Victoria & Albert Museum, London.
This is just skimming the surface of this immense museum once called 'an extremely capacious handbag'.
The Victoria & Albert Museum is also, according to a survey, the most romantic museum in the United Kingdom – another reason for a visit? – and a regular film location, recently featured in Tinker Tailor, Soldier Spy (2011). Why not let an expert Blue Badge Tourist Guide take you round the world of art and design, helping you to fully discover and appreciate the tremendous skill and ingenuity of artists and designers past and present and revealing the endless variety of human cultural expression!