How many London landmarks and tourist attractions can you name that start with the Letter I? Blue Badge Tourist Guide Edwin Lerner continues our Guide London A-Z video series and provides insights on the historical events, famous and not-so-famous landmarks in London starting with the Letter I.
London landmarks and tourist attractions that begin with the Letter I
Hello. My name is Eddie Lerner, and I am a London Blue Badge Tourist Guide. This is the Guide London A – Z series, and today I will be introducing some of the sites in London, beginning with the Letter I.
Imperial War Museum
Let's start off at the Imperial War Museum in Lambeth, South London. Here we can see how British people lived through times of war and how our soldiers, sailors, and airmen fought in various conflicts at home and around the world. Outside the museum, you cannot miss these rather intimidating guns, which were taken from Royal Navy battleships after they had been decommissioned. Fortunately, the guns no longer work, and so you can take photographs – but not climb on them – as you approach the museum.
Inside the Imperial War Museum, which is free to enter, you enter the great hall. Look up, and you will see a Spitfire suspended above you. This was one of the planes that began to turn the tide of the Second World War during the Battle of Britain in late 1940. You can also see one of the infamous V2 rockets aimed at London towards the end of the war and even a rare example of a Japanese kamikaze plane.
There are many permanent displays and works of art inside the museum. You see here the work of the modern Chinese artist Ai Weiwei near the staircase. You can browse through rooms celebrating the courage of ordinary soldiers and civilians during wartime as well as an exhibition that reminds us of the horrors of the holocaust.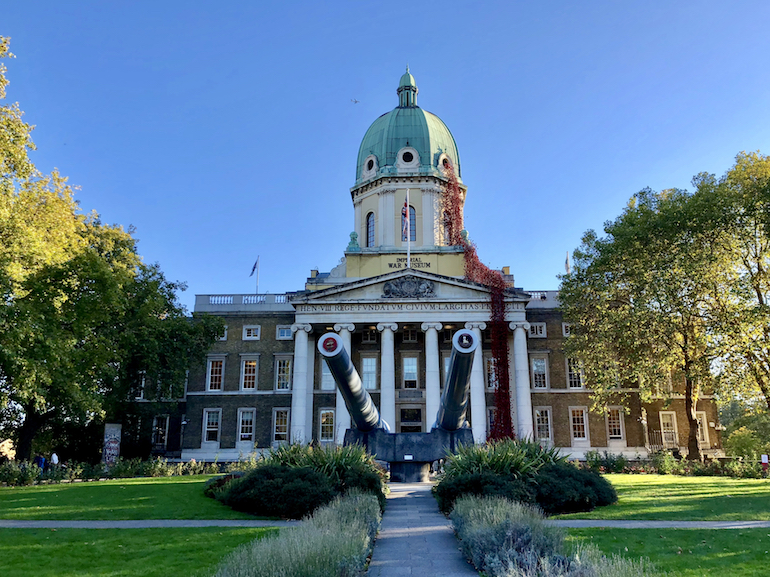 Imperial War Museum London – Weeping Windows Poppies Tour. Photo Credit: © Ursula Petula Barzey.
Inns of Court
Moving north of the River Thames, we enter Legal London and the Inns of Court. There are four of them in all – Lincoln's Inn, Gray's Inn, and the Middle and Inner Temple. Buildings from across different centuries cluster around beautiful gardens and atmospheric courtyards. They have been used as locations in films like Da Vinci Code, Mary Poppins Returns, and Bridget Jones Baby.
At the Inns of Court barristers – lawyers who work exclusively in courtrooms – are trained, and many of them also have offices in this area. Sometimes you can see them wearing their distinctive wigs and gowns. Probably the most famous barrister of all is a fictional one – Rumpole of the Bailey, created by John Mortimer, who was both a lawyer and a writer.
If you are interested in Legal London, several members of the Association of Professional Tourist Guides specialise in walking tours of this area. Some of them qualified as lawyers before becoming Blue Badge Tourist Guides. Check them out on the Guide London website, where you can find guides who offer specialist walking tours as well as tours of our more famous sights.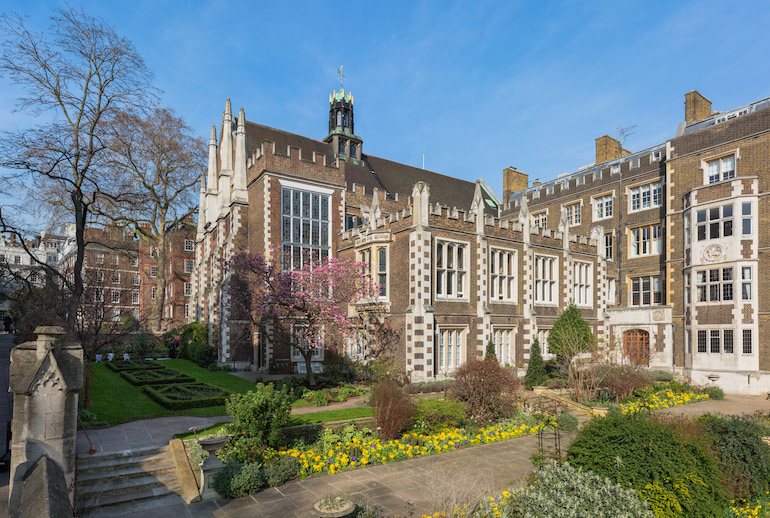 Four Inns of Court: Middle Temple Hall as viewed from the south. Photo Credit: © David Iliff via Wikimedia Commons.
Islington
Heading out from the centre of London, more adventurous visitors might like to visit the suburb of Islington near King's Cross. This has become a very fashionable area to live in and two recent Prime Ministers – Tony Blair and Boris Johnson – both had family homes here before moving to more famous quarters at 10 Downing St. Borish Johnson used to be Mayor of Greater London before moving into Number 10.
In Islington, you will find restaurants, antique shops, street markets, and pub theatres like the King's Head Theatre where audiences can watch plays at the back while drinkers enjoy a pint of beer in the bar at the front.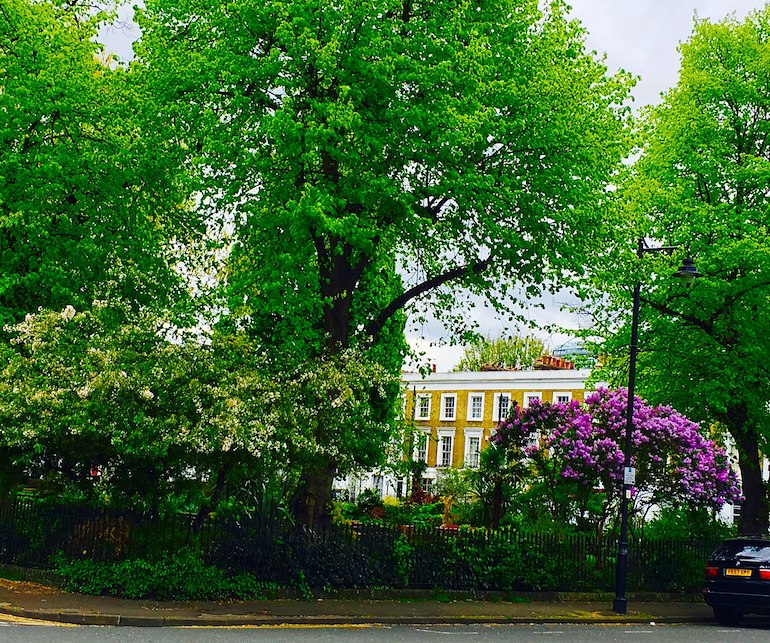 Grade II listed Arlington Square in Islington, London. Photo Credit: © Sebastianhistory via Wikimedia Commons.
I hope you have enjoyed this brief look at London via the letter 'I'. Whether you come from India or Italy, from Iceland or Ireland, from Indonesia or Israel – Blue Badge Tourist Guides are always here to greet you and help you to see the famous sights of our great city.
My name is Eddie Lerner, check out my profile on our website guidelondon.org.uk and please subscribe to our YouTube channel and join us as we explore the A-Z of Guide London.