When Henry VIII dissolved England's monasteries in 1534 he handed over Islington and Archway to Thomas Cromwell. However, the unfortunate Cromwell had little time to enjoy his acquisition as he was beheaded in 1540. Today, Islington is a part of London supposedly full of well-off people living in expensive homes who like to feel they are spokespeople for those less fortunate than themselves. In fact, over 40% of Islingtonians live in social housing and almost 30% live in privately rented flats, so homeowners make up only 30% of this diverse Borough. Some of those houses are now very expensive!
One of those private houses was where former Prime Minister Tony Blair and his wife Cherie and their family lived before moving to a more celebrated address at 10 Downing Street. They sent their kids to a local Catholic school. Current Prime Minister Boris Johnson also lived here with his family when he was Mayor of London, and his kids too went to Islington schools. In terms of famous politicians, the United Kingdom's first BAME MP Dadabhai Naoroji represented us, as has former Labour party leader Jeremy Corbyn – for almost forty years.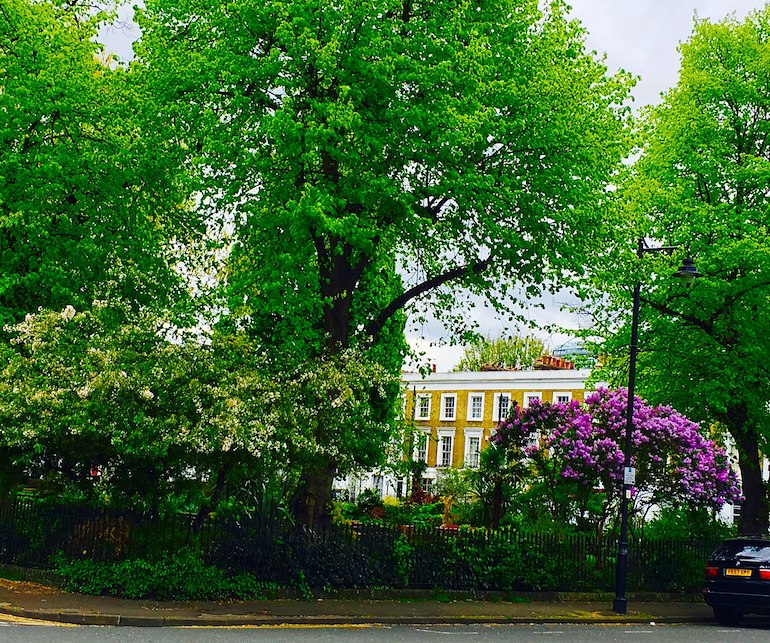 Grade II listed Arlington Square in Islington, London. Photo Credit: © Sebastianhistory via Wikimedia Commons.
Like Southwark, we are just outside the City walls, so Islington is where City-dwellers came to have fun. When I was Mayor of Islington in 2018-19, I unveiled a plaque to the bawdy but defunct Red Bull, one of many Islington theatres close to the City of London. The Borough has always been home to slightly off beam creatives. The sculptor Anthony Gormley's studio is south of the Angel and, if you have a coffee near the Town Hall, you might bump into the artist Grayson Perry – in men's clothes during the daytime, not in the drag he is known for.
Our authors too are diverse. George Orwell lived here after writing Animal Farm. I once showed a visiting US Orwell fan that it does not in fact have a CCTV camera on or near it despite what he had 'seen' on the internet. Oliver Goldsmith lived in the historic Canonbury Tower, overlooking the future chez Orwell. Many Charles Dickens characters are based here, as was that great Islingtonian 'Mr Pooter' in Upper Holloway. Penelope Lively is a prolific contemporary Islington writer and even our local Estate Agent, 'Hotblack Desiato', is the name given to a Douglas Adams character in Hitch-Hikers Guide to the Galaxy.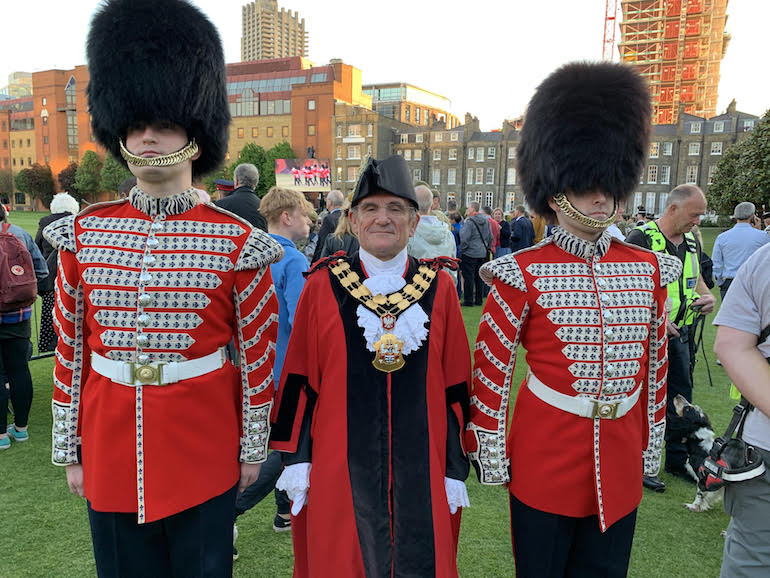 David Poyser, Mayor of Islington in London, 2018-19. Photo Credit: © David Poyser.
For hipster creativity, Old Street roundabout (like nearby Hoxton) is home to a buzzing centre of technology start-ups continuing Islington's creative, diverse tradition. For large gatherings, we range from our local football team the Arsenal to Sadlers Wells at the other end of the cultural spectrum.
Clerkenwell and Sadlers Wells supplied water to the City of London but, when it was not enough for London's growing population, a seventeenth-century entrepreneur Sir Hugh Myddelton constructed the New River waterway which brought fresh water from the source of the River Lea in Hertfordshire to New River Head in Finsbury. When the current London Boroughs were formed in 1965, the old Borough of Finsbury was merged, against its will, with Islington. The new river was opened in 1613. Myddelton's statue still stands on Upper Street opposite the restaurants.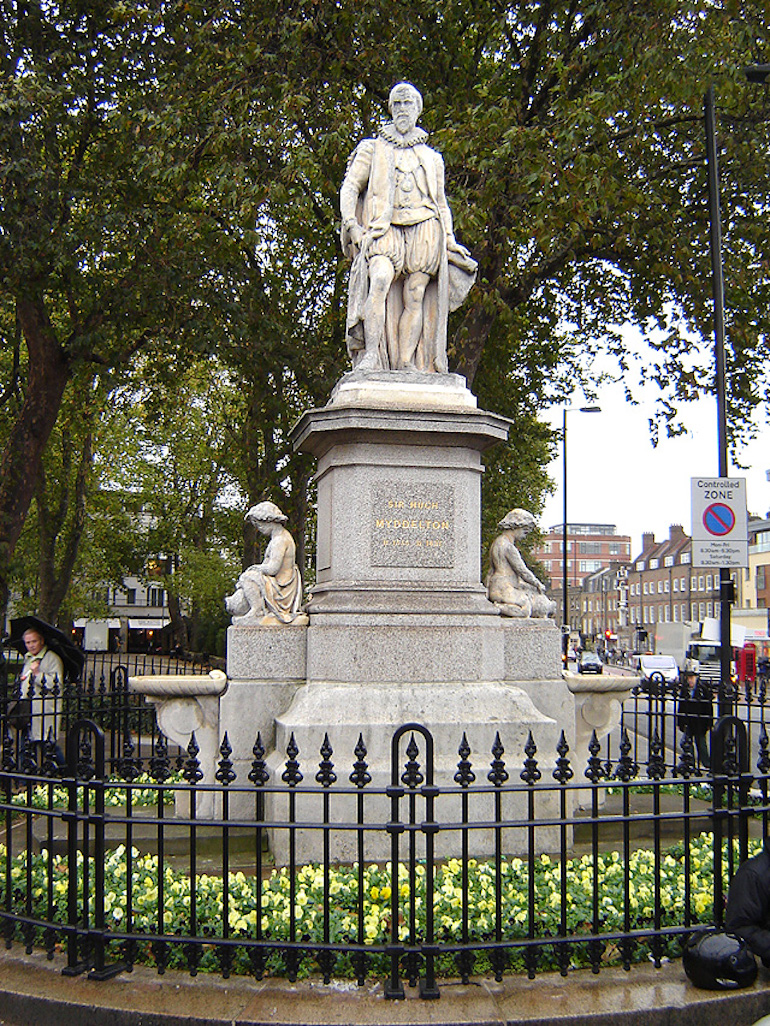 Statue of Sir Hugh Myddelton by John Thomas, on Islington Green. Photo Credit: © Tarquin Binary via Wikimedia Commons.
Our history is highly diverse, blending the benefits of inner-city immigration from all over the world. No wonder our restaurants attract all Londoners, and there are always clubs like Fabric for night-life. Next to Fabric is the ancient Charterhouse, going back to 1348. William Makepeace Thackeray, Robert Baden-Powell and John Wesley were at school here, Queen Elizabeth I stayed here and it is open to the public. Close to the Charterhouse is Clerkenwell Green, home to the Marx Memorial Library, where Lenin used to publish newspapers in 1903. Islington is not only a Borough of leftie peaceniks. Next to the border with The City is the HQ of the Honourable Artillery Company, the world's second-oldest regiment.
The middle of the London Borough of Islington boasts the tall Canonbury Tower where in 1589 its then owner's only daughter Elizabeth Spencer fell in love with the penniless second Baron Compton. The Baron had already frittered away the family money after inheriting his father's title when only twenty-one. Dad confined Elizabeth to the top of the Canonbury Tower. However, love proved stronger and Elizabeth eloped when her beau (disguised as a baker's boy) drove his cart over the fields to Islington and she was lowered from a window in a baker's basket.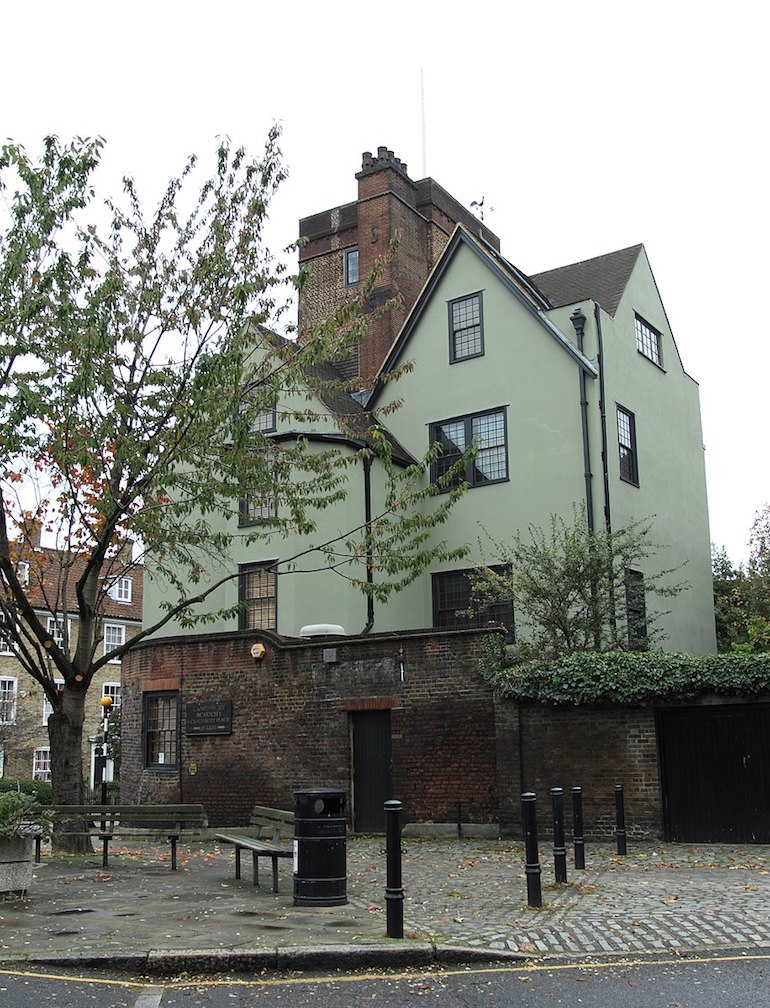 Canonbury Tower in Islington in London, viewed from the west. Photo Credit: © Tony Saggers via Wikimedia Commons.
More recent history is represented by a plaque in nearby Highbury Fields proudly commemorating the first Gay Liberation Front candlelit demonstration in 1979. The north end of the Borough only joined the London urban sprawl at the end of the 1900s. The famous spot where Dick Whittington supposedly 'turned again' and came back to The City of London is now marked by a concrete cat. This is unlikely since the Whittington family has historical records in Gloucestershire and the West of London and Archway heads North.
Not bad for London's second smallest Borough. I first came to Islington to do a journalism postgraduate course at The City University in 1979, and here I am forty years later, now a London Blue Badge Tourist Guide, happy to show visitors around this diverse and distinctive area and to take them on trips all over the capital.