Jane Austen Banknote Unveiled at Winchester Cathedral
The new Jane Austen £10 banknote was unveiled for the first time at Winchester Cathedral on 18 July this year, the 200th anniversary of her death. The much-loved novelist was buried at the cathedral largely because of the influence of her brother Henry, who was an Anglican priest. Her epitaph was composed by another brother James who wrote of her 'extraordinary achievements of mind' but famously forgot to mention that she wrote Pride and Prejudice or Sense and Sensibility.
The new note will come into circulation officially in September and shows a portrait of Austen commissioned by her nephew James Austen Edward Leigh which is based on a sketch made by Jane's sister Cassandra. The choice of the writer follows a campaign led by Caroline Criado-Perez to feature more women on British banknotes. With Winston Churchill replacing Elizabeth Fry on the £5 note, there was for a time no woman on any British banknote – apart, of course, from Her Majesty the Queen.
In addition to  Jane Austen's portrait on the back of the new £10 banknote, here are a few things to note:
1. Winchester Cathedral. A finely detailed metallic image of Winchester Cathedral is positioned over the window.
2. See-through window – coloured quill. At the side of the window is a coloured quill which changes from purple to orange when the note is tilted. This effect can be seen on the front and back of the note.
3. Copper foil patch – JA. On the back of the note, there is a book-shaped copper foil patch which contains the letters JA. It is immediately behind the silver crown on the front.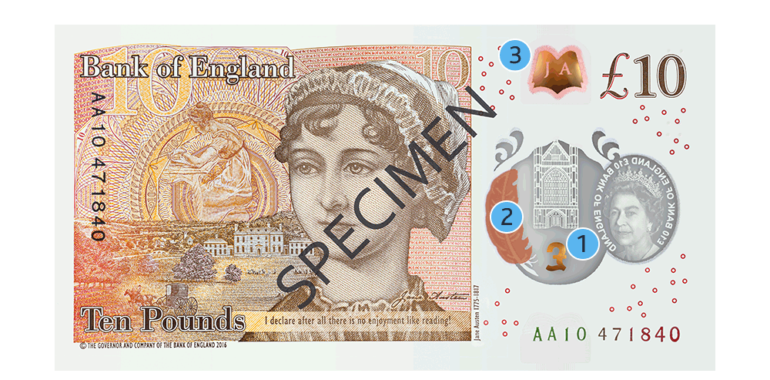 Polymer £10 banknote: back with Jane Austen. Photo Credit: ©Bank of England.
The front of the new £10 banknote which has portrait of Queen Elizabeth II also has many design and security enhancements including a silver foil patch, coronation crown, microlettering, etc.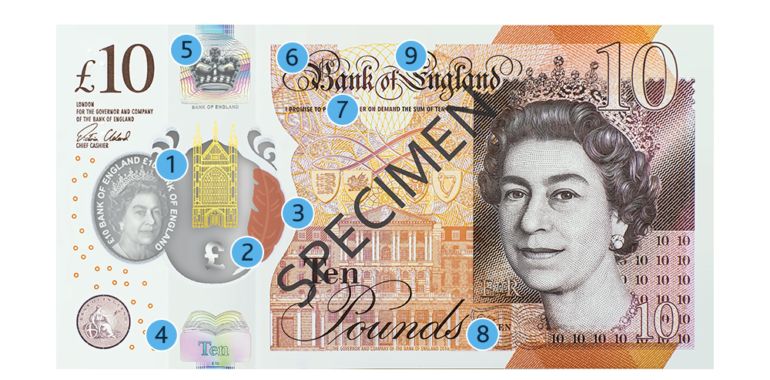 Polymer £10 banknote: front with Queen Elizabeth II. Photo Credit: ©Bank of England.

Edwin Lerner
Named Edwin (name of an early king of Northern England) but usually known as 'Eddie', I conducted extended tours around Britain and Ireland for Trafalgar for many years but now work as a freelance guide and tour manager. I specialise in religious, music, theatre and literary themed tours and…
You may also like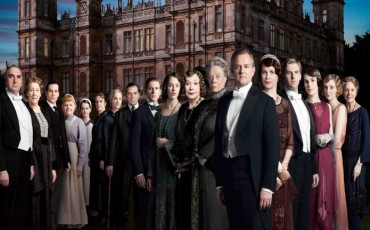 15 September 2015
The sixth and final series of the popular costume drama starts airing in the United Kingdom, at 9pm on 20 September. It will be made up of eight episodes and a Christmas special to be broadcast on Christmas Day. The series will span the years 1925 to 1927, with the Crawley family and their servants facing an uncertain future.
Read more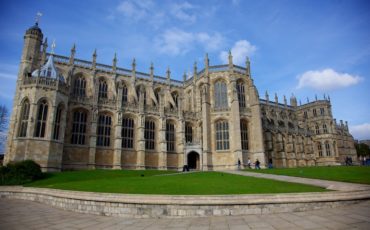 12 December 2017
The world will be watching next spring when Prince Henry of Wales KCVO, familiarly known as Prince Harry, marries the American actress Meghan Markle. With interest on both sides of the Atlantic, the royal wedding will be held on Saturday, 19th May 2018 not at Westminster Abbey in Central London where Prince Harry's brother Prince William, Duke of Cambridge was married, but at St. George's Chapel.
Read more