Time is weighing heavily as I sit at my window, sewing. Yes, buttons. Has it really come to this? Every once and awhile I'll lean forward to wave or nod to a friend or a passing acquaintance. The window washer, the Baptist preacher, the local councilwoman, the `kids' next door (who are now adults) … We know everybody.
But truth be told, it didn't get off to a good start. My husband Mike Rothschild and I moved into this house in Bow in East London at the end of the first year of the new millennium. Almost immediately we flew to the USA to visit family before returning to begin a massive renovation of our new home.
As we climbed the front steps on our arrival, I could hear ringing. We looked at one another and opened the door. A burglar alarm at the end of the hallway – one that we didn't even know existed – was shrieking in protest and flashing a neon rainbow of lights.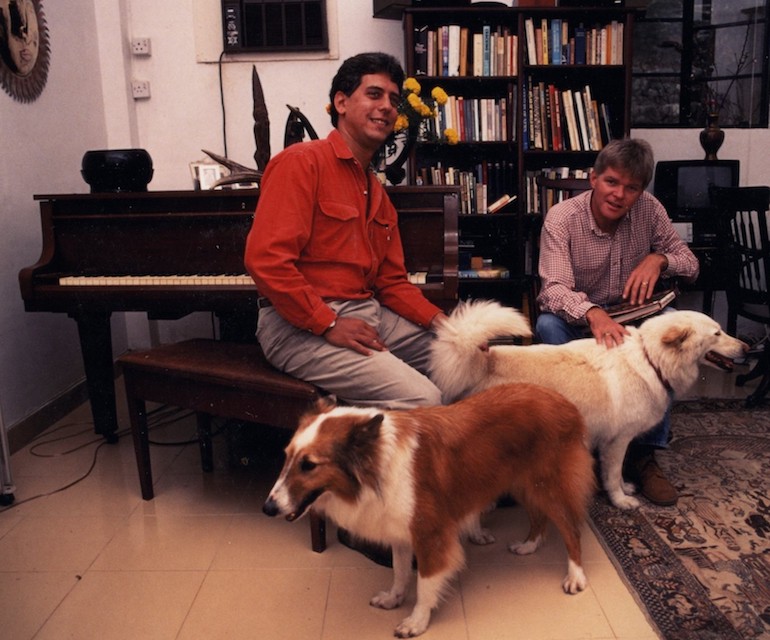 Steve & Mike with Whitey & Sophie in the lower house, No 1 Tong Fuk Village, Lantau Hong Kong (1990). Photo Credit: © Steve Fallon.
I spotted a familiar-looking face walking past the open door and called out to her. She scowled. `Crikey, it was madness,' she said. `Shortly after you'd gone' – she'd noticed? – `there were some electrical works on the street and when they switched the power back on, your alarm went off inside and out. After three days, one of the lads got up to the roof and managed to cut the cable. Alarm's still going off inside,' she told me (unnecessarily).
Worse than the summons from the council atop the pile of mail inside bearing the threat of a £10,000 fine for breach of peace was the embarrassment of it all. The two gay Yanks had arrived in their new neighbourhood in Bow in East London with a bang. We. Were. Mortified.
Complicating matters was that we had planned and booked caterers (new Vietnamese in Hackney – Green Papaya – now like us in its 20th year) and issued invitations for a very big and (presumably) loud blowout house-warming party the following weekend. There was only one thing to do: issue invitations to the households that line the bicycle-spoke streets of the Driffield Conservation Area.
Reader, you guessed the ending and it was not in tears. We grovelled and poured, they drank and made light of the disaster and in the best of British traditions became our friends and neighbours who are there when we need them and not when we don't. We're going to stay here, we think. In Bow, East London.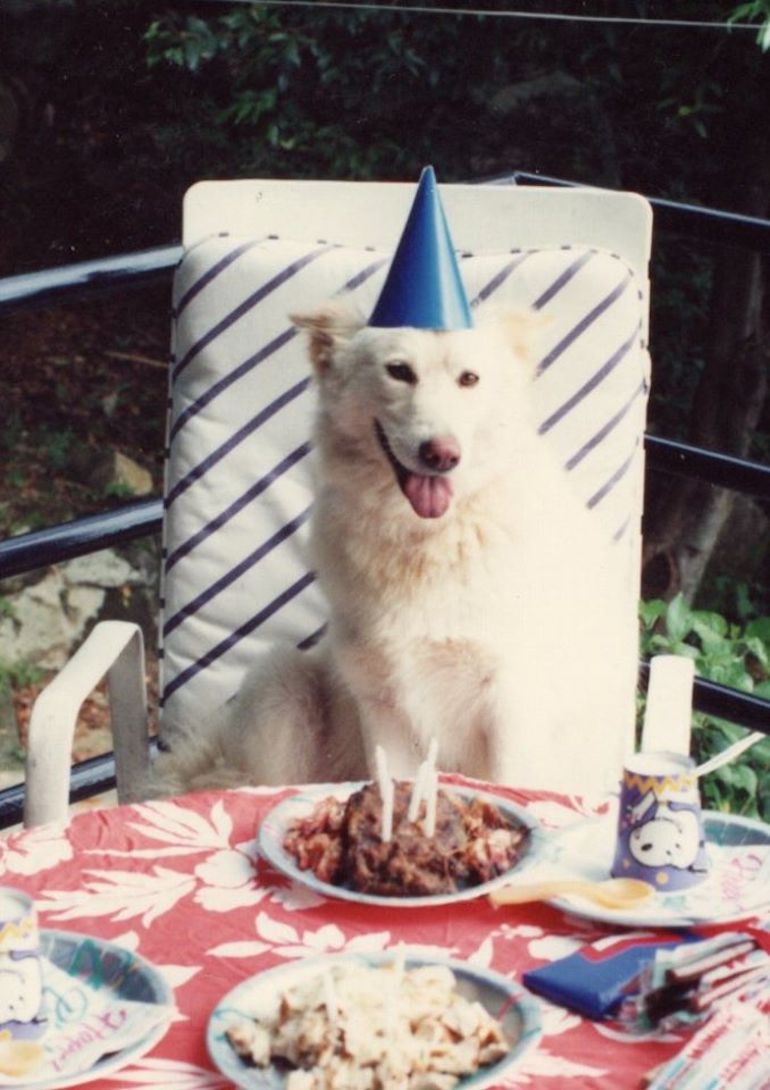 Whitey Oceandog at her birthday No 1 Tong Fuk Village, Lantau Hong Kong (1991). Photo Credit: © Steve Fallon.
But is it the best place we've ever lived? That's hard to say; Mike and I have lived in 15 places in five countries since we first met in a laundrette in Philadelphia on a wintry afternoon 43 years ago. Might I award Chisenhale Road a very close second? For Number One, we'd have to travel back in time and halfway across the world.
It was the 1980s and after we'd spent a half-dozen years in a leafy pocket of Pok Fu Lam on Hong Kong Island, the government lifted the moratorium on the construction of new high-rise blocks that had been in place for many years after a landslip knocked over a 12-storey building, killing 67 people. Almost immediately, the commute to Central by minibus doubled to 40 minutes, the incessant pounding of the pile drivers became intolerable and a layer of fine dust covered every surface in the apartment.
We did something we'd never considered before: we moved to an island called Lantau.
No 1 Tong Fuk Village, an address that would score guffaws and knowing nudges every time we said it, was a half-hectare compound of three small houses set amidst a semi-tropical jungle of lush bamboo and banana groves on a hillside overlooking the territory's longest and cleanest beach. In no time at all we were a family of five: Mike and me; our amah/sister/mother/friend Ratana, who could claim the distinction of being Hong Kong's only Thai Mormon; the hirsute Whitey Oceandog and her irascible pal, the runt collie Sophie Foxx-Benjamin.
We adjusted quickly to country living away from the madding crowds of urban Hong Kong, and life became `a medley of extemporanea' (to borrow a phrase from Dorothy Parker). People came to us – we no longer wanted or needed to go to them. We hosted weekend-long barbecues on the roof of the lower house, cricket on the beach and hikes up and down Lantau Peak.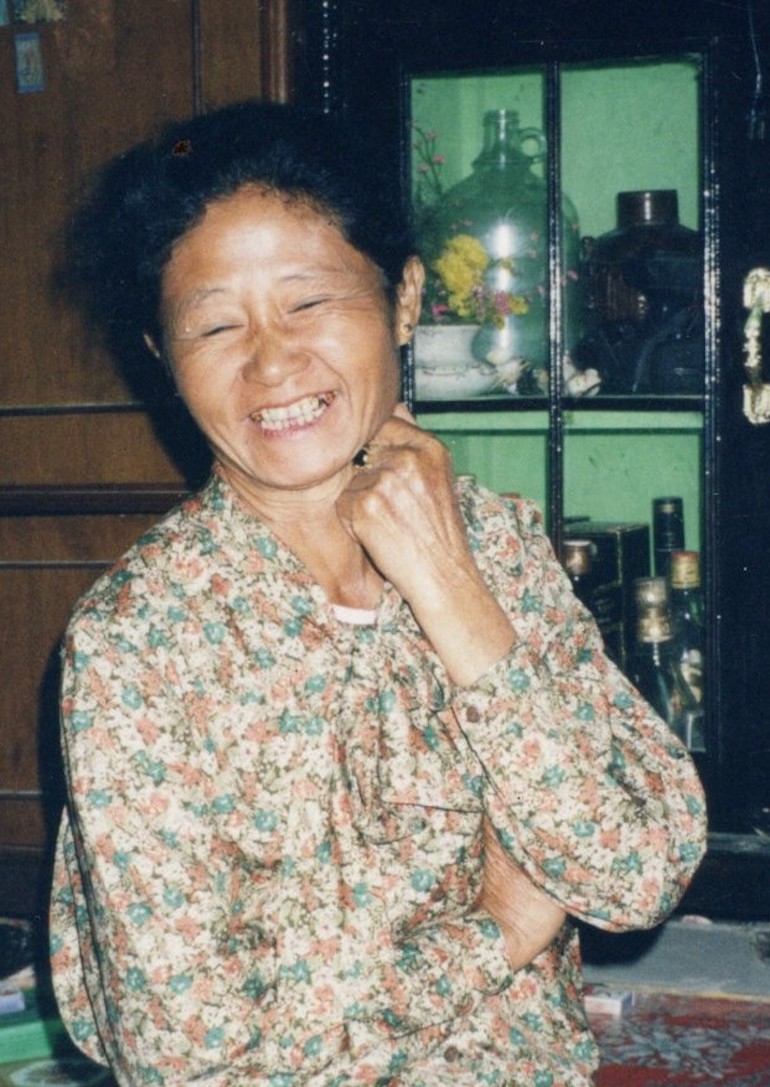 Ratana, Hong Kong's only Thai Mormon. Photo Credit: © Steve Fallon.
It wasn't all just fun and games; there were moments of high drama, too. Once while jogging along Cheung Sha Beach I literally stumbled over a dead body. It was not, we'd later learn, that of an II – `illegal immigrant' – from mainland China who had jumped from a snakehead's boat or even that of a gambler despondent after heavy losses at a Macau casino, but the suicide of depressed young local. And when the Keystone Kops out in rural Tai O finally finished their evening meal, arrived on the scene and rummaged through the pockets of the poor departed soul, I heard Ratana, ruled as much by superstition as common sense, mumbling the victim's ID card number in Thai. Three days later she presented me with a birthday card with those very numbers written neatly at the bottom. `This your lucky Mark Six number,' she wrote, referring to Hong Kong's lottery. `You win big money!'
During a rather bleak period – I'd wrecked the Suzuki Jeep, the amah had been arrested for selling Thai basil from her kitchen garden on the streets of Central, Sophie Foxx-Benjamin was bitten on the snout by a cobra – Ratana announced that she'd discovered the reason for this string of bad joss. She had found an overgrown grave hidden behind the upper house. We cut away the jungle growth that had been strangling the bone urn, swept the traditional horseshoe-shaped grave clean and lit incense, tasks we continued to perform habitually on every major Chinese and Christian holiday. `Ah Ba', a deceased villager we were to learn, was pleased and took pity on us. The bad luck stopped dead in its tracks.
But like most good things, it couldn't and wouldn't last forever. On our last morning at No 1 Tong Fuk Village, on Lantau and in Hong Kong, with plane tickets written and our bags tagged for a destination halfway across the globe, Mike and I took a final stroll around the `estate'. Off in the distance, the sky had darkened, and black clouds began to dance in formation on the swelling surface of the South China Sea. Soon the winds would strike the beach, removing sand from places where it was and depositing it in corners where it had not been before. We were both thinking the same thing: we would never again live in a place quite as fine as No 1 Tong Fuk Village.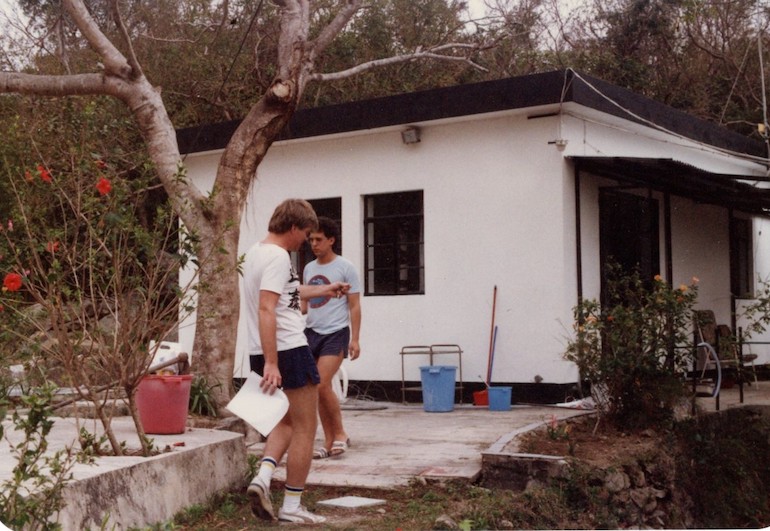 Steve Fallon & Mike Rothschild at upper house, No 1 Tong Fuk Village, Lantau Hong Kong (1990).
Sometimes when I'm on the Paris metro, walking the wet back streets of East London or driving through the flatlands of central Hungary, I revisit Lantau in my mind and I wonder: had we known then what we would learn later, would we have ripped up those tickets, unpacked our bags and gone back to bed, waiting for that storm to pass overhead? I don't think so, for like so many others, we are people who need to ride the storm, to seek change not necessarily for the better but simply for the differences it carries with it. Otherwise, where would we find our memories? From what deep well would we draw our dreams?
This is London from my window. Look out yours from time to time. You'll be astonished at what you see.
*****
Read all 10 posts from Steve Fallon's London lockdown series: