Ian Fleming created the character of 007 whilst living in London and his novels are filled with references to London. Subsequent filmmakers took Fleming's character and have developed him into the super spy we know today, and along the way set many of their iconic filming locations in London.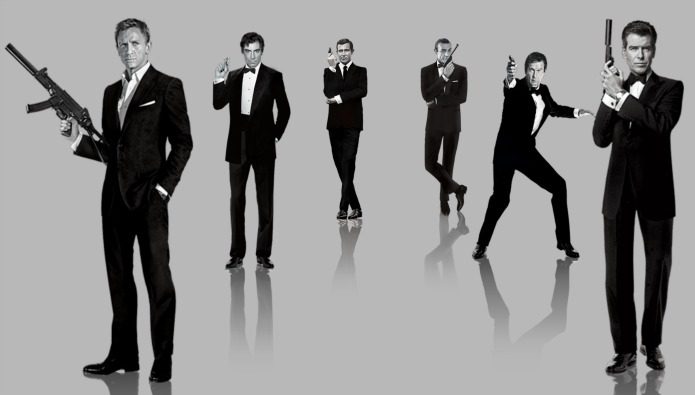 James Bond – Film Actors: Sean Connery to Daniel Craig.
10 Facts About James Bond
1. James Bond works for the Secret Intelligence Service or SIS, more commonly known as MI6. MI6 gathers intelligence outside the UK in support of the government's security, defence, foreign and economic policies and is broadly equivalent to the CIA.
2. The real MI6 headquarters is based in London overlooking the Thames and has been blown up twice in the James Bond films (in The World is Not Enough and Skyfall), before finally being demolished in SPECTRE. It was completed in 1993 to a design by Terry Farrell and has earned the nicknames of Legoland and Babylon-on-Thames due to its unusual stepped appearance. Much of the construction is below ground, 5 storeys deep, to protect sensitive areas such as the computer control room from a potential terrorist attack.

James Bond – M16 Headquarters. Photo Credit: © Nigel Rundstrom.
3. James Bond began in the mind of his creator Ian Fleming, based on his WW2 exploits. Fleming worked as assistant and right-hand man (think of Tanner played by Rory Kinnear) to the Director of Naval Intelligence Admiral John Godfrey, based in the Old Admiralty in London. Through his job, Fleming had contact with the Special Operations Executive (set up for irregular operations during the war such as parachuting men and weapons into occupied Europe), MI6, and also MI5, officially known as the Security Service and responsible for counter-espionage and anti-terrorism today. Fleming had great affection for the Navy, so Bond is a Commander in the Royal Navy (Commander RN) and M in the Bond books is an admiral who loves the sea with paintings of great sailing ships hanging in his office, perhaps based on Admiral Godfrey.
4. You can buy many James Bond souvenirs in London, from a martini in the bar where Fleming coined the famous phrase "shaken not stirred", to a shirt from the traditional tailor that dresses the film Bond, to a bowler hat from the shop that supplied Oddjob for Goldfinger. Let your Blue Badge Tourist Guide introduce you!
5. James Bond sprang to life in 1952. Ian Fleming was looking for a plain-sounding British name. He was a keen birdwatcher and amongst his books was Birds of the West Indies by the American ornithologist James Bond. He later commented that he had been struck by this brief, unromantic, Anglo-Saxon, and yet very masculine name, adding "and so a second James Bond was born." There is a direct reference to this in Die Another Day when Bond played by Pierce Brosnan is in Havana watching Jinx (played by Halle Berry) emerge from the sea and he describes himself as an ornithologist and picks up this actual book!
6. Bond loves cars, just like Ian Fleming! James Bond's official car in the Ian Fleming novels was a grey 1933 Bentley convertible. Fleming was said to have loved cars more than all the women in the world, it was his real passion. He even wrote a book about the ultimate car and the spirit of adventure that goes with it Chitty Chitty Bang Bang, which coincidentally also starred Gert Frobe who was in Goldfinger, and Desmond Llewellyn who played Q.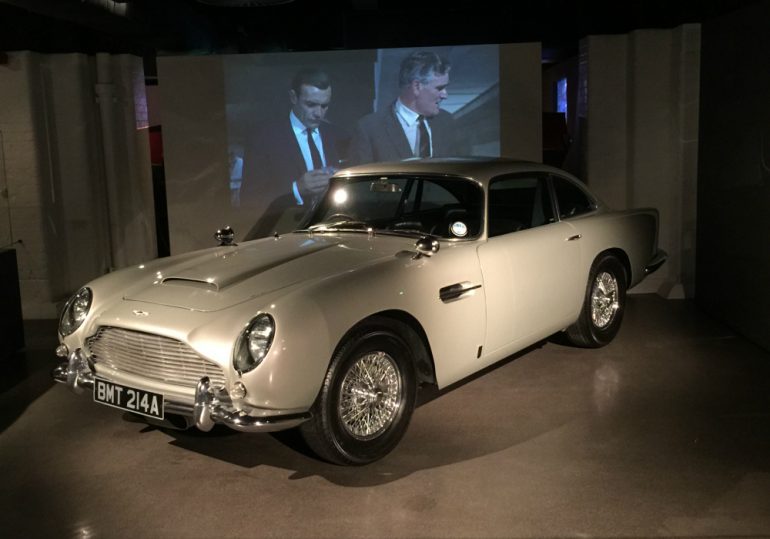 James Bond cars go on show at London Film Museum. Photo Credit: © Nigel Rundstrom.
7. Directors of the Bond films have come back to London time and time again. One of the best-known London scenes was the opening sequence for The World is Not Enough starring Pierce Brosnan, when Bond in a speedboat chases an assassin along the river Thames from MI6 to the final denouement at the Millennium Dome (now the O2). Although stunt performers were used for the most dangerous shots Brosnan remained in the cockpit for many of the scenes. Your Blue Badge Tourist Guide can help you follow this sequence through central London and the Docklands.
8. As well as the real MI6 headquarters, numerous London buildings have been used to stand in for MI6 over the years. Before the early 1990s, no one officially knew where MI6 was based so it was up to each director to select his own HQ. The more recent Bond films have also had to find secret underground emergency headquarters (after MI6 was blown up in Skyfall) as well as safe houses and locations for Q to work on his amazing gadgets!
9. Bond filmmakers have also used London to stand in for other cities around the world, including Shanghai in Skyfall and St Petersburg in Goldeneye. Let your Blue Badge Tourist Guide surprise you!
10. London also has a fascinating real-life spying history, from World War 1, through World War 2, the Cold War, to the modern-day. Waterloo Bridge over the Thames is the location of one of history's most ingenious murders. In 1978 Bulgarian intellectual Georgi Markov, a writer and dissident was waiting for a bus when he was stabbed by a passer-by in the thigh with a poison-tipped umbrella, injecting a tiny metal ball containing the poison ricin, for which there was no known antidote. Markov died four days later. The assassination order is believed to have come from the KGB. It seems like a case of life imitating art with the murder reminiscent of Rosa Klebb's knife-tipped shoes in From Russia With Love!
So explore London with a Blue Badge Tourist Guide and see the film playground of James Bond and the real world of Ian Fleming, his creator. You will be shaken and stirred!