I would very much like to continue gazing out my window – front or back – but the views are, well, fairly restricted at the moment. Scaffolding has edged up to the top floor to the north and the south. Someone had the bright idea of using this time to have the window frames and the masonry painted, the rain-ravaged cills repaired. Oh, that was me? Ooops, never mind. With Carole King belting out at the mic, I go Up on the Roof.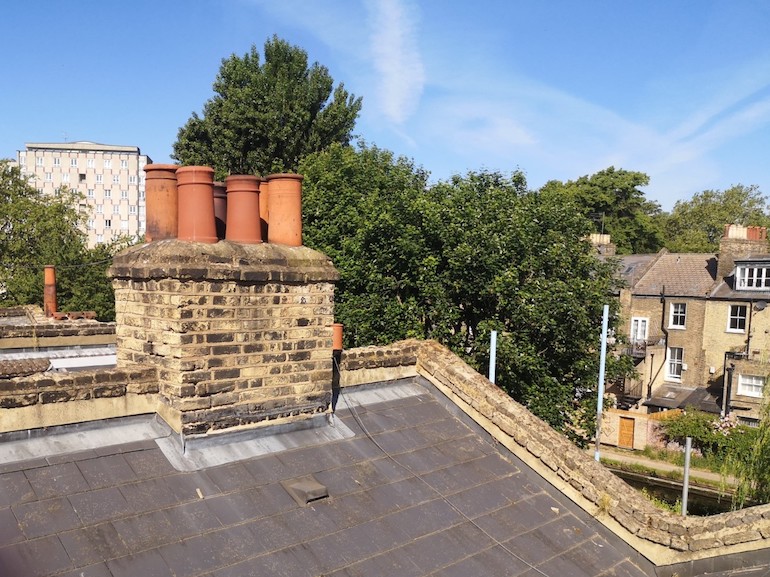 The view from the rooftop on Chisenhale Road, Bow, East London. Photo Credit: © Steve Fallon.
It would be fun if my husband Michael Rothschild would join me, but he has no head for heights. Truth be known, we have a tremendous amount in common, sharing many interests and hobbies, but so too do we have things that are very much our own. The joys of classical music still manage to escape me; he can't understand why I would spend the evening conjugating Breton verbs or declining Old English nouns. He gardens, I DIM (the `M' is `myself', FYI). He likes remaining on terra firma, I climb.
Actually, I'm not certain I especially like being high in the sky. It's just that it was a part of my life for some years. When I was in university in the USA, I worked as a roofer during the summer recess. I'm not talking about hammering shingles onto a pitched roof of a two-storey Dutch Colonial in suburban Boston. No, sir, this was the real deal: in one hand toting a bucket of `hot' – what they called molten coal tar there – or (worse) `pitch', a distillation of the same which got into your nose and eyes and caused your skin to itch. In the other, I'd be half-pushing a wheelbarrow of gravel forward. And all this at 40 storeys. But the money was excellent and we were unionised; either you would learn to live with vertigo or just go. I chose the former.
So, I have to get high – we're talking physically here – with my two scaffolders who are buffed as expected and – bonus! – have the good looks of the boy next door (should you live in East London, as I do – hurrah!). Even rarer, it seems I have hired the services of not one but two VEGETARIAN SCAFFOLDERS. Honestly now, have you ever seen those two words paired together? And the more gregarious of the two even told me he had been a VEGAN SCAFFOLDER until All This landed in our laps. `I decided that if I was going to die, I might as well go out with an egg,' Harry jokes. I look at him incredulously, and he shoots me a big toothy grin. `It's a changed world, innit mate?'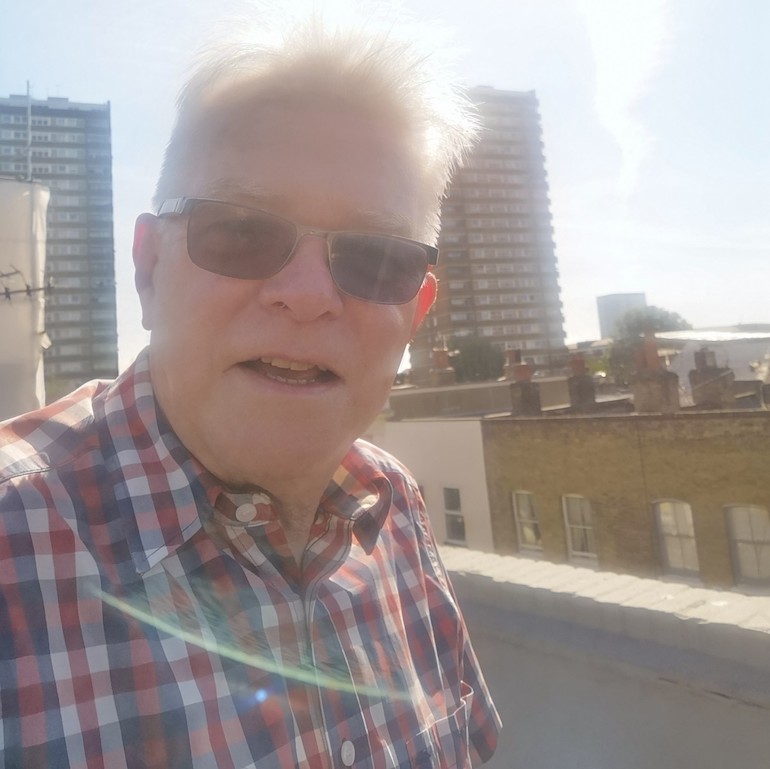 Steve on the roof on Chisenhale Road, Bow, East London. Photo Credit: © Steve Fallon.
Change. Like just what we don't need right now. For the sake of humanity (and its sanity), can we please do things like we always did? Can we make up a routine? Keep the constants… Dear God, just give us this day our daily bread…
At the end of the first week of official lockdown in London in late March, when people were still thinking, if not saying, `But it's just a flu, why all the fuss?' the Guardian newspaper published a rather disturbing essay by Italian novelist Francesca Melandri. `I am writing you from Italy,' it read, `which means I am writing from your future. We are now where you will be in a few days.' And, of course, she was right. She went on say that at the beginning we'd join online tutorials, pull apocalyptic literature from the bookshelves and have an unstoppable online social life on Messenger, WhatsApp, Skype and/or Zoom. Then everything would go pear-shaped and we would just eat. And cook. And eat again.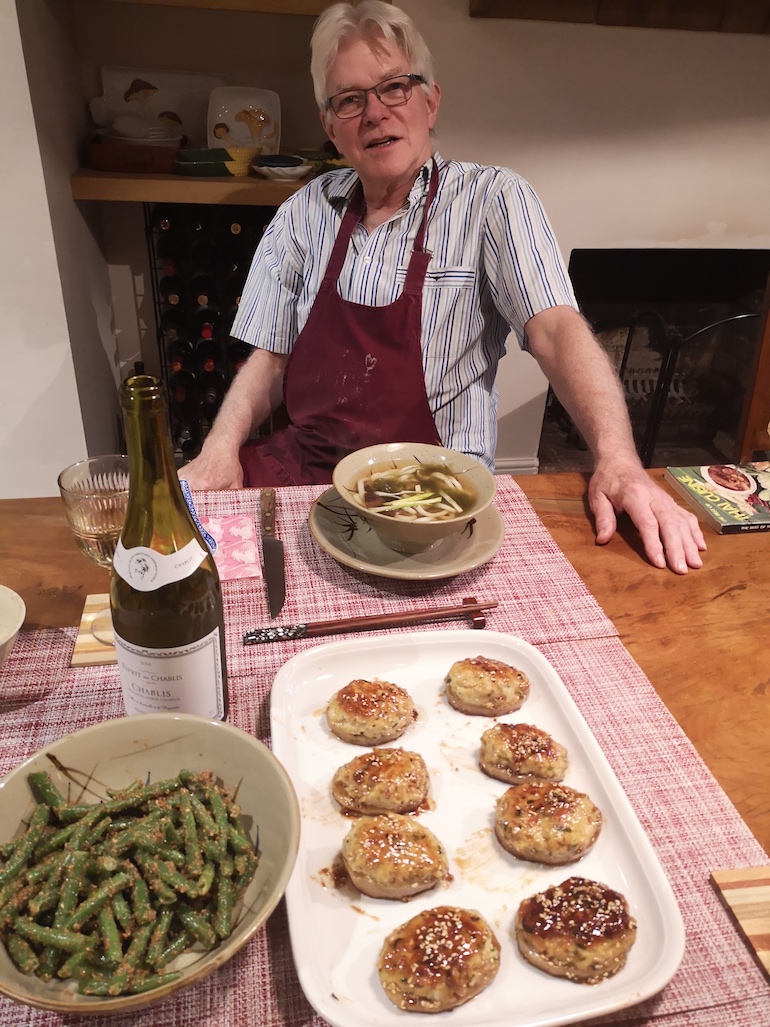 Steve with home-cooked miso soup, sesame green beans and chicken balls with lotus root dishes, Bow, East London. Photo Credit: © Steve Fallon.
Food, glorious food… With all the blind enthusiasm of religious converts, we ploughed through it. Talking about it, shopping for it, cooking it and, of course, eating it – always the least interesting part. And everything became more ambitious and intensive. After all, what's the rush? Should I use erős (strong) or édes (sweet) paprika in tonight's gulyás? Are we having green or massaman curry tomorrow night? Shiitake or shimeji mushrooms in the miso soup? Shall we reheat those leftover quails for lunch?
And then there are the expeditions to all the local food shops in our neighbourhood; with almost nothing else to entertain ourselves, perusing the shelves of cans and bottles, baskets of fruit and vegetables has become a pastime – a real `pass time' – and we buy and buy and buy some more. `Oh look, the meat with lard is back, and they've got that Russian moussaka too! And OMG the snake oil is here too!' Now it's hard – impossible – to imagine a larder without lard, Russian moussaka and snake oil. Signora Melandri was right. The tutorials, the socialising, the Lockdown Learning lectures that we Blue Badge Tourist Guides have been attending via Zoom to while away the time will just have to wait. I've got other fish to fry.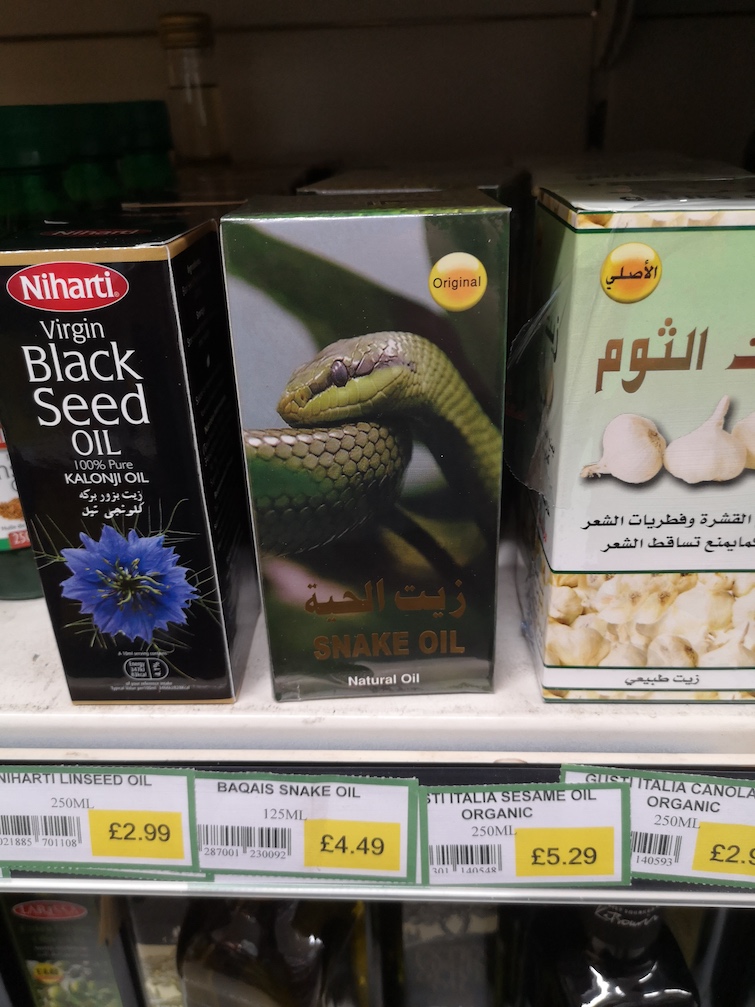 Snake and other oils for sale on Roman Road, Bow, East London. Photo Credit: © Steve Fallon.
`When all of this is over,' la signora concluded, `the world won't be the same.' She's right again but only up to a point. When All This is officially All That, I still won't be listening to Bach (at least by choice); my husband won't be changing light bulbs. I'll be up and he'll be down (that's physical again). But we'll be buying and cooking and talking about food like forever. The exotic has become the routine in our lives. And that, come to think of it, is not such a bad thing.
*****
Read all 10 posts from Steve Fallon's London lockdown series: