My husband, Mike Rothschild, thinks I've been staring out the window for too long now and suggests a bit of exercise. But our lovely lady, Vicky Park, is off-limits, I pout. `Let's go to the Olympic Park,' he suggests. So off on our bikes to the big green space just east of us we go, with Mike, my own personal optimist trying to keep my head above water as I struggle to submerge, wallowing in the black ink of despondency. I've been cooped up way too long watching the world sink from my window.
Trouble is, I don't like what has metamorphosed into Queen Elizabeth Park. Oh, it's gorgeous and all and with the new wetlands and those mysterious plantings that continue to spring up when it should be summer and all the repurposed facilities… Bravo! Hats off! But that's just it and it all comes back: the promise of the future in 2012 when all was right with the world and we really did feel that London was, if not the centre of the universe, its most logical heart. And then everything began to go downhill. There's a melancholy hanging over this park. It's black bile.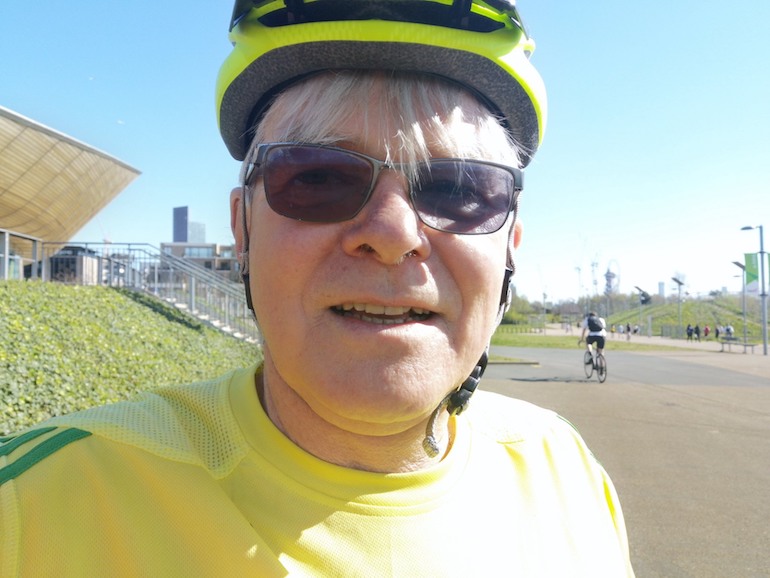 Steve Fallon cycling, Queen Elizabeth Olympic Park, Stratford, East London. Photo Credit: © Steve Fallon.
But this is where I am right now, speeding if not merrily toward something and who knows what that is when I see a mother pushing a pram with her new-born baby inside. Instead of marvelling at the miracle of life and billing and cooing from a safe distance, my thought turns to what is said to be the world's shortest novel and supposedly written by none other than Ernest Hemingway, the big butch `Papa' who apparently had a heart of clay. `For sale: baby shoes, never worn.' I plunge down a hill and into even darker territory.
`Let's carry on into the marsh,' Mike calls over his shoulder, and we point the handlebars to the north, following a rough trail but one that leads to where we want and need to go. Soon I see some familiar stock fencing and the statue of a horse above a gable and we're right in front of my old riding centre where the gee-gees are roaming in their paddocks, a kind of do-it-yourself exercise routine with so many staff locked down at home and owners unable to exercise their horses. I think of Guinness, my big old 18-hand chestnut shire with whom I had a meaningful relationship while training to be a guide and needing – like now – diversion of any type to set my mind at ease. Guinness. One day some years later I came to ride him again and carry on this thing we had only to be told that the poor old creature had been put out to pasture. `The knacker's yard?' I asked the trainer, and she gave me a sheepish look, a look that said `glue'.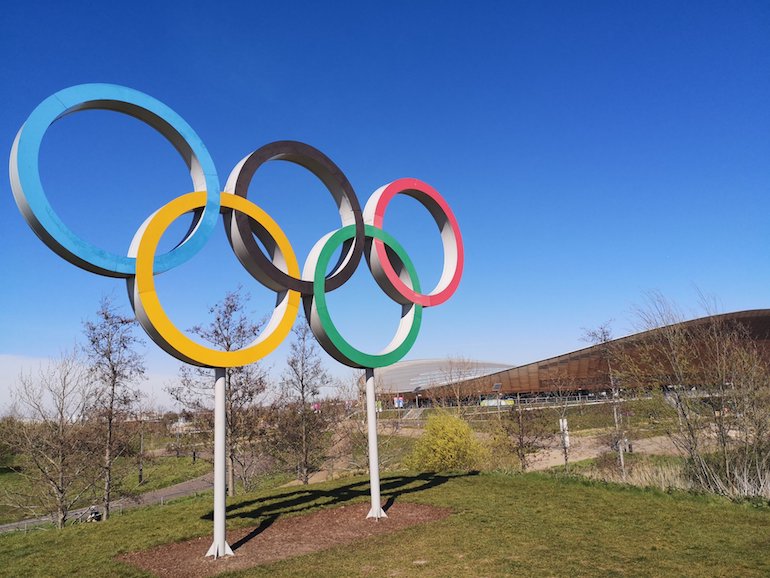 Olympic rings, Queen Elizabeth Olympic Park, Stratford, East London. Photo Credit: © Steve Fallon.
Have you ever noticed how in England people have no particular `look' as in, say, France or Hong Kong or even Australia? But there are a dozen or so similar patterns in terms of face shape, nose length, eye size and complexion. Works with both men and women, for sure. Mike and I call it the `tribal look' and just then he calls out `Marcie!' as we pass another cyclist who does indeed share similarities with my dear departed friend Marc `Marcie' Rouen, a colleague and soul mate in Hong Kong who went into the ground far ahead of his time a quarter of a century ago this very month and in far-off bloody Indonesia of all places. This passer-by is a dead ringer for Roger Moore as was Marcie, with a half-smile and a strange propensity for staring into the distance. I wonder if like some animal in the wild my much-missed boy was scanning the horizon for enemies – like those ruffians and rapscallions at his school in Petersfield who taunted and beat him up for being a sissy, for having a French father, for asking his mother for a picnic basket for Christmas and not a petrol-drenched day at the go-kart track that his brothers wanted.
I pull over and sit down on a park bench, not knowing whether to cry or to throw my head back and rant at the top of my lungs at a God who appears once again to have gone on vacation as happened during the Holocaust.
And suddenly (and you'll think I'm mad, you'll say I'm crazy) it's as if the heavenly hosts have received their cue and break into one of songwriter Laura Nyro's greatest tunes: `And when I die/and when I'm dead, dead and gone/There'll be one child born/and a world to carry on, to carry on.' I think about Mike's and my beloved nephews and nieces – all 27 of them – who continue to surprise and delight us with their little packages of narrow Irish eyes and teensy Jewish noses, and I am wondrous.
And over at the paddock, didn't I spot Cider, the russet stallion with whom I was also having a riding relationship back in the day (much to Guinness's annoyance)? The `other horse' looked in fine fettle and I am grateful.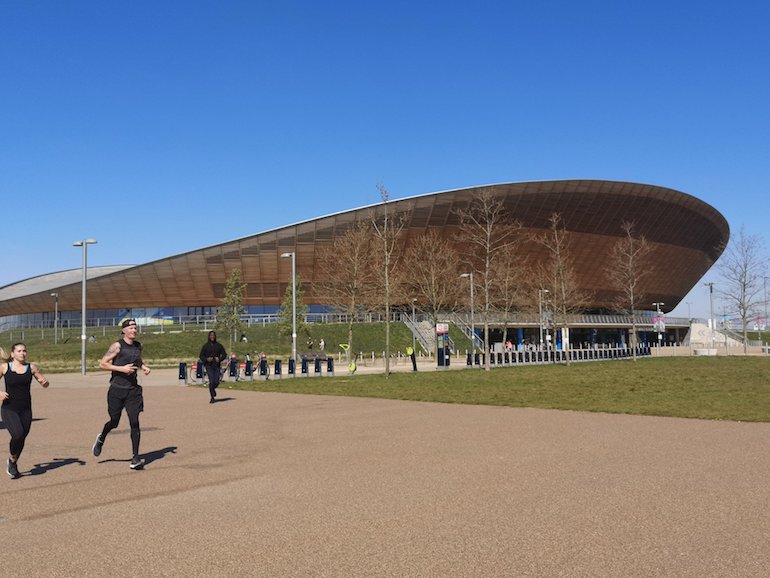 Velodrome (now Lee Valley VeloPark), Queen Elizabeth Olympic Park, Stratford, East London. Photo Credit: © Steve Fallon.
With the shadow of that passer-by's – Marcie's – crooked smile in my head and heart and almost sick with grief, I remember what Turkish novelist Elif Shafak wrote in The Forty Rules of Love when she imagined the words of the 13th-century Sufi poet Rumi on the death of his spiritual mentor Shams of Tabriz. `You think you cannot live anymore. You think that the light of your soul has been put out and that you will stay in the dark forever. But when you are engulfed by such solid darkness, when you have both eyes closed to the world, a third eye opens in your heart. And only then do you come to realise that eyesight conflicts with inner knowledge. No eye sees so clear and sharp as the eye of love. After grief comes another season, another valley, another you. And the one who is nowhere to be found, you start to see everywhere.' I realise I did then, and I do now.
So I decided then and there what I'm going to do when this whole stinking thing is over. I'm inviting everyone in the neighbourhood – old and young, gay or straight, Muslim, Jew, Christian and/or none of the above, people I like and others I'm not so fond of – to a picnic. From a basket. In French. And it's going to be in the middle of the track at Revolution Karting on Burdett Road in Mile End just down the road from us here in Bow in East London. `Cause it's for you, Marcie. And it's for all of us, too. The living.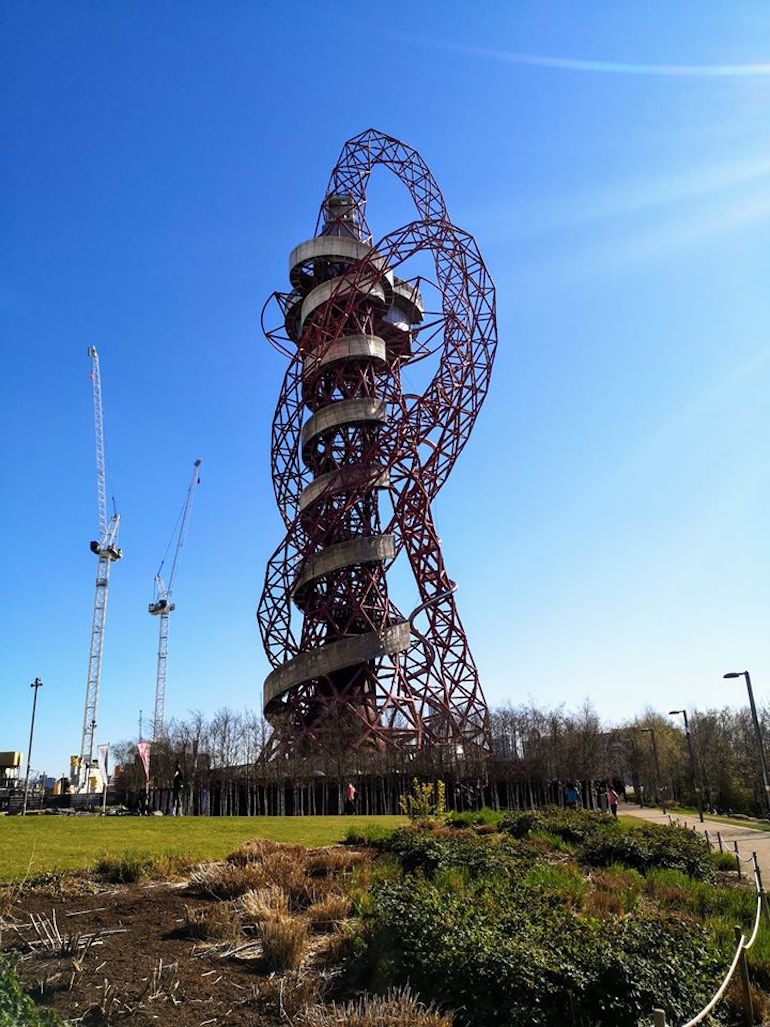 ArcelorMittal Orbit tower, Queen Elizabeth Olympic Park, Stratford, East London. Photo Credit: © Steve Fallon
This is London from my window. Look out yours from time to time. You'll be astonished at what you see.
*****
Read all 10 posts from Steve Fallon's London lockdown series: