Easter Sunday falls on the first Sunday after the full moon following the spring equinox on 21st March. This unusual calculation, which uses a mixture of solar and lunar calendars, means that the day itself can occur anytime in a period of over a month – between 22nd March and 25th April. The next time it will fall this late will be in 2038 and you will have an even longer wait for a very early Easter. It will not take place on 22nd March until 2285.
Apart from Christmas, Easter is the longest public holiday in the United Kingdom and takes place over four days of a long weekend from Good Friday to Easter Monday. For many Blue Badge Tourist Guides Easter represents the start of the busy summer season and the arrival of people coming to visit London who wants to see the capital in all its spring glory.
For many people, Easter is an important religious festival when Christ's death on the cross is remembered. Important Anglican churches such as Saint Paul's Cathedral and Westminster Abbey, as well as the Roman Catholic Westminster Cathedral, will be closed to visitors on Good Friday when prayers and vigil are offered instead. This also applies on Easter Sunday when people will be welcome to attend services but not to visit for sightseeing.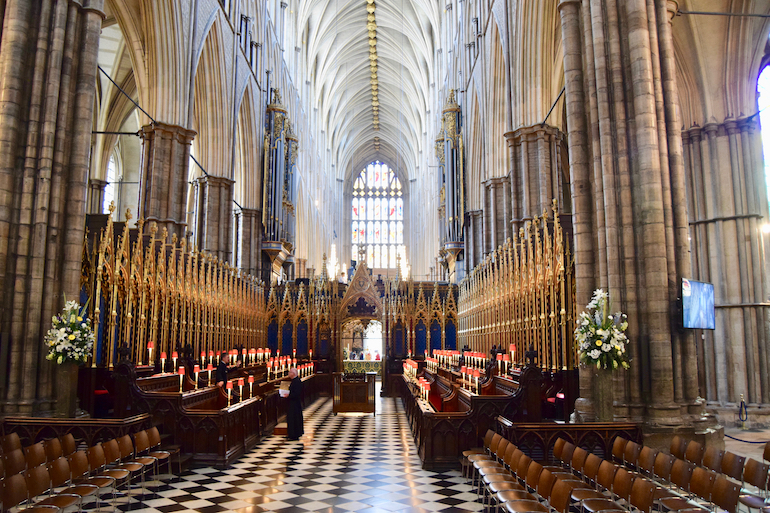 The Quire at Westminster Abbey in London. Photo Credit: © David Streets.
On Good Friday, Christ's death on the cross is re-enacted in central London in Trafalgar Square with two live performances of the Passion of the Christ at 12 noon and 3:15 pm. The performances combine performances by professional actors from the Whitehall Players, over one hundred volunteers, and a troupe of animals. These performances are projected onto big screens and, as they involve a realistic interpretation of the crucifixion, parental guidance is advised.
George Frederic Handel moved from Germany to London in the early eighteenth century and composed many of his greatest works here. Handel's Messiah is performed at the Royal Albert Hall on Good Friday, as it has been since 1876. It is commonly believed that King George the Second was so moved by the Hallelujah Chorus when he heard the Messiah that he stood up. Although this story is probably a myth, audiences have been standing up for the Chorus for 300 years and this custom is followed at performances in the Albert Hall.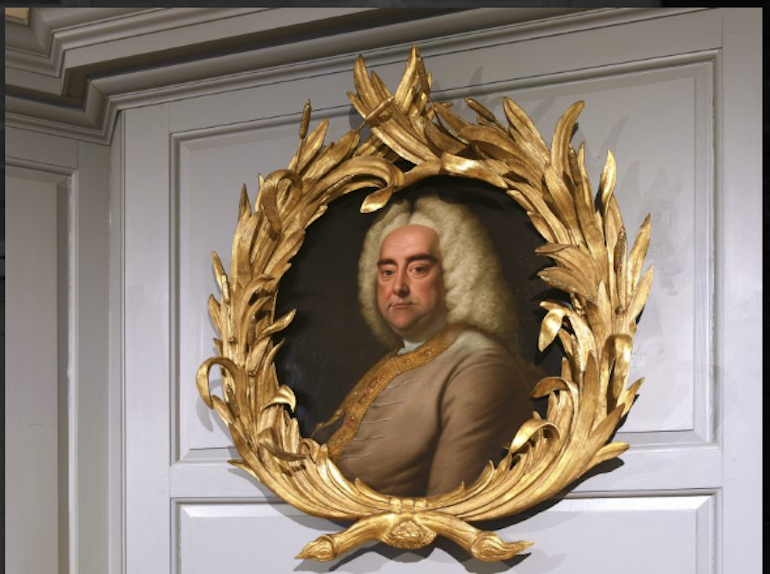 Portrait of George Frederick Handel. Photo Credit: © James Newton.
For those concerned with their physical as well as their spiritual health, a ten-kilometre run takes place at 10:30 am in Regent's Park on Easter Monday when runners have the chance to run off those extra calories put on after their eating Easter eggs. There will also be a shorter children's race preceding the adult run which starts at 10 am.
Easter eggs are symbols of fertility and rebirth associated with springtime. Traditionally they were real eggs painted in bright colours and used as gifts while modern Easter eggs are made of chocolate. With the coming of longer days after the start of British Summer Time in March, Easter is a popular time for outdoor activities in London's many parks and gardens. The traditional Battersea Parade has ended but there are other open-air events in London over Easter.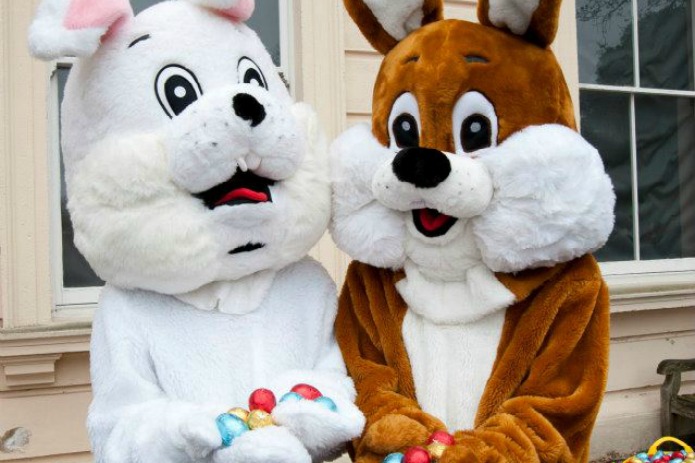 Easter Egg Hunt at Kew Gardens. Photo Credit: © Kew Gardens
The Changing of the Guard is a great favourite with all visitors to London. Traditionally, Easter was the first time in the year that you could see the Queen's guards in their scarlet uniform as they had shed the overcoats that they wear in the winter months to protect them from an English winter. The decision when to remove the overcoats is taken by their commanding officer and is usually done in early April – and always by Easter time.
Add to these special Easter attractions, the usual places that bring tourists to London – museums, historic buildings, shops, and theatres in the West End – and you will find a host of things to do in London when you come to the capital over Easter. London's corps of trained and qualified Blue Badge Tourist Guides will be happy to help your Easter visit come to life!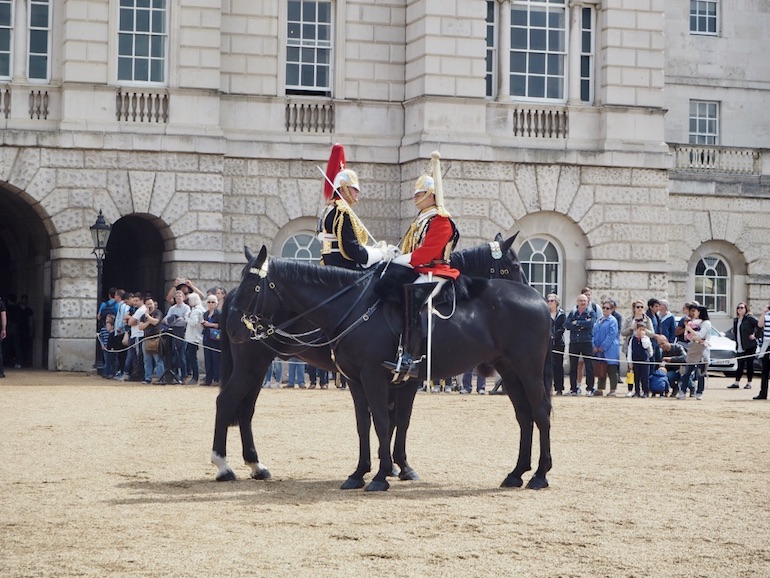 Changing of the Guard, Horse Guard Parade. Photo Credit: © Ursula Petula Barzey.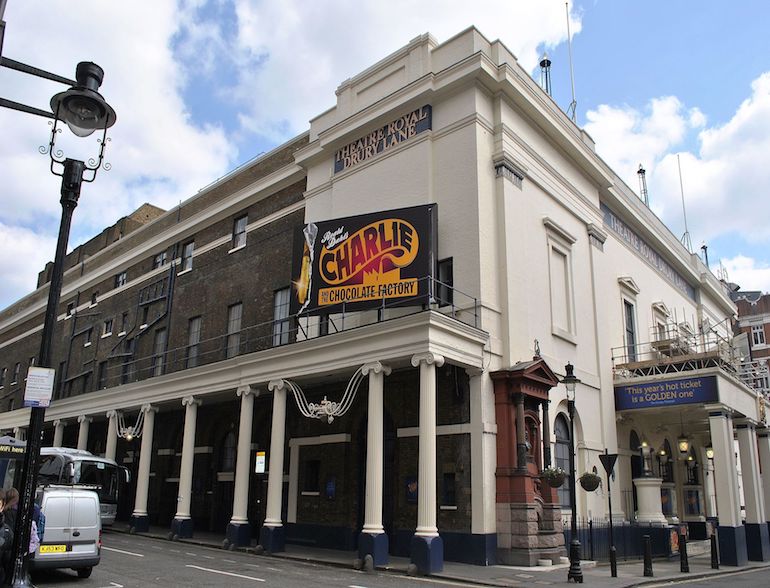 Theatre Royal, Drury Lane in London. Photo Credit: © Elisa Rolle via Wikimedia Commons.