Think you've seen all there is in London? Well, think again! Just step east over the border from the Financial City and you'll find another world of contrasts reflecting the waves of immigrant workers who have passed through over the centuries. My top ten list of things to see in London's East End will take you on a journey of atmospheric Georgian and Victorian streets, bustling markets, great nightlife, and some historic villains. Enjoy!
Shoreditch in London
1. Street art: In Shoreditch, you'll find one of London's popular hipster haunts – this is also the largest open-air art gallery in the world. Look around any corner and you'll find anything from vast murals to tiny stickers adorning the street. See an original Banksy(there aren't many left), plus ever-changing works by budding young street artists looking to make a name for themselves.  Many have gone on to the international stage – even reaching the hallowed corridors of the White House.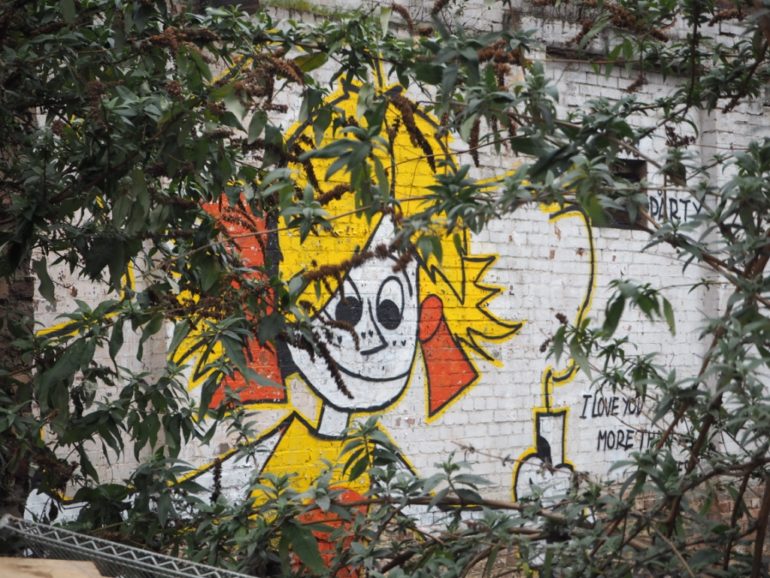 London Street Art in Shoreditch – I love you more than cheese mural. Photo Credit: ©Ursula Petula Barzey.
2. Shoreditch Church: Officially St Leonard's, this ancient site was once the London's actors' church as the first theatre, called…wait for it….'The Theatre' was erected nearby. It was the burial site of those earliest theatre pioneers, the Burbages. Also buried here, amazingly enough, is the only man who could handle King Henry VIII's moods and get away with it – his court jester Will Somers. While you're there you can see some avant-garde or fringe productions which help raise funds to restore this important site.
Hoxton in London (pronounced 'oxton' by us locals) 
3. Hoxton square: Merging its boundaries with Shoreditch is the equally hip Hoxton – sometimes known as Hoxditch! A great place to head out to from the City for an evening's entertainment, the public green space is alive in the summer with revellers trying out the many bars and eateries that line its boundary – enough to keep anyone occupied for a weekend.
4. Head north of the square up Hoxton street to find one of the remaining old pie and mash shops still run by the original Cook's family. Enter a world of the old east end, enjoy some banter with Joe Cook, and rub shoulders with locals having their cheap and nutritious fast food. Traditionally made with eels they now contain lean meat and are cooked to a special recipe with parsley sauce we call liquor. Don't leave without at least trying the stewed eels or jellied eels which are a real treat.
Spitalfields in London
5. Spitalfields Market: This is still off the usual tourist track, and draws in a young crowd who look for something a bit out of the ordinary in the many independent outlets. Market days present everything from designer clothes to vinyl records and antiques. Check the Spitalfield Market website for times and specialist days and events. If you're looking for the real Georgian experience then book a visit to Dennis Severs' House in Folgate Street. An atmospheric look at the Huguenot silk weavers' history in the area – it was developed in the 20th century by a Californian who lived there by gaslight!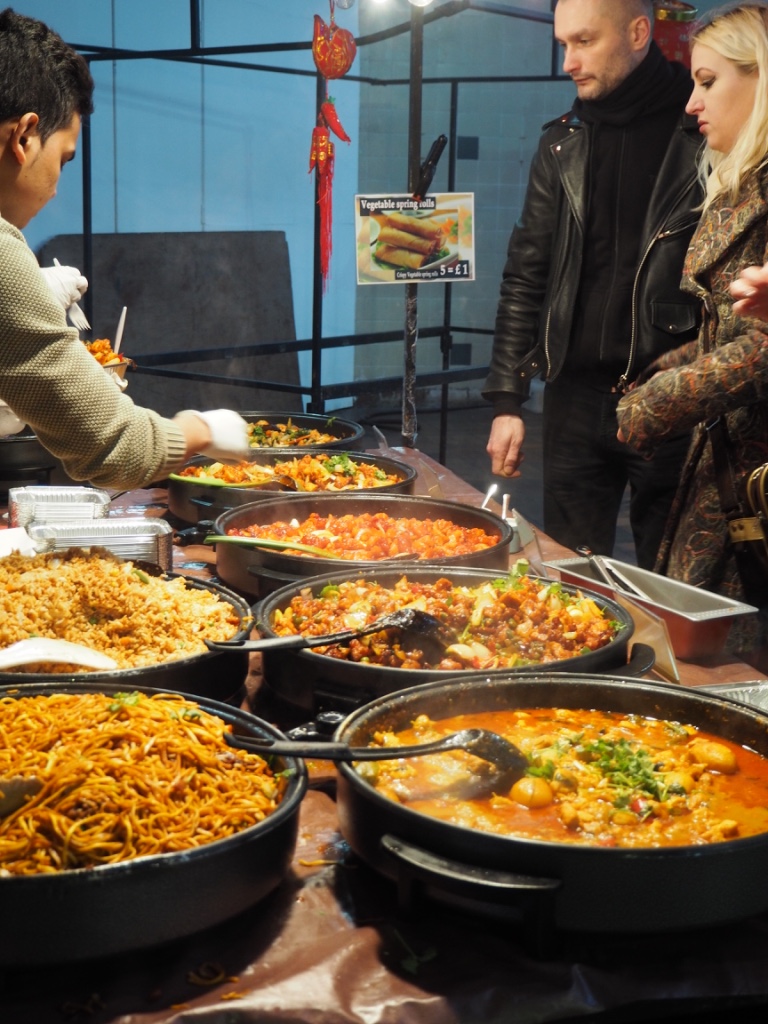 London – Brick Lane food stall. Photo Credit: ©Ursula Petula Barzey.
Bethnal Green in London
6. Brick Lane: Named after the brick kilns that supplied London with bricks after the Great Fire of 1666, today it caters for the modern crowd who come to people watch, enjoy the fresh food stalls, and generally take in the buzzy atmosphere. Sunday is the big day, and a short stroll from Spitalfields leads you to an old East-end street market that stretches over a number of streets and has a great selection of vintage fashion.
7. Jack the Ripper: Take a tour with a Blue Badge Tourist Guide to sites where Jack the Ripper murdered his unfortunate victims in 1888. The Ten Bells Pub, opposite Christchurch, Spitalfields, is believed to be where the Ripper sized up his victims – look at the tiles on the walls and you'll be seeing the same as the girls did as they supped their last gin. And of course, there is one of the largest concentrations of curry houses in Europe along Brick Lane courtesy of the most recent occupiers, the Bangladeshi community.
8. Columbia Road: A go-to place for gardening fans, on Sunday afternoons this small street, once a Saxon sheep route into town, is bustling with crowds seeking unusual plants and flowers. The Huguenot silk weavers who settled around here in the 17th Century are thought to have introduced the love of pot plants in the home so you'd be carrying on a long tradition. The street is lined with cute shops which sell an array of goods including arts & crafts and nearby cobbled streets add to the atmosphere – film crews can often be spotted around here.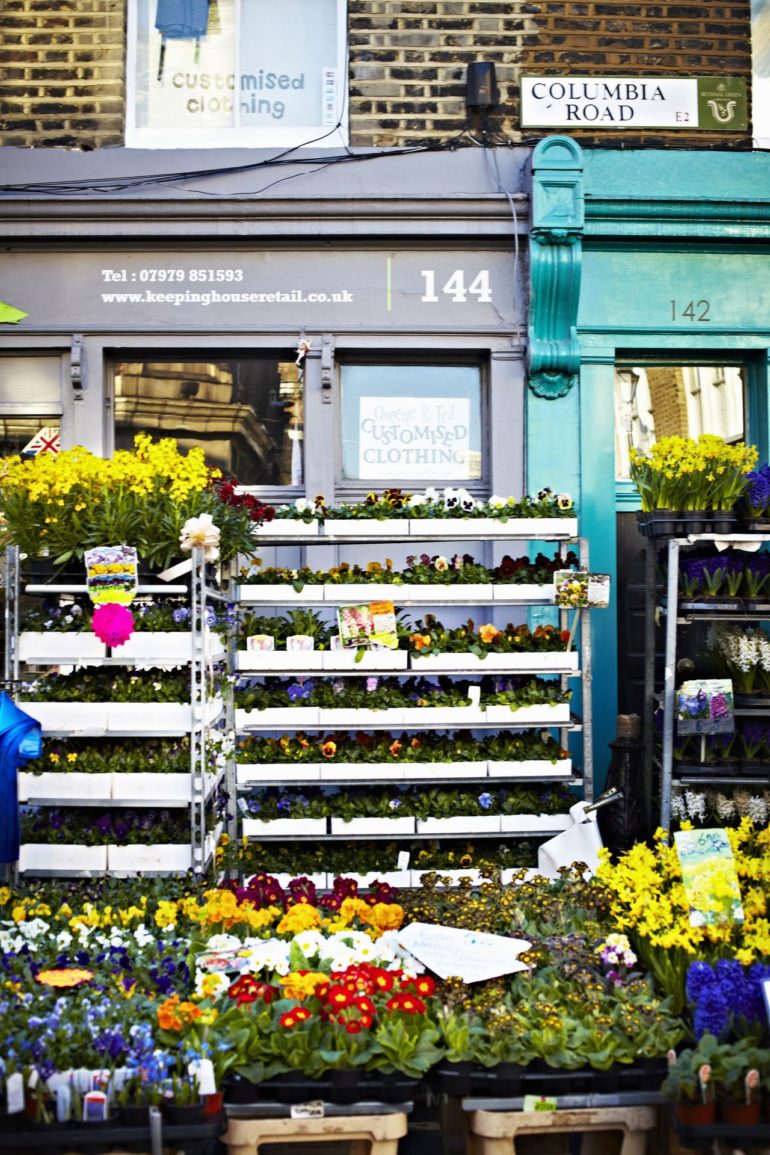 London – Flowers for sale in Columbia Road Flower Market. Photo Credit: Visit London Images.
Hackney in London 
9. BroadwayMarket: takes a little more effort to get to, but is worth it for a more authentic market feel and still has a few of the old East End street vendors. Lots of creativity here, and a great place for foodies. It's also right on the Regent's canal if you fancy a waterside stroll or London Fields for some good old-fashioned outdoor swimming at the Lido!
Docklands in London
10. A short stroll east from the Tower of London leaves the tourists behind and opens up a whole new waterside world of converted docks, warehouses, and pubs with riverside terraces. Walk far enough (with a few historic pub stops along the way) and you get to Canary Wharf, London's new glittering pop up City. If it's raining this is a great under-cover complex with winter gardens, a great shopping mall and the Museum of London Dockland's evocative history of the area complete with reconstructed streets. If you're exhausted by now, take a ride on the charming Docklands Light railway or a riverboat trip back to town.
So, if you fancy a new adventure in London, head out East and discover some of these gems hidden in plain sight! And there's more – old-time music halls, fringe theatres, festivals (I feel another top 10 coming…)….enough to keep you happy for months on end. Get even more out of your visit by hiring a Blue Badge Tourist Guide and hearing the stories of the people that have passed through, left their mark, and created the rich mix you see today in Londons East End.