Paintings of dancing maenads, maidens, and a cavorting Bacchus in beautifully choreographed compositions are the subject of this themed exhibition which will be at the National Gallery from 9th October 2021 to 2nd January 2022.  Dance – both secular and religious – is one of the great themes in Western Art.  Whether expressing the abandon and exuberance of a Bacchanal or the harmony of a well-governed town (Ambrogio Lorenzetti's Allegory of Good and Bad government' of 1338-9 in Siena), it is life-affirming, rich in connotations, and intensely human. The National Gallery's exhibition is the first of its kind about the artist, and the Wallace Collection has once more lent one of its prize exhibits for the show – Poussin's 'A dance to the music of time' (1634-6).
Nicolas Poussin (1594-1665) was not only the supreme classical artist of the 17th century he also formed the basis of Academic painting in France up until the late eighteenth century. Although his often erudite subject matter has meant that he has never been a big crowd-puller, his paintings' unique combination of both formal and abstract qualities has been hugely revered by many of the top artists including Ingres, Degas, Cézanne, and later on Picasso, especially. He remains a continuing point of reference in the art world, and several of London's galleries house major works by him.
Although French by birth, and of minor nobility from Normandy, we can consider him to be as much 'Italian' in his artistic outlook. Like many young artists in France, he initially sought out his career in Paris. Arriving there in 1612 he studied anatomy, perspective, and architecture – the Royal art collection was a particular source of inspiration – and also secured a series of major art commissions.
In 1622 a turning point came when, with astonishing confidence, he completed six large tempera paintings (now lost) in just six days for the Jesuits. This drew much attention, and a sophisticated Italian poet, Giovanni Battista Marino, consequently gave the painter some rooms in his house (from 1622-3). Marino was ill, and he commissioned his talented lodger to do some illustrations from Ovid's Metamorphoses. As the ailing poet watched on, Poussin executed some spontaneously beautiful drawings (now in the Royal Library at Windsor Castle). The so-called 'Marino drawings' with their complex groupings of figures were to hold great significance as they provided the creative embryo from which Poussin's style in the Roman period was to develop.
Marino was to die not long after but these formative experiences were instrumental in leading him to Rome in 1624 where, following his patron's advice there, he studiously absorbed every source of antiquity available including frescoes, mosaics, and Roman ruins. For example, there still exists a number of particularly refined drawings he made in Rome of Trajan's column (now in the Musée Condé, Chantilly).
The National Gallery's exhibition focuses on Poussin's 'dancing pictures' in the 1620s and 30s as the fruit of his artistic experience in Rome. It explores the challenges the artist met of capturing the human figure in motion, the colourful and the complex patterns of dance, and how he sought to crystallise these in a single, most representative image. How did Poussin achieve this? The exhibition promises to show us how he remains one of the supreme theatrical designers.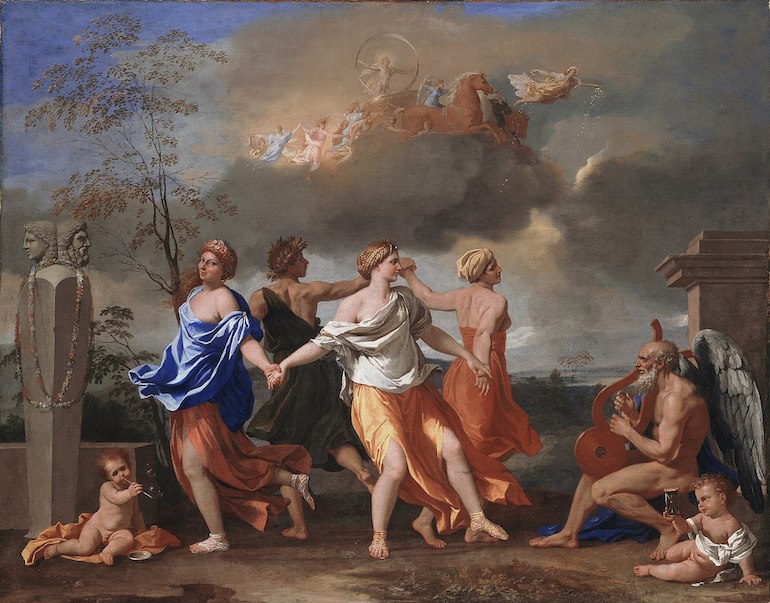 A Dance to the Music of Time, 1640, Wallace Collection, London. Photo Credit: © Public Domain via Wikimedia Commons.
Alongside the paintings, we will see the types of antique sculptures that were routinely used for the 'disegno' – here the outline modelling of human form as well as recreations of the intriguing model theatres he devised to work out his compositions. Typically, these consisted of a box with a grid of perspective lines filled with wax models of nude figures. Each 'theatre' was just each a few inches in height, and threads were employed to fix the model figures in perfect position. In addition, slits were painstakingly made to the sides to experiment with lighting effects. Taffeta or wet paper were finally applied by the artist to the 'models' to capture the feeling and texture of the drapery….
Most Blue Badge Tourist Guides know their way around art galleries, and explaining a painting by Poussin can make a tour stand out. Highly sought after by collectors over the centuries, Poussin's art is as rewarding as it can be enigmatic. When Bernini visited France in 1665, he was shown a number of works by the artist and, tellingly, he tapped his forehead, remarking with admiration, 'This is a painter who works from here,' As Cezanne later pointed out, he was no mere academician, not just a dry draughtsman as some had argued. His personal aim, Cézanne declared, was 'to do Poussin again from nature.'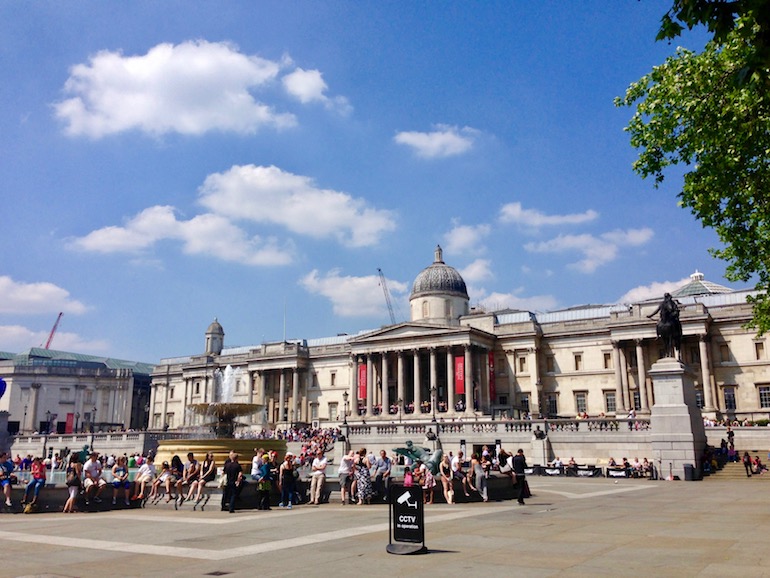 Partial view of Trafalgar Square and National Gallery in London. Photo Credit: © Ursula Petula Barzey.