10 Things That May Surprise You About Works of Art at The National Gallery, London
In 1824 the House of Commons of the United Kingdom agreed to pay £57,000 for the art collection of the wealthy banker John Julius Angerstein. His 38 pictures became the core of a new national collection. Great encouragement came from another collector, Sir George Beaumont, who donated 16 paintings to the new gallery and in 1838 the National Gallery in London's Trafalgar Square finally opened its doors. Why not engage a Blue Badge Tourist Guide to take you on a tailor-made tour, explaining the significance and fascinating details about some of the masterpieces on view. Here are a few snippets to wet your appetite:
1. An Allegory with Venus and Cupid was probably painted as a gift for François I of France. Its central figure Venus is incestuously embraced by her son Cupid while in the left background a screaming figure is clutching its head. This figure may represent Jealousy or Despair but according to another theory it is a personification of Syphilis which had recently arrived in Europe. The French called it the 'Neapolitan disease', the English and Italians called it the 'French disease'', the Russians called it the 'Polish disease' and so on. The National Gallery's first director knew that "clergymen & others" would disapprove of the picture, so his restorer removed Venus's searching tongue and the nipple between Cupid's fingers.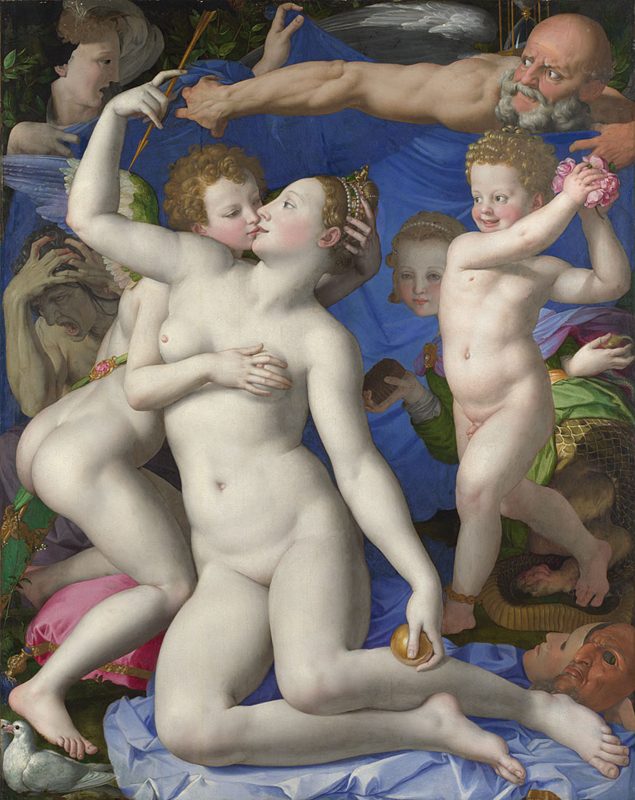 The National Gallery: Bronzino – An Allegory with Venus and Cupid. Photo Credit: @ The National Gallery, London.
2. Jan van Eyck's The Arnolfini Portrait of 1434 was long believed to represent an Italian merchant, Giovanni di Arrigo Arnolfini, and his wife Giovanna Cenami. However, in 1990 a document turned up certifying that their wedding occurred in 1447, 13 years after the portrait was painted and six years after the artist's death. Research now suggests that the figures are Giovanni di Nicolao Arnolfini and Constanza, a Bruges couple who wed in 1426. However, Constanza died early in 1433, so could it instead be his second wife? The mystery continues.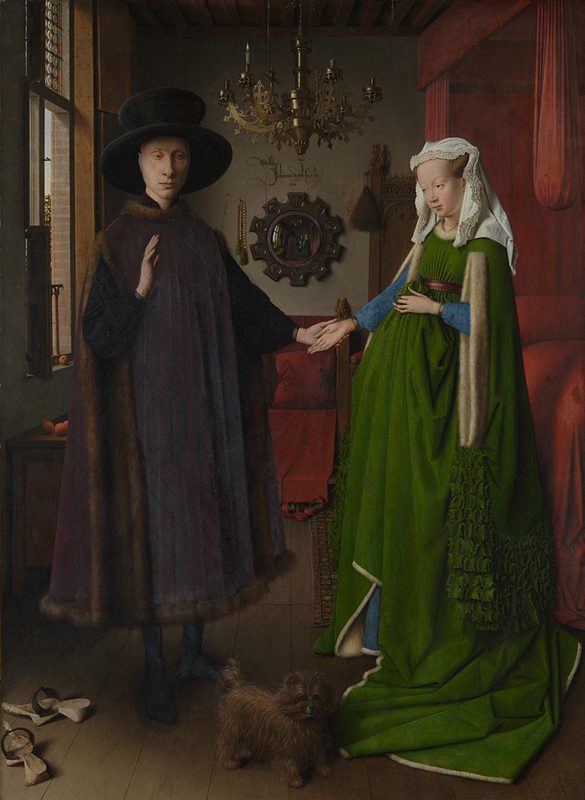 The National Gallery: Jan van Eyck – The Arnolfini Portrait. Photo Credit: © The National Gallery, London.
3. Leonardo da Vinci's Virgin of the Rocks was painstakingly cleaned during 2008 – 09. This was essential work because the varnish applied in 1948 was unstable and yellowing. It was also trapping dirt in fine cracks on the surface; Leonardo's subtle modelling and sense of space were therefore being lost. It is also in a new frame purchased specially in 2009, which incorporates the pilasters and cornice of a north Italian frame of about 1500. The conservation work convinced the experts that the painting is entirely by Leonardo and not, as previously thought, partly by assistants.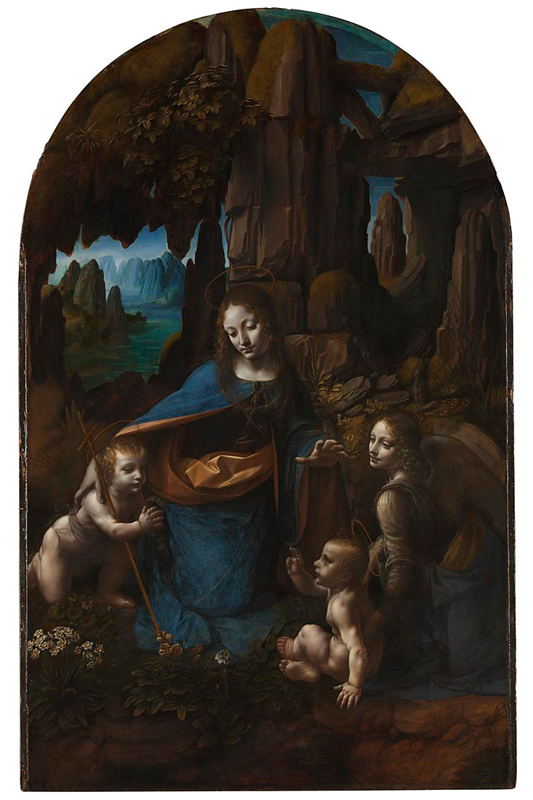 The National Gallery: Leonardo da Vinci – The Virgin of the Rocks. Photo Credit: © The National Gallery, London.
4. Belshazzar's Feast by Rembrandt van Rijn is based on a Biblical story. It represents the Babylonian king in a state of shock, transfixed by the Aramaic words appearing on the wall in the top right corner. Rembrandt probably consulted the Jewish scholar and Rabbi Menasseh ben Israel about the Hebrew. In fact Rembrandt lived in a Jewish neighbourhood of Amsterdam which was also the centre of the Art world. There is an etching by Rembrandt depicting Menasseh ben Israel who, by lobbying Oliver Cromwell, played an important role in the readmission of Jews to England in 1656.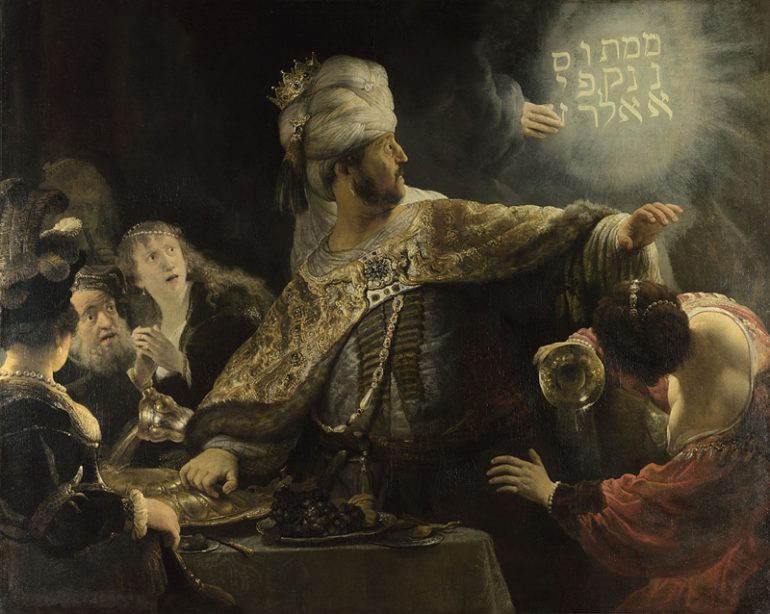 The National Gallery: Rembrandt van Rijn – Belshazzar's Feast. Photo Credit: © The National Gallery, London.
5. Johannes Vermeer's A Young Woman standing at a Virginal was painted in the 17th century during what has been called the Golden Age of Dutch Painting. What is striking about many of Vermeer's pictures is the absence of men. There appears to be a total concentration on capturing the woman at work or in thought, to the point where she becomes an object of veneration in her own right, a lauding of womanhood as much as her usefulness. Vermeer's pictures invite you into the private space of their subjects, and we can only speculate as to what they are thinking.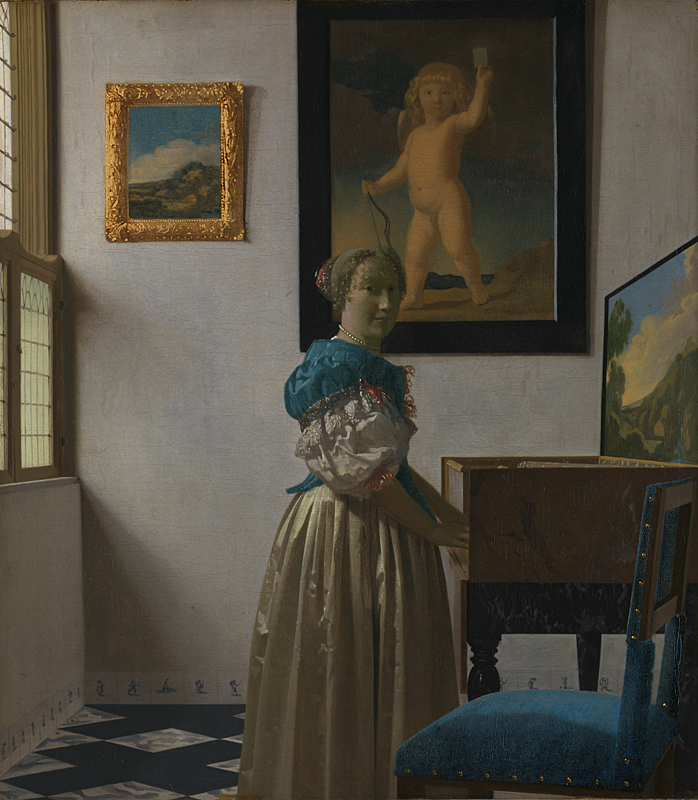 The National Gallery: Johannes Vermeer – A Young Woman standing at a Virginal. Photo Credit: © The National Gallery, London.
6. Whistlejacket by George Stubbs represents a valuable race horse owned by the 2nd Marquess of Rockingham, for whom he won a fortune in prize money. He was painted in 1767 for 40 guineas. Stubbs learned to master the representation of equine anatomy from dissecting dead horses. He locked himself away for 18 months in an isolated farmhouse in Lincolnshire, a location where he was able to obtain a regular supply of dead horses.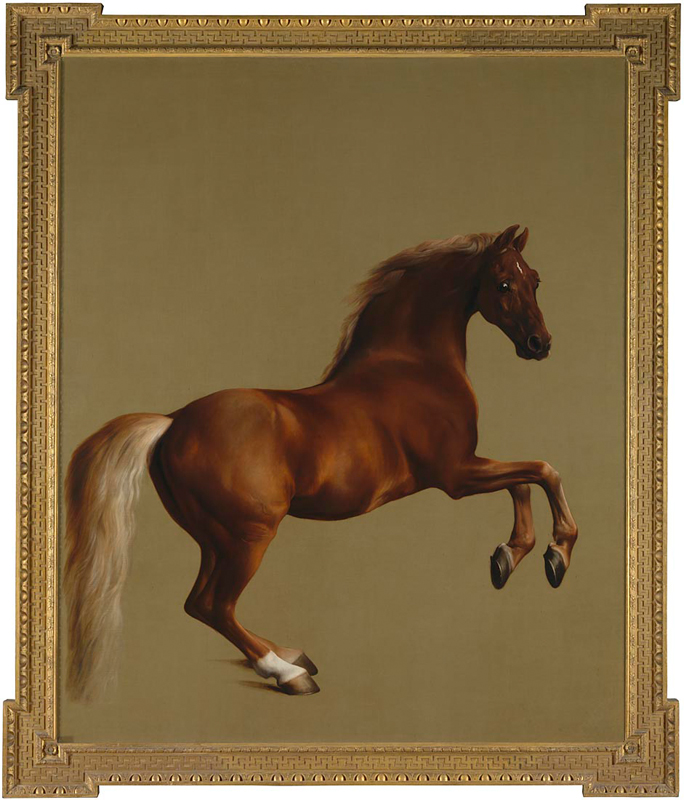 The National Gallery: George Stubbs – Whistlejacket. Photo Credit: © The National Gallery, London.
7. The Execution of Lady Jane Grey by Paul Delaroche was a huge hit when first displayed at the Paris Salon of 1834. Barriers had to be erected to control the crowds who flocked to see it. The painting was bought by the great Russian collector Prince Anatole Demidoff. Fabulously wealthy, he was often a rival of Lord Hertford's [of Wallace Collection fame] at Parisian sale rooms.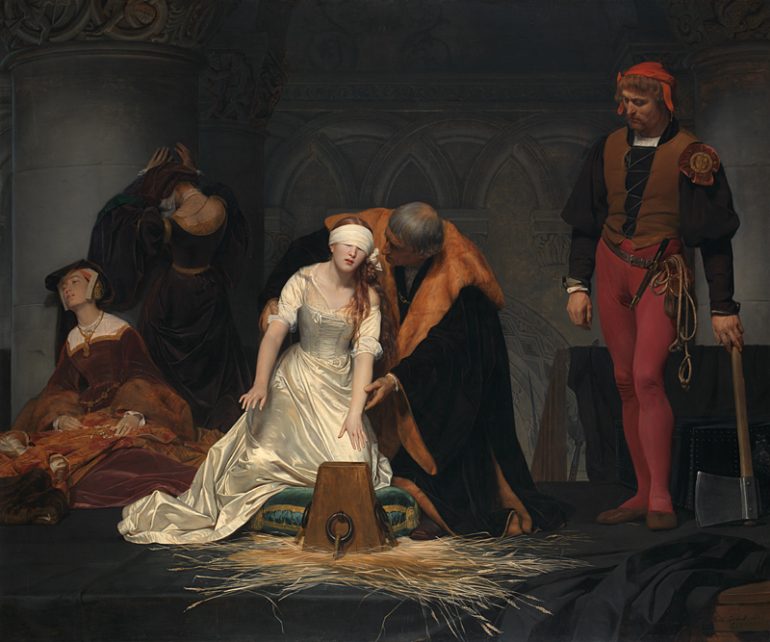 The National Gallery: Paul Delaroche –  The Execution of Lady Jane Grey. Photo Credit: © The National Gallery, London.
8. Claude Gellée, the 17th century landscape painter, was an artist particularly admired by Joseph Mallord William Turner who tried to outdo his grand compositions. In fact, in his will Turner specified that he wanted his 'Dido building Carthage' to hang between Claude's 'Embarkation of the Queen of Sheba' and the 'Marriage of Isaac and Rebekah'. These pictures are now all together in Room 15.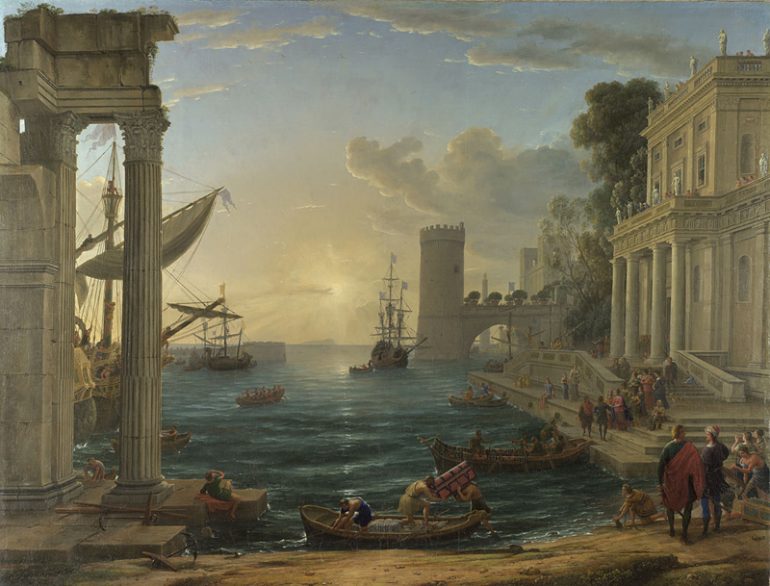 The National Gallery: Claude Gellee – Seaport with the Embarkation of the Queen of Sheba. Photo Credit: © The National Gallery, London.
9. The Fighting Temeraire was painted by Joseph Mallord William Turner in 1838. He used almost exclusively the primary colours blue, yellow and red together with their lighter and darker shades. It reminds us that throughout his life, Turner followed colour development and pigment availability extremely closely. It was a French chemist, Vauquellin, who finally succeeded in preparing lead chromate pigments, producing a range of yellows from Chrome Lemon to Chrome Deep Yellow. These were first made in England in 1816 and widely used by Turner.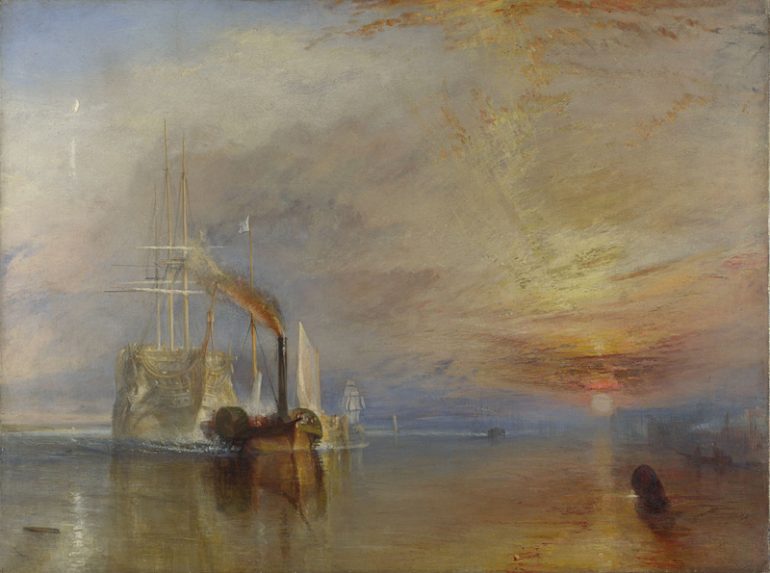 The National Gallery: Joseph Mallord William Turner – The Fighting Temeraire. Photo Credit: © The National Gallery, London.
10. Bathers at Asnières, completed by George Seurat when he was only 24 years' old, was rejected by the jury of the Paris Salon in 1884. Instead it was shown later that year by the 'Groupe des Artistes Indépendants'. Seurat developed a style of painting known as Divisionism or Pointillism and was greatly influenced by colour theories proposed by the chemist Michel-Eugène Chevreul. Vincent van Gogh admired Seurat's expansive palette, and noted during a visit to Seurat's studio the "fresh revelation of colour."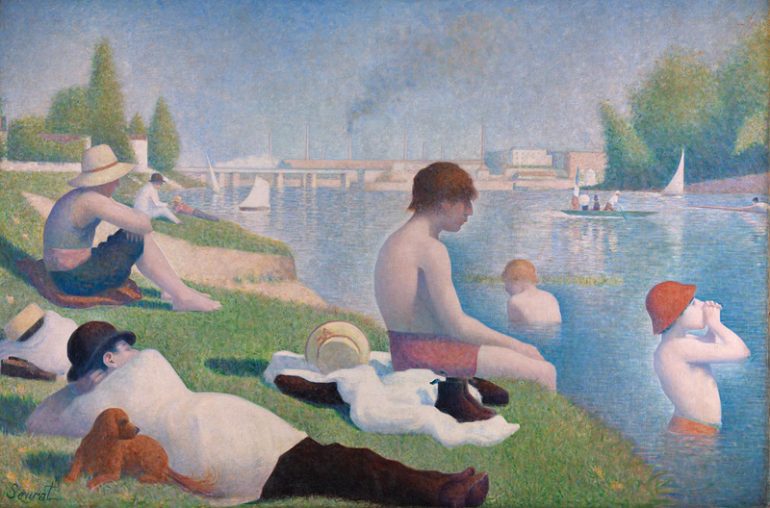 The National Gallery: Georges Seurat – Bathers at Asnières. Photo Credit: © The National Gallery, London.
In the early days some visitors to the National Gallery were able to enjoy picnics on the floor if they offered the police officer on duty a glass of gin in advance! Although such pleasures can no longer be enjoyed, we can assure you that a tailor-made tour with a Blue Badge Tourist Guide will lift your spirits to new heights!

Ingrid Wallenborg
I initially trained to be an actress at the Drama Studio, London, invaluable background when qualifying as a Blue Badge guide, enabling me to hold the attention of both large and intimate audiences. I have a 1st class Honours degree (University of London) and a Diploma in Art History, a…
You may also like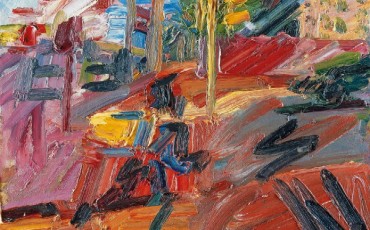 13 October 2015
Tate Britain has launched an exhibition featuring Frank Auerbach (b 1931, Berlin), a British artist who has made some of the most vibrant, alive and inventive paintings of recent times. Often compared to Francis Bacon and Lucian Freud in terms of the revolutionary and powerful nature of his work, his depictions of people and the urban landscapes near his London studio show him to be one of the greatest painters alive today.
Read more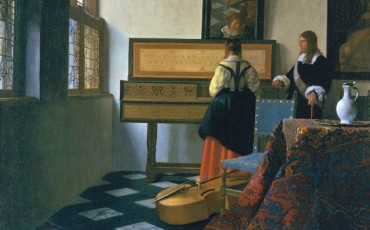 08 November 2015
Launching on 13th November 2015 at The Queen's Gallery, Buckingham Palace is a new exhibition titled: Masters of the Everyday: Dutch Artists in the Age of Vermeer.
Read more