Given that London is one of the most vibrant cities in the world, there is always a reason or excuse to visit the city. No matter what you are interested in, there will be something for you, and this is why the capital of England is regarded as one of the most important cities in the world. In fact, you may find the hardest part of a London vacation is deciding what to see and what to miss out.
If you are still unsure about booking a trip to the English capital, here are 10 reasons to visit London: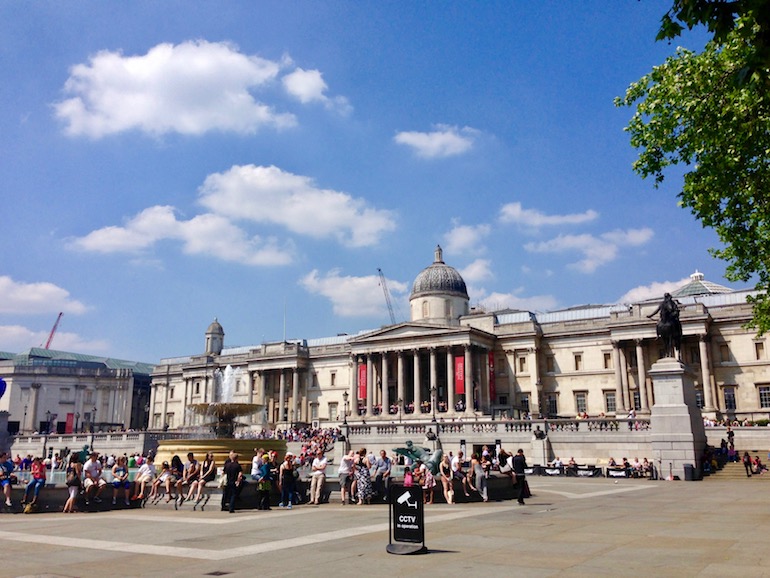 Partial view of Trafalgar Square and National Gallery in London. Photo Credit: © Ursula Petula Barzey.
Reasons To Visit London
1. Visit Theatreland
If you love live theatre, you have to see a West End show in Theatreland. Alongside Broadway in New York, this is the destination regarded as being the place to see the best shows and performers. There is a broad variety of live performances to be found in the West End, so whatever you love, there will be something that pleases you.
2. Go Shopping
No matter what style of shopping you love, you will find it all at various department stores in London. From the boutique nature of the West End to the major flagship stores on Oxford Street, London bristles with shopping opportunities. There are also plenty of markets like Portobello Road in Notting Hill where you can find a taste of traditional or local London.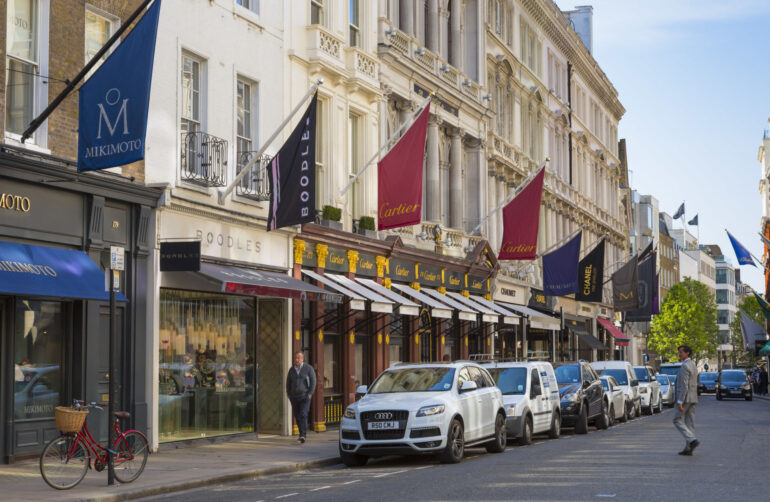 Shopping on New Bond Street in London.
3. Enjoy the Thames River
The Thames River is one of the most iconic elements of the city and you can enjoy tours along the river. There are also a number of canals in London, such as Little Venice and Regent's Canal.  There are also a number of major sites along London's River Thames.
4. Explore new and historical attractions
You cannot fail to be impressed by the attractions in London. From the London Eye offering views to the city to the stunning range of museums in the West End of the city, there is something for everyone including locations like Madame Tussauds, the Houses of Parliament, and Westminster Abbey!  Plus being one of the oldest established cities in the world, there is much to explore on a walking tour with the help of one of London's highly qualified and knowledgeable Blue Badge Tourist Guides.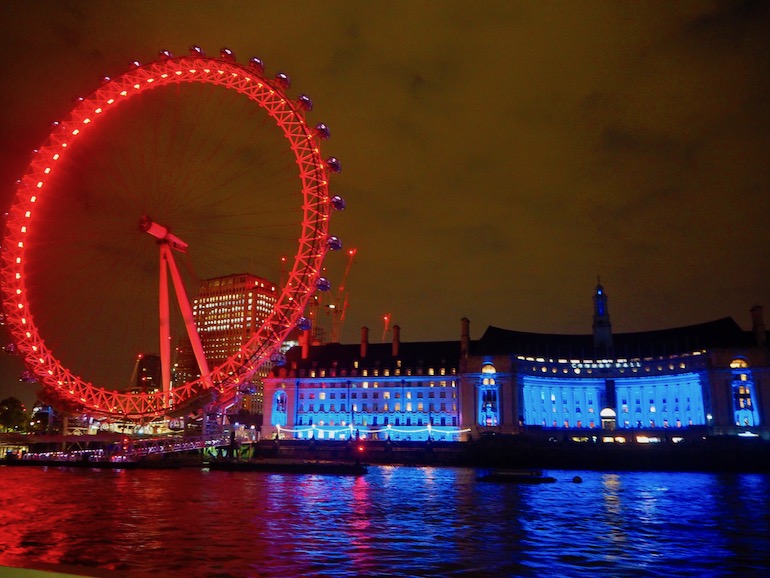 London Eye and County Hall illuminated at night.  Photo Credit © Ursula Petula Barzey.
5. Attend a major sporting event
As you would expect from a capital city, there is no shortage of sporting events and attractions. Many of the top Premier League sides are found in London while the capital is home to some of the most prestigious sporting locations in the city, such as Wembley Stadium (football), Wimbledon (lawn tennis), Lords (cricket), and Twickenham (rugby).
6. View the spectacular skyline
The London skyline is iconic with magnificent buildings like St Paul's Cathedral which have stood the test of time; but new buildings like The Shard (also known as the Shard of Glass and Shard London Bridge) have entered the fray, ensuring that there are reasons to return and see how modern London is taking up.  The Shard along with the London Eye offers great views of the city but there are also many places along The Thames where you can sit and take in the beauty of the city.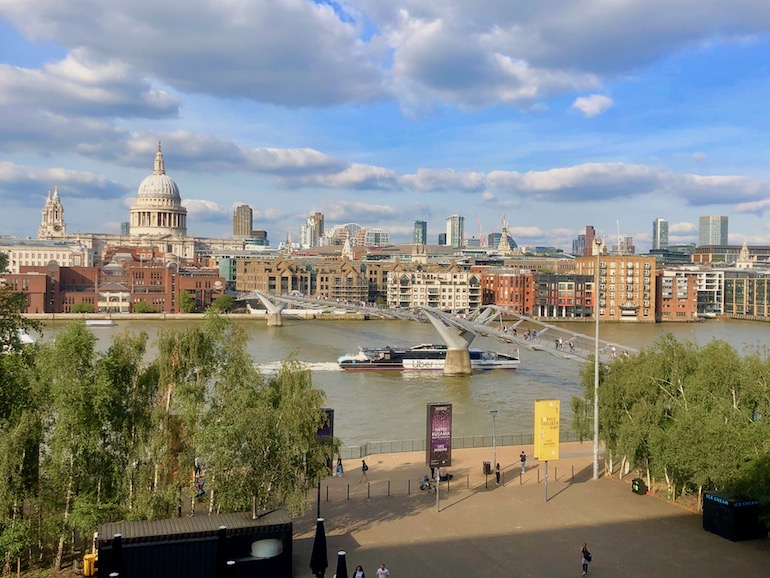 View of Millennium Bridge and Saint Paul Cathedral from Tate Modern. Photo Credit: © Ursula Petula Barzey.
7. Choose from a wide range of accommodations
When looking for a holiday destination, it is important to find accommodation that is within budget for everyone. This is definitely something that is on offer in London and no matter how much or how little you want to spend, there will be something that is perfect for your needs.
8. Visiting one of the amazing green spaces/parks
You may not think of lush green parks when you think of a major city but London has plenty to offer in this regard. Whether you want to explore the Royal Parks in the heart of the city, such as St James and Hyde Park or you want to enjoy the view from Hampstead Heath in the north of the city, you'll find that London's parks are an ideal place to relax and view local people going about their daily life.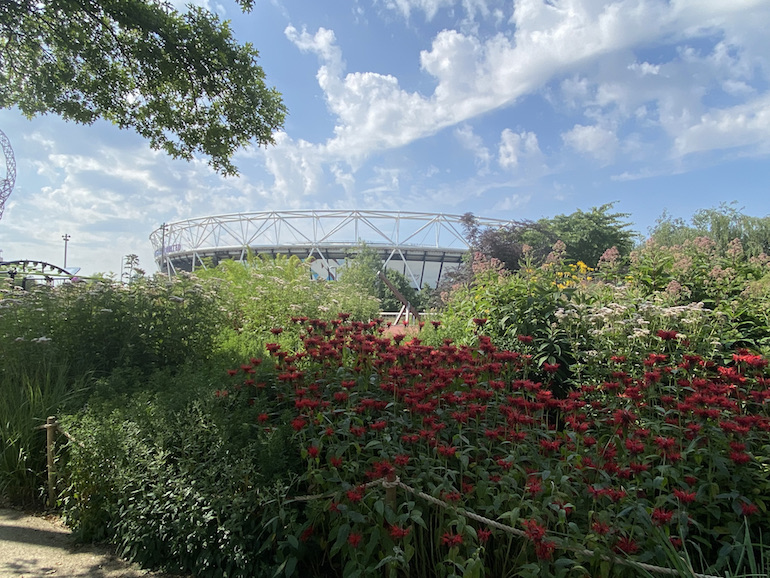 Wildflowers near London Stadium at Queen Elizabeth Olympic Park. Photo: © Sarah Wood.
9. All budgets welcome
One great thing about London is that there are so many free attractions. Some of the finest museums, such as the National Gallery, the Science Museum, the National History Museum, and the British Museum can be explored for free and there is also the Tate Modern, where many exhibits are available for free.
10. London is continually changing
Even if you have enjoyed or experienced London before, you will find that there is always something new (attractions, museum exhibitions, sporting events, etc.) to see and enjoy. This means that there is always a good reason to visit London, with 13million the populous and cosmopolitan of cities in the United Kingdom.