London is a "world class" city on many levels, and attracts visitors for a wide variety of reasons, and none more so than for its theatrical reputation, credentials and concentration of West End theatres, known as "Theatreland."
Today there are well over sixty theatres both large and small located in a fairly tight geographical area. You might well ask "and where is that"? The vast majorities of London's West End theatres are within a 15/20 minutes walk of Covent Garden Piazza or nearby Trafalgar Square, with the rest being little more than a ten minute tube ride away.
The history of acting and performance art in theatre has deeps roots in British culture, and arguably matured during Shakespearian times 400/450 years ago. It has rarely looked back since that time when plays, concerts and opera wereno longer performed in the open air, but replaced by indoor playhouses. These Ten top facts below may help you enjoy this fabulous slice of London. A tour with a Blue Badge Tourist Guide is also a great way to learn more about London's West End – Theatreland.
1. Theatreland's Amazing Architectural Achievements
Current venues like the Palace Theatre, Theatre Royal Drury Lane, Her Majesty's Theatre and Royal Opera House were built in some cases partly or wholly around 150 to 200 years ago. If the entertainment does not knock you out then the theatre building both inside and out is most certainly likely to impress. These theatres also have many fantastic historical stories to tell, and have hosted some of the "greatest shows on earth."  It may surprise you to know that nearly all theatres in Theatreland have been rebuilt at least once over the centuries, twice, three or even more times (Four times for Her Majesties, Sadlers Wells has been rebuilt five times!). Many theatre buildings are historically/architecturally preserved, which presents challenges when they are modernised and improved from time to time.
2. West End Theatre Stories
These are legendary. One example is Theatre Royal Drury Lane (present building rebuilt after a fire in 1809). It was originally re-established by the "newly installed" King Charles 2nd in 1660 following the Restoration of the Monarchy. Known as the "Merry Monarch" for his love of theatre, entertainment and women. It was his good fortune to discover all of these together at Drury Lane. Firstly he abolished the anachronistic and peculiar British practice of "boys or men" acting out "girls or women's" roles on stage and dressing accordingly. One of the first females to break old traditions and perform a ladies role was Nell Gwynne.  At the time Samuel Pepys referred her to as "pretty witty Nell."  As a former "orange seller" and actress, she became one of many lovers taken by the King, but still remained a pre-eminent mistress and bore him two children. She was extremely popular with the nation at large for her sense of fun, banter, and wit. Another interesting fact is an attempt to assassinate King George 3rd made in 1800 at this theatre. Fortunately both shots fired from a pistol missed the ageing King.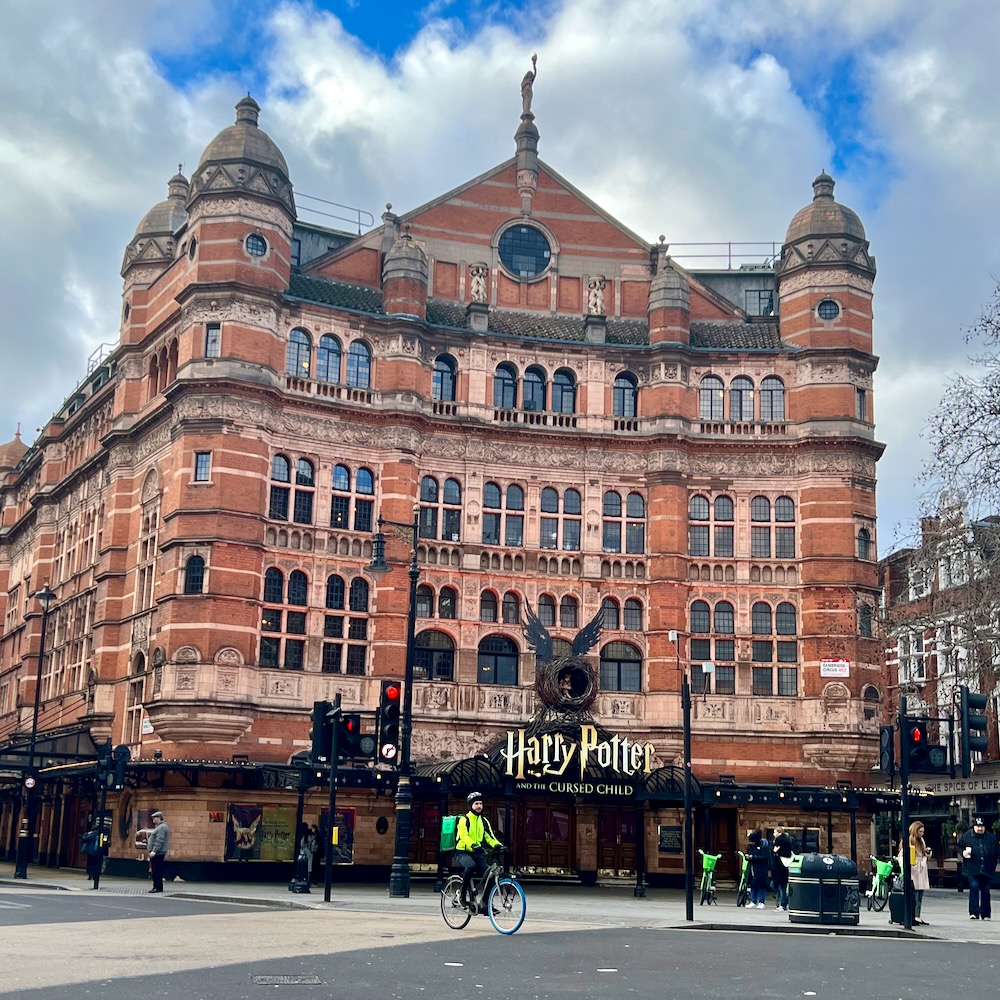 Palace Theatre in London's West End. Photo Credit: © Ursula Petula Barzey.
3. Theatreland Ghosts and Superstitions
Actors consider William Shakespeare's play Macbeth as cursed. When in a theatre they will refer to it by euphemism and only as "The Scottish Play". If the word Macbeth is uttered the actor must leave the theatre, then spin around three times, spit, curse, and then knock to be allowed back in. They will not practice lines from the play on site particularly the Witches Curses and incantations. Similarly whistling is not welcomed as historically it was used to instigate scene changes, and anybody else doing it could confuse and cause injury by triggering mistimed movement of heavy scenery. A First World War Soldier "Ghost" is said to frequent the Coliseum. He is said to have taken his girlfriend there before being killed in Flanders.  Theatres when empty are spooky places and there are numerous other stories about "happenings".
4. William Shakespeare's Globe Theatre
The current building created by the American Sam Wannamaker, is a 1997 replica of the one built in 1599. No one knows for sure how exact a copy it is and during construction designers used historical notes held by Dulwich College from Phillip Henslowe (Shakespeare's contemporary) on the probable materials used and contemporary skyline drawings of the locality from that time. The original Globe location lies some two hundred metres away from the present river-front site, and can still be viewed.  William Shakespeare first operated from earlier playhouses in Shoreditch such as The Theatre or The Curtain. In 1599 he moved to the original Globe location.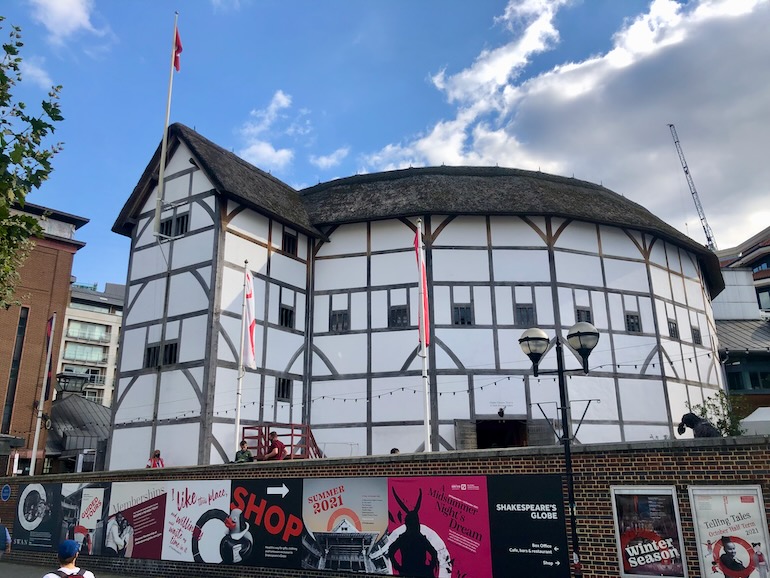 Shakespeare's Globe – the Globe Theatre and the Sam Wanamaker Playhouse. Photo Credit: © Ursula Petula Barzey.
5. Pleasure Palaces
The most famous is the London Palladium undisputed home of British Variety and light entertainment in the twentieth Century. Jack Benny, Judy Garland, Danny Kaye, Bob Hope and Frank Sinatra are all past performers and other performers include "singing turns" such as The Beatles and Diana Ross. John Lennon made a famous comment in the 1960's about audience members rattling their jewels rather than clapping (Royalty was in the audience). It is home to the regular Royal Variety "command" Performances, which are held to raise money for a theatre charity to care for retired actors in need.
6. Musicals
These remain most popular today. London has many theatres showing musical productions at any one time. The Les Miserables musical show has performed in London continuously since 1985 and has moved between several theatres over this time. The next longest musical show is Phantom of the Opera at Her Majesties Theatre, which opened in 1986. The longest running "West End" show of all time in London however is Mousetrap. It is a Agatha Christie murder mystery suspense play that opened in 1952. The original Actor male lead in 1952 was Richard Attenborough. There were 25,000 performances by 2012 and it is still running.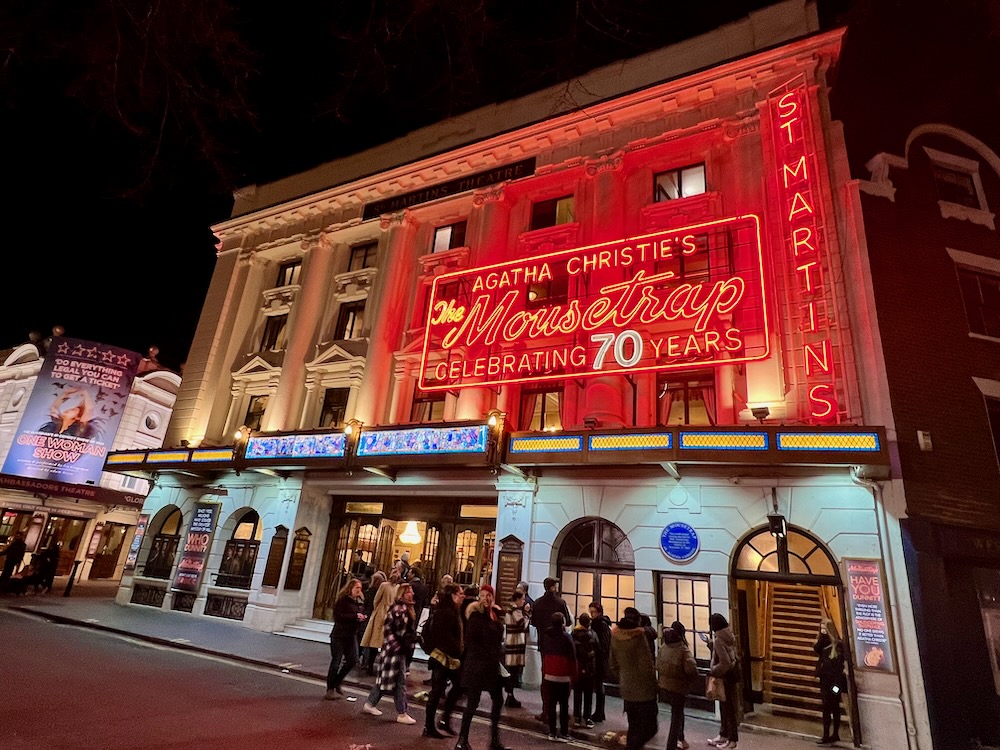 Agatha Christie's Mousetrap. Photo Credit: © Ursula Petula Barzey.
7. Theatrical "Giants"
These are many and hail from both sides of The Atlantic and there is much interplay with New York. Historically Sir Henry Irving commanded the stage with Eileen Terry up to the 20th Century as did David Garrick during the late 1700's. Recently it is massive names that have dominated the stage such as Lawrence Olivier, Ralph Richardson, John Gielgud, the Redgrave and Richardson families, Richard Attenborough, and Noel Coward. Maggie Smith, Judy Dench, and Helen Mirren are more recent international stars of stage and screen. There is trend lately for film actors to transfer to the West End Stage – Mark Rylance, Damien Lewis, Eddie Redmayne all tread "The Boards". From the US we have had Dustin Hoffman, Kathleen Turner, Christian Slater and Jake Gyllenhaal to name but a few who have performed to much acclaim in recent years.
8. Theatre Size
Size does matter. The large theatres are The Palladium, Theatre Royal, Apollo Hammersmith and Royal Opera House all with capacities of over two thousand seats. Here the big musicals and most popular shows are produced. Many other theatres have around 1,000 capacity and wonderful interior theatre décor and design. There are "fringe" theatres like the Almeida and Donmar Warehouse, which seat about 300. They are intimate and you are up close and personal with actors in immediate proximity. Successful shows from these locations frequently transfer to larger West End Theatres.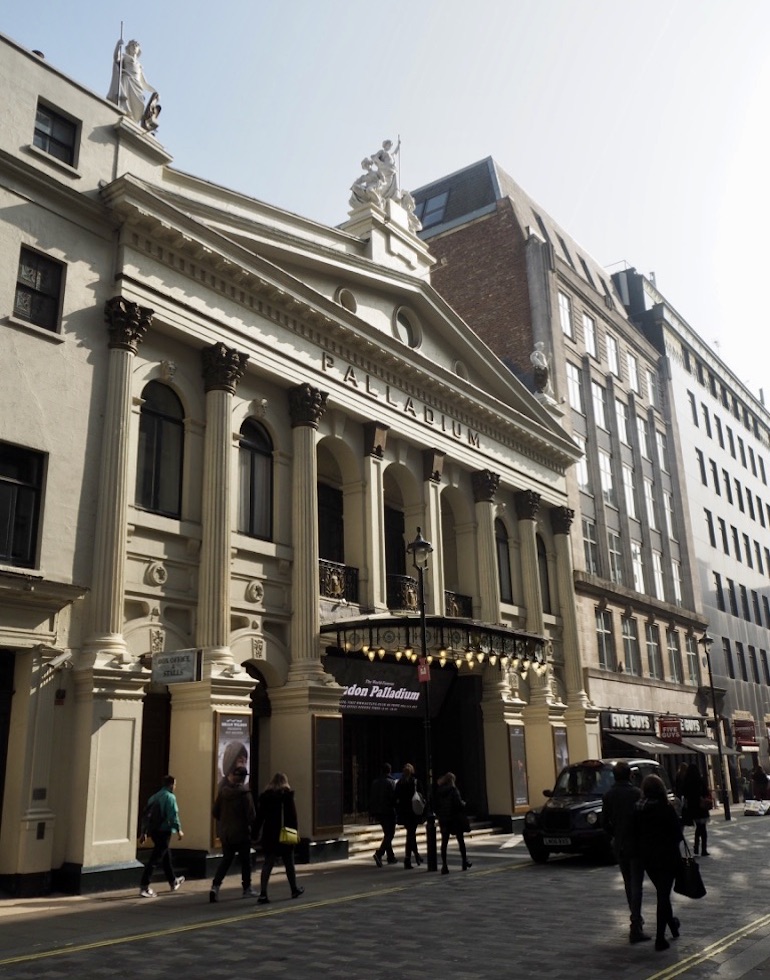 London's West End – Theatreland: The Palladium. Photo Credit: © Ursula Petula Barzey.
9. Hidden Gems
There are many unique venues both further afield in London as well as in Theatreland: Wiltons Music Hall (East End), Islington Puppet Theatre, and Richmond Theatre (renowned for its terracotta exterior and gilded interior) to name just a few. Mention must be made of the unmatchable Royal Albert Hall – the premier concert hall and performance space which dates from 1871 and seats 5000. This venue however is noted more for concerts than anything else.
10. Ticket Tips
If you have not pre- booked tickets my advice is always go to the theatre box office in person on the morning of the show you wish to see to inquire for "returns" or "day seats". You may pay the full price but often marvellous seats are available. Otherwise there is a ticket office in Leicester Square (Open from 10pm -7pm) which handles returns and unsold tickets and where discounts can apply sometimes up to as much as 50%. You must visit in person to buy tickets but also look up the Official London Theatre website for a ticket price guide.
The West End is a vibrant area at anytime of day or night and a Theatreland Tour with a Blue Badge Tourist Guide is a great way to learn about this fascinating and important part of London's culture and history.