London is a city in the love, yes truly, madly, deeply in love with football!  We are of course talking here of the game us Brits know of as football. Not futbol, not association rules, and absolutely, definitely, 100%, not soccer. In our game the ball is round, the officials are referees, the offence is the attack, periods are called halves and the fans eat pies with brown sauce, ketchup and scolding-hot meat of mysterious content. And yes, London loves it!
London is home to some of the top English Premier League (EPL) teams, including arch-rivals Arsenal and Tottenham, West Ham and perennial title-chasers Chelsea. The EPL is a league of 20 national teams. Each team plays each other twice at home and away. Matches take place between the months of August and May and generally, albeit not exclusively, take place at the weekend. As the phrase goes, football really is a game of two halves as a standard match comprises two 45-minute periods.
Teams are made up of 11 players, with a healthy selection of replacements, better known as substitutes, ready to step in as and when required. The goal (literally!) is to beat your opponent by scoring in their net. These are called goals. A win gains you 3 points, a draw 1, and a defeat a large, resounding zero. That's quite enough points, players and periods for the time being.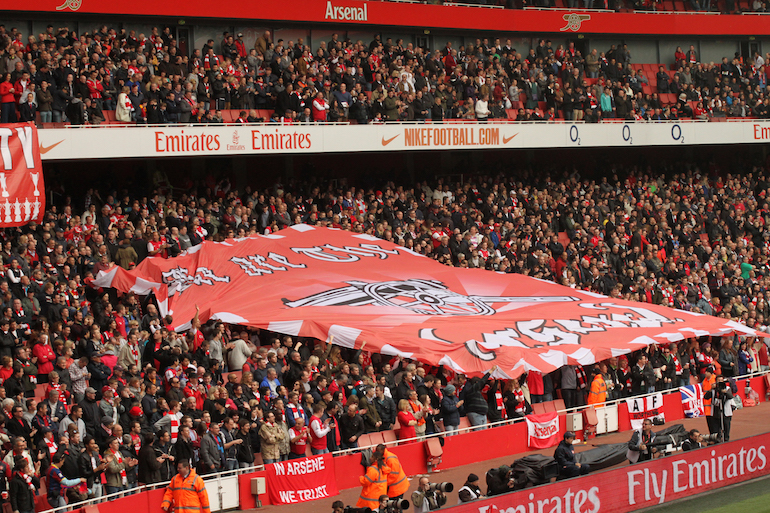 London Football: Arsenal Supporters with Flag. Photo: © Ronnie Macdonald via Wikimedia Commons.
The season is long, intense and terrifyingly competitive. One of the most striking features of football in this country is the number of travelling fans that go to watch their team play away. Fans travel far and wide to watch them – a round trip of 600 miles is not uncommon. This travelling 'faithful' could total over 5000 for some big matches. Win and its drinks and another pie at the pub, lose and it's an agonisingly long trip home and, invariably, work the next day. Yes, being a football fan can sometimes be a longing existence.
Given the ups and downs of the English football season, it seems right to highlight the highs (and lows) of a very normal season in the life of a football fan.
6 Highlights of the English Football Season
1. The Season Starts
It's August, the skies are blue, the air is warm and the kids are still on holiday. But now, finally, at long last, the turnstiles open and the first games of the new season begin. Will your team come all-guns-blazing out of the blocks or will they still be burning off the excesses of their pre-season party? It's time to put those pre-season training ground routines to good use. All that can be said is let the games begin…
2. Transfer Window
An increasingly crucial time in the modern game. It's September, 4 games into the season and your team has a problem, maybe even two, or three, or four. Leaky defence? Lacking creative spark in the midfield? Has your main goalscorer simply stopped scoring? Don't worry, the transfer window is here to help. But don't hang around; the clock is ticking towards midnight on D-Day (Deadline Day). The final hour of the D-Day is the best as mad-hat rumours begin to circulate. Enter local newspaper reporter, invariably looking cold and wet, saying "I've just seen last season's top scorer in Latvia buying a Fanta in a Croydon convenience store". Ladies and Gentlemen, Croydon is where dreams are made.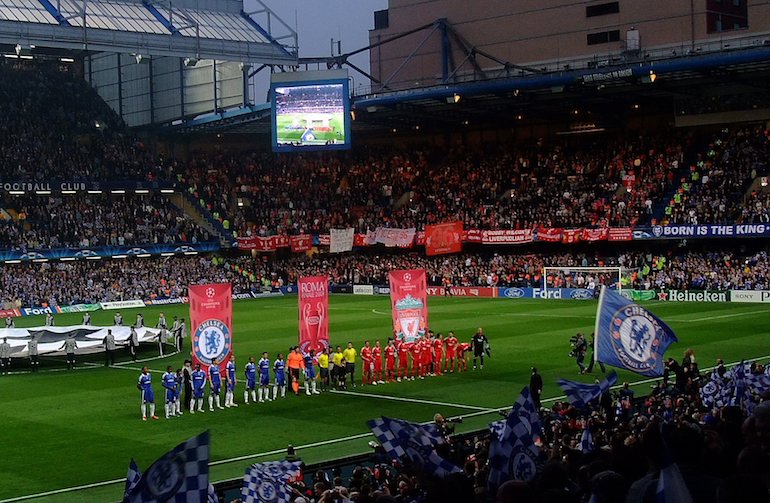 London Football: View from the West Stand of Stamford Bridge during a Champions League game. Photo Credit: © Brian Minkoff via Wikimedia Commons.
3. The Christmas Sack Race
It's Christmas time and contrary to what you may think the matches mount up. As families gather around a nice plump, stuffed turkey, some club managers are wondering whether they might become the turkey themselves. A little odd? Let me explain. The season is halfway and, for a few, the threat of relegation looms (see final entry: Relegation) and the 3 worst teams will fall into the dark void that is the Championship. Hoping to change their luck club boards start firing managers, which at this time of year is known as the Christmas Sack Race. Will your team to first to flinch, or will they keep trust in their manager?
4. The Derby
There are certain matches that jump out on the schedule. Arsenal vs Tottenham is a good example. This is what is known as a derby game, not because footballers evolve into horses, but because it's a meeting of local rivals. Fans of both sides pack into the ground and taunt the opposition with their latest howls and humdingers. In this clash of the titans, you might hear cries for St Totteringham's Day (this is the day in the season when Tottenham cannot mathematically finish higher than Arsenal).
5. The Magic of the Cup
Not quite magic like Harry Potter, but more a fantastical hope and a sense of destiny. Each season sees Cup matches. These are usually named after the latest fad in energy drinks e.g. Coca-Cola, Lucozade, Carabao. These matches often pit larger, richer clubs like Chelsea against a minnow-like, say, Plymouth Argyll. In what could either be a walkover or a battle of epic proportions, á la Game of Thrones, the two sides pass, tackle and throw(n)-in their way to victory.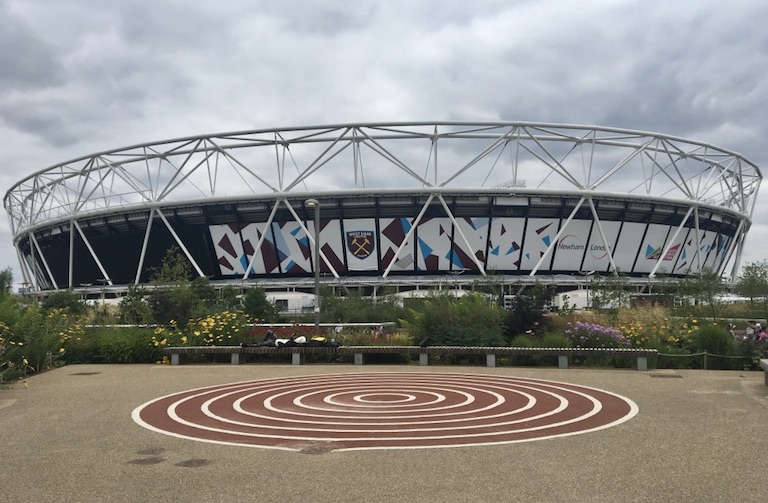 London Football: Queen Elizabeth Olympic Stadium now home to West Ham FC. Photo Credit: © Ursula Petula Barzey.
6. Relegation
If more familiar with American-style football, here's a surprise for you: relegation. The shock quirk in our version of the game is how we demote the 3 worst teams at the end of the season in May. This is the worst thing that can happen to your team and, as any neutral fans would tell you, go down to the final day. For the losers the prospect of lower league football beckons and the customary clear out of staff, players and unsuccessful dietary regimes. It's not all bad news though. Maybe, just maybe, their fans can relish the prospect of shorter away journeys, better value tickets and much cheaper pies.
Want to discover a true taste of sport in London? Why not take a tour with a Blue Badge Tourist Guide of the Olympic Park in east London and see the home of the Hammers. That's West Ham for those of you that don't know it yet.