How many London landmarks and tourist attractions can you name that start with the Letter P? Blue Badge Tourist Guide Hamish Carroll continues our Guide London A-Z video series and provides insights on the historical events, famous and not-so-famous landmarks in London starting with the Letter P.
London landmarks and tourist attractions that begin with the Letter P
Hi, my name is Hamish Carroll, and I'm a London Blue Badge Tourist Guide. As part of the Guide London A-Z series, I'm going to talk you through some great things to see in London that start with the Letter P.
Piccadilly Circus
Piccadilly Circus is a road junction at the heart of the West End, which is London's main shopping nightlife, restaurant, and Theater District. Behind the statue, we have the world-famous electronic billboard called the Piccadilly Lights, which have been going on since 1908. Here six ads change every 90 seconds. At the centre of the junction is the Shaftesbury Memorial Fountain, topped with the winged statue of Anteros, the Greek God of mature love and one-sided love. Anteros is commonly mistaken for his twin Eros the God of erotic love, and where the word erotic comes from. The fountain remembers philanthropists and politician Lord Shaftesbury who, in the 1800s, improved the conditions of hospitals, reduced child labour and promoted free schools to the poor called ragged schools.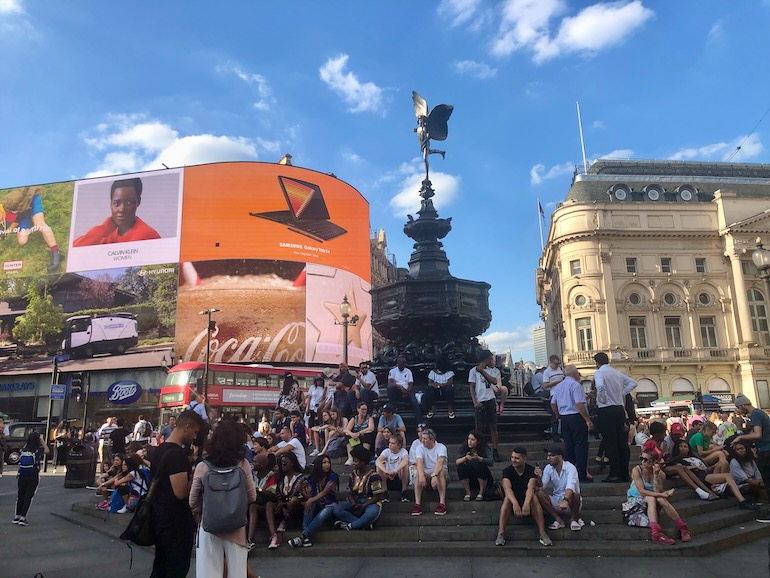 The Statue of Eros in Piccadilly Circus. Photo Credit: © Ursula Petula Barzey.
Parliament Square
A visit to Parliament Square is another must for first-time visitors frequently used by protesters trying to get the attention of politicians in the neighbouring Palace of Westminster. Behind the fence, we can see its pointed arches of the Palace of Westminster, the UK Houses of Parliament. It is the heart of British politics and where laws are made and debated and the work of government is challenged. On the right-hand side with the large gabled roof is Westminster Hall built in 1097 and until the 19th-century it served as an important law court and it was here that politician Thomas Moore conspirator Guy Fawkes and King Charles the first were condemned to death.  The Clock Tower on the left is the Elizabeth Tower best known for its 13-ton bell inside called Big Ben which rings an E note every hour whilst four other bells trying the quarters.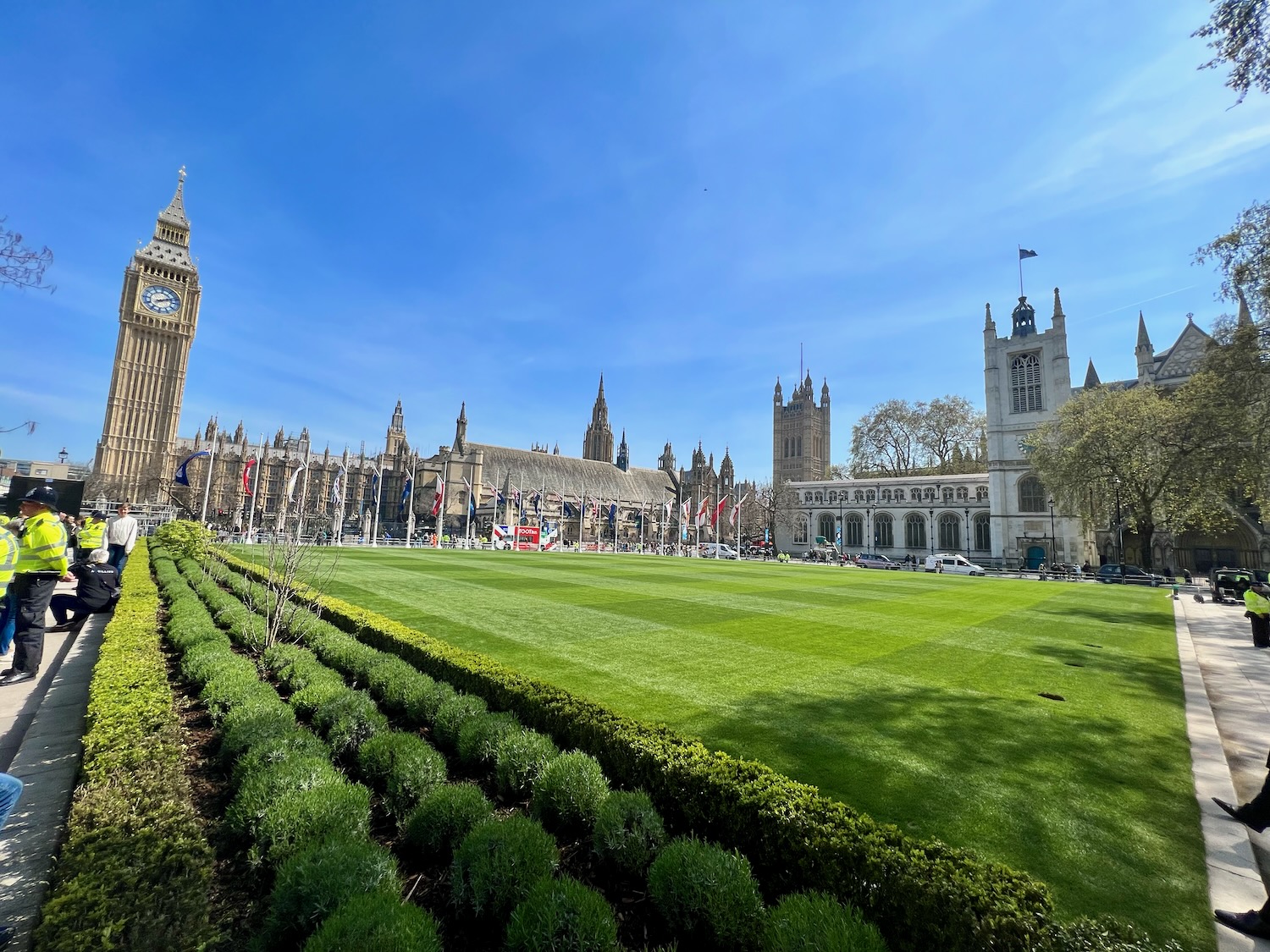 Parliament Square in London. Photo Credit: © Ursula Petula Barzey.
Portobello Road Market
Love antiques, why not check out Portobello Road Market in West London? It's got the world's largest antique market with over a thousand dealers, and it's over a mile long. It's packed with clothing and food stalls. It is open every day, with Saturday from 9 a.m to 7 p.m being when the market's in full swing and even featured in a 1999 film Notting Hill where a charmingly befuddled bookseller played by Hugh Grant falls in love with a famous actress played by Julia Roberts and it's just a 15-minute walk north from Notting Hill Gate Underground Station.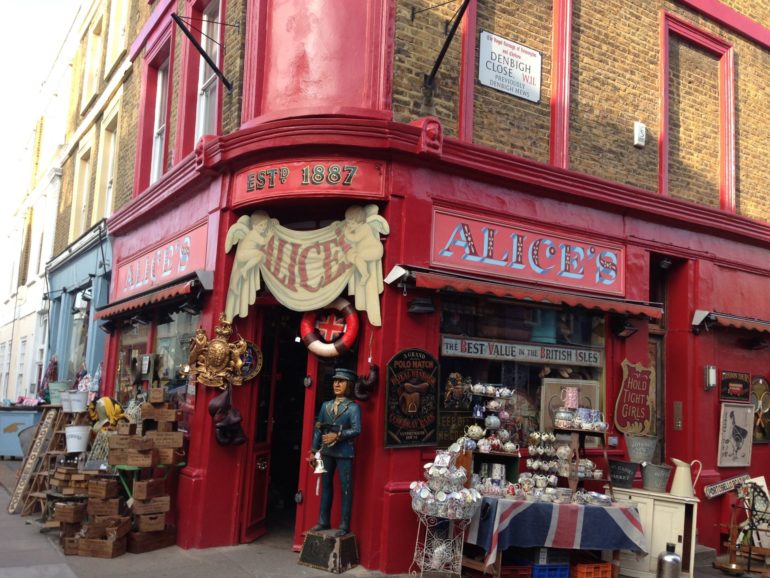 Alice's Antiques Shop in Notting Hill, London. Photo Credit: ©Ursula Petula Barzey.
Primrose Hill
If you could do some exercise, why not walk to the summit of Primrose Hill just North of Regent's Park and witness the spectacular views of the London skyline? Its view of Saint Paul's Cathedral and the Palace of Westminster are two of the thirteen legally protected views in London. In the book War of the Worlds by H.G Wells this is where the protagonist witnesses the death of the Martians. I looked up at the huge fighting machine that would fight no more forever, at the tattered red shreds of flesh that drip down upon the overturned seats on the summit of Primrose Hill.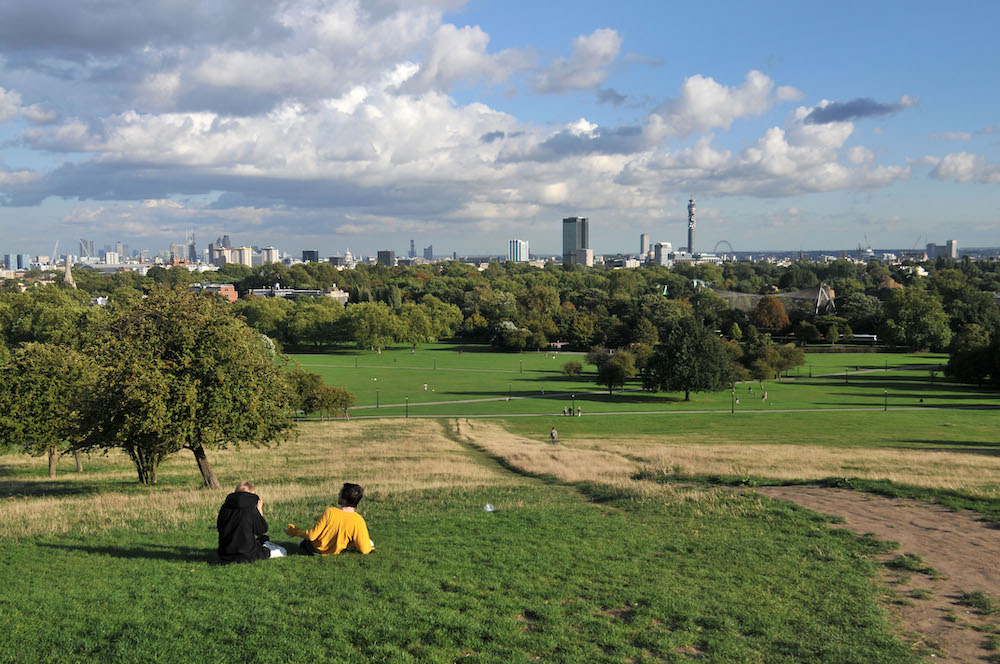 View from Primrose Hill in London. Photo Credit: © Snowmanradio via Wikimedia Commons.
Prospect of Whitby
Feeling thirsty, pop into one of London's 5 000 public houses or pubs for short. Here we can see the black and white Prospects of Whitby, one of London's oldest riverside pubs. Dating from 1520, it is said to be built from old ship timbers from the former shipbuilding industry of Rotherhithe on the opposing side of the river.
It was once named the Devil's Tavern, and it was a haunt of smugglers and pirates. Its criminal reputation attracted visits from curious writers Charles Dickens and Samuel Peeps and even artist William Turner. Underneath the sign is a noose that remembers the nearby execution dock used for more than 400 years to execute pirates, smugglers, and mutineers.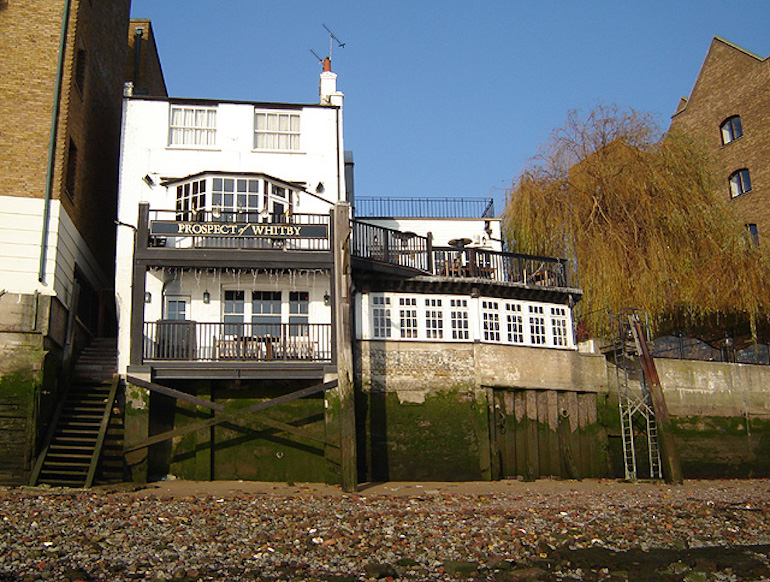 The Prospect of Whitby. Photo Credit: © Fin Fahey via Wikimedia Commons.
Pie and Mash
P is for pie and mash, a classic London dish. It's served in most London pubs, but the Windmill and Mayfair has the most decorated ones being a three-time winner of the British Pie Awards. Pies became popular with London's working class in the 1800s because they were portable calorie-dense, and their thick pastry protected them from the heavy industrial pollution at the time. They are traditionally served with mash and jelly eels which used to be fished from the River Thames. One of London's oldest pie shops is the M.Manze Pie & Eel Shop, founded in 1902 by Italian immigrants. By 1930 they had fourteen shops, and the two oldest stores remain on Tower Bridge Road and in Peckham. The pie and mash start from five pounds, and they even deliver. Other historic pie shops include Goddards in Greenwich and F Cooke in Hoxton.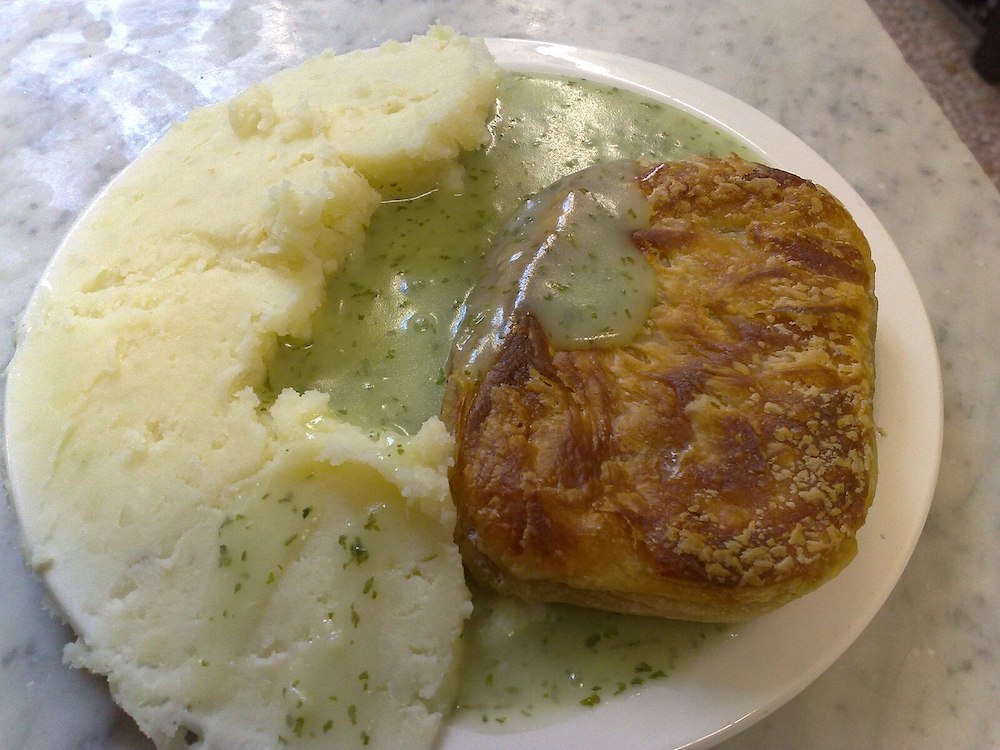 Manze's pie and mash shop on Tower Bridge Road in Bermondsey, London. Photo Credit: © Secretlondon via Wikimedia Commons.
Postal Museum
Ever wonder how a letter gets from you to its destination? Well, find out at the Postal Museum, where you can learn about Britain's postal heritage, stamps, and postcard designs. The Postal Museum is located just north of Saint Paul's Cathedral. In a separate building connected by a zebra crossing, you could ride the Mail Rail on a hundred-year-old post office railway, board a miniature train and ride through the underground tunnels which used to deliver mail across London.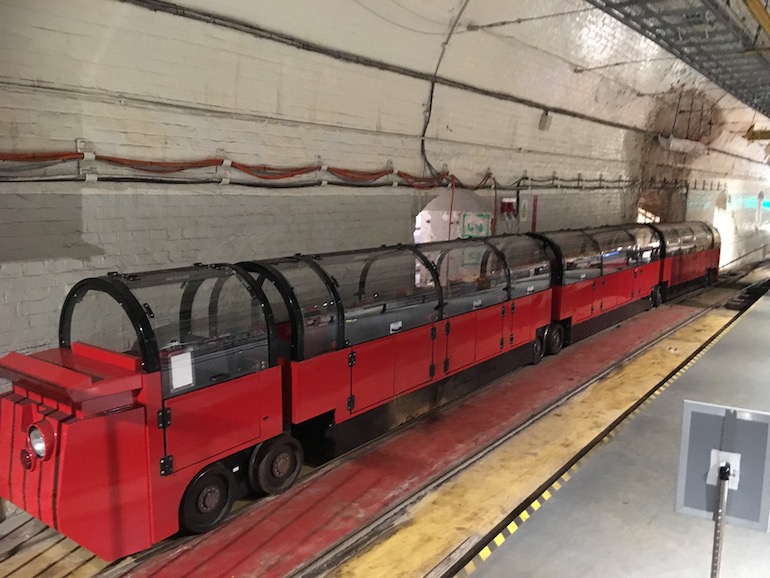 The Postal Museum in London: Postal train. Photo Credit: © Edwin Lerner.
These are just a few of the tourist attractions you can find which begin with the letter P. My name is Hamish Carroll. Check out my profile on our website, guidelondon.org.uk. Also, please subscribe to our YouTube channel and join us as we explore the A to Z of Guide London.