At the last count, there were around 7000 pubs in London. Of course, all of them are individual and have their own style. But of all of these, where are the pubs that have something about their history or atmosphere that sets them apart?  George Orwell, wrote a famous piece for the London Evening Standard in 1946, entitled "The Moon Under Water." In it, he described, what for him, were the essential ingredients of the perfect pub. For example, the decor had to be "uncompromisingly Victorian."  There had to be a real fire burning in the grate and there had to be a garden. Orwell didn't want a "radio nor a piano" as pubs were essentially for talking as well as drinking. The twist to Orwell's piece was that the Moon Under Water didn't exist. Rather it was his ideal watering hole. Now in this blog, I can't promise you pubs that conform to perfection. An impossible task, but I can offer you some outstanding historic London pubs that by virtue of their decor, atmosphere, history or quirkiness make them stand out as excellent places to visit.
All of the historic London pubs mentioned in this blog can be found within zone 1 or a short tube journey from Central London. You could construct a route between all of those pubs listed and have a great night. The exercise taken in walking from boozer to boozer might alleviate some of the effects of the alcohol. Although you don't have to drink alcohol to enjoy a pub crawl. My doctor told me that a pint of beer did count as one of my "five portions of fruit and veg a day." Beer is of course brewed from barley AND hops. Shouldn't that be two of your five? Anyway, let's get on with this and step out into the London evening and find some historic pubs in London dripping with character.
1. The Grenadier
Address: 18 Wilton Row, Belgravia, London, SW1X 7NR. Quirky Factor: 8/10.
We start in Belgravia and tucked away in a little mews just off Belgrave Square, we will find the delightful pub, The Grenadier. The immediate quirk factor with this historic London pub is trying to find it. The easiest way is to walk from Hyde Park Corner towards Knightsbridge and look for a little side alley, Old Barack Yard, on the left. By following your nose you suddenly find yourself in early Victorian London, with pretty little houses on either side. Eventually, you emerge onto Wilton Row, through a rather fierce spring-loaded gate that makes an alarming thwack if closed carelessly. And suddenly beside you is The Grenadier, complete with sentry box.
The Grenadier was originally built as the officer's mess for the adjoining and now long disappeared Foot Guards barracks. The interior has a small front bar with two projecting arms for dining. There is plenty of Grenadier memorabilia, and as a quirky bonus, this is renowned as being one of the most haunted pubs in London. The story goes that a young Grenadier Officer named Cedric was caught cheating at cards. His punishment was to be beaten to death by his brother officers! As well as now haunting the pub, it has become a tradition to affix banknotes to the pub's ceiling in order to pay off Cedric's debt and allow him peace at last. It is also rumoured that the Queen of Pop, no less than Madonna, held a private party here following one of her concerts in the early noughties.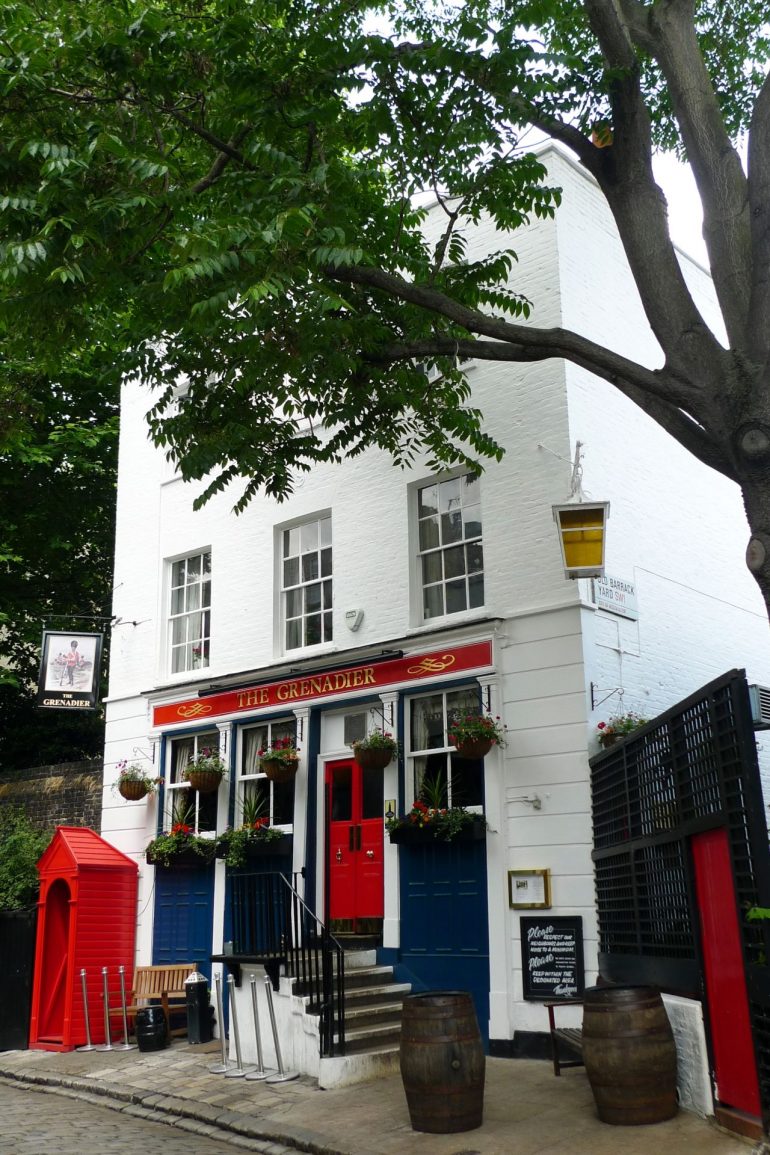 The Grenadier Pub. Photo Credit: © Oxyman via Wikimedia Commons.
2. The Ship and Shovell
Address: 1-3 Craven Passage, Charing Cross, London, WC2N 5PH. Quirky Factor: 9/10.
We need to get across town to Embankment Station and take a left off Villiers street into the covered vault under Charing Cross station to find the next historic London pub, the super quirky Ship and Shovell. This is a good choice if you're in two minds about where to go, as you get two pubs for the price of one! This pub of two halves with a distinctly nautical flavour, is named after the flamboyantly named Sir Cloudesley Shovell, former Admiral of the Fleet during the reign of Charles II.
Shovell was a fascinating figure who as with so many people of note, found lasting fame by dying….unusually. His fleet was returning home to port, but in the days when the Royal Navy's navigational ability was severely limited due to lacking a precise method with which to calculate longitude, things went tragically awry. The Fleet hit the unforgiving jagged rocks of the Scilly Isles. Many ships were wrecked and hundreds of lives lost, including that of Sir Cloudesley. The right (surely that should be starboard) half of the pub is classically Victorian with lots of mirrors and shining brass. The port side is more wood panelling and ship's timbers with the Crows Nest bar above.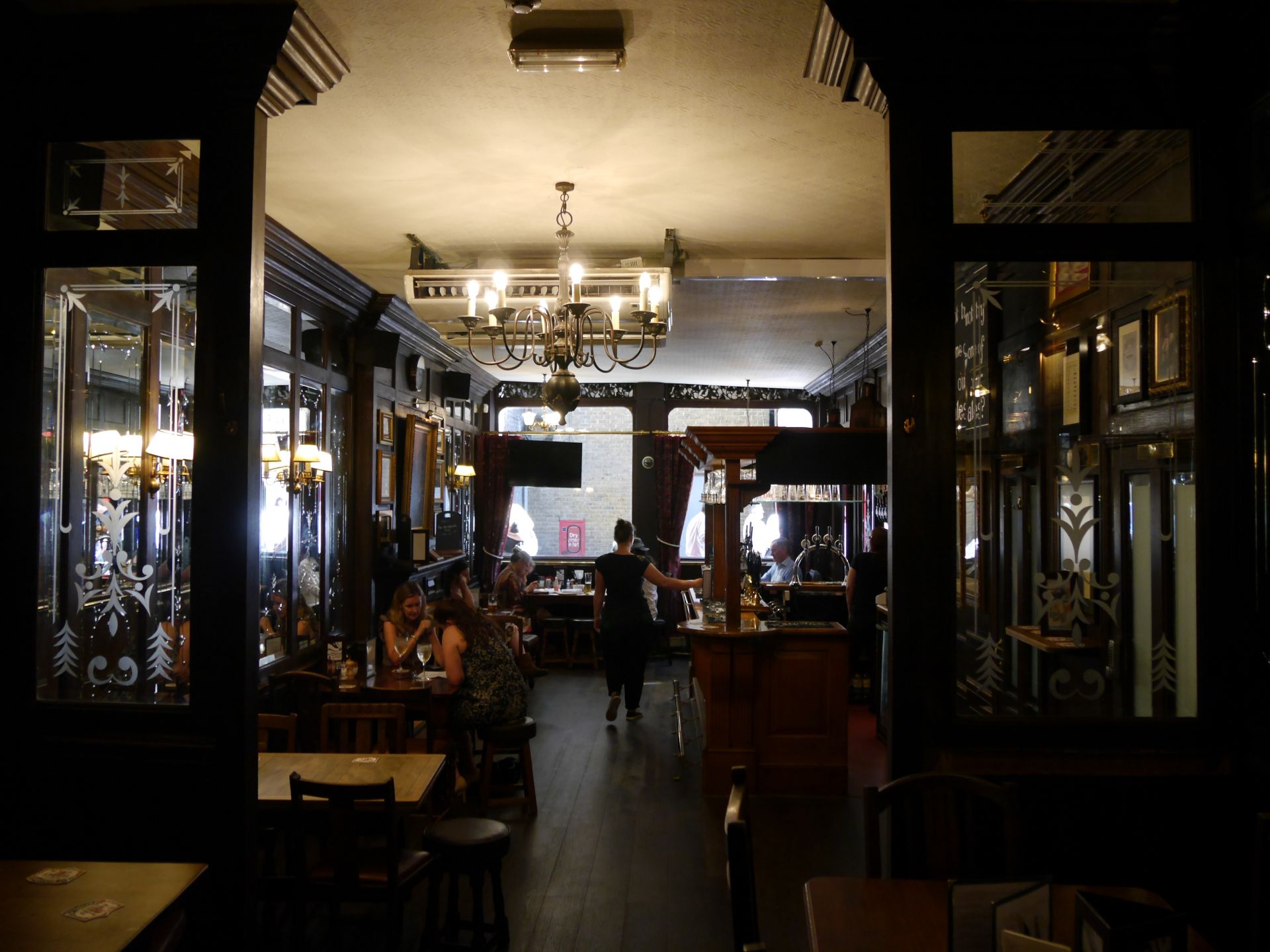 Interior of Ship and Shovell Pub. Photo Credit: © By Edwardx via Wikimedia Commons.
3. The Sherlock Holmes
Address: 10 Northumberland St, London, WC2N 5DB. Quirky Factor: 7.5/10.
Only a short walk from the bifurcated Ship and Shovell in Northumberland Avenue is our next destination. The Sherlock Holmes. Now, we are a fair distance from the great detective's stamping ground of Baker Street, but this lovely pub has the distinction of having upstairs the most authentic recreation of Arthur Conan Doyle's famous detective's study. This display was originally put together for the Festival of Britain in 1951. It's all still here. The pipe, deerstalker, and violin are all faithfully present and correct.
The Sherlock Holmes pub was initially built as a small hotel, The Northumberland Arms in the 1870s formerly briefly known as the Northumberland Hotel. Sherlock Holmes aficionados will tell you that this hotel features in perhaps, Holmes's most famous adventure, The Hound of the Baskervilles. Yes, this historic London pub is a theme pub but its probably the oldest in London and that's why I love it.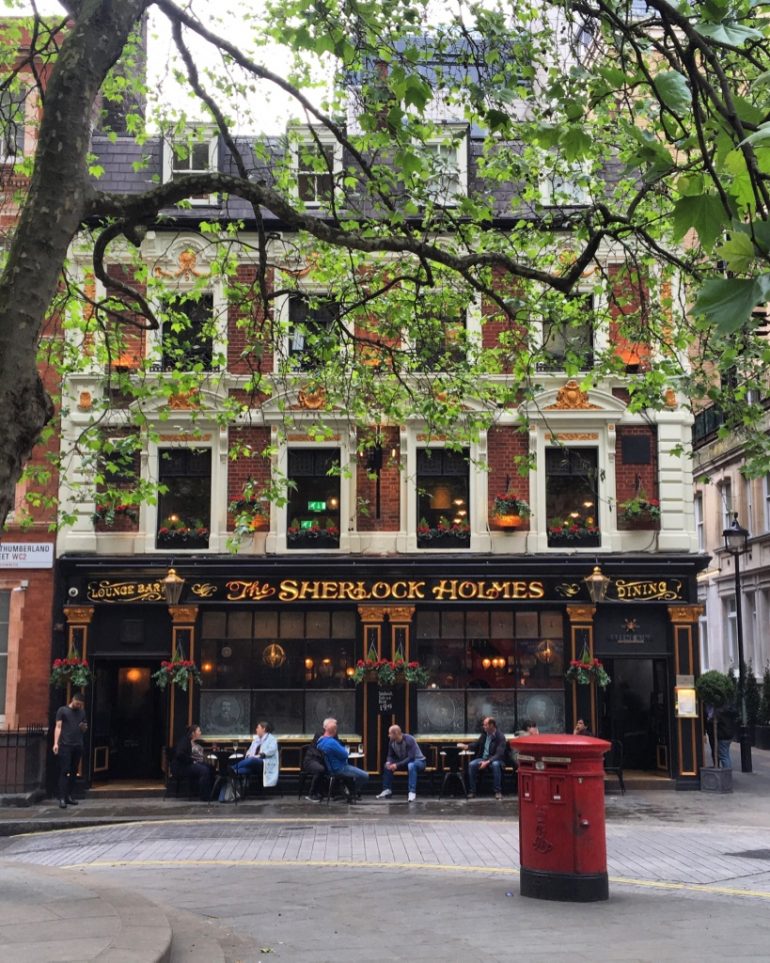 Sherlock Holmes Pub. Photo Credit: © Ursula Petula Barzey.
4. The Old Mitre
Address: 1 Ely Pl, London, EC1N 6SJ. Quirky Factor: 8/10.
We head East to the City borders and a corner of old London that will be forever Cambridgeshire. Ely Place, once the London home of the Bishops of Ely is a cul-de-sac of imposing grand terraced houses. You pass through the lodges guarding the street, that until the late 1950s were occupied by officers from the Cambridgeshire Constabulary. The Old Mitre ticks the "difficult to find" box in being situated in a little cut-through between Ely Place and Hatton Garden.
This historic pub in London is ancient (bits of it might be pre-Great Fire) and the history is rich. Queen Elizabeth I is said to have danced around a cherry tree (that still survives!) in Sir Christopher Hatton's garden. Shakespeare places John of Gaunt here to make his famous "sceptered isle" speech. More recently a scene in Guy Ritchie's movie Snatch was shot here.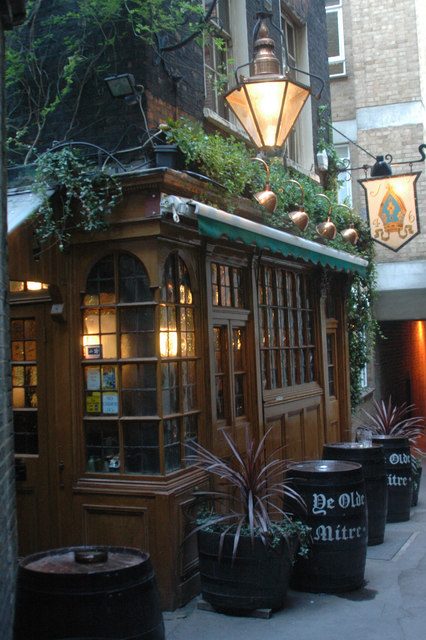 The Old Mitre Pub. Photo Credit: © Row17 via Wikimedia Commons.
5. The Black Friar
Address: 174 Queen Victoria Street. EC4V 4EG. Quirky Factor: 10/10.
We change direction and move south towards the river and on a corner just before Blackfriars Bridge, we find a building bursting with quirkiness. It's The Black Friar, another historic London pub.  If you look up to the first floor of this curious wedge-shaped building, there he is, the roly-poly Black Friar looking for all the world like a cockney Friar Tuck welcoming you into this Art Nouveau gem. The interior is quite simply, extraordinary with the walls covered in mosaics and reliefs of monks (strictly Friars) doing their thing, which in this context means drinking. It's a one-off and not to be missed.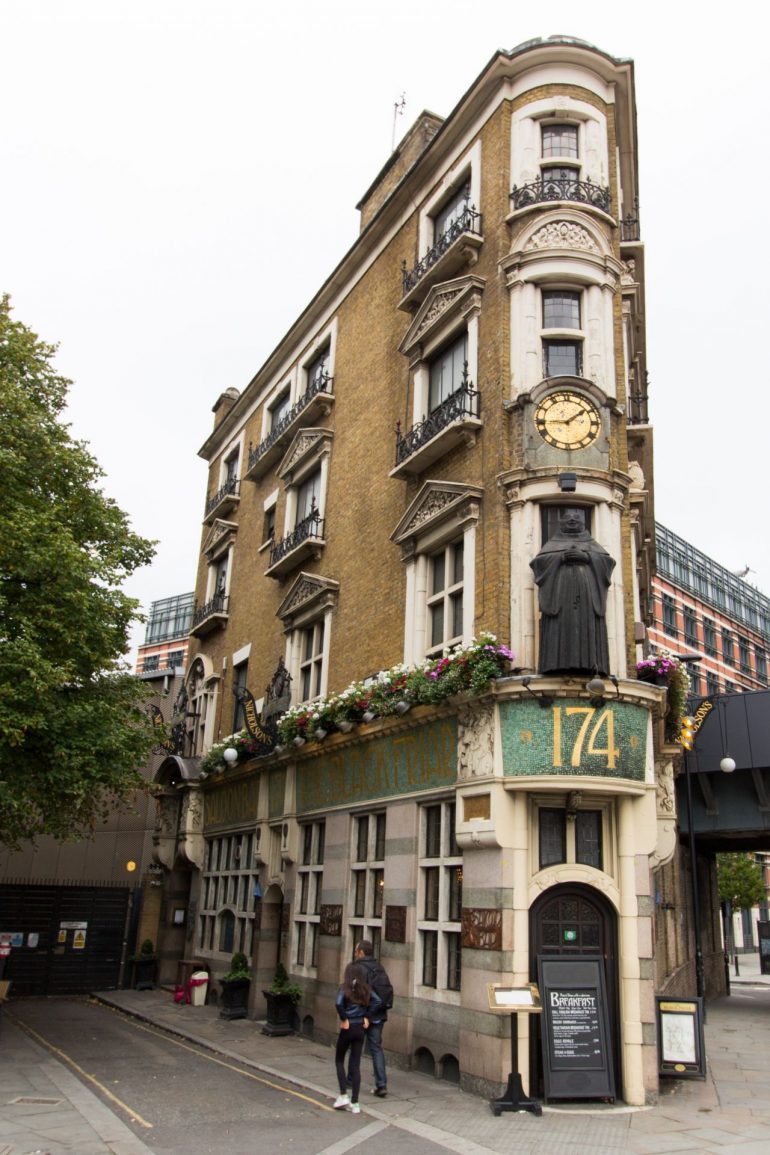 The Black Friar Pub. Photo Credit: © By The Wub via Wikimedia Commons.
6. The George Inn
Address: 77 Borough High Street. SE1 1NH. Quirky Factor: 8/10.
Finally, the search for quirk takes us across London Bridge into Borough's bustling streets and markets. Our destination, every Blue Badge Tourist Guide's favourite local, The George. This is the last remaining galleried inn in London and is now under the ownership of the National Trust. Once, there were dozens of coaching inns like this around the edges of the City of London. It is probably this kind of structure where the culture of theatre first began with travelling players "performing to the gallery." Inside The George is a maze of little interconnected rooms and bars. Cozy in the winter and in the summer the magnificent courtyard comes into its own.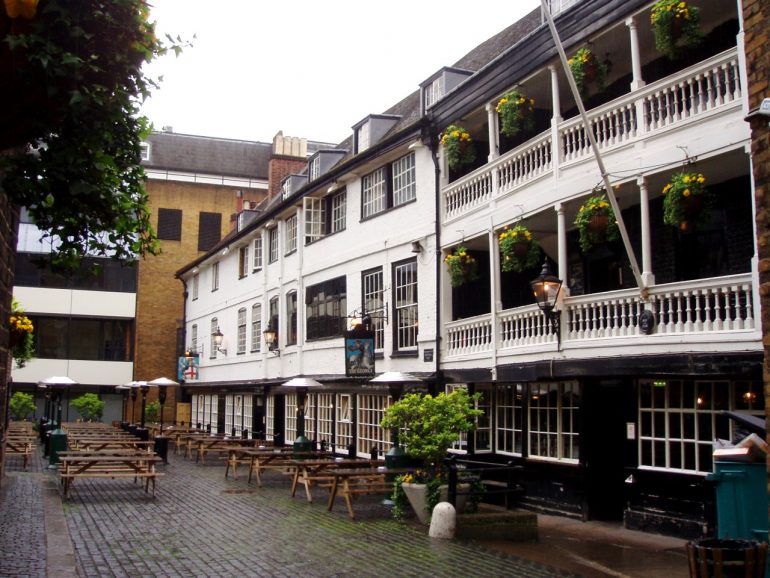 The George Inn. Photo Credit: © By Ewan Munro via via Wikimedia Commons.
This is a highly subjective choice and there are dozens of other historic London pubs that offer quirkiness by the gallon. If you want to take the hard work out of researching where to go, why not hire a Blue Badge Tourist Guide to lead your tour/pub crawl. In addition to getting to see some unusual buildings and to tasting some great beer, you'll get to hear the stories and associated history from the best guides in London.