A Dickens Of A Christmas in London
More than anyone else, Charles Dickens invented the British Christmas with A Christmas Carol, his story about Ebeneezer Scrooge and the ghosts of Christmas Past, Present and Future. It was first published in 1843 and has been adapted for stage and screen many times. Now a new film and exhibition at the Charles Dickens Museum London celebrate this famous story.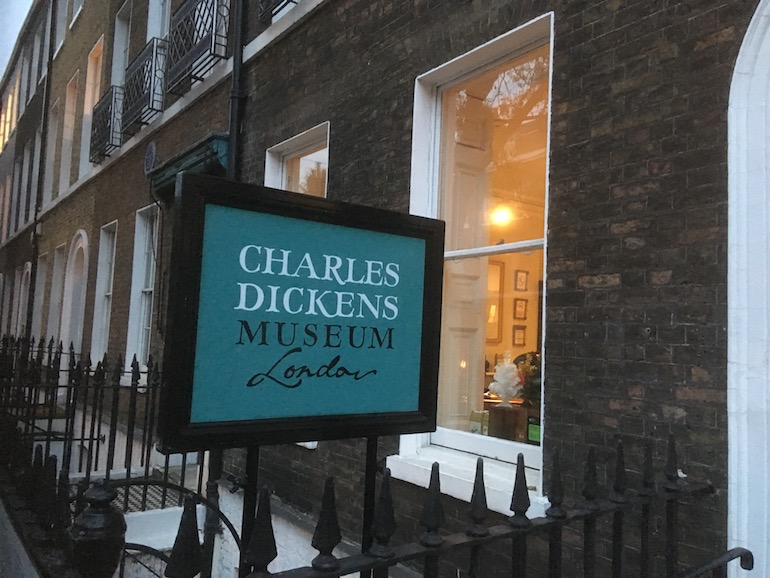 Charles Dickens Museum London. Photo Credit: © Edwin Lerner.
The Man Who Invented Christmas opens in the United Kingdom on 1 December and stars Dan Stevens (from Downton Abbey) as Charles Dickens. An exhibition at the Charles Dickens Museum London will display costumes from the film which also stars Christopher Plummer (Ebenezer Scrooge) Donald Sumpter (Jacob Marley) Jonathan Pryce (Dickens' father John) Ger Ryan (Elizabeth Dickens) and Simon Callow as illustrator John Leech.
The Charles Dickens Museum London at 48 Doughty Street also has a new exhibition A Ghost of an Idea: Unwrapping A Christmas Carol. The exhibition will draw on the museum's collections of original Dickens material to examine what drove Dickens to write his famous tale in 1843. It runs from 29 November 2017 to 25 February 2018, entry free with museum visit.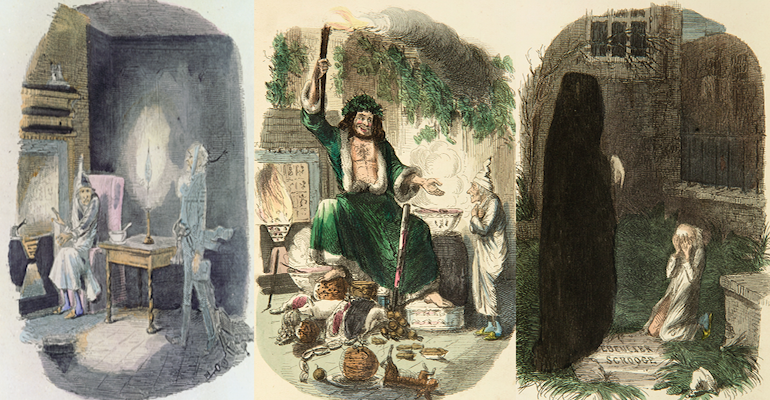 Christmas Sketches: Ghost of an Idea: Unwrapping 'A Christmas Carol.' Photo Credit: © Charles Dickens Museum London.
London Blue Badge Tourist Guides are often asked to do literary and Dickens-themed tours highlighting places which inspired our most famous novelist. Dickens made his name with The Pickwick Papers and went on to write other novels such as David Copperfield, Oliver Twist and Bleak House. His stories are often haunted by the debtor's prison where his father was sent. The young Charles was sent to work at a factory in Charing Cross – an experience he hated – in order to help the family finances. After achieving fame and fortune Dickens died at the age of fifty eight and was buried in Poet's Corner, Westminster Abbey.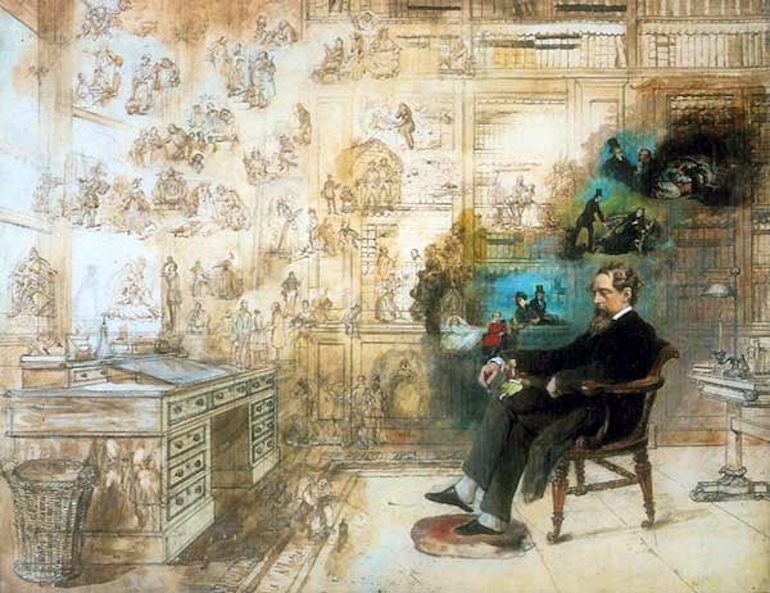 Dickens's Dream by Robert William Buss, portraying Dickens at his desk at Gads Hill Place surrounded by many of his characters. Photo Credit: © Wikipedia Commons.
There are four museums in the United Kingdom dedicated to Charles Dickens, more than any other British writer:
• The Charles Dickens Museum London at 48 Doughty Street open Tuesday to Sunday;
• The Charles Dickens' Birthplace Museum in Portsmouth;
• The Dickens House Museum, Broadstairs, Betsy Trotwood's house in David Copperfield;
• Gad's Hill Place, Kent, Dickens' home in later years where he died in 1870. This is now a school but can be visited at weekends by prior arrangement.
Get in touch for a Blue Badge Tourist Guide led Charles Dickens London Tour.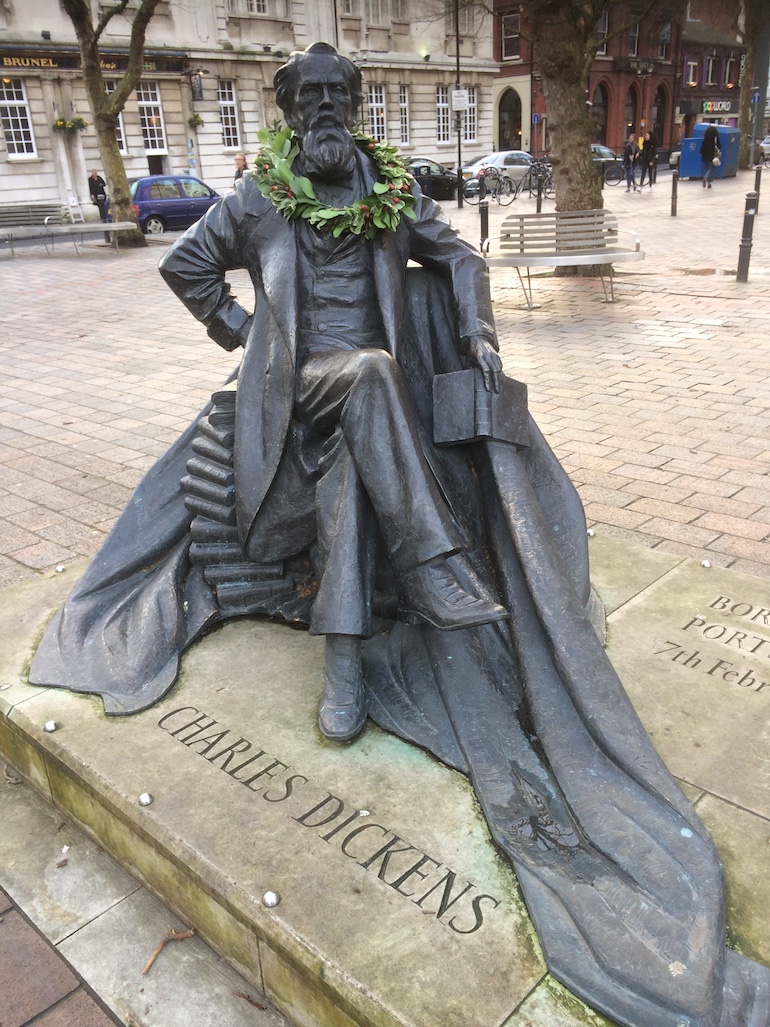 Charles Dickens Statue Portsmouth. Photo Credit: © Edwin Lerner.

Edwin Lerner
Named Edwin (name of an early king of Northern England) but usually known as 'Eddie', I conducted extended tours around Britain and Ireland for Trafalgar for many years but now work as a freelance guide and tour manager. I specialise in religious, music, theatre and literary themed tours and…
You may also like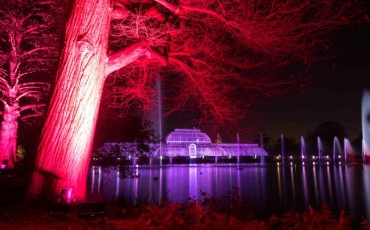 05 December 2014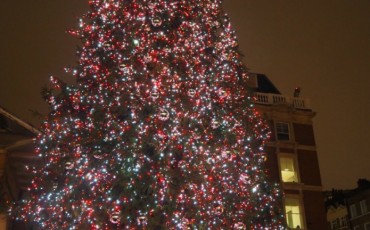 20 December 2015
Christmas trees, Christmas lights and festive decorations are seen all across London during December. It makes the city extremely inviting in the late afternoon and evening for shopping and exploring. Featured below are 8 Christmas trees across London during this festive season.
Read more