8 London Christmas Markets
Looking to get into the festive spirit while also shopping for some unique Christmas gifts?   Then consider visiting one of London's Christmas markets.  From large German Christmas markets such as Winter Wonderland and the South Bank to smaller Christmas fairs, these 8 markets are perfect for your Christmas shopping needs.
1.  Southbank Centre Christmas Market
Dates: From 10 November 2017 to 4 January 2018
Location: Southbank Centre, Belvedere Road, London, SE1 8XX
The Southbank Centre Christmas Market features traditionally decorated wooden chalets selling a wide range of unique hand-crafted gifts, unusual Christmas presents, food and drink.
2.   Winter Wonderland in Hyde Park
Dates: From 18 November 2017 to 1 January 2017
Location: Hyde Park, Hyde Park, London, W2 2UH
Festive family favourite Winter Wonderland has returned to London's Hyde Park with ice skating, shows, an observation wheel and a huge Christmas market.
3.  Festive Shopping Days at Chelsea Physic Garden
Dates: 6 December 2017
Location:  Chelsea Physic Garden, 66 Royal Hospital Road, Chelsea, London, SW3 4HS
Shop for green-fingered gifts and festive treats at Chelsea Physic Garden during its Festive Shopping Days in the run-up to Christmas.
4.  Winterville at Victoria Park
Dates: From 21 November 2017 to 1 January 2018
Location:  Victoria Park, Bow, London, E9 7DD
A winter-themed adventure park for the whole family.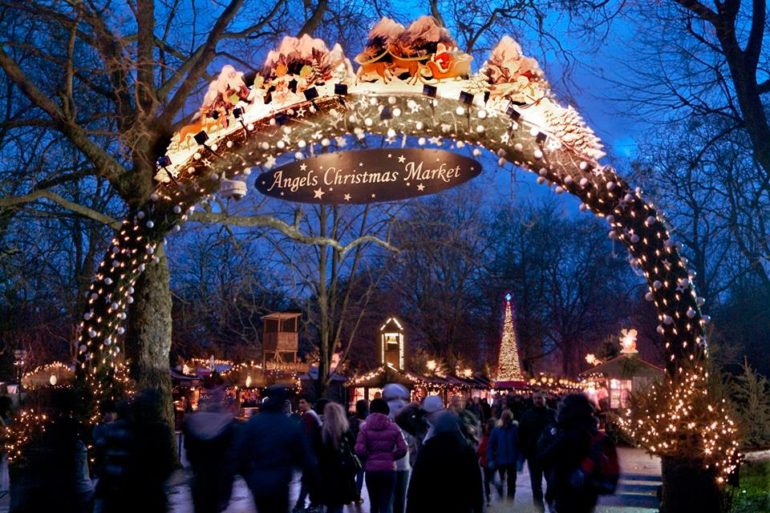 Angels Christmas Market at Winter Wonderland in Hype Park. Photo: ©Winter Wonderland.
5.  Alfies Christmas Shopping Party at Alfies Antique Market
Dates: 7 December 2014
Location:  Alfies Antique Market, 13-25 Church Street, St John's Wood, London, NW8 8DT
Now in its 40th year, the Alfies Christmas Shopping Party offers stand-out presents from more than 75 independent antique and vintage dealers, all under one roof.
6.  Horniman Christmas Fair
Dates: 16 December 2017
Location:  Horniman Museum and Gardens, 100 London Road, London, SE23 3PQ
Join in the fun at this traditional Christmas Fair at the Horniman Museum and Gardens.
7.  Belgravia Christmas Sunday at Elizabeth Street and Pimlico Road
Dates: 3 December 2017
Location:  Belgravia, Belgravia, SW1X 8BX
Explore the Regency settings of Pimlico Road, Elizabeth Street and Motcomb Street as they host their annual Christmas markets.
8.  London Bridge City Christmas Market 
Dates: From 30 November 2017 to 3 January  2018
Location: More London, Bermondsey, London, SE1 2DB
Find unique and unusual gifts and enjoy foods from around the world at the free More London Christmas Market, at More London Riverside set against a backdrop of London icons including magical views of Tower Bridge.

You may also like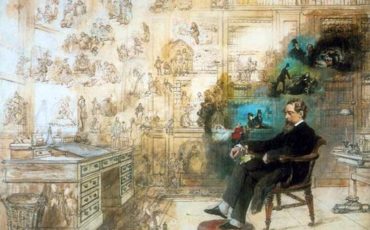 16 November 2017
More than anyone else, Charles Dickens invented the British Christmas with A Christmas Carol, his story about Ebeneezer Scrooge and the ghosts of Christmas Past, Present and Future. This book was first published in 1843 and has been adapted for stage and screen many times. Now a new film and exhibition at the Charles Dickens Museum London celebrate this famous story.
Read more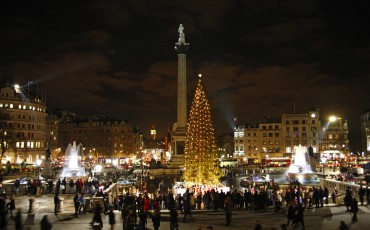 02 December 2014
For many Londoners the Christmas tree and the carol singing in Trafalgar Square marks the start of the countdown to Christmas. This year the tree was officially lit on 3 December by the Mayor of Westminster, the Norwegian Ambassador and the governing Mayor of Oslo. There will be carol singing by different groups raising money for voluntary or charitable organisations most days until 23 December from 4-8pm weekdays, and 2-6pm weekends. The tree remains until just before Twelfth Night when it is taken down for recycling.
Read more