English and British Monarchs have lived in and around London for over a thousand years in a variety of palaces; some still standing, others long-gone. But the area now known as 'Royal London' has consistently been at the heart of royal life, with regal residences at Westminster, Whitehall, Buckingham and St James's Place and at Clarence and Carlton Houses. They remain the backdrop for all the pageantry and tradition sill integrally associated with the British Monarchy: home to both the Queen and the Prince of Wales and the setting for both regular parades, processions and major commemorations of notable formal Royal events, both joyous and sombre. In just a small part of London you can see Royal coaches, pelicans, and wax; walk up the aisle where Royal brides have nervously stepped, stand where those viewing a Royal execution jostled for position and march across a former jousting ground where visiting Heads of State review Royal Troops! Here are our top ten facts about Royal London.
1. Buckingham Palace's garden houses the national collection of mulberry trees. Indeed, the whole Palace is built on the site of King James I's mulberry garden, which was planted in the 1600s in an unsuccessful attempt to rear silkworms in the UK!
2. Buckingham Palace plays host to the Queen's Banquets for visiting heads of State – lavish affairs that involve a 4,000 piece dinner service, a band of bagpipers, and where each guest has six glasses and eleven pieces of cutlery, all arranged with millimetre-sharp precision. However, unlike in the days of George IV, there is no stream containing goldfish swimming in it running along the centre of the table!
3. The Royal Mews owes its name to the original Kings Mews at Charing Cross. The royal hawks were kept at that site from 1377, and the name 'mews' derives from the fact that they were confined there at moulting (or 'mew') time. The building was destroyed by fire in 1534 and rebuilt as stables, but keeping the name 'mews'.  They later moved to their present location.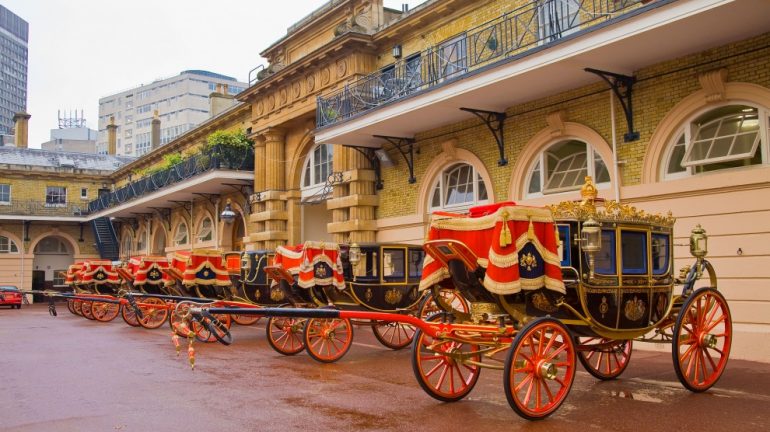 Buckingham Palace: Coaches at the Royal Mews. Photo Credit: © Pawel Libera / Royal Trust Collection.
4. Handel's Music for the Royal Fireworks was composed specially for a firework display in Green Park in April 1749, although it was first played in public at a rehearsal in Vauxhall Park a few days before. The firework display celebrated the signing of the Treaty of Aix-la-Chapelle and the end of the War of the Austrian Succession.
5. Clarence House was built in 1827 to the designs of John Nash as the new London home of George III's third son, Prince William Henry, Duke of Clarence and his wife Adelaide. Nash made numerous alterations to his original plan as work proceeded, and the final cost of £22,232 was more than double what he had originally quoted – showing that there is nothing new when it comes to builders' estimates! The Duke became William IV  on succeeding to the throne and decided to remain in, and reign from, Clarence House, rather than take up residence at Buckingham Palace.
6. The State Apartments of St James's Palace contain a very intriguing fireplace built during Henry VIII's reign. On one side, are the initials 'HA' for 'Henry & Anne (Boleyn)'. But by the time the fireplace was complete, poor Anne was no longer attached to her head, so the right-hand side of the fireplace only has the initial 'H'.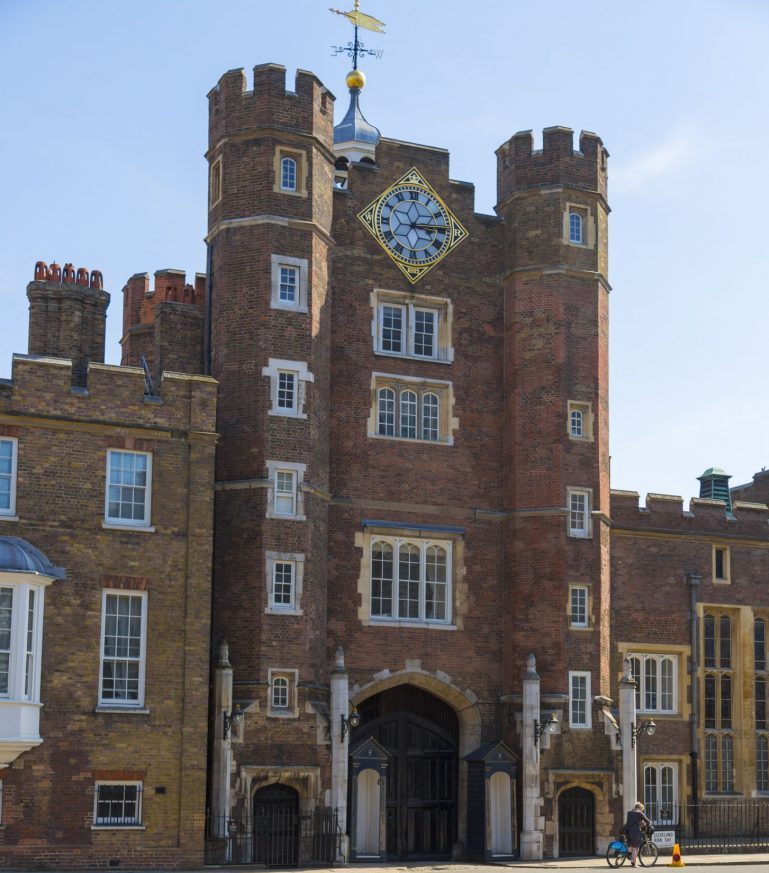 St James's Palace. Photo Credit: © London & Partners.
7. The bridge which crosses the lake in St James's Park is today known as The Blue Bridge. Its predecessor was a lot more ornate, and was built in 1814 to celebrate the end of the war with France. A sizeable Chinese pagoda was built in the middle of the park at the same time. The celebrations involved fireworks in the park, which set fire to the pagoda and burnt it down, killing one person and injuring others in the process. The ornamental bridge itself only lasted until 1825.
8. Millions of tourists walk along Whitehall each year, unaware that under their feet is a network of secret tunnels and passages that link Government buildings and carry communications cables, so that the business of Government can be carried out at all times, including in a national emergency.
9. Built for Henry VIII, who liked to 'play hard', the Palace of Whitehall, now almost completely lost, incorporated a bowling green, an indoor tennis court, a cock-fighting pit and a tiltyard for jousting (now the site of Horse Guards Parade). Later, in 1611, the palace hosted the first known performance of  Shakespeare's The Tempest. All that is left of the Palace of Whitehall Palace is the Banqueting House where King Charles I was executed.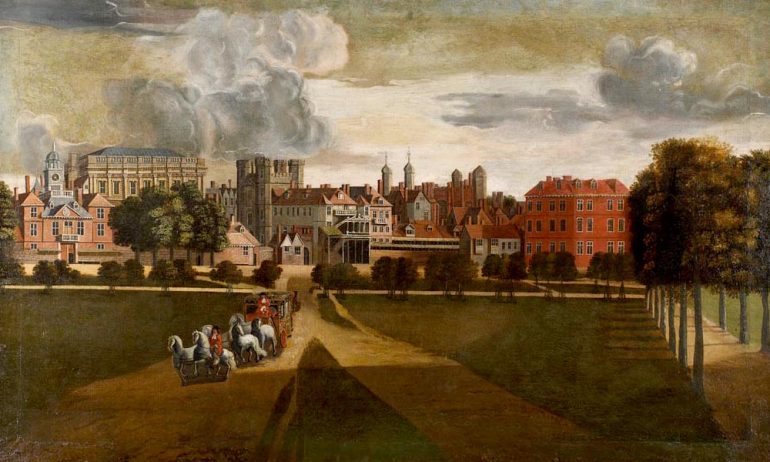 Oil painting of the Palace of Whitehall by Hendrik Danckerts. The Banqueting House which is all that remains today is on the left. Photo Credit: © Public Domain via Wikimedia Commons.
10. Westminster Abbey's museum is London's best waxwork gallery other than Madame Tussaud's, holding wax figures of many monarchs, nearly all of them in traditional full costume. They were often used during funerals – either displayed on top of royal tombs or paraded before the casket. Many were made from death masks, a plaster cast made of the deceased's face shortly after death.
No visit to London is complete without a bit of Royalty thrown in. A Blue Badge Tourist Guide will bring Royal London to life showing you things that have Royal connections and help you to enjoy this most regal part of London.