Kensington Palace, nestled at the western edge of leafy Kensington Gardens, has been a royal home since 1689. Today, it is the London base of the Prince and Princess of Wales and the nerve centre of their operations. It is also home to the Dukes of Kent and Gloucester and Princess Michael of Kent. In 1997, the palace was the heart of national mourning following the death of Princess Diana. Its massive cast iron gates were made impassable by thousands of still plastic-wrapped flowers, candles and notes from international well-wishers.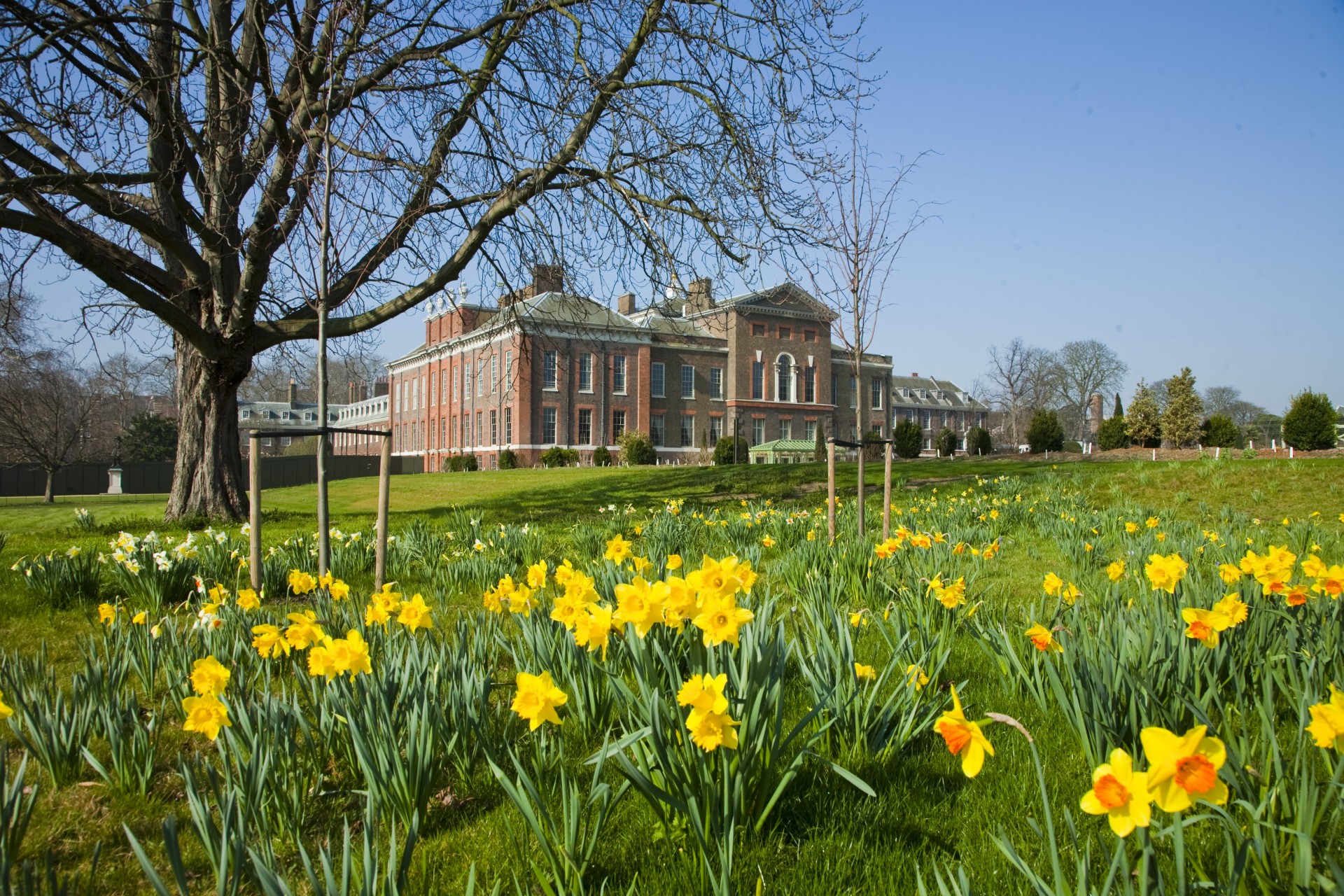 Springtime daffodils bloom in the east front gardens at Kensington Palace. Photo credit: © Historic Royal Palaces.
From Jacobean mansion to royal residence
The former Jacobean mansion was built in 1605 by Sir George Coppin. It later became Nottingham House after its purchase by Sir Daniel Finch, second Earl of Nottingham. His name lives on to this day at 'Nott Cott'. Nottingham Cottage is a low-ceilinged property in the palace estate, still used as a grace-and-favour apartment. Princes William and Harry have both hit their heads on the diminutive cottage's wooden beams.
Sir Daniel eventually sold Nottingham House and its extensive grounds for £20,000 to new joint monarchs William III and Mary II following the Glorious Revolution of 1689. This key moment in history saw the deposition and exile of Catholic King James II and his replacement by a new Protestant power couple – Dutch royal William and Mary (James's eldest daughter) as William's Queen Regnant.
Sir Christopher Wren's transformation
William, the Stadtholder of Holland, Zeeland, Utrecht, Guelders, and Overijssel in the Dutch Republic, suddenly found himself King of England. He needed a royal palace away from the city as he suffered from asthma. Rural Kensington was the perfect spot. William and Mary commissioned starchitect Sir Christopher Wren to remodel the building.
The brilliant Wren oriented Kensington Palace west, adding new pavilions to the existing structure. Mary oversaw the works as William was occupied with affairs of state, in particular the Nine Years War with France. The new monarchs did not enjoy the place for long. A fire tore through the building in 1691, and three years later, Mary, whose porcelain collection can still be enjoyed at the palace, died of smallpox. She was buried at Westminster Abbey. William was to join her there following a riding accident at Hampton Court. He died at Kensington Palace in 1702.
Kensington Palace under Queen Anne
Mary's sister, Queen Anne, was next in line. She loved gardens and commissioned Christopher Wren's pupil Nicholas Hawksmoor to build the orangery, now used for public exhibitions. Kensington witnessed Anne's final showdown with frenemy Sarah Churchill, Duchess of Marlborough, in a terrific row in 1714. The pair never spoke again. Anne had seventeen children, all of whom pre-deceased her. She became the last monarch of the House of Stuart, dying later that same year.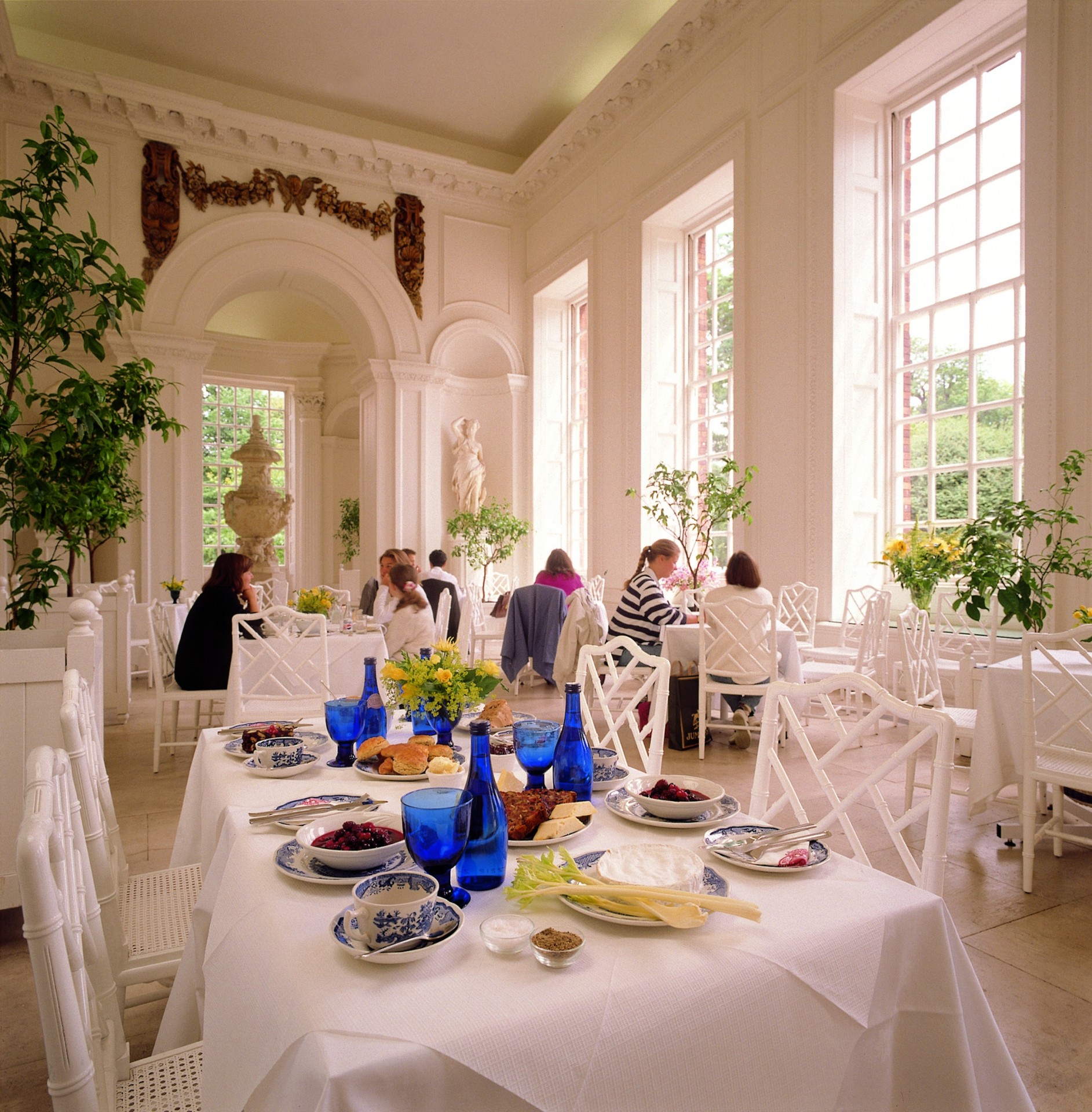 Kensington Palace – The Orangery, Photo credit: © Historic Royal Palaces.
Kensington Palace under King George I
The 1701 Act of Settlement prohibited any Catholic ascending to the English throne. So next in line was Anne's cousin and allegedly non-English speaker, King George I of the House of Hanover. His wooden style made George a source of ridicule among his subjects – although the King loved a bit of bling. A lavish spender, he commissioned Kensington's exquisite Privy Chamber and Withdrawing Room. Perhaps his most magnificent work at Kensington is the Cupola Room with its trompe l'oeil ceiling by then-unknown artist and architect William Kent. Kent's other projects included Holkham Hall in Norfolk and Chiswick House in west London. He went on to popularise Palladian architecture in Britain, moving tastes toward classical lines, away from the more flamboyant baroque championed by Wren.
Kent also created the incredible art on the King's Staircase. This massive wall painting features forty-five figures, including servants Mustafa and Mehmet. Also in the work is Peter – the so-called wild boy – who was adopted by the king after being found in a Bavarian forest. The staircase itself is especially fine. This is the work of master craftsman Jean Tijjou, who forged ironwork for Hampton Court and Saint Paul's Cathedral.
George II and the transformation of Kensington Palace
King George II was less profligate than his dad. He left the decoration of the place largely to his wife, Caroline of Brandenburg-Ansbach. Caroline re-shaped the gardens much as we see them today and, in 1730, created the forty-acre Serpentine Lake, originally fed by the River Westbourne and Tyburn Brook.
George II was the last king to live at Kensington. With the coronation of George III in 1760, only minor royals called the place home. Queen Victoria was born in the palace in 1819 as the fifth in line to the throne. She was christened in the Cuppola Room – although her diaries reveal that she hated the gilded cage that she regarded Kensington Palace.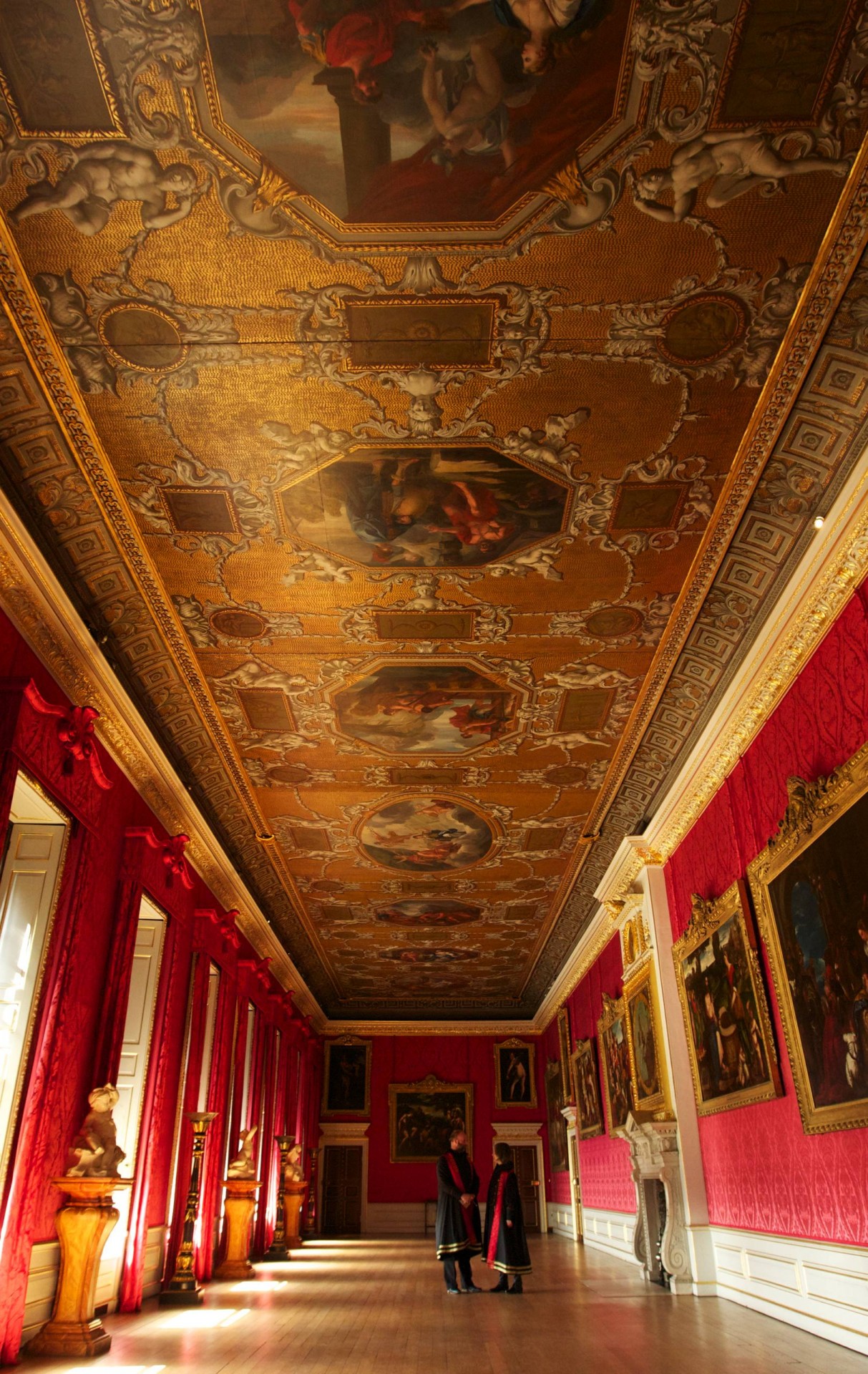 The King's Gallery at Kensington Palace. Photo credit: © Historic Royal Palaces.
Queen Victoria and her relationship with Kensington Palace
Victoria's father, Prince Edward, Duke of Kent and Strathern, was the fourth son of George III. He died in 1820 when Victoria was barely nine months old. She became queen seventeen years later following the 1819 death of her uncle, George III's third son, William IV. Victoria's unhappiness at Kensington is related to the way she was governed as a young woman. The so-called 'Kensington System' ensured that Victoria was never alone and was very restricted in whom she saw and what she did. Her beloved pet King Charles spaniel, Dash, proved a great comfort in these lonely early years.
This hostile environment was devised by her overly protective but bullying mother, Princess Victoria of Saxe Coburg-Saalfed, with whom she shared a bedroom. Private Secretary and scheming power- behind the throne, Sir John Conroy, was equally keen to keep the future queen obedient and malleable – and feather is own nest in the process.
The palace was full of intrigue and competing ambitions. Batting Victoria's corner was her governess and confidante, Baroness Louise Lezhen. Spying on the increasingly close pair was Princess Sophia, the elderly and senile sister of George III, who was being used as a pawn in the game by the scheming Conroy.
On becoming Queen in 1837, Victoria held her first Privy Council in the Red Salon. It was quite the event. The new monarch embraced her position with zeal and confidence, and she determined to put her melancholy early life behind her. She dismissed Conroy from her court, distanced herself from her mother and, within just three weeks, moved to a new home – Buckingham Palace.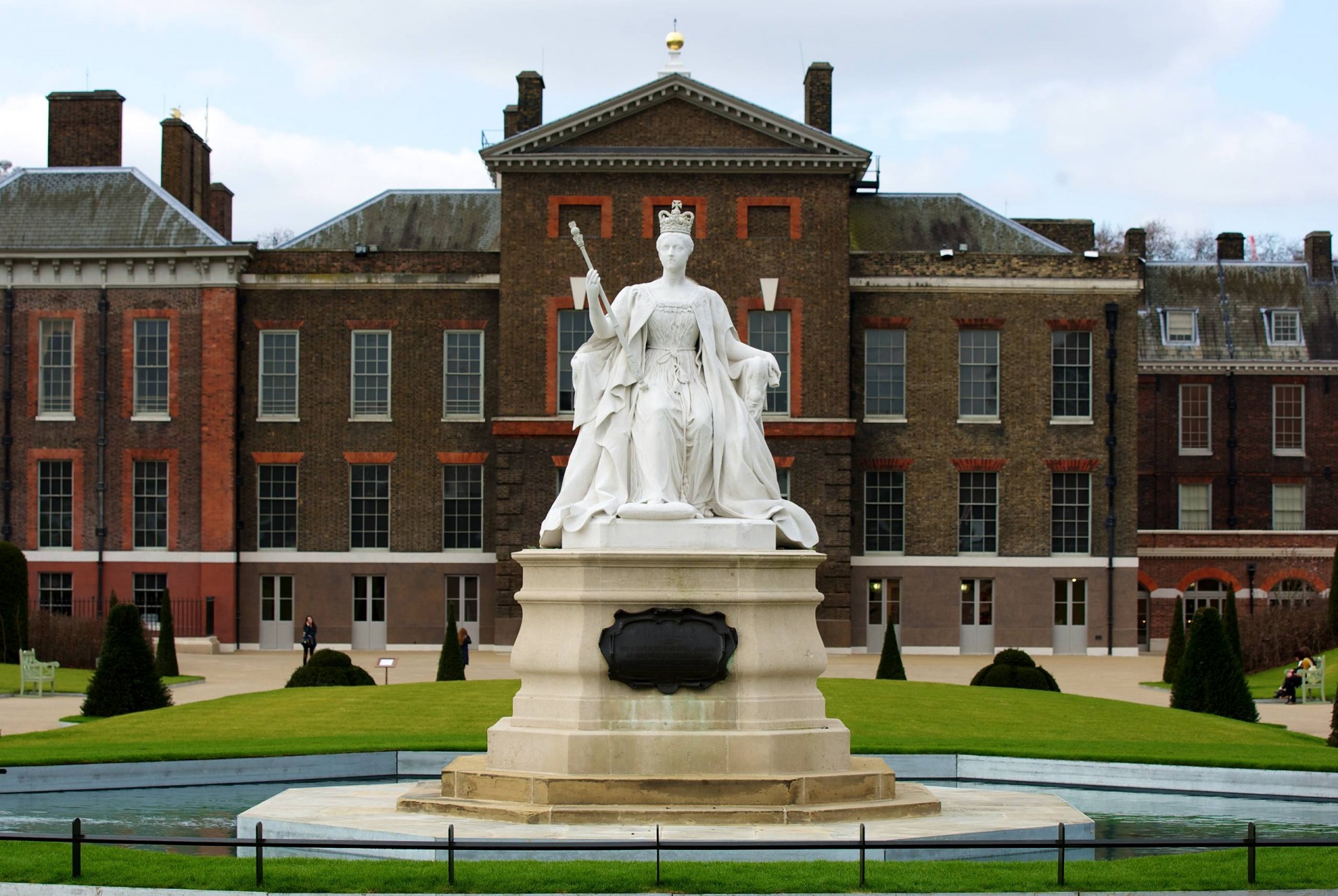 Statue of Queen Victoria at Kensington Palace. Photo credit: © Historic Royal Palaces.