Which hobby is loved by 1 in 6 British adults and generated revenues of £5.5 million in 2016? No, not fishing or horse riding, but old cars, buses, vans and lorries. Yes, petrolheads, according to the Federation of British Historic Vehicle Clubs, are doing their bit for the economy, and London is right at the forefront of the movement.
Restoring and maintaining these precious beasts is a skilled business and London has hundreds of automobile specialists, who will fettle your Frisky sport, garage your Goggomobile, respray your Roller or flog your Ferrari. Numerous enthusiastic businesses stock and sell that vital widget that fell off on last year's Brighton run. Many of them are located in the myriad railway arches that crisscross the capital. The arches near London bridge in Druid street, for example. Brixton & Camberwell arches in the South of the capital, are homes to the armies of Taxi fettlers (remember there are 21,000 black cabs registered in London and somebody has to look after them) So, take another look at that row of brick arches, you may be surprised by some serious Aston Martins, Bugattis or cabs.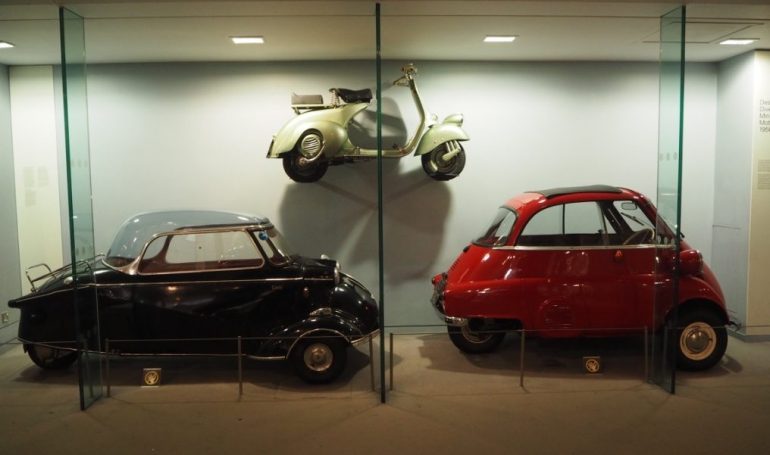 Science Museum, London: Messerschmitt KR200 De Luxe 1960 + Vespa 125 Scooter 1948 + BMW Isetta 300 1961. Photo Credit: © Ursula Petula Barzey.
London has always had its fair share of motor manufacturers from A to Z. Allards were built in Putney (Sydney Allard created the first British dragster) and Zephyrs were built at Dagenham (some of us remember 'Z'cars on TV). John Cooper had his works at Surbiton (he of Mini Cooper fame) and Vauxhalls were made at …….well Vauxhall, using a Griffin as a badge, the crest of the 13th-century knight, who originally owned the land on which the original Wandsworth Rd factory was built.
Though devoid of a specific car museum, London has lots of fascinating vehicles to admire. The next time you take a Blue Badge Tourist Guide walk of South Kensington, pop into the Science Museum on Exhibition Road; entry is free and the motoring exhibits are superb. On the ground floor, there is a 1916 black Model T Ford, colloquially known as the Tin Lizzie. Famously Henry Ford, the pioneer of the moving assembly line, stipulated you could have one "any colour so long as it's black", not for sobriety reasons, but because black paint dried the quickest and that way he could get more cars off the assembly line and into the showrooms.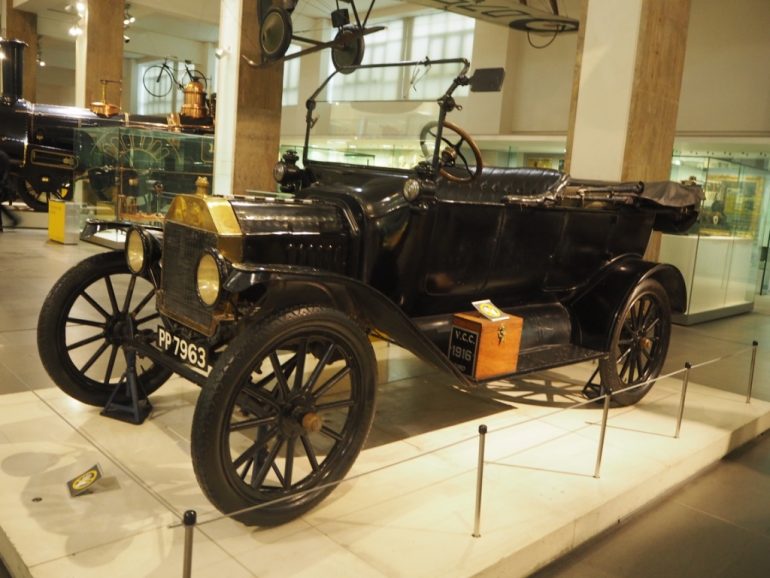 Science Museum, London: Ford T Model 1916 – Tin Lizzie. Photo Credit: © Ursula Petula Barzey.
Also at the Science Museum in London, there is a stack of popular 1950/60s family cars. I mean, stack, from ceiling to floor. A Fiat 600 perches on a Citroen 2CV, resting on the charming Morris Minor designed by Sir Alec Issigonis, that Viscount Nuffield described as "Looking like a fried egg!" In turn, a Volkswagen Beetle sits on a SAAB 93 and at the bottom is a Hino Contessa from 1965, the first Japanese, European-styled car. Then there is JET 1, the sublime Rover Gas turbine car of 1950 that would beget the Rover BRM racer, seen at the Le Mans 24-hour races of 1963 and 65. Its pilot was none other than Londoner Graham Hill OBE, double world champion, whose racing helmet always bore the colours of the London Rowing Club. Dark blue, surrounded by 8 vertical, pointed, white stripes. His world champion son Damon, would sport the same colours.
Round the corner is Fiskens of Queensgate Mews. They are celebrating 25 years of being "Where the greatest cars come to be sold." Recent stock included an F1 Ferrari, a lightweight racing Jaguar E-type and a 3 litre Bentley. Beyond the Science Museum and Fiskens of Queensgate Mews, every February ExCeL London hosts the London Classic Car show easily accessible from Prince Regent Station, on the Docklands Light Railway. In 2017 it showed, amongst other things, a display of 70 years of Ferraris, from Enzo Ferrari's Alfa Romeo racing team cars, to its current road burners. There was also a celebration of concept cars or "what Detroit & Turin wanted to build, but weren't allowed to" and a Beaulieu Motor Museum style autojumble, to find the other widget that fell off on last year's Brighton run!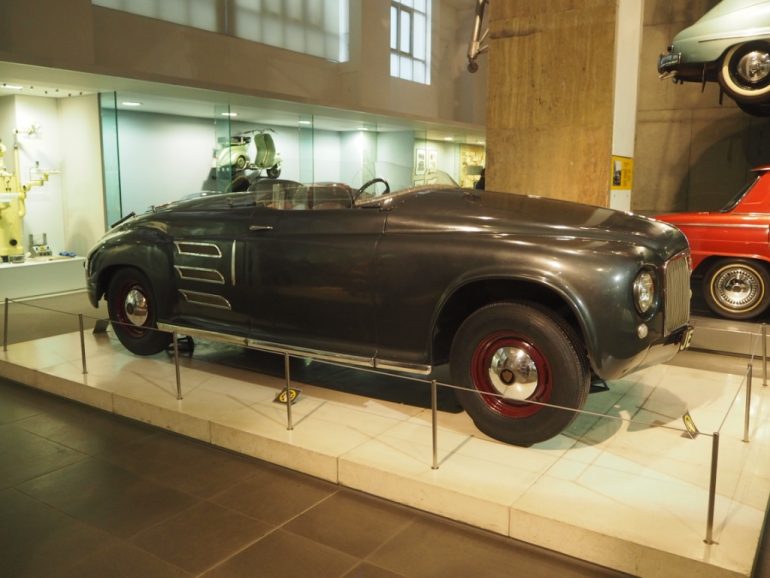 Science Museum, London: Rover Gas Turbine Car JET 1, 1950. Photo Credit: © Ursula Petula Barzey.
London also looks to the future with the new Tesla electric car showrooms on the Hogarth Roundabout in Chiswick. The building was previously The Classic Car Garage, but is now the largest electric vehicle shop in Europe. Petrolheads going west, can marvel at the latest electric technology and mourn the loss of the Bristol Cars workshop round the corner. Whilst there, wonder at the Hogarth flyover, a giant Meccano construction, that was built as a temporary traffic solution in 1971. It is still in use today and provides motorists with a brief, free, white-knuckle ride coming into town.
The most famous motoring event in London is the annual London to Brighton veteran car run. Please note it is not a race but a run, celebrating the repeal of the Act of Parliament requiring a pedestrian to walk in front of a motor car waving a red flag! 58 horseless carriages assembled on November 14th 1896, to drive to Brighton. Thirty years later there was a re-enactment of the event, that proved so popular it has been run annually ever since. It is now the largest free motoring event in the world, with hundreds of pre 1905 vehicles and their drivers braving November weather to get to Brighton. Great viewing spots along the way include; the start in Hyde park at 7.15 am, Constitution Hill (with Buckingham Palace as a back drop) Westminster Bridge (with the Houses of Parliament in the background) and Brixton Hill, where the intrepid motorists meet their first incline, and for many passengers their first push. If all goes well, the front runners arrive in Brighton 3 hours later. If things don't go well, its back to those railway arches!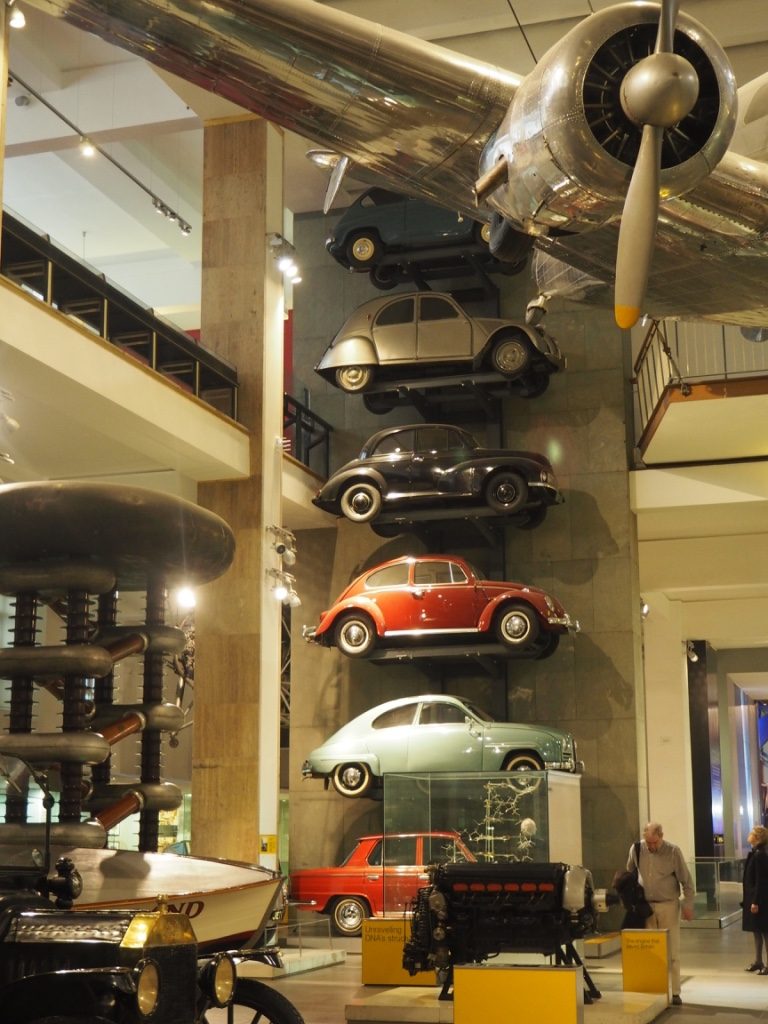 Science Museum, London: Design Diversity Popular Cars. Photo Credit: © Ursula Petula Barzey.