Antony Robbins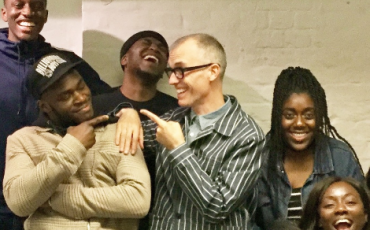 I'm Antony - aka Mr Londoner - writer, broadcaster and former director of  the Museum of  London.
Currently I run a series of bespoke webinars and virtual tours. Subjects can range from fashion to architecture, from London at war to how the city will emerge from the pandemic. Now lockdown has lifted, I'm running my 'Sustainable City' bicycle tours in a much calmer and more bike-friendly city. London has benefitted from a suite of new traffic-calming meaures in the past two years. The air is fresher, the streets are safer and there are fewer people about. The perfect way to discover the secret city  is on two wheels.
This is what people said about my tours, talks and broadcasts :
'Thank you so very much, Anthony, for your very kind words. I very much enjoyed meeting you and spending time with you. You are an extraordinary guide, and great person! I very much look forward to you being my guide in future travels. I will tell my friends who travel to London about your excellent tour services.' Sheri, New York City, October 2023.
'Antony is an exceptional tour guide who delivered engaging and insightful commentary that made the experience memorable for all as part of our team away day. Antony was also extremely honest and responsive about what would work for our tour size and chosen location which was appreciated to ensure we were able to get the most out of the experience. Would 100% recommend' Chloe Barnes, Freshfields, October 2023.
'Just a quick note to say a huge thanks for a wonderful afternoon at the Tower. We got just the right amount of informative historical context and engaging anecdotes.  A brilliant afternoon in great company!' Suzanne, UK, January 2023.
'We had the pleasure of joining Antony for two full days of touring through London; they were the best two days of our trip. Antony is knowledgeable, flexible, entertaining, and has a keen sense of humor. He covered all the essential sites and introduced us to hidden gems we would have missed along the way. We had limited time at the National Gallery, so he provided an in-depth tour of a few highlights--very memorable. He also helped us to avoid waiting in long lines by advising us to pre-purchase tickets and then helped us to enter the sites efficiently. We spent a half day in Bankside with Antony, where he showed us a fascinating and less "touristy" side of London. Touring with Antony is like walking around with a trusted friend. He's an expert, but he keeps the content fresh, exciting, and fun.' Ryan and Tim, USA, October 2022.
'I would like to extend a special word of thanks for our truly special expereince at the Churchill War Rooms. Our time with you will remain a highlight to our visit to London. You have an incredible breadth of knowledge adn are an absolute pleasure to be with.' Heidi, USA, October 2022.
'Thanks so much for your talk, the students really enjoyed it, each of them at their own level of understanding. They shared their comments after the zoom was over and they were all really positive'. Fera, France, September 2022.
'We had a really wonderful time and you are an outstanding guide and made us feel very comfortable (and informed).' Kendra, Philadelphia, July 2022.
'Just wanted to drop you a quick note to say a very big thank you for making my birthday surprises that bit more special. I cannot tell you how much I enjoyed ticking those history things off my bucket list. I shall now go back & watch some of my programs again now that I can relate to them better. I hope I get the privilege to enjoy your company once again at some point.' Chris, Norfolk, England, May 2022.
'We had such a wonderful time with Antony! I had an old friend visiting me in London who is a true history buff. I wanted to show her Westminster Abbey and the Tower of London with an expert who could really show us everything these sights have to offer. Antony was just what I was hoping for. He gave us an excellent tour filled with history and humour. He is obviously passionate about his work and dedicated to his clients. I will definitely ask Antony to show me and my guests around London in the future. Thanks again!'
Leslie, London, November 2021.
'Thank you so much. We really enjoyed it. Many thanks for such a lovely hour and a bit.' Fiona, London & Partners, October 2021.
'I just wanted to drop you a quick note to say a very big thank you for making my birthday surprises that bit more special. I cannot tell you how much I enjoyed ticking those history things off my bucket list. I shall now go back & watch some of my programs again now that I can relate to them better. I hope I get the privilege to enjoy your company once again at some point'. Christine, UK, October 2021.
'I wanted to say thank you so much for the presentation. I loved it so much from start to finish. Your presentation felt tailor-made for me. And it made me want to revisit London so badly, hopefully sometime in the not too distant future!'
Jane, University of British Columbia, September 2021.
'Thank you for a fabulous tour! We learned SO much from you! We will be in touch in the future as we have many guests coming over in the next six months.' Patty, London September 2021.
'Just a very quick note to say the talk you presented, via Zoom, to our society in August was discussed at our committee meeting this morning.  We decided that you should be given feedback as well and I am pleased to say you were given 'an excellent'!. The committee, and members, decided they had really been given an insight into street art and will be looking at it with new eyes.' Jane, Arts Society Ashtead, UK, August 2021.
'Antony, aka Mr Londoner, took both my wife and I on two tours, on two separate days, whilst in London. The first was of the Tower of London where Antony explained the details and history of The Tower tailoring the tour to the particular points of interest that we both had. The second was of Hampton Court Palace. Again Antony's knowledge was second to none. He took us all round the palace explaining the history of the Palace as well as the architecture, and other points of interest that we would never have learnt, or found, if we had been on our own. In short Antony is highly knowledgeable, engaging, and affable bringing to life the history of both venues in a really friendly manner; no wonder he has the title Mr Londoner!'
Will, Norfolk, UK, August 2021.
'I loved your lecture. I learned much and thoroughly enjoyed your presentation.' Joyce, August 2021.
'I went on Mr Londoner's virtual tour of lockdown London and was genuinely impressed. Antony was exceptional and was able to show a different side of London that I didn't think was possible through a camera. I would highly recommend this to anyone who wanted to see London from the comfort of their own home. I'm looking forward to going on more virtual trips around the world.' Jena, June 2020.
'Antony Robbins is the coolest man on the planet.' David Grant MBE, BBC Radio London Saturday Breakfast Show, May 2020.
'Antony was so engaging. He loves his subject and being a local lad there wasn't much he did not know.' Frank, London, Feb 2020.
'I wanted to thank you for the time, dedication and great radio you have helped produce over the last few years as contributors on the Saturday Breakfast Show.' Jamie, BBC Radio London, Jan 2020.
'The best London tour guide.' Kim, Louisianna, Oct 2019.
'Antony Robbins seems to float through the city with a dazzling and contagious energy as if the music of the streets itself was pulling him along.'Alison, Travel and Leisure magazine, USA. July 2019.
'Thank you for such a truly memorable day. I just finished a brief review of my trip and I praised you without reservation.' Richard, Texas, June 2019.
'You were our first guide and you were just delightful. Thank you for taking the time and interest in our students - tomorrow's future.' Gail, Florida State University.
'Amusing, informative and accessible. Antony managed a mixed bag of Brits, Aussies, Germans and Italians. His good humour and energy were infectious. His knowledge of this city is equally infectious. Can't wait to go on another of his tours.' Richard, London.
'The client just texted to say they had an amazing time. You set the bar high for the rest of the trip.' Alec, London tour operator, April 2020.
'Fabulous tour. Antony was superb, entertaining, full of knowledge and a great tour guide. Thank you.' Caroline, London, April 2020.
'Antony's an amazing, knowledgeable and enthusiastic person, sharing astonishing stories. Unforgetable experience. Antony added a touch of brilliant London humour to the city's history.' Luiz, London. March 2020.
-----------------------------------------------------------
I'm Antony, AKA Mr Londoner. I'm a writer, broadcaster and former director of the Museum of London.
Since going freelance in 2017, I combine my love of guiding with my career as a writer and broadcaster. I provide guiding, PR, branding and research services. I also offer personal shopping services working with some of London's best stores and independent retailers. Find me on Twitter and Instagram @meetmrlondoner.
I also enjoy a regular slot on BBC Radio London to discuss the capital's latest cultural offerings.
While director of communications at the Museum of London (from 2009 to 2017) I re-branded what was then a tired and overlooked visitor attraction into something more contemporary, connected and relevant to the lives of modern Londoners.
My top tours:
I love guiding in the major sites - the ones on many people's bucket list. I lead tours in London's top visitor attractions, including Westminster Abbey; Tower of London; St Paul's Cathedral and the British Museum. As a museum professional I'm uniquely placed to provide unique insights into the work of London's leading museums and galleries. My favourites includes: Cabinet War Rooms; Museum of London; Tate Galleries; Victoria and Albert Museum; Science Museum; Wallace Collection; Soane Museum; Pitzhanger Manor; Imperial War Museum; Maritime Museum; National Army Museum; Soane Museum; Jewish Museum and the RAF Museum.
Opening up secret London is my greatest passion and I'm also the one and only guide for Londonist.com, which explores lost London and the hidden city, showcasing the very best of the contemporary metropolis.
My exclusive Londonist tours - see the reviews here: http://bit.ly/2GeXeTE - open doors and offer a sideways take on the capital. They explore the secret histories of Soho (in 'Sex, Death and Shopping') and Bankside (in 'the Liberty of the Clink').
Virtual tours. Virtual tours are increasingly popular. Using Zoom Professional, I can deliver a walking tour to private groups - from families and friends to companies and universities. Thes can all be enjoyed from the comfort and safety of your living room wherever it is in the world. And I can focus on a neighourhood of your choice. I am now working with Netadventures.tv. This new company delivers broadcast qualitylive tours from the streets of London, using only fully-qualified Blue Badge guides. I can also run virtual tours for families, groups and businesses, depending on your needs.
Subjects can also cover wider areas,cutting across geographic boundaries.This might include fashion; WW2 or the life of Winston Churchill. Increasingly, I'm asked to help people trace their UK ancestry. I can run a practical talk on that topic too.
My specialisms include:- 'Secret History' tours of Mayfair and the West End, Soho and China Town, Bankside and the South Bank, Covent Garden and Seven Dials, Bloomsbury, the City of London; Shoreditch and Hoxton;
- 'Churchill in Four Hats' - Winston Churchill's London ... with a special sartorial focus as befits this most unlikely of global 20th century style icons;
- 'Menswear and Making' - exploring tailoring and shoemaking,  ceramics and jewelmaking and prinmakers and artists);
- 'London at War' - both the world wars transformed our city. Join me to discover how London was shaped by conflict;  -'Greening the City' - the sustainable metropolis;
- 'Sounds and the City' - London in music - from Handel to Hendrix - from punk to rock and roll - from the Beatles to the Belle Stars;- 'Transforming the Museum' - the role of a modern museum in a changing world .
Broadcasting:
I enjoy a regular slot discussing London's cultural offer past and present - from punk rock to Harry Potter - on BBC Radio London's Saturday Breakfast Show and on the Vanessa Feltz Show, where I'm a regular contributor. I'm often invited as a spokesperson by other media outlets.
London placemaking:
In addition to guiding I'm a branding consultant and writer. My current focus is on what I like to call London placemaking. I help some of the capital's most vibrant neighbourhoods promote their offer, sharpen their messages and drive footfall. Much of this recent work has focussed on Soho in London's West End and at Bankside, a vibrant and historic neighbourhood just over the River.
Current clients and partners:
BBC Radio London; National Theatre; Bankside Hotel; Native Hotels; University of the Arts London; Goldsmiths College; Better Bankside; Museum of Soho; Shaftesbury PLC; Sister PR; Cheaney Shoes; Hearst Publishing; China Exchange; Kaplan College; University of East London; Joy Everley jewellers; MC Overalls; Joseph; Peckham Rye Tailors; The Good Life (adult learning centre); and London Tailored Tours.
Family trees. Migration and genealogy and helping people trace their ancestry to build a family tree is another specialism.
Gardening. I'm a keen gardener and I love London's green spaces. Join me on a tour of the formal gardens at Hampton Court or pop round the front of this grand papace and see its majestic walled kitchen gardens instead.
Kew Gardens is one of London's four UNESCO World heritage centres and a great place to spend all day. London is a city with lungs. It has many other green spaces from parks and the grounds of historic properties to a growing number of nature reserves and protected wetlands. I love the special spaces in between. Natural beauty can be found in the most surprising places in the Metropolis.
Folkore. London is a City based on folklore. Gog and Magog are Old Testament figures later celebrated in the City of London. The City has many unusual folkore traditions from Swan Upping to replacing the quill feather on the effigy of John Stow in the Chuch of Mary's Undershaft. Join me to find out more.
The Crossbones Graveyard in Bankside is a medieval burial ground built on unconsecrated ground. But it's also an example of 20th century folklore. It's the shrine to the outcast dead. Here counter-culture poets, writers, DJs, outsiders and local people are remembered in a candlelit vigal on the 23rd of every month.
London is full of ghosts and ghosts stories. Join me to explore the ghosts of Clerkenwell - the sensational Cock Lane ghost of the 17th century was a major news event, eventually involving the intestes of high-society and even Royalty. Rahere was a medieval politician, apothecary, court jester and mover-and-shaker. He founded St Bartholomew's Hospital. He is buried in St Bartholomew the Great and, legend has it, that his ghost re-appears every July.
London's art galleries are wonderful. Join me to explore the national art collection at the National Gallery, where we can discover Italian and Northern European Renaissance masters including Paolo Ucello, Leonardo da Vinci , Titian and Sandro Boteccelli. The Gallery also houses the work of early Impressionists, like Seurat and Manet and the work of great British artists like JWM Turner, John Constable and George Stubbs. Van Gogh's famous 'Sunflowers' can be seen here as well as 'The Ambassadors' by Hans Holbein. All this wonderful art can be viewed for free.
The Tate Modern runs an ever-changing programme of exhibitions in the former Bankside Power Station. Tate Britain, on the other side of the river, houses British art and includes may works by William Blake. It also houses the Turner Bequest. The Briish Museum is the world's oldest, Come here to see the Rosetta Stone, the Elgin Marbles and the mummies of Ancient Egypt.
Bicycle tours. Since the pandemic Mr Londoner's cycle tours have become especially popular. I have three Brompton bicycles of my own and work with London's best bike hire company to help get my guests on to two wheels. New segregated cycle lanes and low-traffic neighbourhoods have been a game-changer. Bike tours have becamse much easier as London's bicycle infrastructure has improved to create a safer and more pleasant cycling environment.
London is a brilliantly diverse city. LGBTQ people from across the globe have changed the way we think about our city. Events like Pride have become a regular part of the calendar - and are enjoyed by all, gay or straight. Join me to see Maggie Hambling's memorial to Oscar Wilde or perhaps we could head to to Bankside, where the Drag Queen was invented on the Elizabethan stage. A night in the Vauxhall Tavern - London's most famous gay pub - is always fun. It runs a programme of plays, events and talks too.  My friends, the brilliant performers who comprise 'Duckie', often tread the boards at the Vauxhall Tavern.
I love the UK's stately homes and write about them regularly. London has some treats. They include Kenwood House and Kenton House in North London. Outside London, we could visit Leeds Castle, with its history of American connections going back centuries. Another favourite is the country home of Sir Winston Churchill, Chartwell. Also popular with my guests is Blenheim Palace, where Churchill was born. Hampton Court Palace is my personal favourite. It tells a dramatic tale of Tudor and Stuart England. It's right on the river, just outside London, and blissfully free of the crowds.
The Capital has some fantastic decorative arts collections. The V&A Museum is the largest collection of design in the world. It's full of glorious textiles; ceramics; paintings, prints and drawings; sculpture and more. It's also home to the world's most important fashion collections. London is a city of makers. We can discover gold and silversmiths at work, as well as jewllers and textile designers. William Morris was a leading light of the arts and crafts movement. He has left his footprint in all of London's four corners. See his former home, the Red House, in Bexleyheath or head over to north London to see the museum dedicated to his memory in Walthamstow.
If you want to own a piece of unique design, I can introduce you to the delights of the Conran Shop or the Aram Store. Each of these high-end retailers sells the work of established designers as well as up-coming talents.
With my London Blue Badge, I can also lead tours outside the city, as day trips out of Capital. The top attractions include Windsor Castle; Stonehenge; Canterbury; Winston Churchill's home at Chartwell; Stratford-Upon-Avon and Salisbury.
The pandemic has changed the way we think and live. It has put a spotlight on mental health and also on the environment. In London, the 33 boroughs that make up Greater London have made their own responses to the crisis in our environment, to global warming, to pollution and improving air-quality. Thsi has ranged from creating school streets and low-traffoc neighbourhoods to tree planting and r I now run post-pandemic cycle tours to re-wilding public spaces. Join me to explore how London is responding to the key issue of our days - and how this compares with efforts in other cities, like New York, Paris and Amsterdam.
The UK is an incredidly diverse nation and London is one of the most diverse cities in the world. I've recently run a series of tours around the lives of some of the earliest black Britain's in Miranda Kauffman's 2017 book 'Black Tudors'. People of colour have shaped every aspect of British life, especially in the fields of literature, politics, fashion, sport and music. Jimi Hendrix lived and died in London and his story is incredible. Join me to explore the Mayfair home he shared with his English girlfriend Kathy Etchingham, and his former stomping grounds in Soho.
But let's bring the story up to date. I can also introduce you to the founders of some brilliant black businesses like Janet's List, which sells artisan products made by women of colour and Shaun Gordon - a wonderfully talented tie maker. Shaun's also the most elegant man in London.
One of the most frequently requested of my tours is of the City of London. This is our financial district and the original Londinium, established by the Romans, following their arrival in 47AD. The City of London - called the Square Mile by Londoners - is full of surprises. This financial powerhouse is home to banking, insurance and fin-tech. It's also famous for ancient churches, glorious architecture and its 'pocket parks'. These may be tiny but they're havens for flora and fauna. The City is proud, and fiercely protective, of its traditions, its independence, its Lord Moyor and its very own police force.
Bond is back - finally - and James Bond is an icon on style. James Bond's London is a fascinating place to discover. With Daniel Craig's final mission as 007 in 'No Time to Die', we take a fresh look at the London locations of the Bond films from the 1960s to the present day.
My tours explore the places frequented by Bond author Ian Fleming and that inspired his writing. Then we look at the actual film locations. These range rom the very earliest Bond movies, including 'Dr No', to later offerings, such as 'Spectre'. My tours also explore the world of other spies, both real and fictional.
We can discover the grim and gritty 1960s London of Michael Caine's Harry Palmer in the Ipcress File. Or, how about  the Fab Soho of Austin Powers in 'Goldmember' and the 'Spy who Shagged Me'?Bond, Harry Palmer and Austin Powers have all inspired a fashion moment so we explore the link between menswear, fashion and espionage, to bring our story full-circle.
Finally, I run a series of free Soho Music Month tours for my client, the Soho landlord Shaftesbury PLC. The tours celebrate Soho's musical heritage from Beethoven to Bowie.
Top 5 Specialities
London Street Art Tour
The City of London Tour
London East End Tour
Tate Modern Tour
Churchill War Rooms Tour
Guide Calendar
Last Update: 6th of December, 2023
December 2023
MON
TUE
WED
THU
FRI
SAT
SUN

AM

PM

EVE

1

2

3

AM

PM

EVE

4

5

6

7

8

9

10

AM

PM

EVE

11

12

13

14

15

16

17

AM

PM

EVE

18

19

20

21

22

23

24

AM

PM

EVE

25

26

27

28

29

30

31
January 2024
MON
TUE
WED
THU
FRI
SAT
SUN

AM

PM

EVE

1

2

3

4

5

6

7

AM

PM

EVE

8

9

10

11

12

13

14

AM

PM

EVE

15

16

17

18

19

20

21

AM

PM

EVE

22

23

24

25

26

27

28

AM

PM

EVE

29

30

31
February 2024
MON
TUE
WED
THU
FRI
SAT
SUN

AM

PM

EVE

1

2

3

4

AM

PM

EVE

5

6

7

8

9

10

11

AM

PM

EVE

12

13

14

15

16

17

18

AM

PM

EVE

19

20

21

22

23

24

25

AM

PM

EVE

26

27

28

29
March 2024
MON
TUE
WED
THU
FRI
SAT
SUN

AM

PM

EVE

1

2

3

AM

PM

EVE

4

5

6

7

8

9

10

AM

PM

EVE

11

12

13

14

15

16

17

AM

PM

EVE

18

19

20

21

22

23

24

AM

PM

EVE

25

26

27

28

29

30

31
April 2024
MON
TUE
WED
THU
FRI
SAT
SUN

AM

PM

EVE

1

2

3

4

5

6

7

AM

PM

EVE

8

9

10

11

12

13

14

AM

PM

EVE

15

16

17

18

19

20

21

AM

PM

EVE

22

23

24

25

26

27

28

AM

PM

EVE

29

30
May 2024
MON
TUE
WED
THU
FRI
SAT
SUN

AM

PM

EVE

1

2

3

4

5

AM

PM

EVE

6

7

8

9

10

11

12

AM

PM

EVE

13

14

15

16

17

18

19

AM

PM

EVE

20

21

22

23

24

25

26

AM

PM

EVE

27

28

29

30

31
June 2024
MON
TUE
WED
THU
FRI
SAT
SUN

AM

PM

EVE

1

2

AM

PM

EVE

3

4

5

6

7

8

9

AM

PM

EVE

10

11

12

13

14

15

16

AM

PM

EVE

17

18

19

20

21

22

23

AM

PM

EVE

24

25

26

27

28

29

30
July 2024
MON
TUE
WED
THU
FRI
SAT
SUN

AM

PM

EVE

1

2

3

4

5

6

7

AM

PM

EVE

8

9

10

11

12

13

14

AM

PM

EVE

15

16

17

18

19

20

21

AM

PM

EVE

22

23

24

25

26

27

28

AM

PM

EVE

29

30

31
August 2024
MON
TUE
WED
THU
FRI
SAT
SUN

AM

PM

EVE

1

2

3

4

AM

PM

EVE

5

6

7

8

9

10

11

AM

PM

EVE

12

13

14

15

16

17

18

AM

PM

EVE

19

20

21

22

23

24

25

AM

PM

EVE

26

27

28

29

30

31
September 2024
MON
TUE
WED
THU
FRI
SAT
SUN

AM

PM

EVE

1

AM

PM

EVE

2

3

4

5

6

7

8

AM

PM

EVE

9

10

11

12

13

14

15

AM

PM

EVE

16

17

18

19

20

21

22

AM

PM

EVE

23

24

25

26

27

28

29

AM

PM

EVE

30
October 2024
MON
TUE
WED
THU
FRI
SAT
SUN

AM

PM

EVE

1

2

3

4

5

6

AM

PM

EVE

7

8

9

10

11

12

13

AM

PM

EVE

14

15

16

17

18

19

20

AM

PM

EVE

21

22

23

24

25

26

27

AM

PM

EVE

28

29

30

31
November 2024
MON
TUE
WED
THU
FRI
SAT
SUN

AM

PM

EVE

1

2

3

AM

PM

EVE

4

5

6

7

8

9

10

AM

PM

EVE

11

12

13

14

15

16

17

AM

PM

EVE

18

19

20

21

22

23

24

AM

PM

EVE

25

26

27

28

29

30
Green

means Guide is available,

Red

means Guide is unavailable
Simply put your name and email address in the form below, together with a brief message for the Guide, and hit the green 'Send' button. The Guide concerned will then reply as quickly as possible to discuss your requirements.