To put it mildly, attitudes towards witches and sorcerers in the Elizabethan period were confusing and often contradictory. While Bloody Mary (reigned 1553 – 1558) was vicious in her treatment of witches, Elizabeth I (1558 – 1603) had a more ambivalent relationship to this subject. After all her mother, Anne Boleyn had been accused of being a witch because of a malformation of her left hand, which appeared in the form of an extra finger. Elizabeth, as a strong female ruler, may not have been happy about hunting down the fair sex, therefore, and accusing those who might be innocent of any crime.
Despite this, Mary I and Elizabeth I found reasons to call on the services of sorcerer Dr John Dee (1527 – 1608). Dee was a fascinating character and not what we might think of as a sorcerer today; he is best described as a mathematician, navigator, astrologer and magician/showman. Dee studied at Cambridge, attaining a bachelor's degree in 1545 at St John's College, and after being made a fellow of Trinity College on its founding in 1546, a master's in 1548. So revered was Dee that he was offered the professorship of mathematics at Paris and Oxford, which he turned down in favour of an official position at court.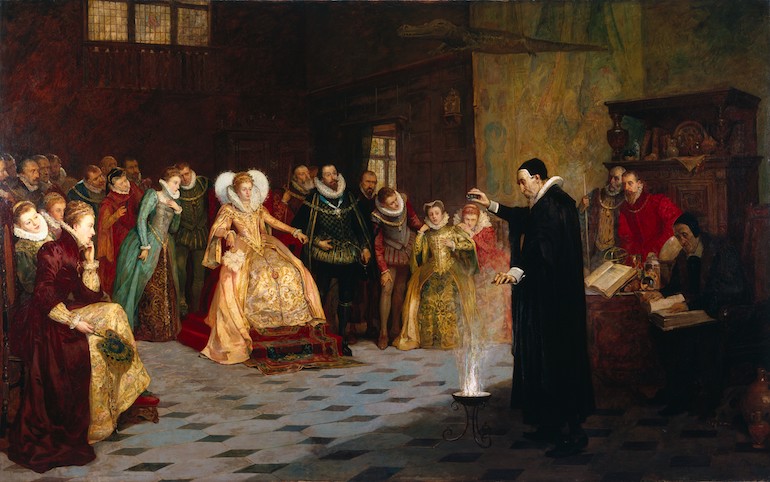 Painting of John Dee performing an experiment before Queen Elizabeth I. Photo Credit: © Wellcome Library Gallery via Wikimedia Commons.
During Mary's reign, he served as consultant and astrologer, but this latter role ended with him being thrown in jail on charges of being a conjurer, although he was soon released. Following the ascent of Elizabeth in 1558, Dee became a scientific and medical advisor to the Queen. He advised courtiers and navigators and was an expert on Euclid, the ancient Greek mathematician and father of geometry. Perhaps in the search to understand the world, people such as Dee resorted to sorcery and divination when things could not be explained by science. However, he believed his greatest achievement was communicating with angels through the medium Edward Kelly, who was later imprisoned for fraud.
At the British Museum, there are a number of objects associated with Dee, including his manuscripts, which ended up in the hands of Sir Robert Cotton (1571 – 1631). From these surviving accounts, the divinations were theatrical with costumed angels and props. The angels would see things in Dee's "Shew Stones", translucent objects set on wax discs, also exhibited at the British Museum. One of these discs is the "Sigillum Dei" or "Seal of God", on which are etched occult symbols. The crystal sphere in the museum was claimed to be the one given to Dee by God through a medium on 21 November 1582, although that is now thought to be another from Dee's collection.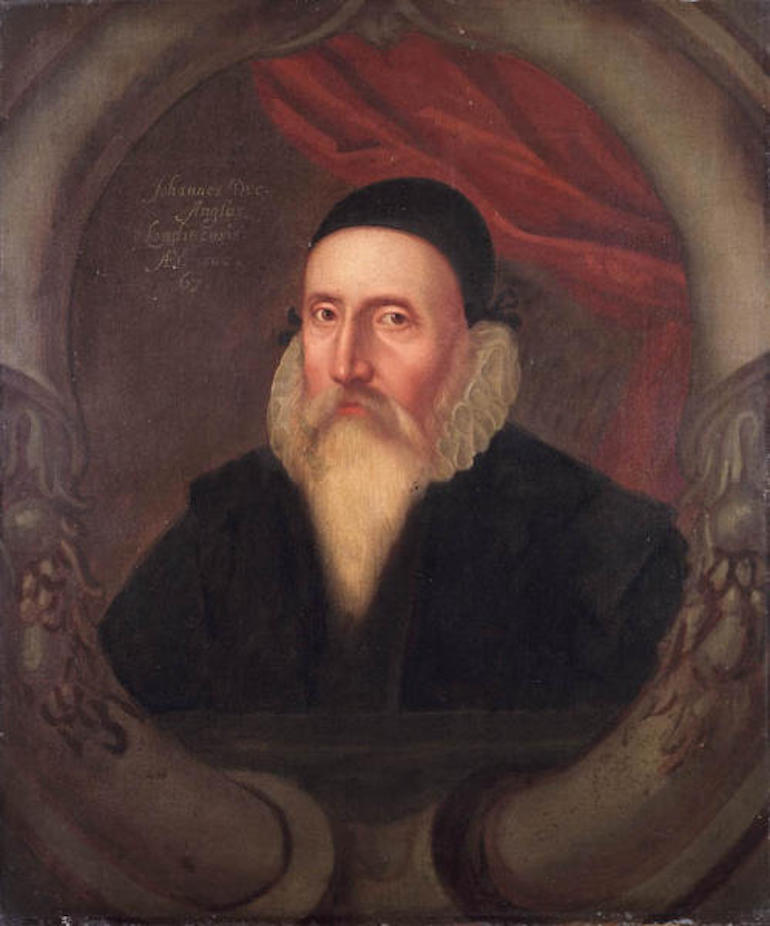 Painting of John Dee, the pre-eminent magician of the Elizabethan age. Photo Credit: © Public Domain via Wikimedia Commons.
One of Dee's shew-stones is a mirror made from obsidian, a volcanic rock from Mexico. Its black, translucent sheen is obtained by rubbing it with bat droppings. The bats only partially digested the insects they ate, so the skeletons in their faeces were abrasive enough to use as a fabulous polish! Dee probably wasn't aware of this fact. In Mexico, the mirrors were also used for divination and were associated with their god Tezcatlipoca, which means "Smoking Mirror". It was one of the many objects brought to Europe after the conquest of Mexico by the Spanish between 1527 and 1530.
Dee and Kelly held many seances in England and on the Continent, travelling mainly to Poland and Bohemia (now the Czech Republic). The gold disc in the British Museum is engraved with the Vision of Four Castles, experienced during one of Dee's experiments in Krakow in 1584.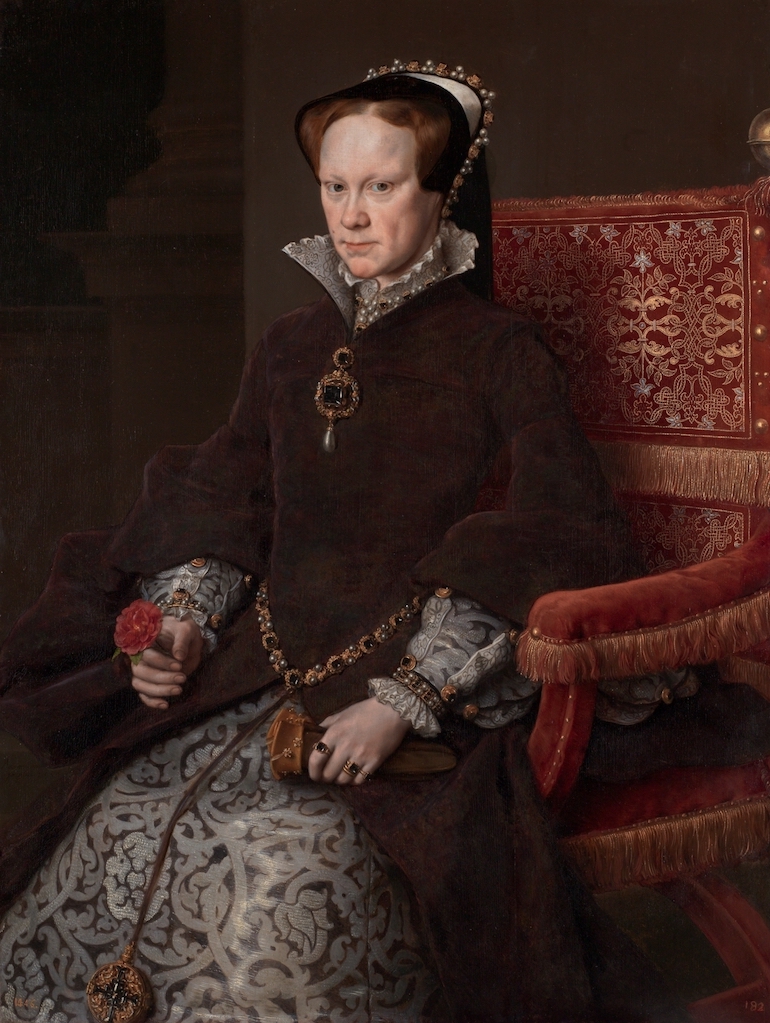 Painting of Mary I also known as Mary Tudor. Photo Credit: © Public Domain via Wikimedia Commons.
Dee lived in Mortlake, near Richmond, where Queen Elizabeth I visited him and consulted him on which day would be most auspicious for her coronation and other astrological matters. In 1595 Elizabeth made him warden of Christ's College, Manchester, better known today as Manchester Cathedral. However, when James I (VI of Scotland) came to power in 1603, he abhorred all ideas of magic and divination, and Dee fell out of favour. It seems most of Dee's family were lost to the plague in 1605. He returned from Manchester to Mortlake with his only surviving daughter, who looked after him in his old age. His final years were spent in poverty, his famous library divided up and his possessions sold.
James's opposition to witchcraft was relentless. It was believed that witches or sorcerers meddled with the winds and created storms (as in The Tempest and the witches in Macbeth cackling "In thunder, lightning, or in rain?"). When James was due to marry Anne of Denmark (sister of Christian IV), a storm prevented her from getting to Scotland. Six supposed Danish witches were tried and executed on charges of witchcraft and treason. James was faced with further terrible storms when he personally sailed to fetch her, and a similar witch trial was held. Agnes Sampson was tried in November 1590 and confessed when tortured, admitting she had brewed up the tempests by binding the joints of a man's corpse to a cat and casting them into the port of Leith.
The Darnley Portrait of Elizabeth I of England. Photo Credit: © Public Domain via Wikimedia Common.
The torture might have involved the "pilne-winks" (thumb screws) or the "caspie-claws" (a form of leg irons, heated over a brazier). In 1542 witchcraft was prohibited and another act was brought in against conjuring and witchcraft in 1562. But, generally, witches were punished by being put in prison or in the pillory. They were executed only if they killed someone. Some disagreed with punishing these women. Reginald Scot wrote "The Discoverie of Witchcraft" in 1584, a direct attack on witchcraft persecutions. James I had this book banned during his reign, and the King himself had written "Daemonologie" in 1597 against Reginald's publication.
Finally, just to drive the hypocrisy further, Elizabeth I, though she sought a diviner in Dee, punished others for practising the same crafts. If you go to the Salt Tower at the Tower of London, you will come across some of the most incredible graffiti of the age. There is a detailed zodiacal diagram on the wall with the words "Hew Draper of Brystow made this spheere the 30 day of May anno 1561." Hew was an innkeeper in Bristol who had been dabbling in the dark arts. A simple man, not highly educated, he had taken it on himself to study astronomy and the stars in terms of divination. He also carved an astrological globe into the wall. These must have been learnt from his books on sorcery, which he claimed to have given up when he was imprisoned. Plastering evidence of his love of the occult on the walls can't have helped his cause much – but a mystery remains, as we have no idea what happened to him. Maybe it's best to leave it at the magical thought that he may have spirited himself away.