There is no better time to visit the Queen Elizabeth Olympic Park than spring or summer. Since the Park reopened it has since welcomed millions of visitors. It covers 560 acres and people visiting can enjoy the beautiful parklands, idyllic riverside lawns, giant climbing wall, and intricate fountains.
The most diversely landscaped park in London, it is the first public park to be laid out for almost 100 years. The flower-filled meadows experienced by visitors during the 2012 Olympic Games have now been replaced by pleasure gardens created by some of the world's leading garden designers. A giant fountain with 195 individual computer-controlled jets is a huge attraction, drawing-in not only children but adults too. See it and try to avoid getting soaked!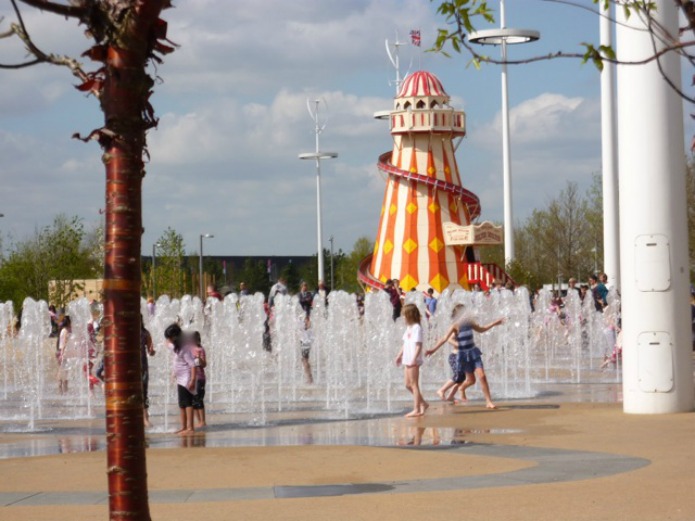 Queen Elizabeth Olympic Park: Children enjoying the interactive water fountain and action-packed adventure playground. Photo: ©Pamela McHutchon.
Bored with the gardens? Why not zoom to the top of the UK's tallest sculpture, the ArcelorMittal Orbit. From up high, take in stunning views of the Olympic Stadium, now transformed as the home of West Ham FC, the Aquatics Centre, the wonderful creation of architect Zaha Hadid, and the "Pringle" aka the Velodrome. Or cast your eyes further afield and try to spot as many of London's landmarks as you can from 114 meters high.
Feeling sporty? Book a ticket for a swimming session at the Aquatics Centre and pretend you are giving Michael Phelps a run for his money. Or book a taster session at the Velodrome and discover whether there is a toilet in the building named after Sir Chris Hoy.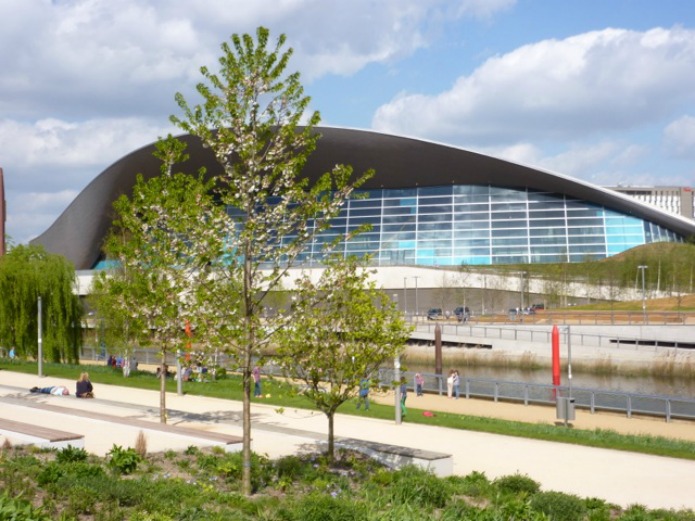 In 2012, the spectacular London Aquatics Centre, designed by architect Zaha Hadid, provided the breathtaking backdrop to countless world records. Photo: ©Pamela McHutchon.
Want some exercise but want to be entertained too? There is no better way to explore the Park and discover its history than a walking tour with a London Blue Badge Tourist Guide. Hear about the history of the area, ideas for regeneration and all the future plans and legacy for the Park. Relive the memories of the London 2012 Olympic and Paralympic Games and discover little-known stories and fascinating facts and figures. See how far gold medal winner Greg Rutherford had to jump and try to match his record.  You can book a private guide by contacting the Queen Elizabeth Olympic Park Guided Tours website.
There are also guided tours with a theme and customised tours. The themed tours are Landscape and Gardens, Art and Sculpture, Architecture and Design and Sports and London's Olympic Story. Queen Elizabeth Olympic Park is a fantastic new destination and proof that careful planning can create world-class facilities and a lasting legacy. Come and experience it on a guided Park Walk led by a Blue Badge Tourist Guide.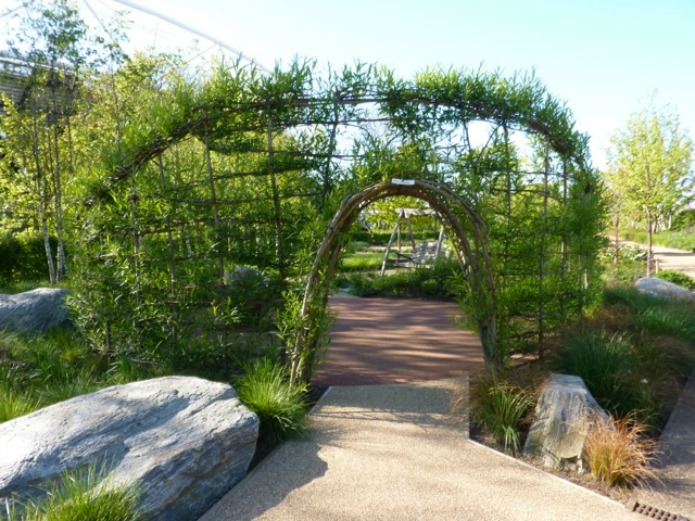 Queen Elizabeth Olympic Park: Part of the extensive gardens – from idyllic riverside lawns and wetlands teeming with wildlife to giant climbing walls and intricate fountains. Photo: ©Pamela McHutchon.
Note: Originally published April 2015, this post was updated in January 2020.