Westminster Abbey has over 3,000 burials and memorials within its precincts, commemorating royalty, poets, scientists, politicians, musicians and more. Booking a Westminster Abbey Tour with a Blue Badge Tourist Guide is a great way to learn about some fascinating features in the church that may go unnoticed by most visitors.
One such example is a monument on the south side of the nave that will have particular significance for American history buffs. Designed by Robert Adam, a renowned Scottish architect, and interior designer, and paid for by King George III, this monument commemorates a British officer, Major John Andre, who was executed in New York state in October 1780.
Who Is Major John Andre
Now you may not have heard of John Andre. But many Americans will be familiar with the man he conspired with – a man whose name is practically synonymous in the US with the word traitor: Benedict Arnold. Read on to learn about Andre's involvement with Arnold, what happened to both men and how Andre came to be buried in Westminster Abbey.
Born to French parents in 1751, John Andre was educated in Europe and in 1771 was commissioned as an officer into the British Army. He was soon posted to the American colonies. Shortly after the outbreak of the American War of Independence in 1775, Andre was captured by the Continental Army, but released in 1776 as part of a prisoner exchange.
While in captivity, Andre had managed to make detailed plans of the American defences, and this brought him to the attention of the British commanders. By 1779, he was Adjutant General, the senior administrative officer of the British Army, with the rank of Major. He was also put in charge of the British spy network in North America, and it was in this role that he made his mark on history.
Major Andre started negotiations with US General Benedict Arnold, initially corresponding via Arnold's wife, Peggy Shippen, who had remained loyal to the British. By 1780, Arnold was the commander of West Point, a vital fort built on George Washington's orders on a high plateau with a wide view of the Hudson River.
The upshot of the exchange of letters was that Arnold offered to surrender West Point to the British for £20,000. The loss of West Point would have been a major blow to the American cause, giving control of the Hudson to the British and cutting New England off from the other colonies.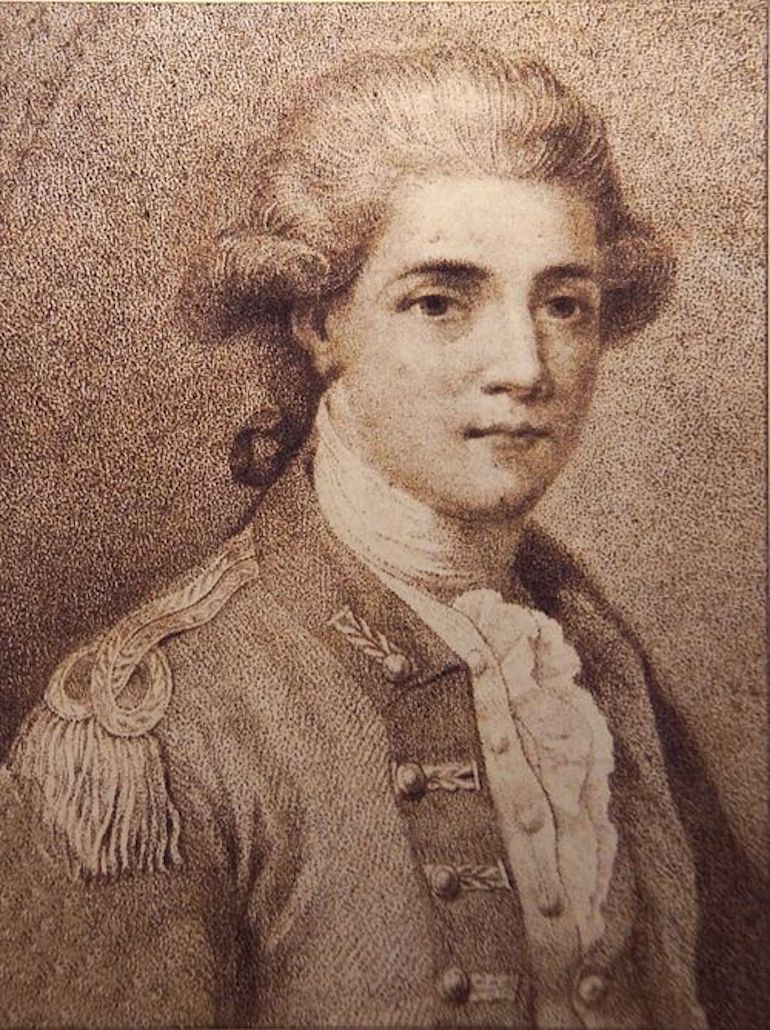 Major John Andre. Photo Credit: © Public Domain via Wikimedia Commons.
How Was Major John Andre Captured
In late September 1780, the magnificently named HMS Vulture sailed up the Hudson. At night a small boat rowed out to the Vulture and took Major Andre ashore, where he met Arnold, who had brought an extra horse with him. The two men then rode several miles to a house in West Haverstraw to finalise plans for the surrender. The house where they met, known in America as Treason House, was demolished in the 20th century.
Unfortunately for Major Andre, the next morning the Vulture was spotted by American troops. They fired on the ship, causing much damage and forcing the boat to retreat downriver, leaving Andre behind.
Benedict Arnold provided Andre with civilian clothes and a false passport, but he was intercepted by US militiamen the next morning. Despite Andre's attempt to bluff his way out the predicament, and then to bribe his captors with his horse and watch, he was arrested. They had found the plans of the West Point fortifications hidden in his stocking.
After Andre was apprehended, Arnold fled West Point. But no one had cause to suspect Arnold at this stage. In fact, when George Washington went to West Point after hearing of Andre's capture, he was annoyed that General Benedict Arnold hadn't followed protocol by coming to greet him! The Americans eventually realized that Arnold had escaped and got wise to his treachery. Orders were sent out for his arrest, but it was too late. Arnold had escaped to British lines.
Meanwhile, the Americans ruled that Andre should be considered a spy and executed. As an officer steeped in the British class system, Major John Andre appealed to George Washington to be shot by firing squad. This was the type of death considered suitable for a soldier and a gentleman. But Washington denied the request, and on Oct. 2, 1780, Andre was hanged at Tappan, New York, and buried beneath the gallows.
Major General Benedict Arnold black plaque in London. Photo Credit: © Mike Armitage.
Major John Andre Memorial at Westminster Abbey
Major John Andre's memorial in Westminster Abbey was erected in 1782. It consists of a sarcophagus with the figure of a mourning Britannia (the female personification of Britain) and a sad-looking lion on top. A relief on the front shows Washington receiving Andre's petition for death by firing squad, while Andre is led off for execution. A woman sits under a tree wringing her hands in sorrow.
Following a request from the Duke of York and Albany, the remains of Major John Andre were disinterred in 1821, brought to England and reburied near his memorial in Westminster Abbey. The wooden chest his bones were transported in is sometimes on display in Westminster Abbey's triforium.
As for Benedict Arnold, he was eventually commissioned into the British Army as a brigadier general, leading attacks against the Continental Army. George Washington issued orders for him to be summarily executed if captured, but Arnold managed to leave the United States shortly before the surrender of British General Charles Cornwallis at the Battle of Yorktown. After trying to set up a business in Canada, Arnold settled in London at the end of his life, where he died in June 1801.
Major John Arnold is buried in St. Mary's Church in Battersea, though the exact location of his grave has been lost over the years. There is a small plaque dedicated to Arnold attached to a house in Gloucester Place, Marylebone, where he died. It refers to him as an "American patriot" – not the description you might expect for one of the most disparaged figures in American history, but there you have it.
Major John Andre appears to have been less vilified. After all, he was doing his job as a British officer. Even George Washington himself wrote of Andre: "He was more unfortunate than criminal, an accomplished man, and a gallant officer."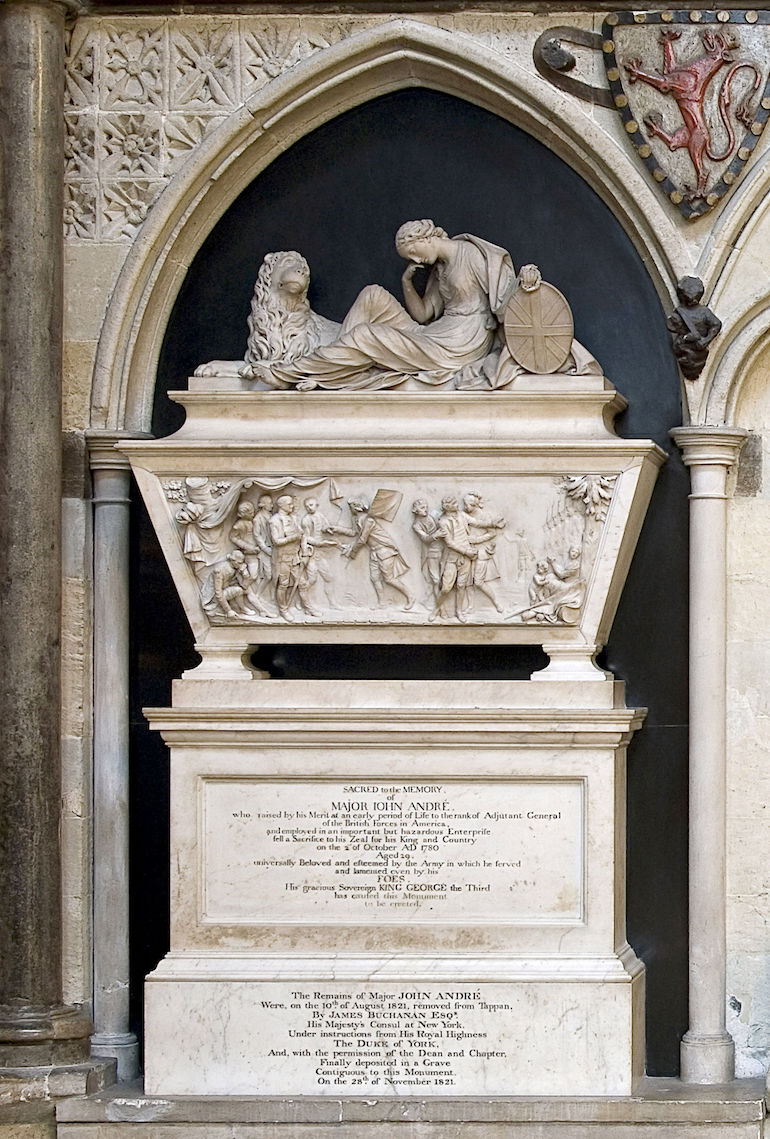 British Major John Andre monument at Westminster Abbey. Photo Credit: © Westminster Abbey.