The Cotswolds is a designated Area of Outstanding Natural Beauty in the west of England and is a popular place for tourists to visit. It is full of charming English towns and quaint villages built using honey-coloured stone. Driving through the traditional rolling English countryside is a treat in itself and is more enjoyable when accompanied by a Blue Badge Tourist Guide. Here are the top ten things I love about the Cotswolds.
1. The Porch House pub in Stow-on-the Wold can claim to be England's oldest pub as it dates back to 947 AD when it was a hospice (a place of rest and refreshment) attached to Evesham Abbey. Carbon dating has confirmed that some of the timbers date from this period. Still visible in the public rooms are 'witches' marks', which are signs meant to ward off spells. It now has a restaurant with welcoming log fires.
2. The word Cotswolds derives from two words: Cot meaning a sheep enclosure and Wold being a hill thus "sheep enclosures on the hills." A lot of the wealth in the area comes originally from the wool trade. Wealthy medieval wool merchants and farmers donated money heavily to local churches to ease their path to heaven; they were often referred to as "wool churches."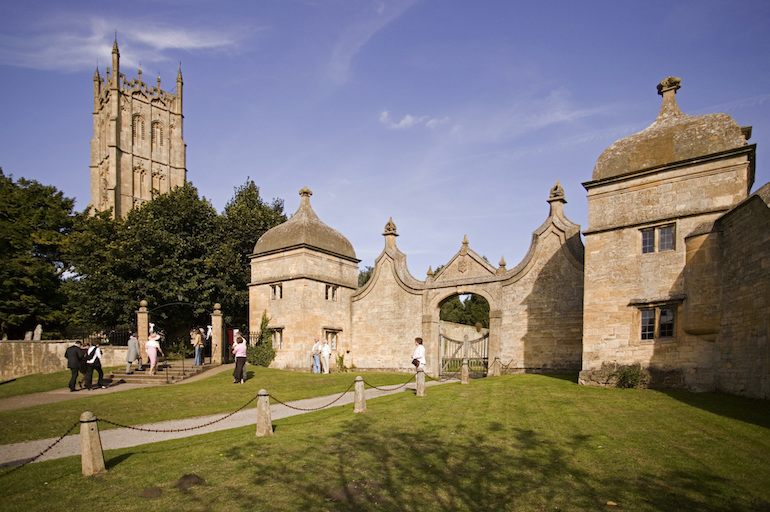 The Cotswolds: People in front of the Gatehouses of Old Campden House, with St James Church in the background. Photo Credit: © James Kerr via Visit England.
3. The Cotswolds stretch across 5 English counties: Gloucestershire, Oxfordshire, Warwickshire, Wiltshire and Worcestershire. It measures roughly 800 square miles, stretching southwest from near Stratford-upon-Avon to just south of the City of Bath.
4. In the mid-1600s the first and last battles of the English Civil Wars were fought in the Cotswolds at Edgehill and Worcester respectively. The Cotswolds were strategically important as the King Charles I had his headquarters at Oxford to the southeast and Oliver Cromwell had garrisons and sympathisers at cities to the west. Both leaders stayed in the Lygon Arms Inn in Broadway and you can still sleep in the same room that Cromwell used in 1651.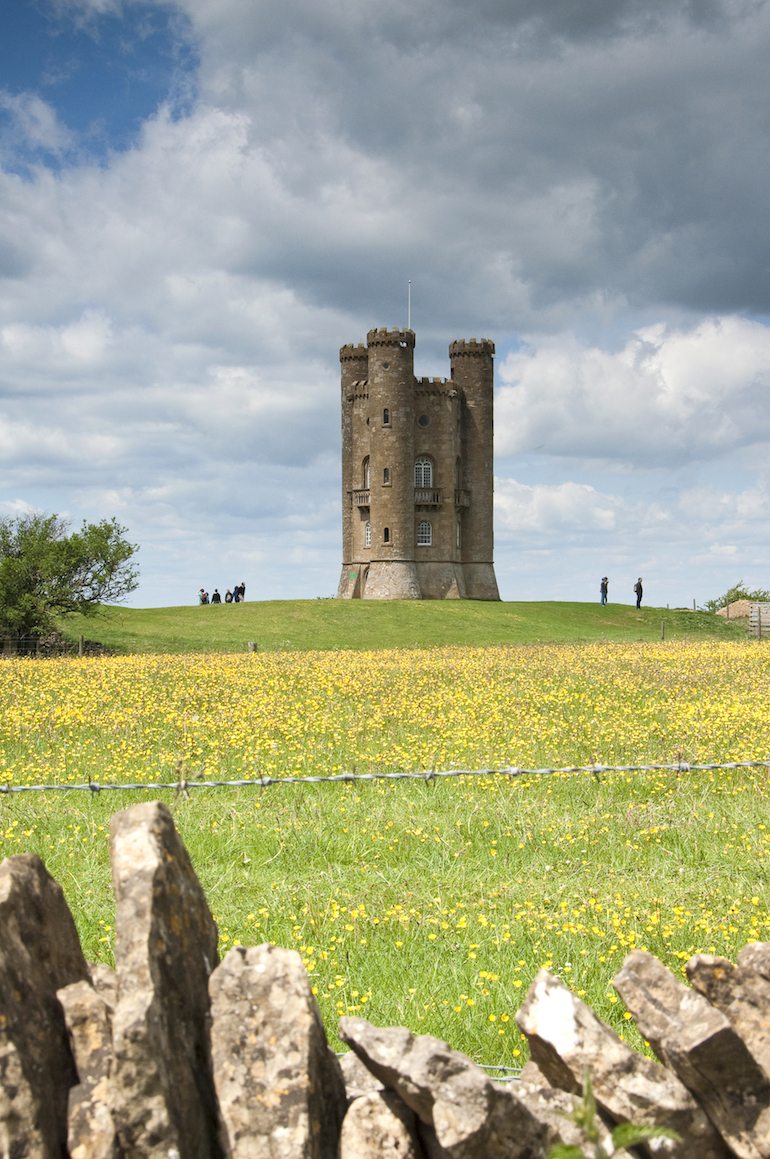 The Cotswolds: The Broadway Tower, Broadway, Worcestershire. Photo Credit: © Diana Jarvis via Visit England.
5. Cotswold buildings are typically made using honey-coloured Oolithic Limestone. Their brown colour varies across depending on the iron ore content in each local quarry. This soft natural colour creates harmonious towns and villages and helps the buildings nestle into the landscape.
6. The Cotswolds are home to 5000-year-old Neolithic stones called the Rollright Stones. You can walk amongst the ancient stone circle of some 70 stones, which was probably used as a council circle by local tribes. These stones are called the King's Men. Nearby is a smaller set of stones called the Whispering Knights and a funeral stone called the King's Stone. There are many legends about the stones; my favourite one is about how difficult it is to move them from the site should one be foolish enough to try.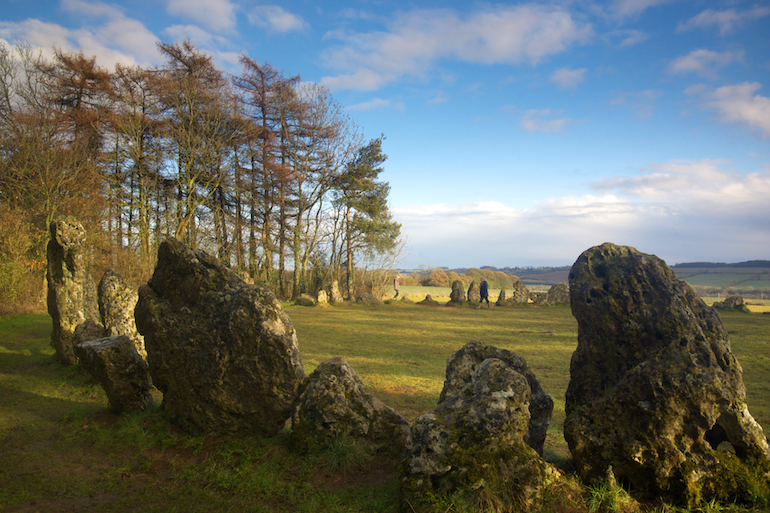 The Cotswolds: Rollright Stones, Warwickshire/Oxfordshire. Photo Credit:© Diana Jarvis via Visit England.
7. Broadway Tower commands stunning views of 60 miles across the Cotswold's countryside and beyond encompassing 16 counties – the most of any English viewpoint. It was built in 1794 and according to legend was sponsored by a local aristocrat who wanted to see if a beacon on the tower could be seen from her house in Worcester – the answer was that yes it could.
8. There is a long list of grand and beautiful gardens to be seen in the Cotswolds. Perhaps the most important is Hidcote Manor Garden, which was created in 1907 by Lawrence Johnson who became one of the most influential gardeners in England as he pioneered the creation of series of "rooms" within a garden.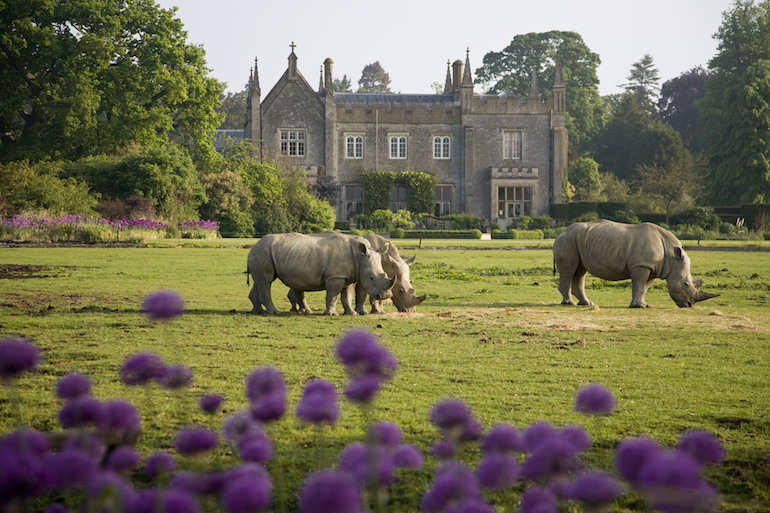 The Cotswolds: View of the Cotswold Wildlife Park in May 2010 with Rhino's in foreground. Photo Credit: © Andrew Lawson via Visit England / Cotswold Wildlife Park.
9. Numerous quintessential English villages nestle in the Cotswold countryside with one of the most picturesque being Lower Slaughter. Whilst its name implies something horrific it in fact derives from "slough" meaning wetlands or muddy areas. This wet area was created by the river Eye which meanders slowly through the village passing under quaint bridges. With a mill, manor house, church, and pub the village ooze charm and tranquility.
10. There are about 60,000 thatched-roof cottages in England and many of them can be seen in the Cotswolds. The thatch is a lightweight local reed or grass originally making roof construction cheap as well as keeping the cottage snug in winter and cool in summer. An original problem was that by birds and squirrels would nest in the thatch that is now prevented by covering the roof in a wire mesh.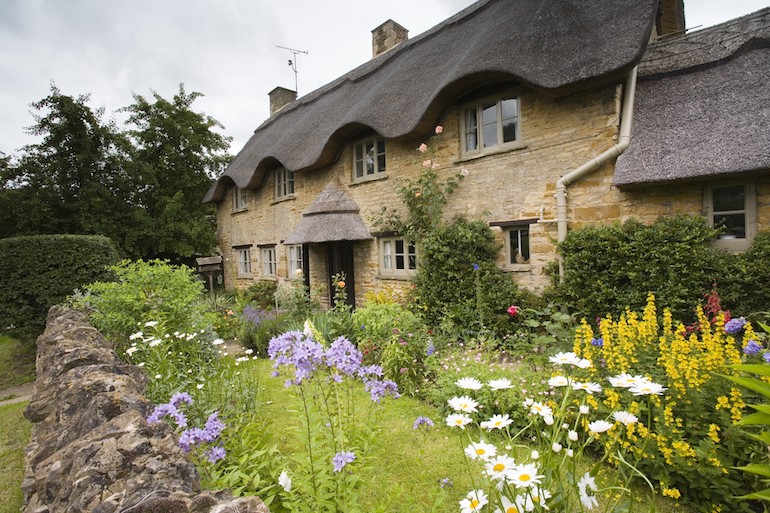 The Cotswolds: A traditional stone Cotswold cottage in the village of Kingham, Walk 8 – Kingham, Churchill. Photo Credit: © Nick Turner via Visit England / Cotswolds Tourism.
A trip to the Cotswolds with a Blue Badge Tourist Guide takes you to a traditional England steeped in history with stories and places that bring the past to life. It offers fine local food and drink in traditional English pubs, quintessentially English villages, and beautiful rural landscapes and scenery. It makes a relaxing and enchanting day trip from London.