One of Windsor's best-kept secrets is Windsor & Eton Brewery. Tucked away behind the railway arches – just minutes from the coach park and cark park in a simple, modest building – is the warmest and friendliest of breweries, with welcoming staff and a young manager who really love what they do.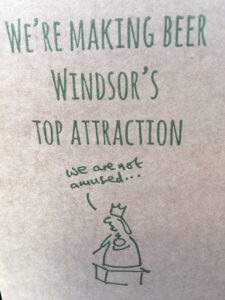 Ildi Pelikan describes below how she witnessed a special event on a visit to the brewery earlier this month with fellow Blue Badge Tourist Guide Leila Sukiur:
On the day we visited, Major, an old dray horse (although still handsome and shapely!) was saying farewell and introducing a young horse, Albert, to his new duties. Once a fortnight from May to autumn, you can see a carriage full of barrels pulled by charming horses delivering beer around Windsor.
Major, who is already 19 – about 58 in human years – recently did his last round and has retired to Yorkshire. We saw him training Albert, who is 4 years old. Once they made their way back to the brewery, the horses had a well-deserved carrot, and we had a bit of carrot cake – with some beer of course – to celebrate Major's retirement.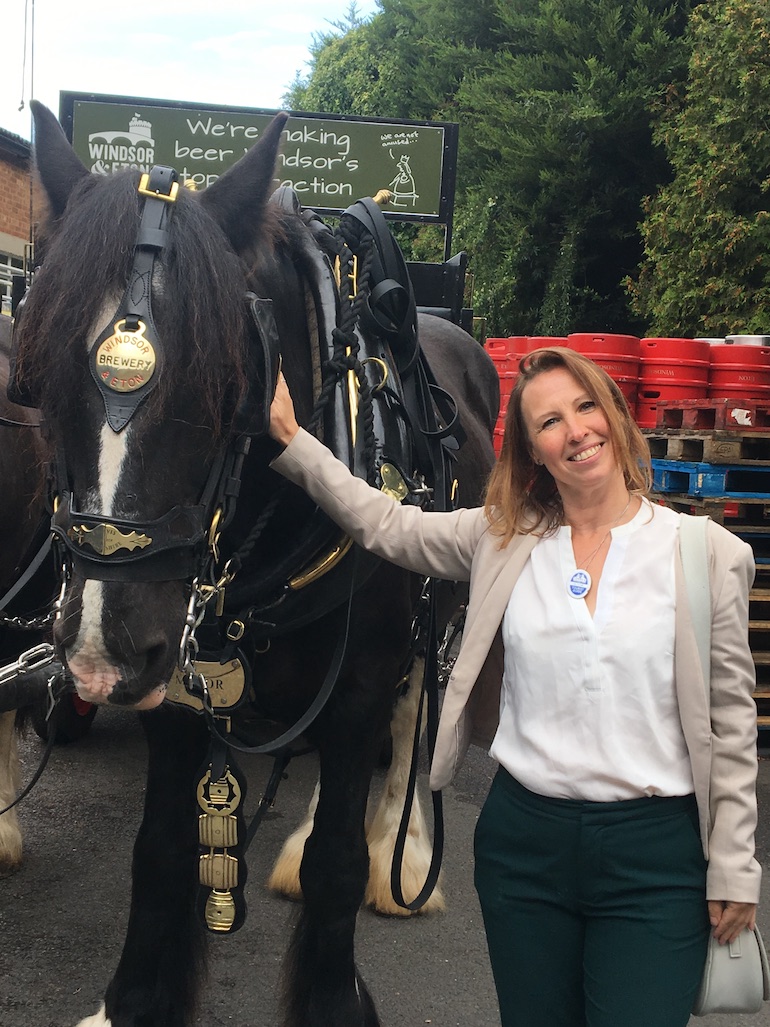 Major the dray horse and Ildi Pelikan. Photo Credit: © Ildi Pelikan.
Major and Albert are both Shire horses. Shires are known for their great capacity for weight-pulling and were used for towing barges at a time when the canal system was the principal way to transport goods. They were also used for delivering beer, a tradition that Windsor & Eton brewery still follows.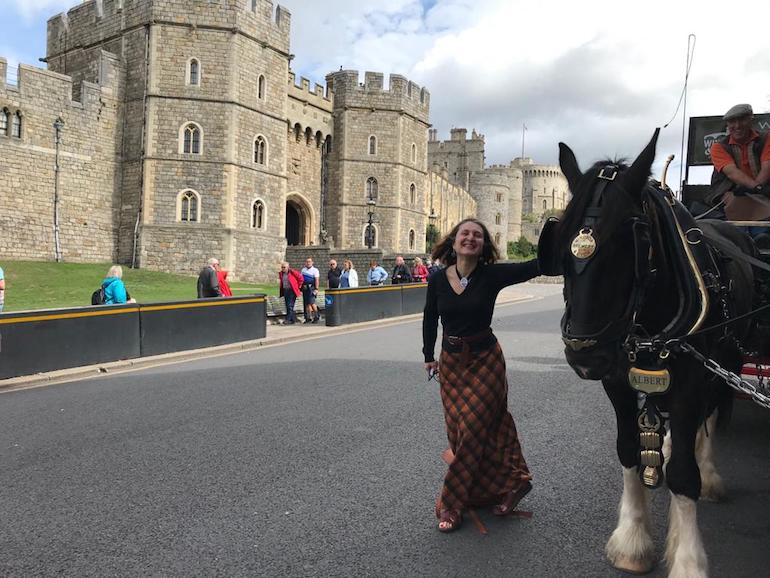 Albert the dray horse and Leila Sukiur. Photo Credit: © Ildi Pelikan.
Chances are that next time you're able to visit, Albert and his mate Ivan will be pulling the carriage, and it's great fun to follow them around. They always stop for about 20 minutes by the Horse and Groom pub, where you have a chance to say hello and take a picture with them – quite a sight with Windsor Castle in the background.
Windsor & Eton have been brewing beer for 10 years and have won numerous awards. They even have the Royal Warrant of Her Majesty the Queen!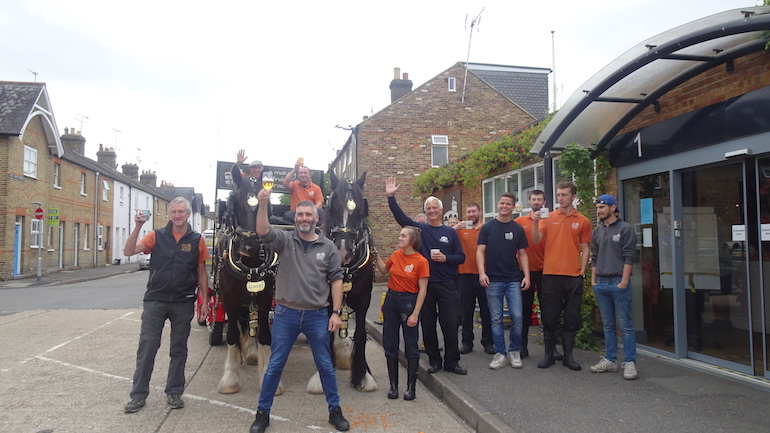 The team at Windsor & Eton Brewery. Photo Credit: © Ildi Pelikan.
They brewed the beer for Prince William and Kate Middleton's wedding, and for Prince Harry and Meghan's too. Drop into the brewery and you're in touch with a grassroots Windsor craft while sipping the Royal ale. A tasting set of three beers of your choice costs £4.30. and they are all first-rate. And Windsor & Eton delivers to local pubs – as well as to the Royal Apartments.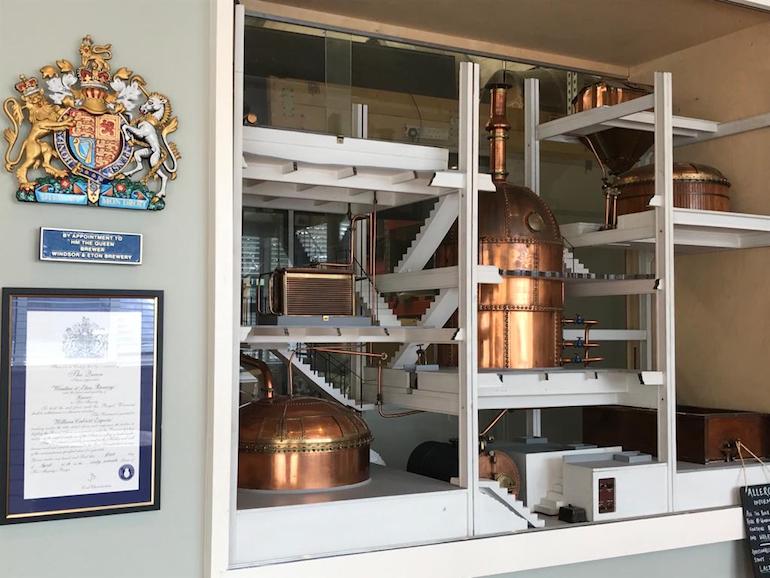 The Royal Warrant at Windsor & Eton Brewery. Photo Credit: © Ildi Pelikan.
We were given a tour by the manager, Matthew Stead, who found his dream job at Windsor & Eton after completing his PhD in chemistry at Cambridge. He is very hands-on and clearly loves what he does. To both of us, who are more wine drinkers than beer enthusiasts, this was a real eye-opener and an opener for the taste receptors too!
If you want to learn more about brewing, why not take a tour with the very friendly and cheerful staff – and sample the delicious beer.
So, we raise our glass and invite you for a visit!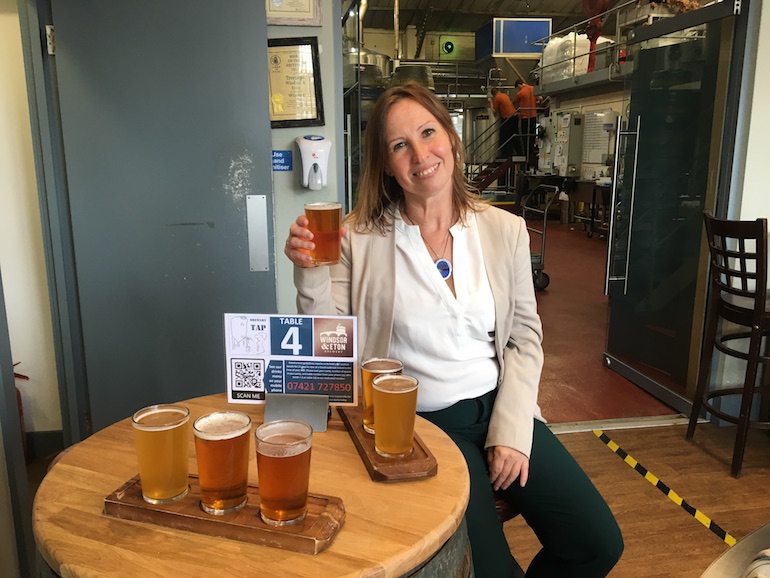 Ildi Pelikan at Windsor & Eton Brewery. Photo Credit: © Ildi Pelikan.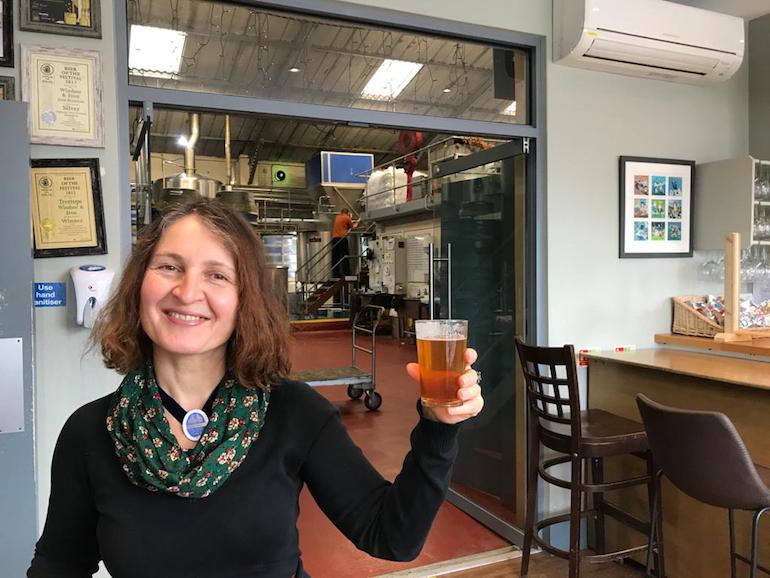 Leila Sukiur at Windsor & Eton Brewery. Photo Credit: © Ildi Pelikan.
What better way to end your visit to Windsor than by sampling the Royal Brew?