London is a series of villages and we Londoners are all villagers at heart, fiercely proud of our own corner of the city. I live in urban Islington but was born in leafy Wimbledon on the other side of London. Wimbledon Common was a frequent destination in my youth – for childhood rambles, winter snowballing, and teenage high-jinx. So, on the 150th anniversary of the Wimbledon Common's 1871 creation, I re-visited this much-loved green space finding it much as I'd always remembered.
This famous and rambling natural spot occupies 1,140 acres. It is perhaps best known for its Wombles, the fictional green-minded creatures, created by writer Elisabeth Beresford in 1968. These burrow-dwelling pointy-nosed, furry characters lived on the Common and recycled the things discarded by visitors "making good use of the things that they find."  They were well ahead of their times as London seeks to become Net-Zero by 2030.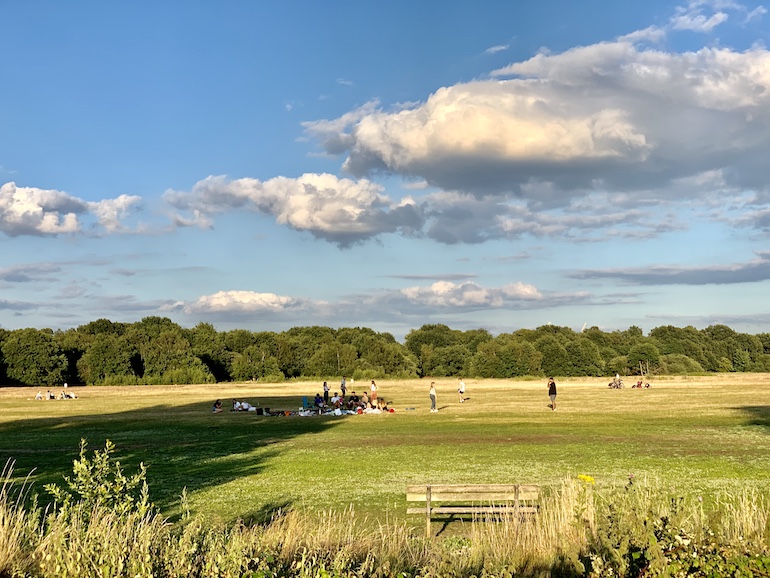 The site of Wimbledon Common's former aerodrome. Photo Credit: © Antony Robbins.
The Commons Levy
Less well-known is the fact that the Wimbledon Common in London was created by the Wimbledon and Putney Commons Act of 1871. Today this precious green space is run by a registered charity, the Wimbledon and Putney Common Conservators. Administered by a chief executive and employing 23 staff, including four mounted rangers, it commands an income of about one million pounds every year. This is earned through the 'Commons Levy' – a tax on nearby properties; the hiring of playing fields; log and timber sales and film rights. It's an expensive business caring for a vast and fragile area that, on a summer weekend, might see 10,000 visitors.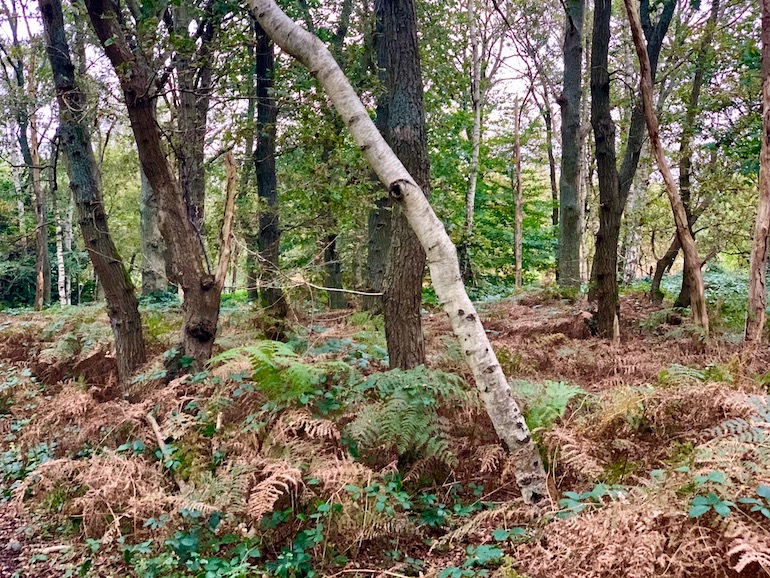 Heathland dominates the Wimbledon Common in London. Photo Credit: © Antony Robbins.
Wildlife, Wetlands, and a Windmill
About 600 acres of the Wimbeldon Common is a site of Special Scientific Interest (an SSSI in the jargon). This unique environment is fringed by two golf courses but dominated by heathland and acidic grassland. Over 40 percent of the Wimbledon Common is heathland and this dramatic landscape, which thrives on impoverished soil that supports grasses and shrubs, comprises half of all the heathland still found in Greater London. It's the perfect breeding ground for rare creatures, including the stag beetle. Birds of prey are numerous. They include sparrow and hobby hawks, common buzzards, and tawny owls. The latter is sometimes heard at night as they hunt their prey.
This diverse environment also includes wetlands – there are nine ponds. To the west of Wimbledon Common is Beverley Brook. This is one of the 50 named tributaries of the River Thames. It supports freshwater fish including European eel; roach; rudd and stickleback.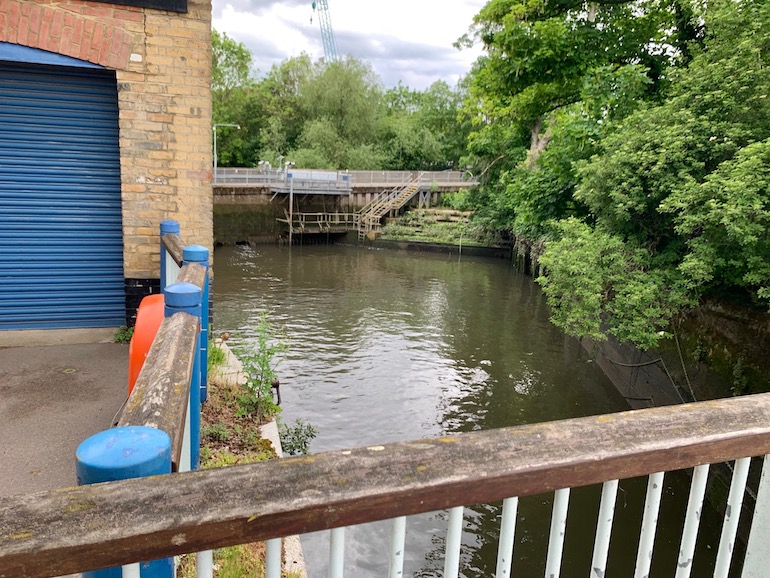 The Beverley Brook at its confluence with the Thames at Putney. Photo Credit: © Antony Robbins.
Wimbledon Common's Grade II-listed windmill was built in the Dutch style in 1817, by Charles March, a carpenter from nearby Roehampton. The mill sits on an attractive octagonal brick base, giving it a striking appearance. Perhaps it was this dramatic perspective that convinced BBC producers to set a mid-sixties episode of Doctor Who here.
Founder of the Scout movement, Robert Baden-Powell, penned his Scouting for Boys instruction manual at the windmill in 1908. Few people – including the locals – realise that the building marks the unmarked parish boundary between Wimbledon Common and Putney Heath. The mill has been much-changed and restored over the years. It was camouflaged during the Second World War and one of its sails was removed to prevent German bombers from using it as a navigation aid. Today the former mill houses a charming museum.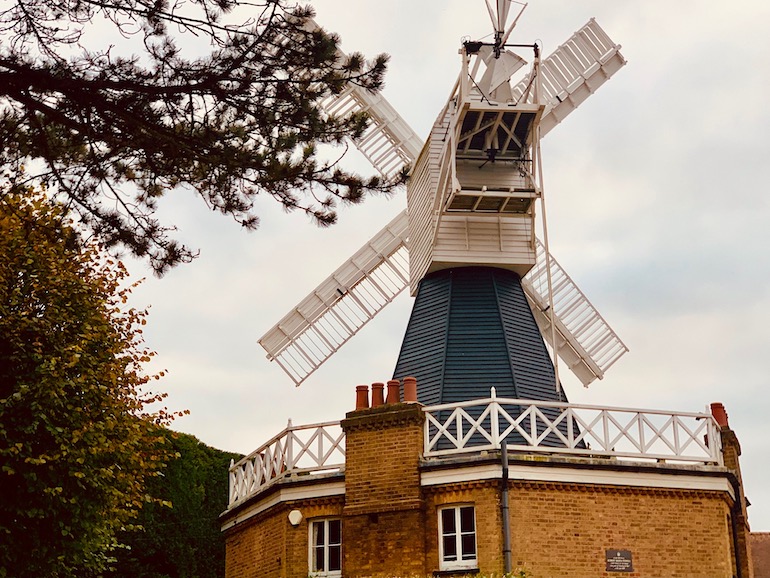 The windmill was built in 1817 in the Dutch style. Photo Credit: © Antony Robbins.
Protection and Conservation
Nearby is a large open area that is known as the Plain. During the First World War, this was home to one of ten Royal Flying Corps airfields, built to protect London from airborne attacks. London experienced its first aerial attack from the German air force, which began bombarding the capital from Zeppelin airships and Gotha bombers in 1917. It was the presence of enemy aircraft called Gotha over English skies, that led the Royal Family to change its name from Saxe-Coburg and Gotha to Windsor that same year.
The area of Wimbledon Common known as Caesar's Camp has nothing to do with Roman Legions. This was an iron age – or possibly bronze age – hill fort, controversially dismantled in 1875 by Conservative MP John Erle-Drax. Despite this wanton destruction, the man himself is remembered in nearby Drax Avenue. These days, one hopes such archaeological vandalism would face much stiffer opposition. Today, the same 1871 Act of Parliament still governs Wimbledon Common. Its stipulations decree that the Common must remain "unenclosed and unbuilt on." The pandemic has reminded us of the value of beautiful green spaces like Wimbledon Common in London for our mental and physical wellbeing.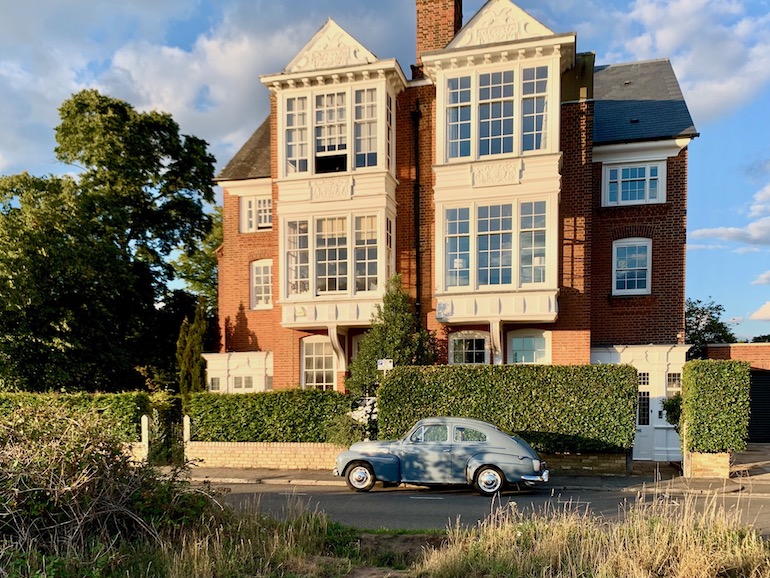 Properties close to the Common's perimeter pay a levy to support its upkeep. Photo Credit: © Antony Robbins.