Brixton is one of London's most diverse and exciting neighbourhoods. It is bit of a hidden gem tucked away south of the river Thames and less than 3 miles from Westminster and the Houses of Parliament. Known for its Caribbean heritage and referred to as London's Harlem by the US actor Will Smith, immigration has been a theme in Brixton's history that defines its character as well as its cultural diversity. There are actually more than 130 languages spoken in the area, the markets sell food from five continents and the town centre is alive with the calls from street preachers, music and local personalities! It offers a rich cultural heritage which makes it a fun and vibrant place to visit particularly with a Blue Badge Tourist Guide. It was reportedly, top of Nelson Mandela's list of places to visit so why not make it yours?
So, what should you do on arrival? Here are ten things that will make your visit a memorable one:
1. The David Bowie mural painted in 2013 by Australian street artist Jimmy C. It has become a shrine since the death of Bowie in January 2016. David Bowie was a Brixtonian, born Robert David Jones and lived briefly in Stansfield Road. The mural has been become the most loved piece of street art in Brixton with visitors arriving from all around the world to see it.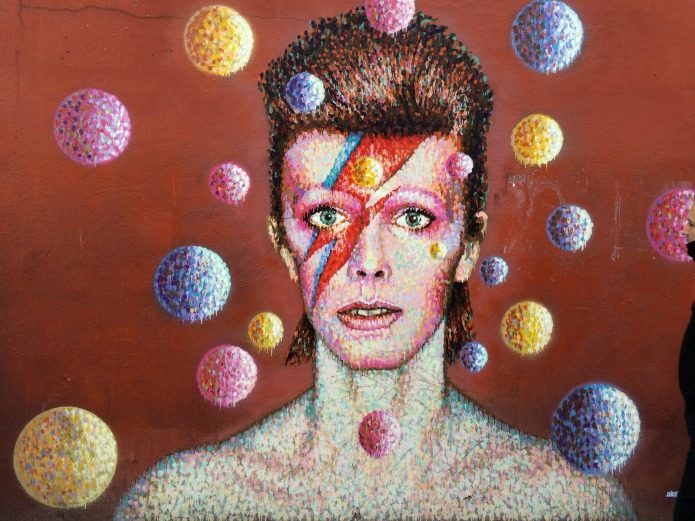 Brixton: David Bowie mural by street artist James Cochran. Photo Credit: © Edwin Lerner.
2. Rock down to Electric Avenue – one of the chorus lines from the 1982 single sung by Eddie Grant. The song Electric Avenue reached number 2 in the music charts. Eddy came back to Brixton in October 2016 to turn on a new light display that spells out the street's name. It is a busy street market that got its name from the fact it was one of the first shopping streets in the late 19th century to have electric street lighting installed. Here you can experience the hustle and bustle of stall holders selling their wares, a kaleidoscopic array of exotic foods from Africa, the Caribbean, Asia, South America as well as European foodstuff. Whilst walking through the market listen to the chatter and see if you are able to understand what is being said!
3. The Ritzy Picturehouse – is more than just a cinema it is a local cultural institution, a place to chill, eat and sit out on its outdoor terrace to watch the world go by. It is one of the earliest purpose-built cinemas, originally called the Electric Pavilion when it opened in 1911. This Grade ll listed building has undergone several refurbishments during its lifetime. It's exterior façade and main screen still retain much of the Edwardian features including the original prosceniuim arch.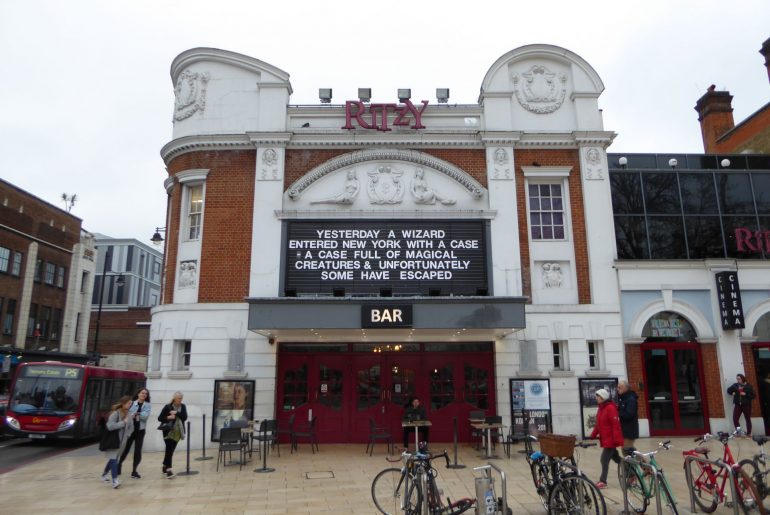 Brixton: Ritzy Picturehouse. Photo Credit: © Duncan C via Flickr.
4. Brixton Cultural Archives situated on Windrush Square is the UK's first dedicated Black heritage centre. It opened in 2014 and it has a growing archive collection that offers an insight into the history of people of African and Caribbean descent in Britain. There is a programme of exhibitions and events that explore British history from a unique perspective. One of its patrons is Idris Elba. (Free entry Tuesday – Saturday, 10.00-18:00)
5. Bookmongers is a Brixton landmark. Located on Coldharbour Lane it isn't an obvious place you would think of visiting whilst in Brixton. Given the pace of redevelopment along this road, it is one of the few remaining shops that can say it is still trading in the same location for more than 20 years. Set up by a Bostonian, Patrick Kelly, this is a bibliophile's haven; it offers a place where you can peruse secondhand books, stay a while and maybe leave with a book or two to add to your book collection!
6. Brixton Village & Market Row are two of the three covered markets. These Grade II listed buildings as they are of historical interest. The markets are intrinsically linked to the socio-economic history that has given Brixton its strong Afro-Caribbean culture and ambience. Originally opened in the 1930s it was promoted as an alternative to shopping in the West End. By the 1960's it became the focal point for the Caribbean community buying familiar foodstuffs reminiscent of 'back home'. The market also had shops selling a variety of goods from haberdashery to cookware. Today, these markets have been transformed into popular eating places offering international cuisine. But food is not the only reason to visit these markets; there are several independent retail shops selling art, unique designer clothes, ethnic ware and jewellery.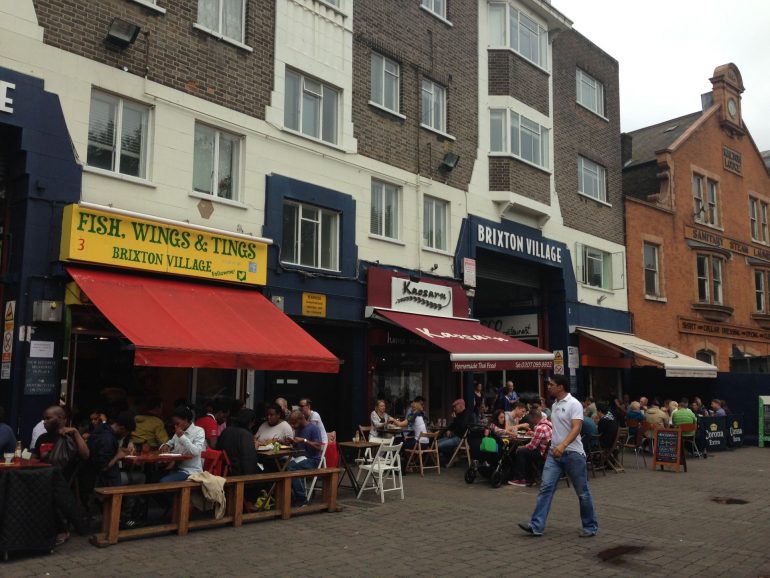 Brixton Village Market. Photo Credit: ©Ursula Petula Barzey.
7. Brixton Brewery, Brixton Station Road – you may have considered having a local beer with your meal. Well Brixton has a micro-brewery that is located in one of the railway arches and away from the frenetic activities nearby. Here in 2013, two friends started the micro-brewery and set about creating craft beers with names that reflect the places and events in Brixton – Windrush, Electric and Coldharbour for example. As you pass by, you can smell the fermenting hops and watch a little bit of the magic that is going on to make these beers that will be sold locally.
8. Brixton Academy – now known as the O2 Brixton Academy. It is a popular music venue that started life in 1929 as a cinema and theatre called the Astoria. The art deco building still retains much of its original interior. It boasted that it had the largest fixed stage in Europe. Here history was made when its opening show was the talking film The Singing Fool with Al Jolson who sang one of the film's famous songs Sonny Boy. Since then other famous artists have graced its stage and wowed the audience during its various incarnations. In recent times, music giants such as Madonna, The Clash, Bob Dylan and Ed Sheeran to name just a few have helped to put Brixton on the musical map.
9. Pop Brixton – is a community initiative that has transformed a disused plot of land into a space that offers independent businesses from Brixton and Lambeth opportunities to develop and thrive. A variety of community events also take place here including live music sessions. Open seven days a week till late, so 'pop' in, browse, shop and stay for a meal.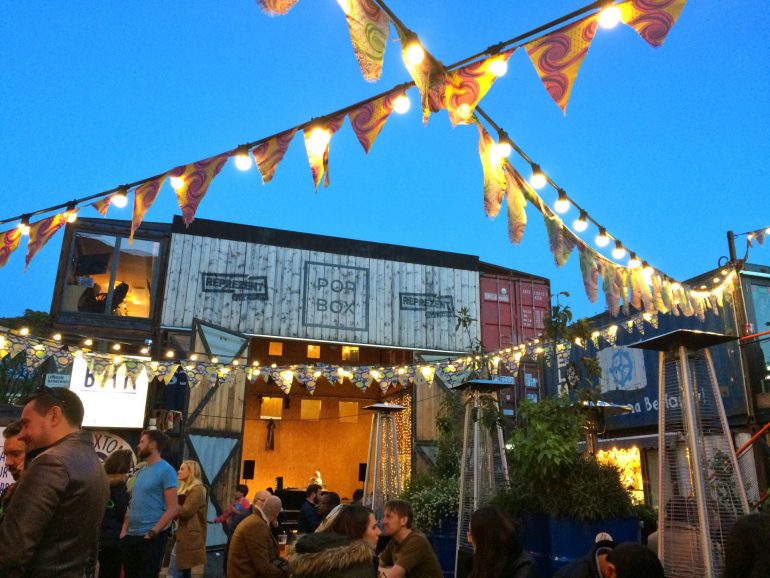 Pop Brixton. Photo Credit: © Su May via Flickr.
10. Heading away from Central Brixton, why not visit the Brixton Windmill, Blenheim Gardens. Also known as Ashby's Mill after the Ashby family that had a long association with the milling industry in Brixton since 1816. It is truly a hidden gem that was nearly lost due to its poor condition. But thanks to several local residents who formed the 'Friends of Windmill Gardens' and their continued campaigning, this solitary grade ll listed windmill has been lovingly restored. Visitors can get an insight into the pre-industrial age of wind power that was really important for milling corn to make flour.
These are just ten things to see or do in Brixton. But why not explore the area further with one of our Blue Badge Tourist Guides. They will help you discover more about one of the most vibrant and sometimes overlooked parts of London.