Mahatma Gandhi Statue Unveiled in London
A statue of Mahatma Gandhi was unveiled by India's Finance minister Arun Jaitley on Saturday 14 March in Parliament Square. In attendance was Prime Minister David Cameron, the popular Indian actor Amitabh Bachchan and Gandhi's grandson, the former governor of West Bengal, Shri Gopalkrishna Gandhi.
In his speech, David Cameron said: "This statue is a magnificent tribute to one of the most towering figures in the history of world politics and by putting Mahatma Gandhi in this famous square we are giving him an eternal home in our country".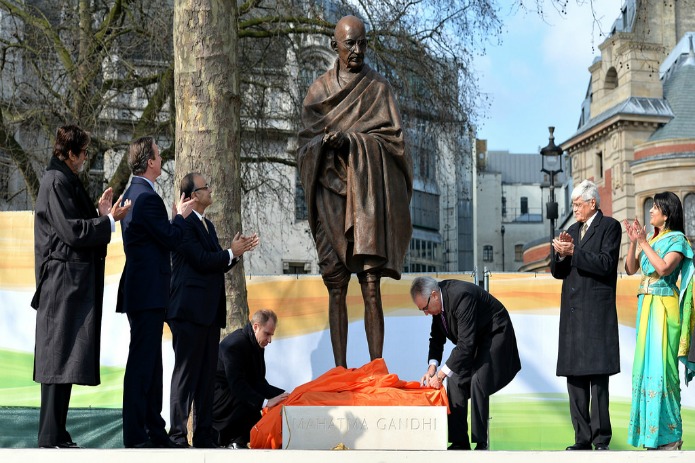 British Prime Minister David Cameron unveils Mahatma Gandhi statue in London. Photo: ©British Crown copyright/Arron Hoare.
Born on 2 October 1869 in Gujarat, India, Gandhi came to England in the early 20th century to study law but found his calling in campaigning for the rights of the Indian poor and for India's independence from what was then the British Empire. His statue depicts him standing and wearing his preferred style of clothing – a loincloth and shawl, the very opposite of the other statues shown wearing suits or uniforms. This is not the only statue of Gandhi in London; the other is in Tavistock Square in what is referred to as the peace garden where he seated crossed legged in a lotus position. The latest statue is lower than others on the square, a deliberate decision made by the Gandhi Statue Memorial Trust, which raised money for the monument, to reflect the fact that Gandhi considered himself a man of the people.
Why is there a statue here? A passionate campaign was launched by The Gandhi Statue Memorial Trust which was set up in 2014. Its Chair Lord Desai felt that Parliament Square was a fitting place for a statue of his hero amongst the other parliamentarians and statesmen. A commemoration of the life and works of Mahatma Gandhi, his contribution to the advancement of human rights, citizenship, the promotion of racial harmony. The trust patrons include, Countess Patricia Mountbatten and Lady Pamela Hicks, who joined the trust to acknowledge the long association of their father Lord Mountbatten with Gandhi. As the last Viceroy of India, Lord Mountbatten oversaw the transfer of power in India in 1947.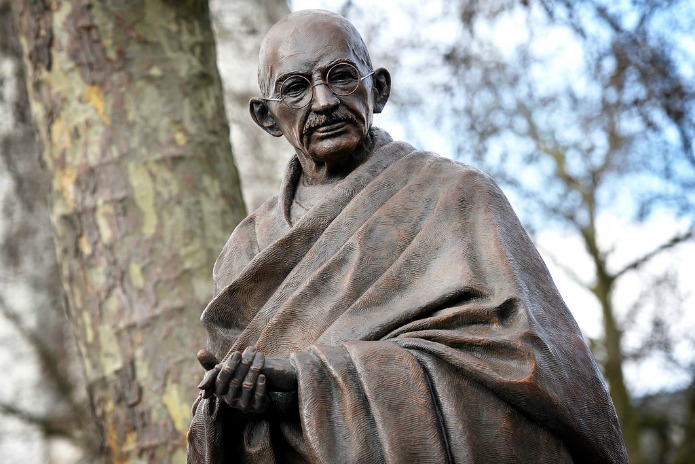 Closeup view of the Mahatma Gandhi statue now in London's Parliament Square. Photo: ©British Crown copyright/Arron Hoare.
More than £1m was raised within 6 months for the work which was described as a "magnificent tribute". The unveiling of the 9ft (2.7m) bronze statue marks 100 years since Gandhi returned to India from South Africa to begin his struggle for independence. Often called "Mahatma", which means "great-soul", he was assassinated 30 January 1948 in Delhi, by Nathuram Godse.
Gandhi stands close to another famous and activist – anti-apartheid leader Nelson Mandela, the first black President of South Africa. Facing the Houses of Parliament Gandhi is also near to another statue – one of his political foes, Winston Churchill.
The statue was sculpted by Phillip Jackson whose extensive portfolio of work includes the National Memorial Sculpture of the Queen Mother on the Mall, The Bomber Command Memorial Sculpture, Green Park, depicting the crew of a Heavy Bomber of World War II. Philip Jackson was inspired by a 1931 photo of Gandhi at Number 10 Downing Street, where he met the then prime minister Ramsay MacDonald.

Angela Morgan
I keep falling in love with this wonderful city! Join me and have a love affair of your own with London with its rich history and contributions from its diverse communities over the ages. Visit amazing sites and attractions here in London and beyond; I will do my best to…
You may also like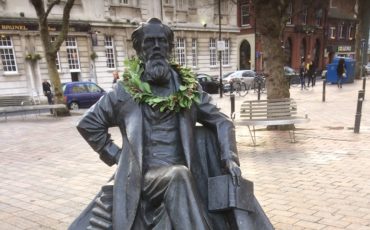 07 February 2018
Charles Dickens was born in 1812 at Portsmouth and was one of the first world superstars both in his own lifetime and ever since. He was recognised not only in Great Britain as a great writer but abroad, particularly France and the United States where he travelled extensively. He emerged as a writer in a stratospheric way in 1836, with Pickwick Papers and Oliver Twist.
Read more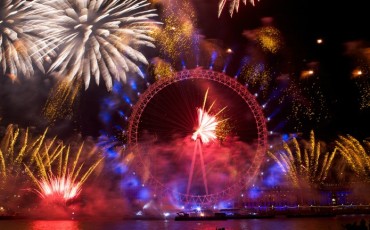 27 November 2017
The end of December through January is a fun time to be in London.  Christmas may have passed but the atmosphere is still quite festive and there are loads of events to ring in the New Year and get you excited about the start of the year.   Below are some of the major events and activities to entice you to plan a visit to our fair capital London -  recently ranked #1 on the list of the world's best city for 2018.
Read more