Britain used to rely almost exclusively on coal for its electricity generation, mining it in Wales and the north and central part of England, then bringing it, usually by train, to power stations where it could be burned to heat up water that would generate electricity. Then the water was cooled down in cooling towers that can still be seen in many parts of the country.
Gradually, however, the burning of fossil fuels came to seem redundant, contributing to both global warming and air pollution, and coal became a more peripheral supplier of electricity to the national grid, accounting for less than ten percent of British electricity generation in the early twenty-first century. Coal has been replaced as a generator of electricity by renewable sources, particularly wind power. Many old coal-fired power stations have been converted to gas, much of which is imported from Norway or Russia.
London has not used coal for generating electricity for many years. Battersea Power Station was decommissioned in the late 1970s, and Bankside Power Station in the early 1980s. In the 1960s, burning coal for domestic heating was banned in London's houses, which turned London into a smokeless zone. This helped to end London's reputation as a foggy city; the infamous 'London fogs' were really smogs, caused by coal dust particles in the air.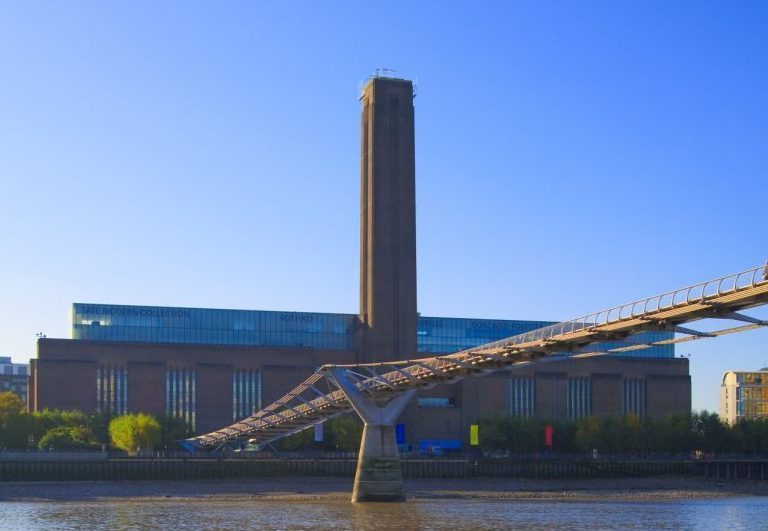 The Tate Modern and the Millennium Bridge over the River Thames. Photo Credit: ©Visit London Images.
Decommissioning left the problem of what to do with London's old power stations. Demolition was not an option as major stations were listed, designating them as important heritage buildings. This meant they could not be knocked down but had to be adapted to new uses. Bankside Power Station was turned into the Tate Modern Museum and opened as the main home of modern art in London by the late Queen Elizabeth II in the year 2000.
Tate Modern, as it is now called, has been an enormous success and boasts around six million visitors a year. The precise number is not easy to calculate as, like most of London's public museums, it does not charge an entrance fee, and the precise number of visitors is not recorded. It is estimated at around six million people a year, which equals and possibly exceeds the number of visitors to the British Museum in Bloomsbury (which is also free).
Many visitors to London enjoy a visit to the Tate Modern to see the paintings of modern artists such as Pablo Picasso, Georges Braque, Jackson Pollock, and Mark Rothko that are part of its collection. The museum is one of four Tate Galleries in Britain. They were founded through the benefaction of Henry Tate, a sugar merchant from the north of England. He moved to London and used his considerable fortune to endow libraries and what was once called the National Gallery of Art and is now known as Tate Britain. It is situated in Pimlico near the River Thames, and out of it grew Tate Modern further down the river in Southwark. There are also Tate galleries in the artists' town of Saint Ives in Cornwall and in Liverpool.
A bust of Henry Tate can be seen in the centre of Brixton outside the Tate Library, and he is buried in West Norwood Cemetery near his home in Streatham. Everyone in Britain has heard of Tate and Lyle Sugar, the company founded after his death through the merger of the company he built up with that of another sugar refiner Abram Lyle. Tate and Lyle still have a working sugar refinery located in Silvertown in East London. The company has now expanded into other forms of food supply with an annual turnover of two billion pounds.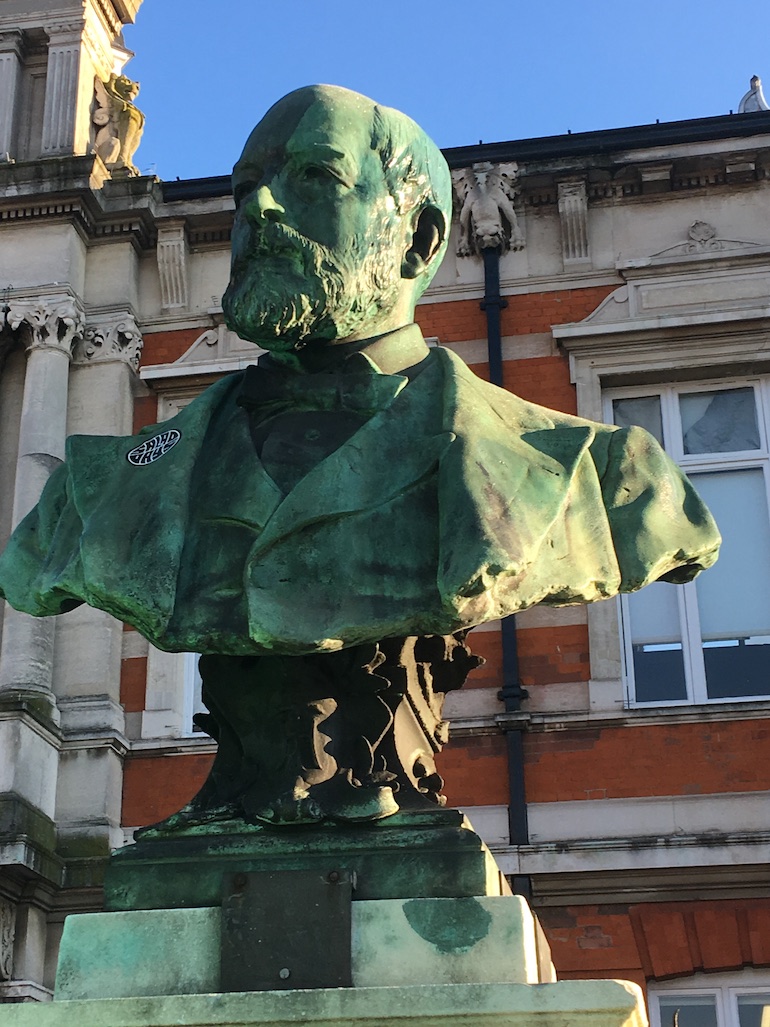 Bust of Sir Henry Tate, outside Tate Library. Photo Credit: © Edwin Lerner.
While the Bankside Power Station, situated near Shakespeare's Globe Theatre in Southwark, was turned fairly quickly into an art gallery after it was decommissioned, the story of Battersea Power Station is more complicated, even if it is probably a better-known feature of London's skyline. This is mainly because it was featured on the 1977 Pink Floyd progressive rock album Animals with a famous flying pig on the record's album cover.
An actual flying pig was constructed for the photo shoot at the power station, which was at the time used to generate electricity but was coming to the end of its active life as a source of power for the capital. The inflatable pig broke away from its moorings and began to float across the sky. It was spotted by several pilots and even caused some flights from Heathrow to be delayed or cancelled before coming down to earth at a farm in the county of Kent.
The distinguished architect Giles Gilbert Scott designed the Power Station, and it is a Grade II* listed structure, considered a masterpiece in the art deco style and one of the largest brick buildings in the world. It has been used as a location by many celebrated film directors in feature films such as Sabotage by Alfred Hitchcock, Children of Men by Alfonso Cuaron, Christopher Nolan's Batman: The Dark Knight, and Richard III starring Ian McKellen.
Battersea Power Station used a million tons of coal every year at the height of its operation. Most of this was imported by sea from Wales or northeast England and brought to the station by barges that floated along the River Thames. Buckingham Palace and the BBC depended on the station for their electricity, and when a fire broke out there in 1964, this caused a power cut which caused a delay in the launch of the BBC2 television channel.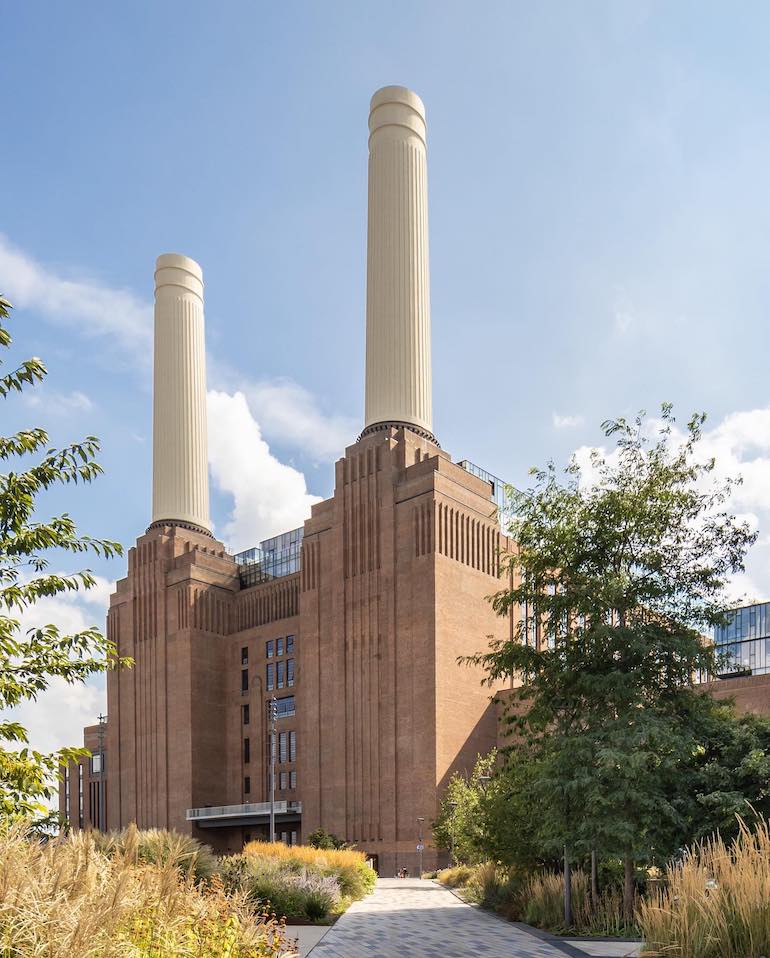 Redeveloped Battersea Power Station. Photo Credit: © Battersea Power Station.
Interest in the site was expressed by Chelsea football club, and a theme park there was proposed but never built. After many failed attempts to develop it, Battersea Power Station was reopened in October 2022 as a shopping centre and business site with 254 apartments. The apartment blocks in and around the forty-two-acre site were designed by the American architect Frank Gehry and prices begin at £850,000, the first residents arriving in May 2021.
In order to be financially viable, a large investment was needed, and the Malaysian firm SP Seta agreed to buy the building and surrounding site for £400 million. Apple has relocated 1,400 employees to new offices in Battersea Power Station. In Turbine Hall A, a new viewing platform has been installed, and in Turbine Hall B, a shiny new chrome-plated cocktail bar will open. There is also plenty of opportunity for shoppers, and a new underground station called Battersea Power Station has been opened to help Londoners and visitors enjoy the bright future that its old power station can look forward to.