One of London's iconic buildings, the Battersea Power Station, has gone from being an engineering marvel to a symbol of industrial dilapidation and is now home to one of the capital's most prestigious redevelopment schemes. Gossip news may reveal a stream of high-profile celebrities moving in, but chief amongst its tenants will be Apple, which will use six floors of the station's former Boiler House as its main London HQ.
The appeal is obvious. Close to its completion, the Battersea Power Station is the centerpiece of London's largest redevelopment area in Nine Elms, covering the riverfront area between Battersea Park and Vauxhall. This comprises the new United States Embassy, high rises in the Canary Wharf style (including a swimming pool bridging two buildings), close proximity to Battersea Park and leafy Chelsea, and stunning views over the River Thames.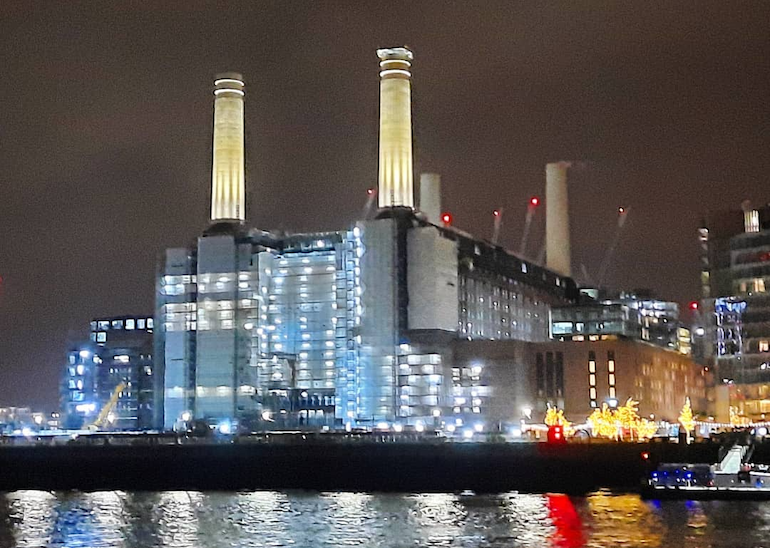 Battersea Power Station at night. Photo Credit: © Christopher Hayden.
This has finally also brought the Tube to Battersea, arguably the London district most mutilated by the arrival of the railways in the 1830s with the so-called Battersea Tangle, but previously unreachable by the London Underground. Along the ancient medieval road now known as Wandsworth Road, one will be able to hop on the Northern Line extension linked to Kennington at Battersea Power Station and Nine Elms Underground stations.
By dissecting the district, the Battersea Tangle acted as a divider between the wealthier south and the working-class north of the area. The riverfront had been used for industry since the seventeenth century, but in the late Georgian and Victorian period, it became the most polluted section of the Thames due to its many malodorous and noxious industries. Two of the most famous were Price Candles and the Morgan Crucibles Company, both gone.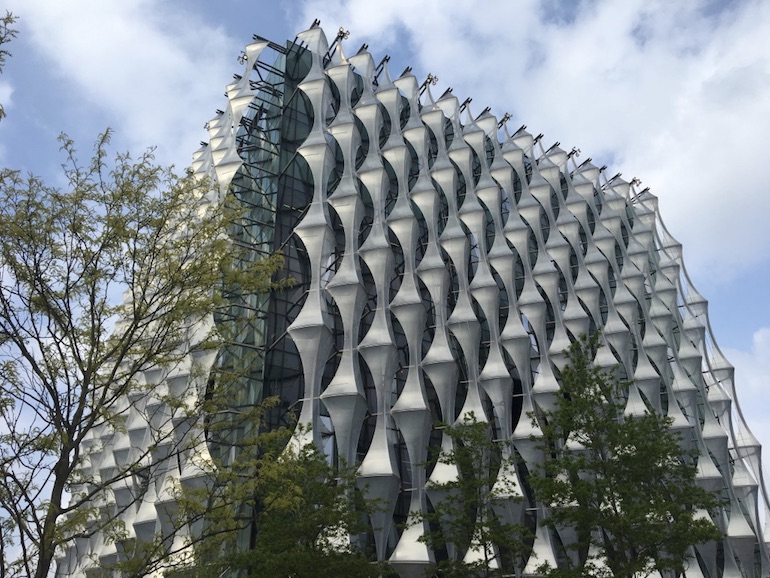 New American Embassy in London between Vauxhall at Battersea. Photo Credit: © Ursula Petula Barzey.
Throughout its operation (1929-83) the power station contributed its share of pollutants to both air and water but, when it was first conceived, it was meant to herald a golden age of electricity production and distribution. By the first decade of the 1900s, the metropolitan area was supplied by over sixty power stations, with many of these competing against each other and with a great discrepancy between their reliability.
The aftermath of the First World War saw the creation of the London Power Company from the merger of smaller entities and the call to create a national grid. Crucial to this new energy strategy were superpower stations such as Battersea, whose locations were ideal. Coal could be delivered by water and on two adjacent railway lines, and it was in close proximity to the area to be supplied. However, Pimlico and Chelsea residents were incensed at the potential depreciation of their properties and the effects of smoke from the originally planned sixteen steel chimneys. Sympathetic newspapers claimed 'that everything green would've died within two miles of the power station and that babies would be bleached.'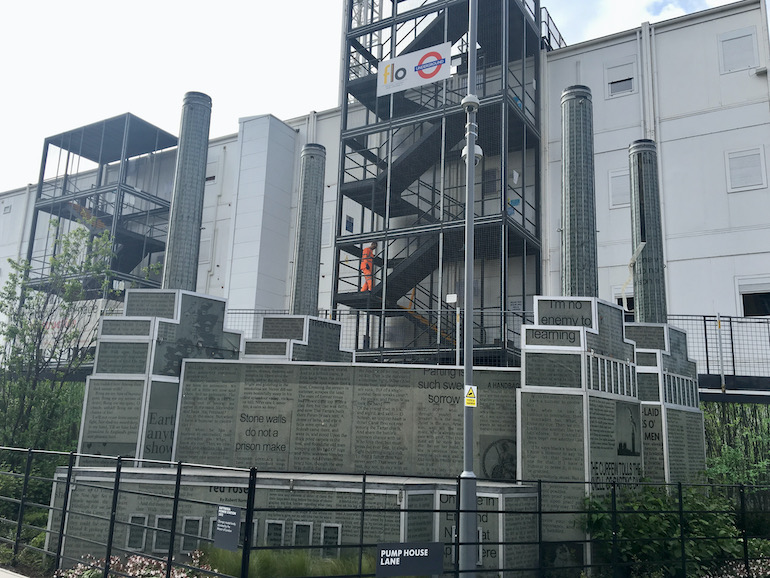 Battersea Power Station 2012 Olympic model. Photo Credit: © Ursula Petula Barzey.
Chief engineer Leonard Pearce revised the design to four taller concrete chimneys with an internal system of flues and vents in which fumes were sprayed with water to remove sulphuric particles, which were disposed of in the Thames. However, it was later discovered that this was pumping more pollution into the river than it was removing from the air.
To further appease those opposed to the project, the architect Giles Gilbert Scott, was brought on board to design the structure's outside elevation in a monumental Art Deco style. Scott was held in high regard for his family connections and his work on Liverpool Cathedral as well as his elegant design for the K2 phone box.
Battersea Power Station was completed in two phases, Station A and B, over twenty-six years. At its full capacity, it was producing 503,000KW per year. Like St Paul's Cathedral, it was used as a landmark by the Luftwaffe during WW2 but was never directly targeted, although Battersea suffered many bombings because of its industry and railway lines.
A much-loved British building, the power station became an iconic structure when it featured on the cover of Pink Floyd's Animals album in 1977, with a giant inflatable pig tethered to one of its chimneys. By then, it was already being decommissioned, its technology obsolete. Three years later it was preserved by becoming a listed building in 1983 just before its closure, thus saving it from demolition.
Since then Battersea Power Station has become London's most contentious regeneration project. Margaret Thatcher arrived by helicopter wearing a hard hat to launch a theme park development, led by John Broome, creator of Alton Towers. After acquiring the site for £1.5 million, the roof of the building was removed. However, some of the backers pulled out and the project was abandoned. The structure was now open to the elements which did much damage over the next three decades.
Later Nicholas Grimshaw was commissioned by the then Taiwanese owners of Parkway International, to create a mix of leisure, shopping, and retail space with its own helipad and footbridge into Pimlico. This project also failed.
Architect, Raphael Viñoly, designer of the City skyscraper known as the Walkie Talkie, was next in line planning a development with impressive carbon-neutral pretensions on behalf of Treasury Holding, who had bought the site for £400 million. Embarrassingly, his designs for a 1,000 ft tall ventilation chimney, meant to top a plastic eco dome, was rejected. Apparently, nobody had told Viñoly, that one of the pre-requisites of previous development applications was that no structure should exceed the height of the power station.
Finally, in 2012, new development plans were revealed, and work is underway. The forty-two acres site is being developed in eight phases and is reputedly worth £9 billion. One of the penthouses has sold recently for £8.2 million. If you can't afford such a piece of real estate, the planned new riverwalk should be of some consolation. Perhaps a less extravagant treat maybe a ride in the planned chimney lift, which will offer a 360-degree view of the capital!