David Hockney is a celebrated British artist, who was born and lives in Yorkshire and is well known in the USA after living for many years in California. This summer Hockney has an exhibition at the Royal Academy which was inspired by his trip to Normandy in 2020. It starts on 23rd May and continues to late September. If it is anything like his show there in 2012, it will be an uplifting experience and not to be missed.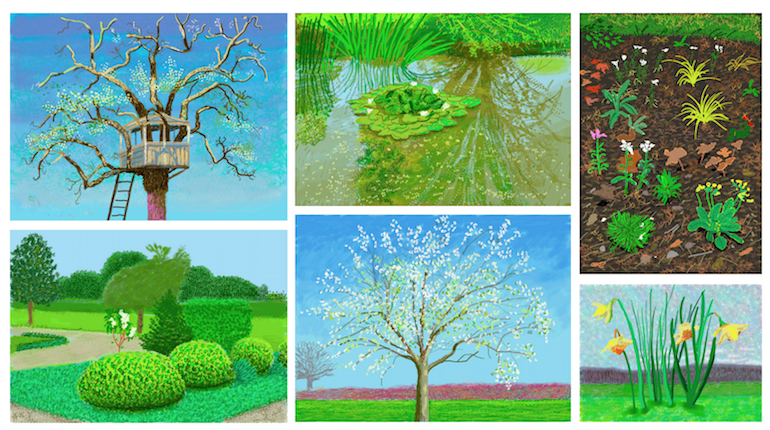 David Hockney exhibition at the Royal Academy of Arts, The Arrival of Spring Normandy, 2020. Photo Credit: © Royal Academy of Arts.
The eighty-three-year-old Hockney has also created a public video work which can be seen at nearby Piccadilly Circus during May. Entitled Remember You Cannot Look At The Sun Or Death For Very Long, it is also displayed in New York, Los Angeles, Seoul, and Tokyo. It shows the sun rising on a giant LED billboard at 8:21 pm every evening. Hockney has also redrawn the Piccadilly Underground station sign.
You can see a permanent work by David Hockney at Westminster Abbey. A stained glass window was installed there in 2018 to celebrate the long reign of the Queen. Like his sunrise at Piccadilly Circus, Hockney designed it on his iPad. It depicts a brightly coloured naïve style landscape in recognition of the Queen's interest in nature.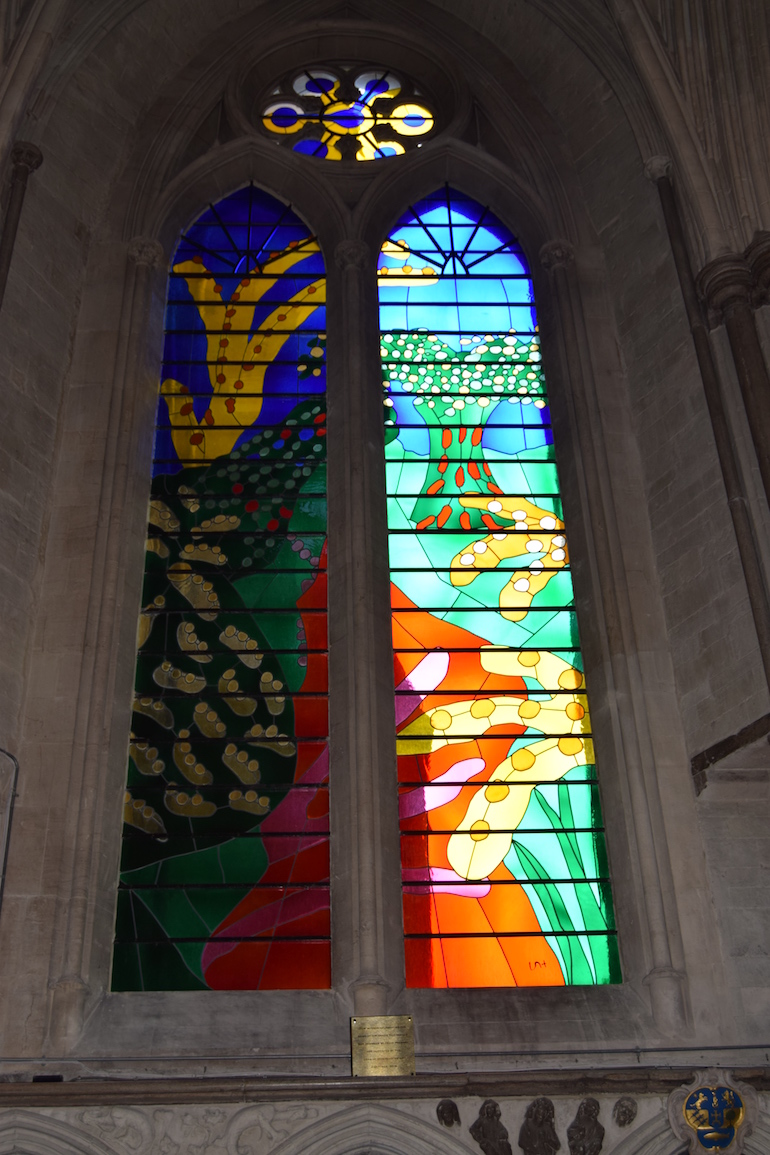 David Hockney-designed stained glass window celebrating Queen Elizabeth II's reign at Westminster Abbey. Photo Credit: © David Streets.
To me, Hockney's rising sun is a sign that London is waking up. I mean the real London. Not a ghostly lockdown shadow of itself. This is my vibrant, imaginative, beautiful London. The atmosphere in Central London is great. The lack of traffic and the friendliness of the few people who are around at the moment reminds me of the glorious summer of the 2012 Olympics, with main events at the Queen Elizabeth Olympic Park.
On Lower Regent Street, down the hill from Piccadilly Circus, elegantly dressed couples sip coffee at bistro tables outside the hotel Sofitel. Meanwhile, if you like to dress down, there are pop-up riverside bars on the Southbank where you can sit and admire the city lights.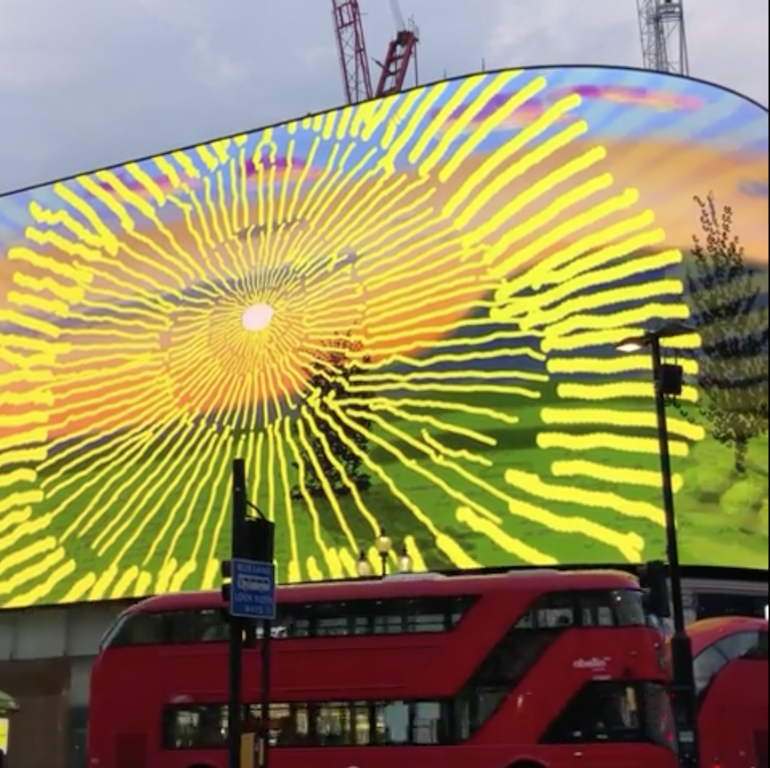 David Hockney's Remember You Cannot Look At The Sun Or Death For Very Long. Photo Credit: © Gail Jones.
With a couple of friends, I went on an evening walk and passed a film crew, laughing and joking, happy to be working again. We exchanged greetings with skateboarders flying down the massive stairs by the Duke of York statue. Across The Mall, in St James Park the flower beds looked magnificent.
We were aiming for the River Thames to see the bridges in the Illuminated River project and headed across Westminster Bridge to the Southbank riverside walk. The old County Hall building is completely flooded in coloured light that changes from pink to purple to blue to yellow. Looking downriver, Charing Cross station Is emerald green.
Outside the Royal Festival Hall is some fun seating that called out to be sat on or slid down in the case of a round one I chose. The quirky red benches here are by Jeppe Hien. He is a Danish artist and besides London's Southbank, his Modified Benches can be seen in Cadiz, Miami, Helsinki, and Auckland. Their light-heartedness matched our mood on this lovely evening. The plan was to walk to Blackfriars but we didn't get that far. We liked the changing colours of Waterloo Bridge so much that we decided to have a beer at the National Theatre terrace café and just enjoy the view.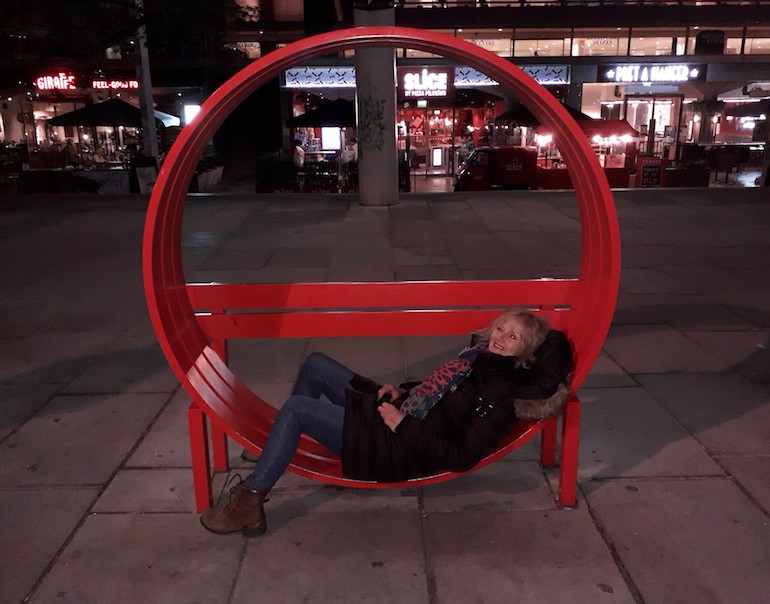 Gail Jones on a Jeppe Hein modified bench on the Southbank. Photo Credit: © Gail Jones.
For the Illuminated River project, nine bridges are lit from Tower Bridge to Lambeth Bridge. The project has taken a long time to get to this stage. The designers needed to ensure the extra light was not going to add to light pollution and impinge on the lives of birds, bats, fish, and even riverside apartment dwellers. Smart LED lighting avoids light spills and they are switched off at 2 am.
Each bridge is costing an average of £3 million in order to plan and maintain the lighting until 2029. The funding began with £250,000 from the Mayor's office which was part of the Olympic Reserve, the fund for the legacy of the 2012 games in London. The City of London Corporation gave £500,000. This was due to be spent anyway replacing the light fittings on London Bridge. The rest is planned to come from donations from private bodies such as Rothschild to the Illuminated River Foundation. These private sponsors will not, however, be entitled to close the bridges for corporate events or have advertising or naming rights.
There are plans for fourteen bridges to be lit and maintained until 2029. The lighting is being unveiled in stages, in the first stage four bridges from Tower Bridge westwards. In April this year, the next five bridge lights were unveiled. After 2029 the lighting responsibility will revert back to local councils but the energy used and the electric bill is estimated at less than the amount they currently spend because of new, low electricity technology. If they are popular the illuminations may continue long after 2029.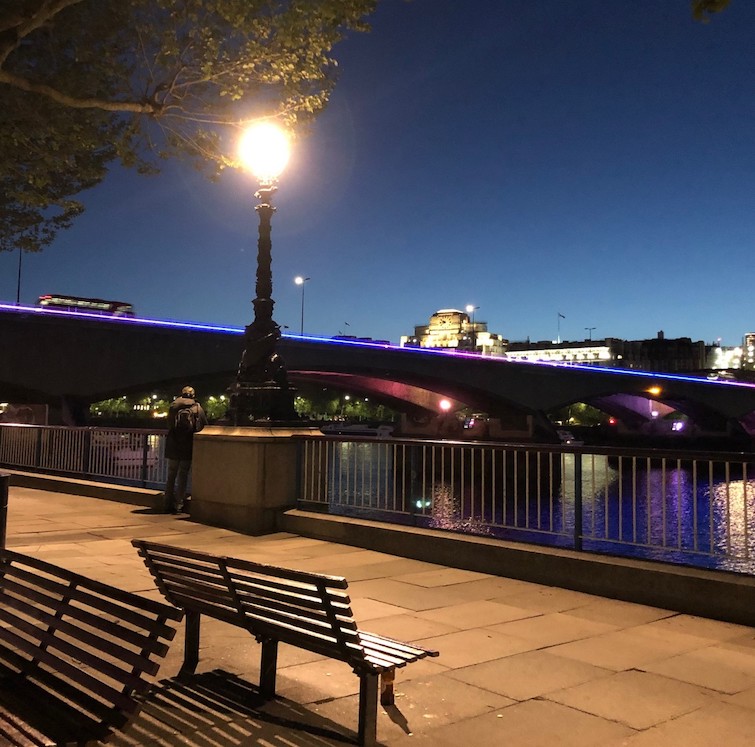 Illuminated River, Waterloo Bridge. Photo Credit: © Gail Jones.
The artist behind the Illuminated River project is New Yorker, Leo Villareal. He worked with the London and Glasgow-based architectural firm Lifschutz Davidson Sandilands. This company also designed the Golden Jubilee footbridges between Cannon Street station and the Royal Festival Hall.
My friends and I are planning more evening strolls along the illuminated river to enjoy our town before the hustle and bustle returns. Of course, we could walk from Lambeth to the Tower in one go but we want to take our time. Our finalé will be a ride on Thames Clipper Uber Boat to see them all from a different angle.
Wouldn't you like to visit London while it is quiet? There are lots of hotels waiting to welcome you. It is probably going to be a cheaper and more romantic staycation than most places in the country this year. When you come, why not take a tour with a Blue Badge Tourist Guide? They really know the capital city.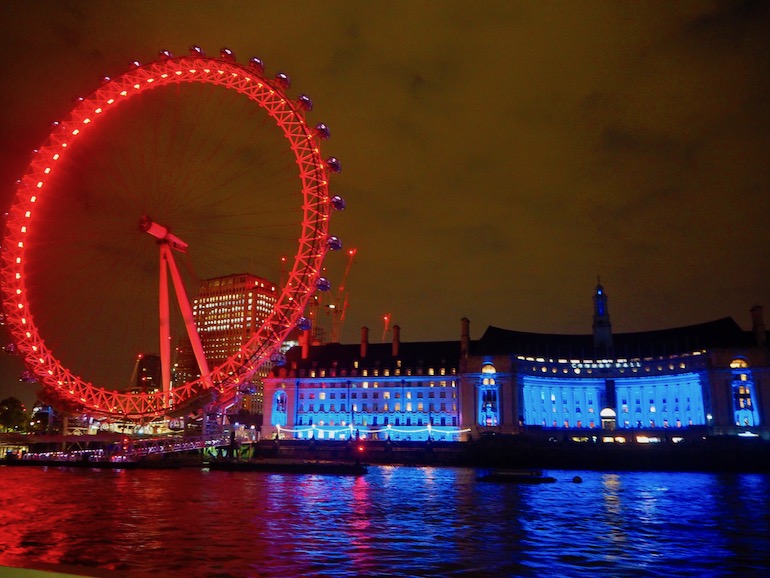 London Eye and County Hall illuminated at night. Photo Credit: © Ursula Petula Barzey.