Blue Badge Tourist Guides in London are expected to know their history and knowledge of the major sites associated with popular singers is now also a part of our job. For example, sites connected with the iconic singer David Bowie in London have joined the famous pedestrian crossing used by the Beatles in Abbey Road as places to visit.
David Bowie's Birthplace in London
David Bowie was born David Jones on 8 January 1948 at 40 Stansfield Road in Brixton. (He changed his name to Bowie to avoid confusion with Davey Jones of the Monkees.) There is no Blue Plaque on the wall of his birthplace because English Heritage only put up plaques at the homes of people who have been dead for at least twenty years. Bowie attended Stockwell infants school but probably had little memory of the area because the family moved to Beckenham on the borders of Kent and London when he was six. It was here that he met George Underwood who designed some of his album covers and was a lifelong friend despite them having a fight over a girl in which Bowie's left eye was permanently damaged!
The David Bowie Mural in Brixton
Multicultural Brixton claims David Bowie, however, partly because it is easier to get to but mainly because of the mural there painted by the Australian artist James Cochran, commonly known as Jimmy C. It was inspired by the cover of Bowie's sixth album, A Lad Insane, the first one he released as a successful musical star. The famous image of Bowie with the lightning flash across his face came from the persona of Ziggy Stardust which Bowie adopted in 1972 and which he retired suddenly and unexpectedly in the final concert of a tour at Hammersmith Odeon.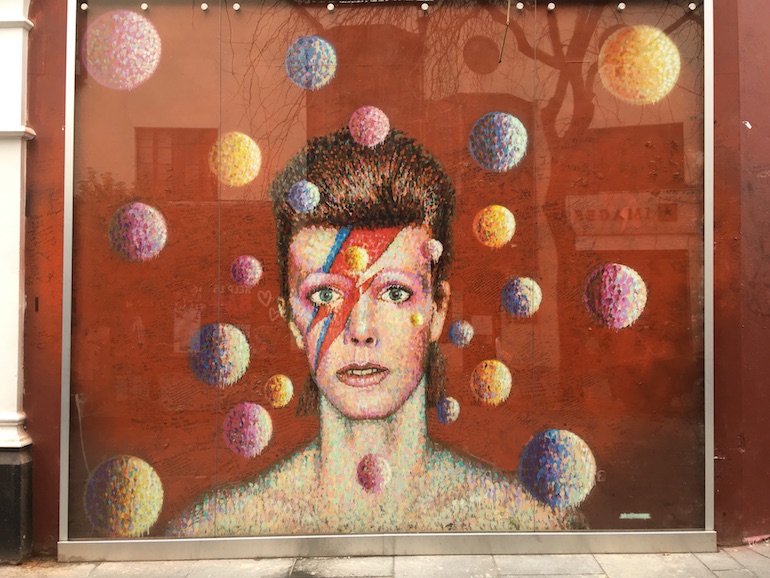 . David Bowie Mural in Brixton. Photo Credit: © Edwin Lerner.
The Hammersmith Odeon
David Bowie was never one to sit still and, almost as soon as he adopted a new image, he was looking for ways to move on from it. The Ziggy Stardust persona was introduced at the Toby Jug pub in Kingston upon Thames in 1972 with the backing group Spiders From Mars consisting of lead guitarist Mick Ronson, drummer Mick Woodmandsey and bass player Tony Visconti who later became Bowie's producer and was replaced in the band by Trevor Bolder. Without informing his bandmates Bowie announced that he was retiring at the concert in Hammersmith on 3 July 1973. Many thought that this might be the end of his musical career but he was just ridding himself of the Ziggy identity before it took him over totally.
The Ziggy Stardust Plaque in Soho
The cover photograph of the album The Rise and Fall of Ziggy Stardust and the Spiders from Mars was taken at 23 Heddon Street in Soho. A plaque was placed there in 1972 by the Crown Estate, who own the land. It was unveiled by Garry Kemp of Spandau Ballet, a big fan of David Bowie. It is not an official blue plaque as it celebrates a fictitious creation rather than a real person. The sign above Bowie reads 'K West' which some thought stood for the word 'quest' but which was actually the name of the fur coat shop on the site! The picture of Bowie has appeared on a Royal Mail stamp as one of the ten iconic album covers of all time.
The David Bowie Blue Plaque
Although there is no plaque on his birthplace, one was unveiled at 17 St Anne's Court in Soho, the site of the Trident Recording Studio where Bowie made many of his early records. The plaque was unveiled by the singer Billy Bragg and Bowie's friend the artist George Underwood. The Studio, closed in 1981, had been home to artists like Queen and Elton John and it was where the Beatles recorded Hey Jude.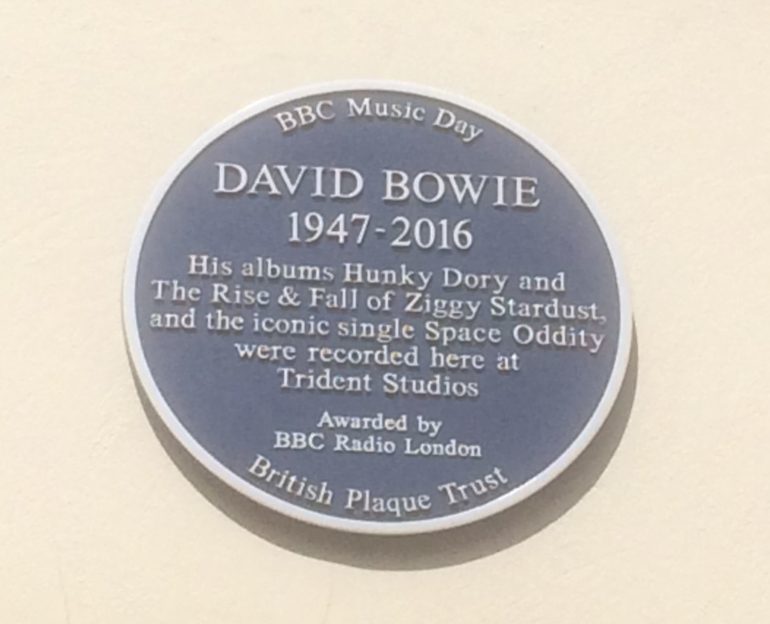 David Bowie Blue Plaque in Soho. Photo Credit: @Edwin Lerner.
The BBC Studio at White City
Most people date the moment when Bowie became a star to 6 July 1972 when he was appearing on the BBC's chart show Top of the Pops which was filmed at their studios in White City, west London. He pointed at the camera and sang "I had to phone someone so I picked on you-hoo-hoo". He then draped his arm around guitarist Mick Ronson's shoulders as they sang the chorus to the song Starman. Pop stars were not supposed to act like that but Bowie always made his own rules. The footage can be seen on YouTube but the BBC has moved away from White City and it is now occupied by the Westfield shopping mall.
The Victoria & Albert Museum
Towards the end of his life, Bowie agreed to the creation of an exhibition called David Bowie Is which was first displayed at the Victoria & Albert Museum in South Kensington in 2013. It was not expected to be a success but proved to be the fastest selling event in the museum's history, attracting over 300,000 visitors.
The David Bowie Is exhibition then moved on to eleven cities around the world before it was last displayed at the Brooklyn Museum in New York in line with his wishes. Bowie had died during this time but this only increased interest in the approximately 500 objects connected with him in the exhibition and because of the enduring interest in Bowie it can still be viewed online.
It should be noted that David Bowie left England and relocated first in Berlin where he made the famous song Heroes about people trying to cross the Berlin Wall; many say that this song helped to bring down the wall. He then moved to New York with his second wife the model Iman where he died soon after the release of his last album Blackstar. There was no funeral service for David Bowie, which was his wish, and his ashes were scattered in Bali, Indonesia so there is no official gravesite. However, thousands of people came to the painting of him in Brixton to pay homage to Britain's most celebrated singer. Many wrote messages and left flowers at this unofficial Bowie shrine and Lambeth Council has now covered the mural with Perspex to protect it.