As one of London's Blue Badge Tourist Guides, much of my spare time is spent adding to my knowledge of the history and events taking place in Central London. With plenty of extra time on my hands and not being able to travel, I decided it was time to look at history closer to home. So one frigid afternoon, I took Eric out for an extra-long walk, which he just loves. Eric is my bichon frise, still a puppy with oodles of energy, so that means several walks during the day to try and tire him out. My mission that afternoon was to visit the ruins of Barking Abbey in the East End of London.
There is not much left of the ruins, just the stones and bricks showing an outline of where it once stood and where the various rooms would have been located. The idea that such an old building, which in its day was the foremost Benedictine Abbey in the country, had once been erected in a town then only fourteen miles from London, was worth researching once I got home.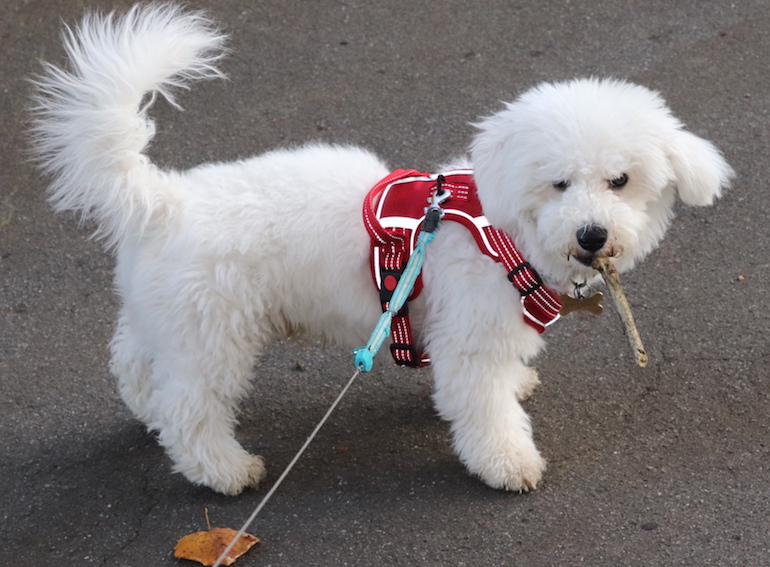 Eric, a bichon frise on a walk to Barking Abbey ruins in London. Photo Credit: © Anne-Marie Walker.
The story goes that, before he became bishop of London in 675, Erkenwald founded two monasteries – one at Chertsey for himself and another at Barking for his sister Ethelburga around 666 AD. Barking Abbey was a 'double house' where monks and nuns lived in separate but identical buildings. Ethelburga became a nun to avoid marriage and, as there was no nunnery in England, a nun called Hildelitha was brought from abroad to instruct her in her duties.
A charter of the founder, Hodilred, grants and confirms to Ethelburga her monastery of Beddanhaam, Decanhaam (probably Dagenham). Erkenwald died at Barking in 693 while on a visit and was buried at St Paul's Cathedral, later becoming the patron saint of London. The date of Ethelburga's death is not known, but she was canonized, her day being 11 October. A charter dated 687 lists two pieces of land near London belonging to the Abbey, and on one of these, the church of All Hallows by the Tower was built.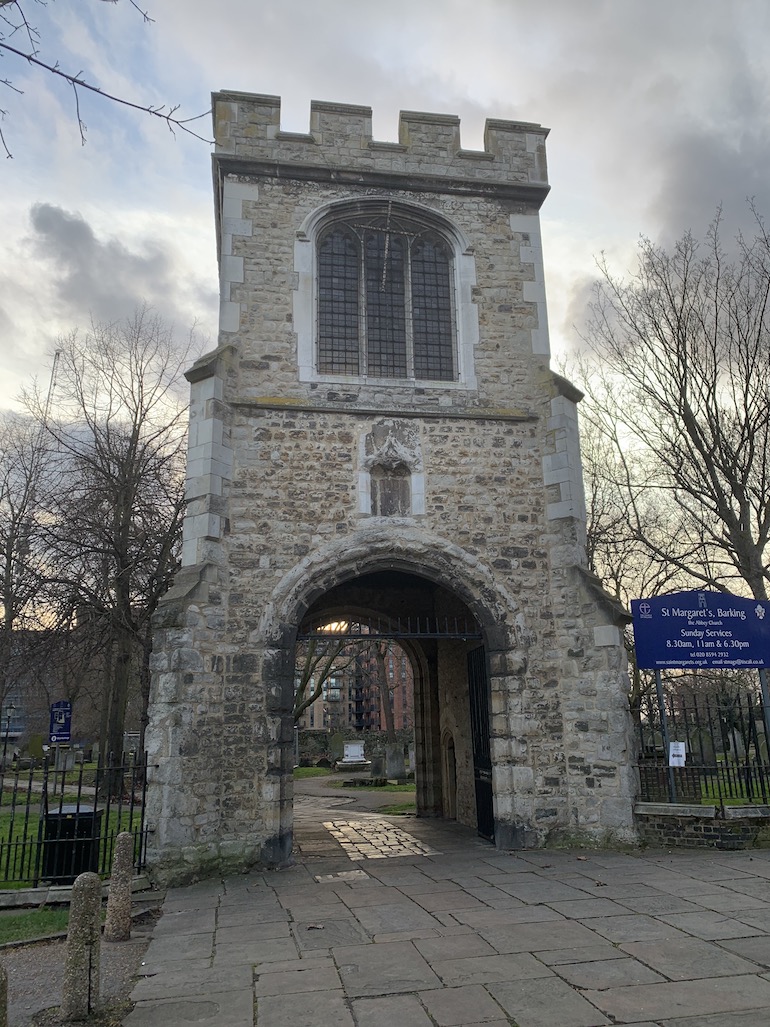 Tower entrance to the Barking Abbey. Photo Credit: © Anne-Marie Walker.
In 871, Barking was attacked by Vikings. The Abbey was destroyed, and the town became part of the Viking-controlled Danelaw Territory. It is thought that the nuns fled to their estate in the City of London, which later became the parish of All Hallows, Barking by the Tower. Once control of the Danelaw had been regained in the 900s, Barking Abbey was rebuilt as a single-sex Benedictine nunnery under King Edgar's patronage.
Moving on in time, William the Conqueror stayed at Barking Abbey towards the end of December 1066 and early January 1067 while the Tower of London was being built. After William, many monarchs stayed at Barking Abbey, the last one being Henry VIII.
In the twelfth century, Thomas Becket's sister Mary was appointed abbess of Barking Abbey by Henry II, perhaps as penance for Becket's murder in Canterbury. When she took over the Abbey, it had a large community of Benedictine nuns, and, being more than five hundred years old, it was a well-known and revered institution. Using the Abbey resources, Mary set about enlarging a nearby hospital in Ilford that a previous abbess initially set up. She opened this up to the lepers of the area. During those days, there was no cure for leprosy, and it was rife in the community.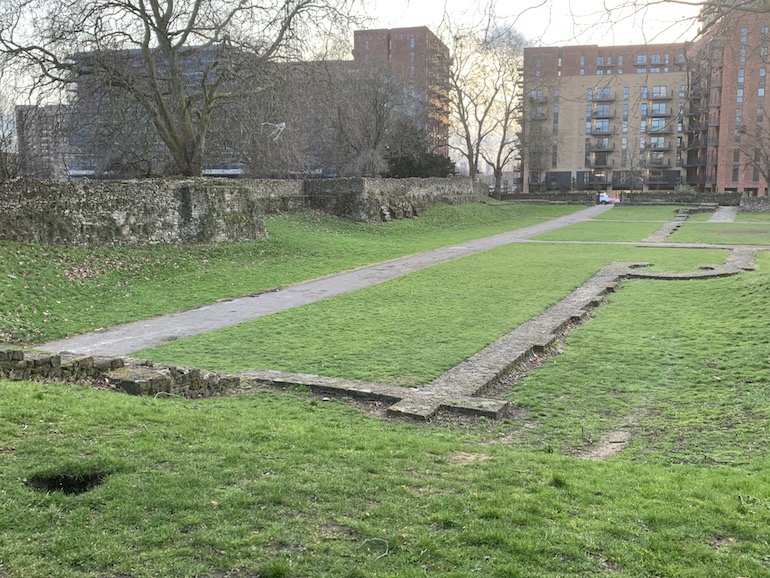 Ruins at Barking Abbey in London. Photo Credit: © Anne-Marie Walker.
In 1221 a licence was granted to the abbess to take wood and to hunt hares and foxes in her wood of Hainault. In 1290 she had a grant of 'free warren' in Lidlington and Hockney, which allowed her to kill animals on land belonging to the owners. In 1319 she had licence to fell 300 oaks in Hainault for the repair of her Manor House of Loxfordebury (which had been burnt) and the church and other Abbey buildings, which were in a state of ruin. The area of Barking suffered many times over the centuries from flooding of the nearby River Thames.
The king granted land and status to the abbess, and in return, she and the nuns prayed for him and the royal family. The abbess was also responsible for the souls of the people who lived and worked locally and the prayers offered up by the Abbey were seen to be of vital importance to everyone's wellbeing in both the present life and the after-life. Rich and poor alike left money or gifts for the nuns to sing masses after their death. In 1300 St Margaret's Chapel in the Abbey's grounds became a parish church where local people were able to worship separately from the nuns.
In 1381 John of Gaunt (third of five sons of King Edward III) paid £51.8s.2d for expenses and gifts for the admission of Elizabeth Chaucy as a nun at Barking. It is believed that 'the father of English literature' Geoffrey Chaucer was a relative of hers, as John of Gaunt was a patron and close friend of Chaucer.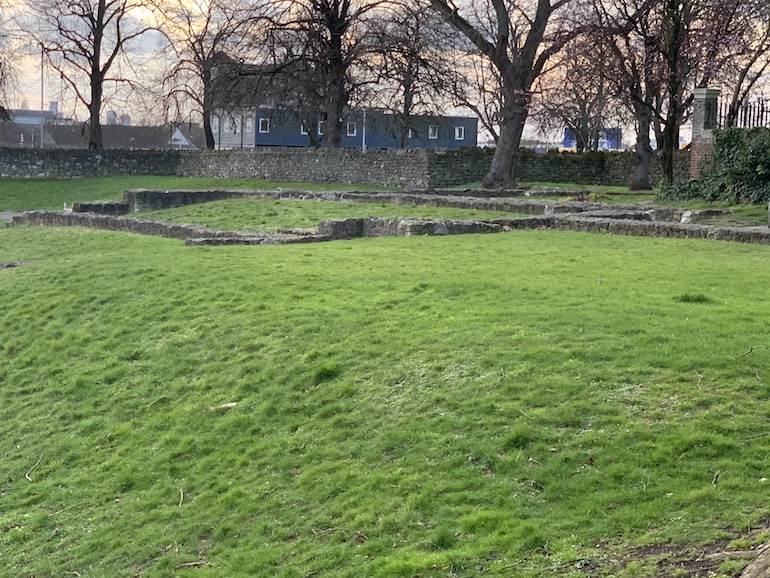 Yet more Barking Abbey ruins in the East End of London. Photo Credit: © Anne-Marie Walker.
When Katherine de la Pole was abbess at the Abbey in the early 1400s, Edmund and Jasper Tudor, the sons of Owen Tudor and Queen Catherine de Valois, were sent to be brought up in Elizabeth's custody, and the sum of £52 12s was paid to the Abbey for their board and lodging. Catherine was the widow of King Henry V, and Owen Tudor became her second husband. Edmund Tudor later married Margaret Beaufort, and they were the parents of King Henry VII.
At the Dissolution of the Monasteries, Barking Abbey was handed over to the royal commissioner on 14 November 1539. The abbess and thirty-seven ladies of the convent received pensions. Afterward, the Abbey was destroyed and the finest stone was transported across the River for use in the King's Manor House at Dartford, while lead from the roof was used to repair the royal palace at Greenwich.
The only buildings to survive were St Margaret's Church and two gateways. One was the Curfew Tower which is still standing today at the church entrance and contains a painted stone carving of the crucifixion, known as the Holy Rood. The other building to survive was the smaller North Street Gate, which has since been demolished.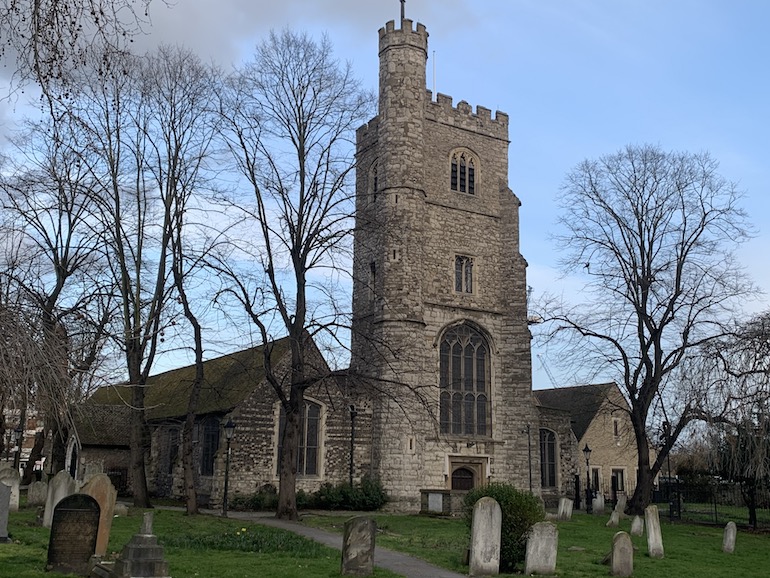 St Margaret's Church. Photo Credit: © Anne-Marie Walker.
Barking Abbey's ruins now form part of a small park adjoining St Margaret's church, which is absolutely beautiful inside. All Hallows by the Tower is also a wonderful old church on the boundary of the City of London which is worth visiting. With their stories of our long and rich history, London's Blue Badge Tourist Guides can make a visit to churches such as these the highlight of your tour!
According to Loony Tunes, "That's All Folks" – and it's goodbye from Eric and goodbye from me!