Continuing on with the successful walking tours launched this past summer to celebrate the 125th anniversary of the Great Dockers Strike of 1889, UNITE in partnership with The Association of Professional Tourist Guides announces a series of additional walking tours from October 2014 to March 2015.
These seven walking tours all part of the Dockers Festival will be led by Guide London Blue Badge Tourist Guides and include:
Saturday, 18 October 2014 @ 14:00pm – Canary Wharf Regeneration Success or Thatcherite Monument? led by ­ Ingrid M Wallenborg – Meet outside Heron Quays DLR.
This is the detailed story of how this huge redevelopment came to be during the 1980s. Its trials and tribulations, critics and adulators, its route through political quangos, deregulation and financial downturns. An ambitious property speculation or the regeneration of an abandoned industrial area? What – if any – is the legacy here now of the 1889 strikers? It's a story with both winners and losers and architecturally a walking tour on a grand scale with a lot of glass, marble and water!
Saturday, 25 October 2014 @ 14:00pm – Canary Wharf Sculpture Trail led byTina Engstrom– Meet Canary Wharf U/G Station, outside the West Entrance.
Canary Wharf now has one of the UK's largest collections of public art. Find out more about the pieces and the artists behind them on a walk that explores sculptures, mosaics, photographic light boxes and other surprising works of art, including gates, railings, clocks and benches. Some of the art works were inspired by the area's history of trade and shipping.
Saturday, 1 November 2014 @ 14:00pm- Starvation to Survival – Surviving in London's Docks led by Stan Medland – Meet outside Custom House DLR.
This walk includes a factual family account of the struggle to exist in London's Victorian Docklands until the Labourers' Union was formed in 1889. Find out why Keir Hardie was so important to the Great Dock Strike. How did dockers make extra money to survive? What role did East End street markets – and rhyming slang [!] – play? What was family life really like in London's East End 100 years ago?
Saturday, 8 November 2014 @ 11:00am – A guided tour of the Museum of London Docklands led by Kim Dewdney– Meet WestIndia Quay DLR station – on the dockside.
The building itself tells a story – of forced labour, commerce and profit. But the story inside is the story of London and how much it owes to the River Thames and the port that developed. By the 19th century London was the richest city in the world and the Dockers unloaded luxury goods from all over the world in enormous quantities. The story of organised labour, the birth of trade unions and the struggles for decent pay and conditions is told through photographs and banners and we'll look at the life of shipbuilders, the police and others who made the Docks "The First Port of Empire".

Saturday, 21 February 2015 @ 11:00am – Call the Midwife: Poverty and Poplar in the 20th century docks led by Kim Dewdney– Meet Canary Wharf U/G Station,Upper Bank Street exit.
This popular TV series is based on the real-life experiences of a midwife in Poplar in the post-war period and has captured the imagination of millions of viewers. We will see the Convent where Jennifer Worth and others lived and worked, the church whose Christmas Eve service was packed to the rafters and the streets where women gave birth in conditions unthinkable today. We'll visit what remains of East India Dock and see many of the improvements to conditions that would be enjoyed by the dockworkers and their families.
Sunday, 8 March 2015 @ 11:00am – FromTudors to Trade Unions led by Stan Medland – Meet outside Tower Gateway DLR.
Discover why London's docks started to be extended some 450 years ago and the key role played by Sir William Paulet. How did imports develop? Why were Legal Quays so crucial? What were conditions like in London's docks over the centuries? This is the story of the largest enclosed docks in the world and why Victorian workers in the end had no option but to revolt. It is a walk about the historic background to the 1889 strike, a turning point for the next and last 100 years of London Docks.
Saturday, 14 March 2015 @ 14:00pm – Wapping Walk: Mudlarks, Murdoch & Mosley led by Tina Engstrom – Meet outside Shadwell DLR station.
Explore this historic area along the Thames that is associated with pubs and pirates. It is also significant in the history of the trade union movement – from the Dockers' Strike in 1889 to Oswald Mosley and the Battle of Cable Street and of course the News International print workers' strike nearly a 100 years later.
HOW TO BOOK TICKETS:
Tickets for the walking tours lasting approximately 2 hours are £10 per adult. Under-10s go free but all children under 15 must be accompanied by an adult. A group ticket for 10 people is available at £90. These tours are open to everyone so please bring friends and family and suggest to your clients for a unique experience.
Please book your ticket online via TicketSource. You can print them at home, have them sent to your phone or have real tickets sent to you.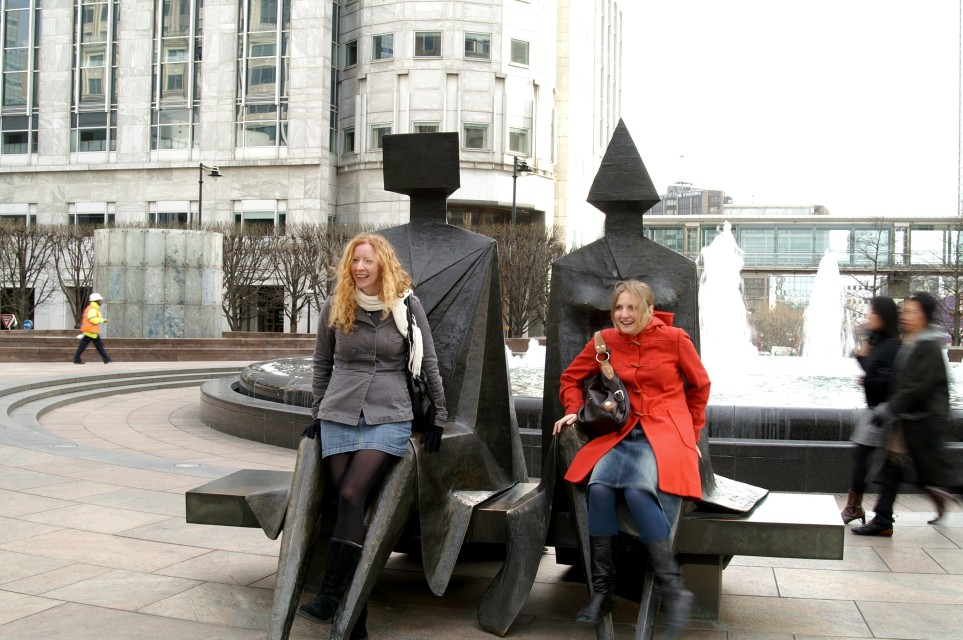 Sculpture in Cabot Square, London: Couple on Seat by Lynn Chadwick 1984. Photo: ©Ingrid Wallenborg.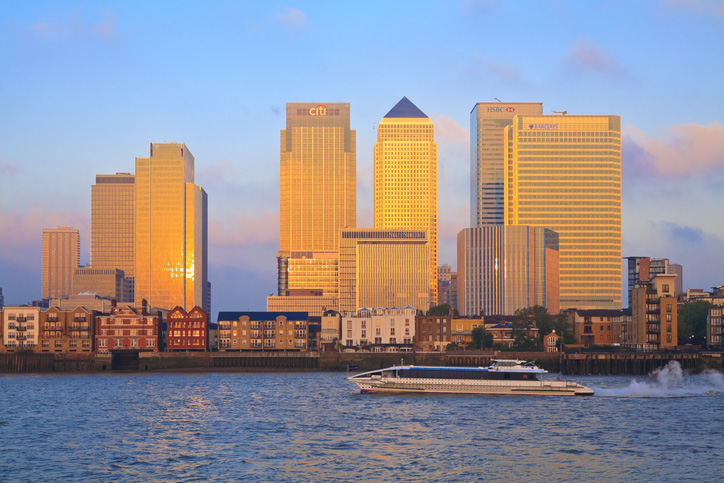 Canary Wharf from a distance. Photo: ©London on View/Visit Britain.
END
Would you like to explore London and beyond with a highly qualified and enthusiastic Blue Badge Tourist Guide? Use our Guide Match service to find the perfect one for you!